Love to museum hop? Can't get enough of art? Eager to head out on the water? Whatever you're into, mix and match from this list of classic Chicago attractions and experiences to make your very own "best of Chicago" wish list.
Take in views from above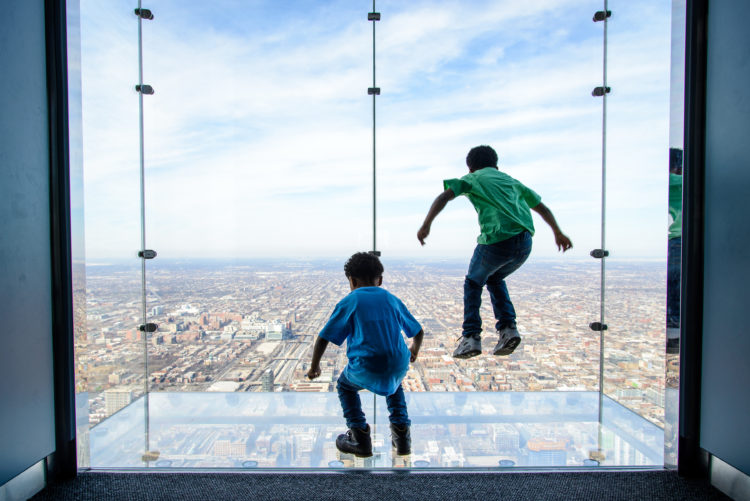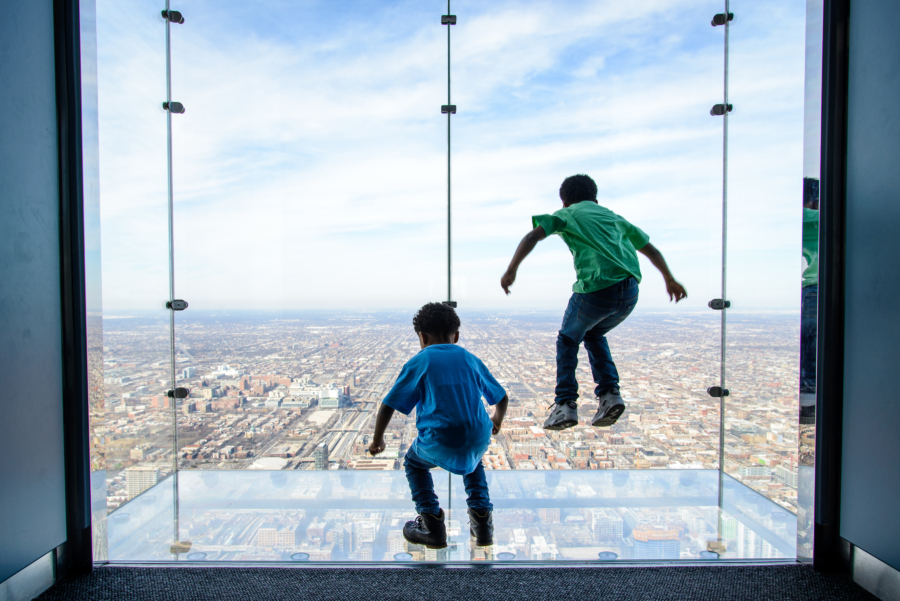 Willis Tower
High-speed elevators whisk you up to the 103rd floor, delivering you to a thrill like no other. The Ledge at Skydeck is an all-glass box that extends about 4 feet from the Willis Tower (formerly Sears Tower) facade, suspending you a staggering 1,353 feet above ground level at one of the world's tallest buildings. Stepping into the Ledge, and looking up, down, and all around as you move from one end to the other, makes you feel like you're walking on air.
Also grab a photo with the giant 103 sculpture up at the Skydeck. And if you're in the mood for a little history, watch a video at the Skydeck Theater to learn about Chicago's rise to architectural greatness.
875 N. Michigan Ave.
Can't get enough of that adrenaline rush? Then brace yourself for TILT at 360 CHICAGO on the 94th floor of 875 N. Michigan Ave. (formerly the John Hancock Center). As soon as the elevator doors open and you set eyes on TILT, you'll be filled with excitement. It's a first-of-its-kind hydraulic platform that literally tilts you out and over The Magnificent Mile at a height of over 1,000 feet.
Whether you're building up courage beforehand or calming your nerves right after, swing by the highest bar in the city, Bar 94, right next to TILT, and treat yourself to a local beer or spirit.
Discover Chicago's waterfronts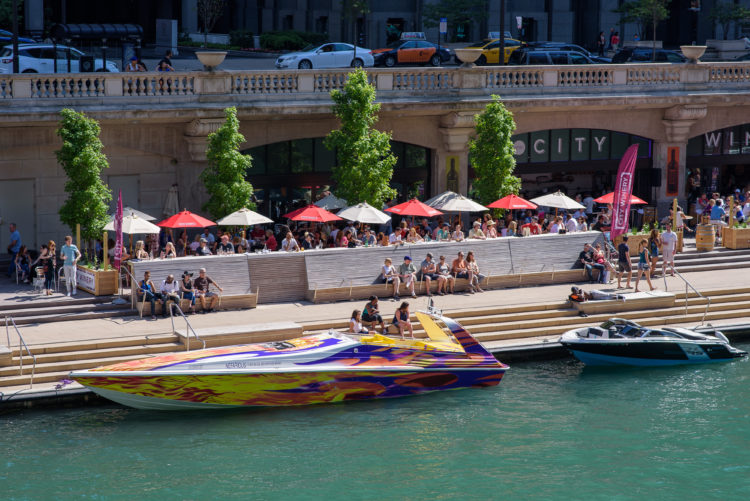 Chicago Riverwalk
Walk down the steps at DuSable Bridge and you're right in the middle of the Chicago Riverwalk. We know, you're ready to explore, but first, marvel at all that stunning architecture, and take a look at the river. Notice anything different? It's the only river in America that flows backwards, a major feat dating all the way back to 1900.
Now it's time to explore. McCormick Bridgehouse & Chicago River Museum is located right next to DuSable Bridge, and it's the perfect place to see the city's famous moveable bridges in action. Next, turn left and grab a seat on City Winery's waterside patio to enjoy hot bites and cool vintages. When temperatures cool, the winery's heated River Domes (aka chic transparent tents) offer you a luxurious way to enjoy fine food, fine wine, and amazing river views. Continue west and you'll find floating gardens, fishing at The Jetty, and quiet, shady coves to sit and watch all the boats go by. Come evening from March through December, you can see Art on theMART, the world's largest digital art projection, as it illuminates theMART's monumental river-facing facade.
Heading east towards the lakefront, you'll find even more restaurants and bars and a boatload of opportunities for trips out on the water. From May through October, you can take your pick from fine dining on glass-enclosed Odyssey Chicago River Cruises; touring architecture on Chicago Architecture Foundation Center River Cruise aboard Chicago's First Lady; and sightseeing on Mercury, Chicago's Skyline Cruiseline, Wendella Sightseeing, Shoreline Sightseeing, or Chicago Line Cruises. You can also go kayaking with Urban Kayaks; take a tiki boat ride with Island Party Hut Charters; get a workout with Chicago Cycleboats; and sail the waters with eco-conscious Chicago Electric Boat Company.
Fountains
What's the best thing about Millennium Park's Crown Fountain? Is it the wow factor, the fun factor, or both? Yeah, it's definitely both.
One of the first things you'll see as you walk down Michigan Avenue towards Millennium Park are the faces of Chicago locals projected onto two 50-foot towers. They smile, and pout, and mimic modern day gargoyles shooting water from their lips. The fun they're having is contagious, and you'll soon find yourself splashing about in the shallow pool between the towers. Don't worry, you won't be alone. Locals love to splash and play here all summer long.
Take a short stroll from Crown Fountain to Buckingham Fountain in adjacent Grant Park. And as evening falls, this is definitely the place you want to be. Families with young kids, couples in love, and friends out enjoying the summer evening are all staring at the very same thing — Buckingham Fountain, one of the largest fountains in the world.
Beginning at dusk, Buckingham Fountain's water display is beautifully choreographed with lights and music. Art Deco seahorses seem almost to move with the shifting lights, and a center jet shoots 150 feet up into the air, with Lake Michigan as its backdrop.
Can't make it after dusk? Buckingham Fountain puts on a water display during daylight hours, too, starting at 9:15 a.m., only minus the lights and music.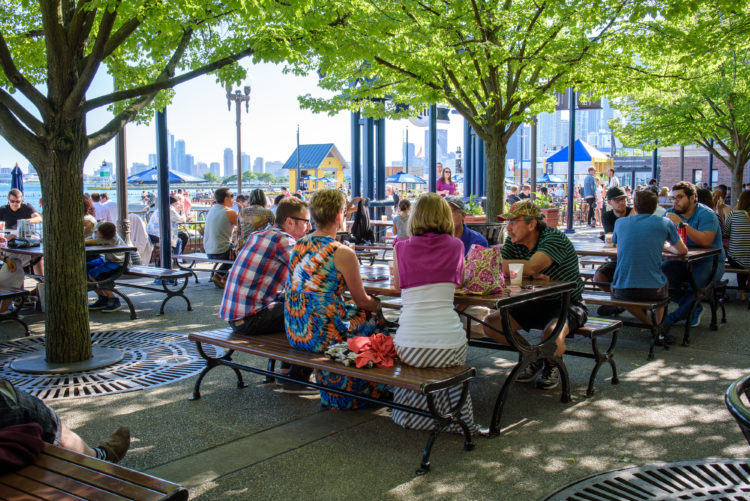 Navy Pier
Lakeside breezes, seagulls skimming the water, and waves lapping gently against bobbing boats — you must be at Navy Pier.
There's a bunch to do here, like explore interactive exhibits at the Chicago Children's Museum, see a play at Chicago Shakespeare Theater, ride on the Centennial Wheel, eat at restaurants, party at bars, listen to live music, shop til you drop, and more. But it's the chance to head out on the water that'll truly take your breath away.
Walk along the pier and marvel at modern cruise boats and vintage-inspired sailboats, all docked and ready for you to board. Hop onto Seadog Cruises for high-octane speed boating. Or feel all the romance and history of sailing Tall Ship Windy, a 148-foot, traditional four-masted schooner. Maybe you're more about dinner, dancing, and cocktails, in which case you have your pick of cruises, including Mystic Blue; Shoreline Sightseeing Company; Spirit of Chicago; and Odyssey Lake Michigan. Brunch and lunch cruises, special fireworks cruises over the summer, and themed cruises all add to the fun.
Visit Chicago icons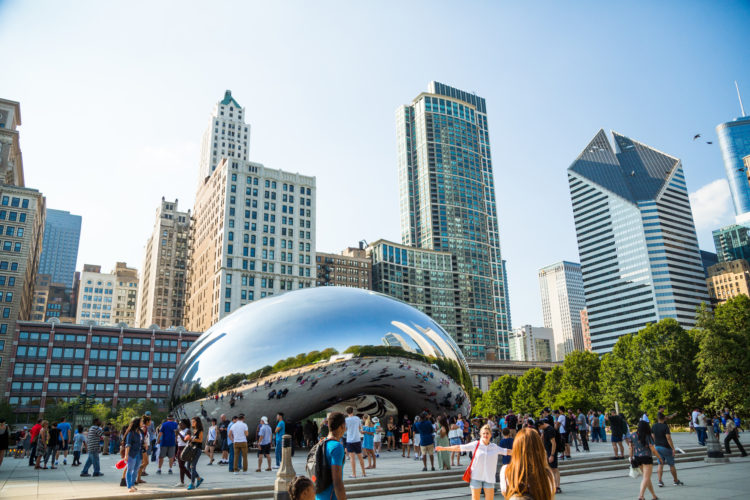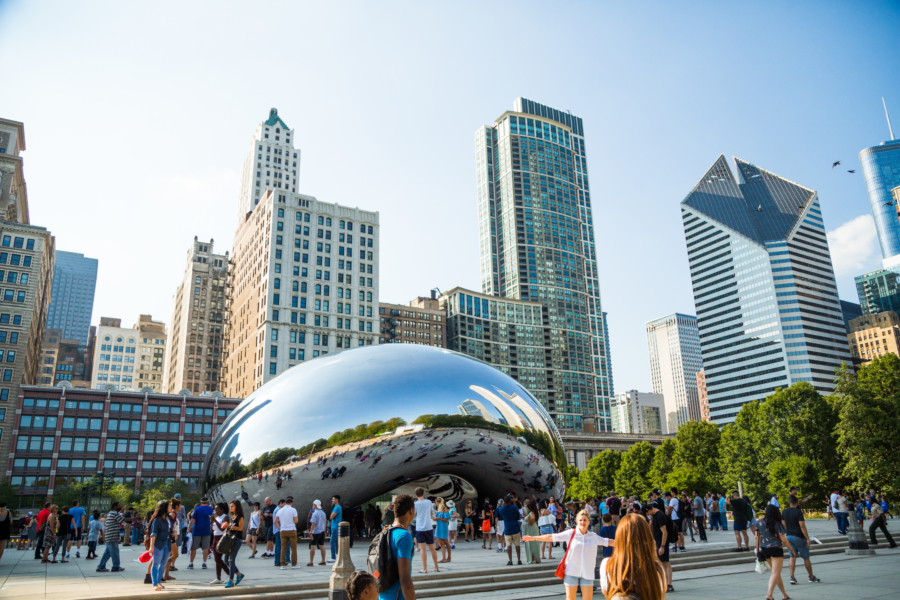 Cloud Gate
You can't miss Cloud Gate, aka "The Bean," as you walk along Michigan Avenue and into Millennium Park. Even if you know nothing about The Bean, you can't help but love it — it's so shiny, and round, and touchable, and Instagrammable. You won't be able to resist all those selfie opps, with the Chicago skyline artfully reflected in The Bean's shiny steel surfaces. FYI: Cloud Gate was British artist Anish Kapoor's first outdoor public sculpture in the United States — and it's one of the largest sculptures of its kind in the world.
The Picasso
Bet you didn't think you'd run into a Picasso as you walked around the Loop. But wander into Daley Plaza, and that's exactly what you'll see. The first words you might well say when you see this massive sculpture are, "Is it an insect? Or is it a baboon? Wait … I don't know what it is." And, in fact, Pablo Picasso never did say what his inspiration was. But we love The Picasso, and it's one of the most iconic of Chicago's public artworks, which also includes pieces by the likes of Alexander Calder, Joan Miro, and Marc Chagall.
Centennial Wheel
Centennial Wheel is a Chicago icon you can ride. Step into an enclosed, climate-controlled gondola, sit back, and enjoy sweeping views of Navy Pier and the lakefront from nearly 200 feet up. This amazing Ferris wheel is a treasured piece of Chicago history modeled after the very first Ferris wheel built for the 1893 Chicago World's Fair. You can even book a VIP Centennial Wheel ride in a glass-bottomed, plush gondola. (Insider tip: Centennial Wheel is part of Pier Park, alongside the Pepsi Wave Swinger®, a 1920s-inspired musical carousel, and other nostalgic fairground rides.)
Open the door on historic architecture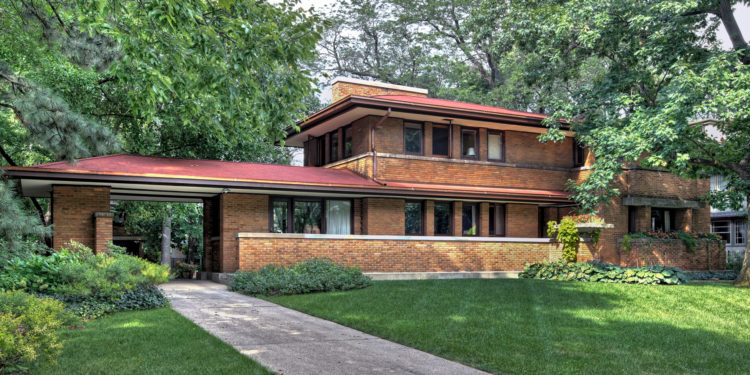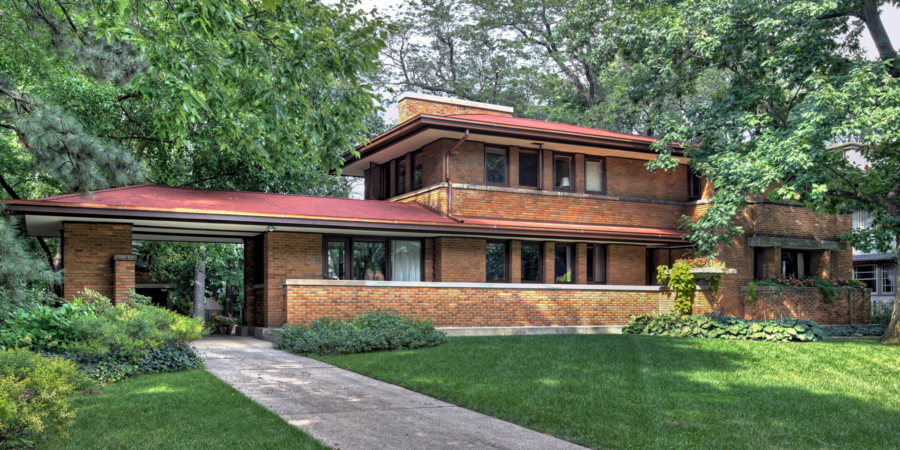 Chicago Architecture Center
Enter the main doors of One Illinois Center, designed by legendary architect Ludwig Mies van der Rohe, and start exploring the fascinating Chicago Architecture Center. First stop: the Chicago Model Experience. It's lights, camera, action, as this multimedia, interactive exhibit, featuring more than 4,000 model buildings, brings Chicago's architectural history to life (including the devastating Great Chicago Fire of 1871). Then take a stroll upstairs for more drama in the Skyscraper Gallery. Towering scale models of the world's tallest buildings are just as amazing as the views onto the Chicago Riverwalk just below.
Before you leave the center, pick up tickets for one of more than 85 walking, bus, and boat tours, with everything from Historic Treasures of Chicago's Golden Age to Chicago Modern offered seasonally. For something truly special, cross the street, descend the stairs to the Chicago Riverwalk, and board the Chicago Architecture Foundation Center River Cruise aboard Chicago's First Lady. Highly trained docents tell the story behind over 50 historic buildings as you cruise along the Chicago River.
Frank Lloyd Wright architecture
Want to peek inside Frank Lloyd Wright's home, and see where the Prairie School of architecture was born? Then go exploring approximately 10 miles west of the Loop in Oak Park, home to the world's largest collection of Wright-designed buildings. That's where you'll find the Frank Lloyd Wright Home and Studio and the Unity Temple, a UNESCO Wold Heritage Site and the only remaining public Prairie-style building.
Back in Chicago, get a tour of the restored Robie House in Hyde Park, another UNESCO World Heritage site. You can also check out The Rookery in the heart of the Loop and the Emil Bach House in Rogers Park, where you can even book an overnight stay.
The Frank Lloyd Wright Trust also hosts an annual Wright Plus Housewalk (usually in May), which immerses you in the world of Frank Lloyd Wright and his contemporaries. You'll get rare interior tours of private homes, as well as public buildings.
For the full experience, take the Frank Lloyd Wright Trail, a self-guided architectural tour that features 13 Wright-designed buildings open to the public throughout Illinois.
Downtown skyscrapers
Touring Chicago's skyscrapers might leave you with a crick in your neck, but it's so worth it. This is the birthplace of the modern skyscraper, after all.
Count fragments from some of the world's most famous buildings — like the Pyramids of Giza and the Parthenon in Athens — that have been embedded into the Tribune Tower's facade. Wonder what it's like living in a giant "corn cob" at Marina City. And see a little contemporary history-making at Studio Gang Architects' Aqua Tower, the tallest building in the world designed by a woman-owned studio, and home to the Radisson Blu Aqua Hotel. (FYI: Jeanne Gang of Studio Gang Architects is set to beat her own record when Vista Tower is completed in 2020.)
Visit groundbreaking museums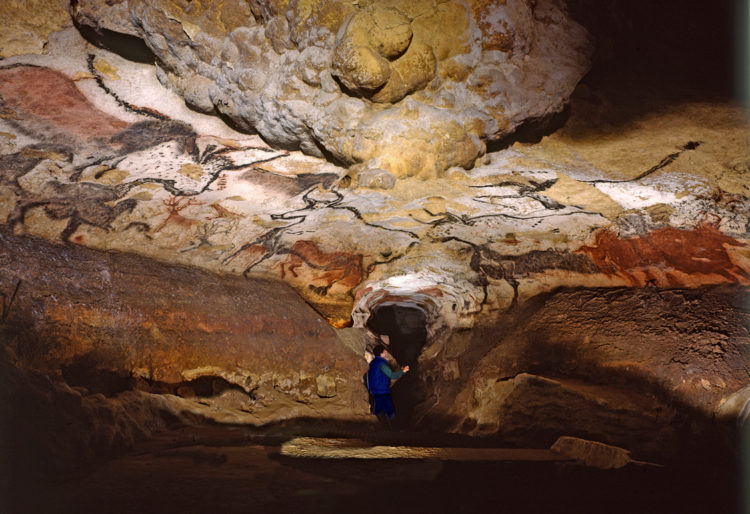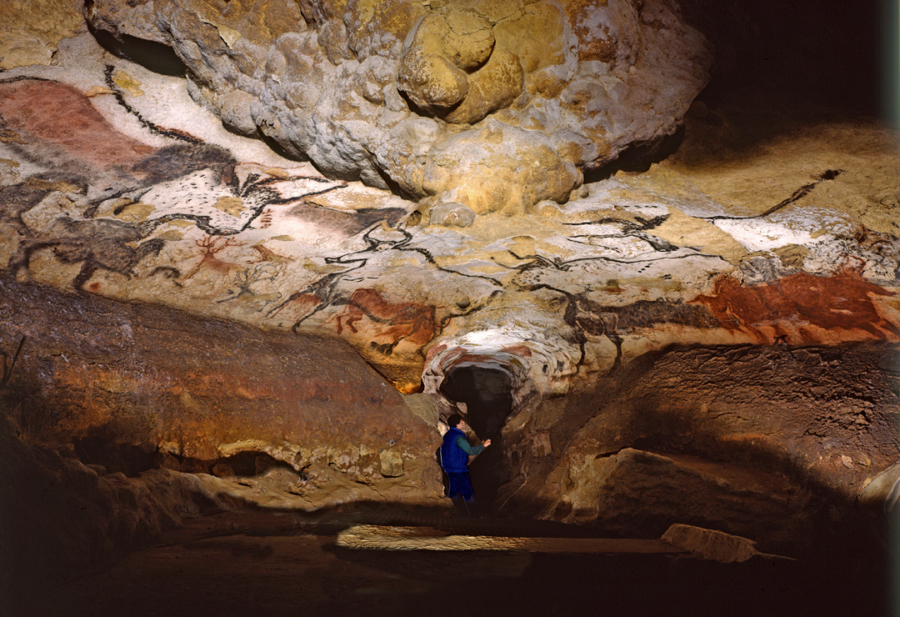 Art Institute of Chicago
You've got to love those lions. Standing at the Art Institute of Chicago's main entrance, they've got a lot of great artwork to guard over. Step inside one of the oldest and largest art museums in the United States, and the first thing you'll see is a grand entry hall, with a massive skylight illuminating a sweeping formal staircase. Take the stairs one floor up, and you'll be blown away by the works of Paul Cezanne, Georges Seurat, Claude Monet, Mary Cassatt, and others, making up one of the largest Impressionist and Post-Impressionist collections outside of the Louvre in Paris. Back on the main level, walk over to the Modern Wing on the north side of the building for a one-on-one with Pablo Picasso's The Old Guitarist, Edward Hopper's Nighthawks, and Rene Magritte's Time Transfixed, among other famous works.
Field Museum
Field Museum is a natural history wonderland. Máximo the Titanosaur, the largest creature to ever roam the planet, welcomes you as soon as you arrive. Say hello and grab a photo with this huge, friendly dinosaur. His 40-foot-long housemate, SUE, the T.rex, lives in the Evolving Planet Gallery just upstairs, along with a bunch of dinosaur friends. Don't forget to pay a visit to Field's other famous exhibits, too, like a three-story replica of an ancient Egyptian tomb you can actually wander through; a collection of Tiffany & Co. gems first shown at the 1893 World's Fair; and a fossil preparation lab where you'll see science as it happens. You can even spend the night (like the whole night) at Field Museum during Dozin' With the Dinos events. It's an exciting way for kids and families to experience natural history up close.
Insider tip: Field Museum is part of Chicago's lakeside Museum Campus, which means you're right next door to the Shedd Aquarium, one of the largest aquariums in the world, and Adler Planetarium, the first planetarium in America. Don't miss them while you're there.
Museum of Science and Industry
If science is your jam, you're in for a mind-blowing experience at the Museum of Science and Industry, the largest museum of its kind in the Western Hemisphere. The entire museum is about experiencing science first hand. So you can step inside a tornado, climb aboard a real-life WWII submarine, go tunneling in a coal mine, find your way out of a mirror maze, climb into a Zephyr train, and too much more to mention. Plan on spending the day here — you're going to need all the time you can get. And if you need a timeout, head to the Giant Dome Theater for the movie experience of a lifetime (think 5-story-high wraparound screen).