The nation's future comedy stars are honing their skills right now in Chicago comedy clubs. Our city (which happens to be the home of improv) is full of first-rate comedy venues that offer the best in stand-up, sketch, and improv, and more.
No matter where you go, you might discover the latest up-and-coming talent or even catch established comedy stars. Get ready to laugh with this guide to Chicago's best spots for comedy.
The Second City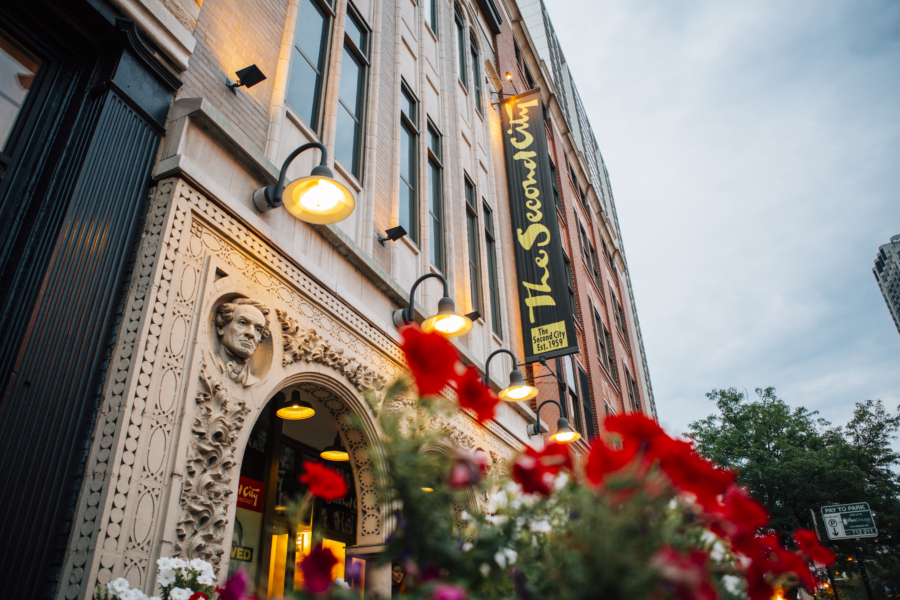 In Chicago, an international comedy empire got its start right in the heart of the Old Town neighborhood. The Second City is the birthplace of improvisational comedy.
For half a century, the cabaret-style theater put sketch and improv on the map, launching the careers of many stars. Tina Fey? Yup, she's an alum. Steve Carell? Him too. Bill Murray, Dan Aykroyd, Stephen Colbert, John Belushi — the list of Saturday Night Live cast members and American comedy masters that trained and performed with The Second City is incredible.
With highly-interactive shows that address current issues through social and political satire, the stages are a showcase for the next generations of comedic geniuses.
Zanies & The Comedy Bar
Right down the street from the legendary Second City is the original Zanies, or as some people call it, "Stand-up Heaven." So many comics have played there, the list is endless. You can see that by perusing the number of autographed photos on the wall. The intimate space gets you up close and personal with the acts — you might even catch the headliners chatting with patrons on their way out.
Chicago's River North neighborhood — a bastion of nightlife with its ever-growing list of restaurants, bars and clubs — keeps the funny going until late into the night. The Comedy Bar is in the same historic building as Gino's East and features two performance spaces. At the main stage, you'll find a popular comedy brunch, plus open mic and stand up showcases. The brewery stage is a more intimate venue with a cool vibe and views into the brewing space.
iO Theater
A testament to Chicago's thriving comedy scene, the newly-built iO Theater is a massive 33,000 sq. ft. headquarters for iO Chicago (originally known as ImprovOlympic) located in the bustling Lincoln Park neighborhood.
A 30-year-old institution, iO is known for perfecting long-form improv, as well as for having trained the biggest comedic writers and stars in showbiz (Mike Meyers, Chris Farley, and Amy Poehler are just a few). Four theater stages make for a packed comedy calendar, while a full-service restaurant and multiple bars, plus a seasonal beer garden, are more than enough reason to make a night of it.
ComedySportz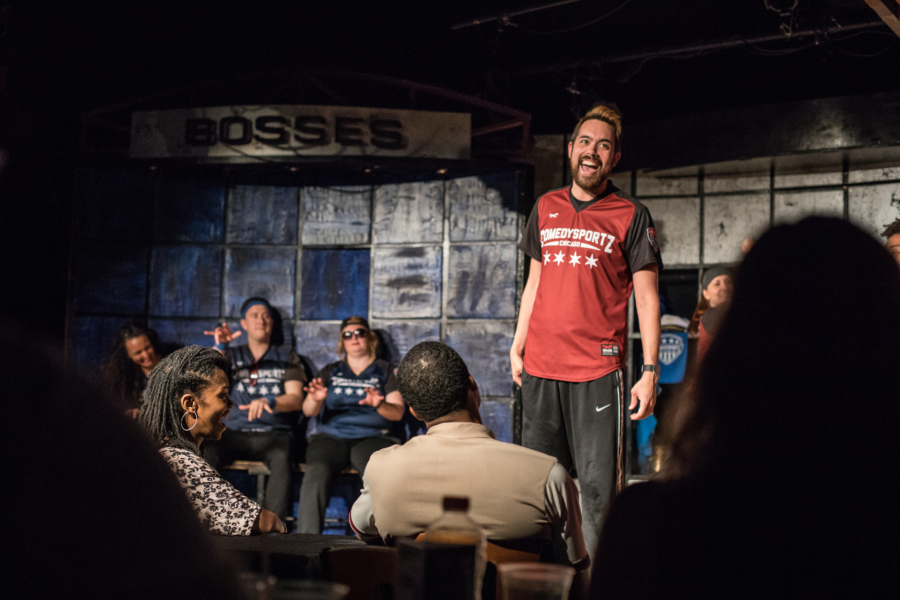 Want some healthy competition with your comedy? ComedySportz is a sure winner. Here two teams of comedians vie for your laughter and applause in an action-packed, guffaw-for-points contest that uses suggestions from the audience to put together scenes, songs, and games on the spot. Hosted by a referee, the high-energy show delivers clean comedy suitable for teens and families.
More on Chicago's comedy scene
Other great spots to drop into include the Laugh Factory in Lakeview, a Midwest outpost for the California-based chain; The Playground in Boystown, the nation's only non-profit co-op dedicated to the art of improv; and The Revival Improv Comedy Theatre in Hyde Park.
And this just scratches the surface of where to find the funny in Chicago. A hilarious burlesque show that parodies pop culture faves? Gorilla Tango Theatre draws them in with shows like Temple of Boobs: An Indiana Jones Burlesque and A Nude Hope: A Star Wars Burlesque. Uncensored comedy gems filled with subversive language and themes? Check out The Annoyance Theatre and their dual-stage space in Lakeview.
Several of these stages are part of a collective known as the Belmont Theater District which boasts over 25 theaters located within a 1 mile radius.
The sheer number of options is impressive so if you're not sure where to start, go for one of the tried-and-true comedy shows.
The experimental company Neo-Futurist Theater celebrated its 30th year with their 2018/2019 season. Check out The Infinite Wrench that unleashes a barrage of two-minute plays for a live audience. Each play offers something different and inspired by the experiences of the performers.
Bye Bye Liver is in its tenth year and still going strong…it doesn't hurt that it centers on all things booze and that birthday parties and bachelorette parties buy out tickets in droves. The production from The Public House Theatre bills itself as two parts comedy, one part social game — still a winning formula after 7 years.
Lastly, it's only fitting to mention that Chicago is home to the nation's largest sketch comedy event. Held at Stage 773 also in the Belmont Theater District, the annual Chicago Sketch Comedy Festival showcases the best talents through nearly 200 shows each January. Stage 773 also produces the Chicago Women's Funny Festival in June.