First time in Chicago? This guide's for you.
Chicago is a harmonious blend of opposites — bustling big city steeped in Midwestern charm, towering skyscrapers framed by miles of tranquil beaches, a city in a garden (Chicago's motto, in fact). In other words, everybody feels right at home in Chicago.
To make the most of your inaugural visit, add these attractions, experiences, and events to your itinerary.
Must-see attractions
Millennium Park Campus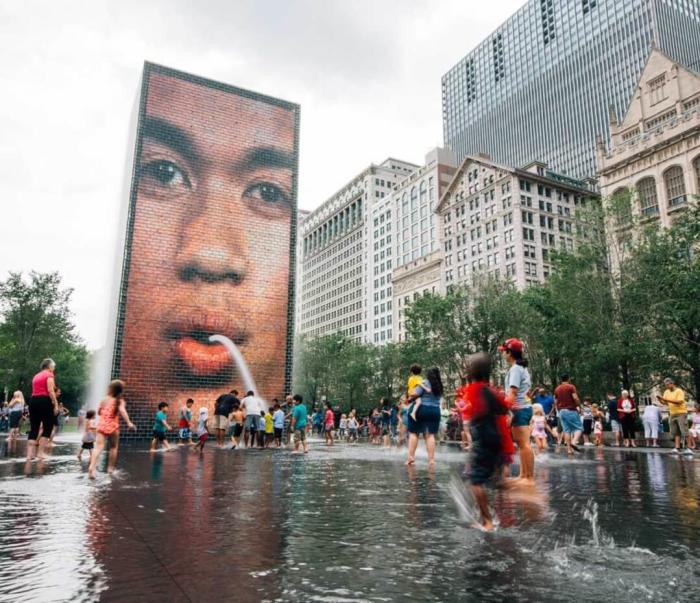 Millennium Park Campus is classic Chicago, with a long list of iconic things to see and do. Pay a visit to one of the city's most famous public artworks, Cloud Gate, aka "The Bean." Splash around in Crown Fountain, a shallow pool flanked by two 50-foot towers where the faces of Chicago locals spout water from pouting lips. Dine on the outdoor patio in the shadow of The Bean in the summer, or ice skate on the plaza in the winter. Hear free live music, go to summer festivals, and see films screened under the stars at the Jay Pritzker Pavilion. Wander Lurie Garden and meet birds, bees, and butterflies. Visit the Art Institute of Chicago, ranked one of the top museums in the world by TripAdvisor users. Then hop over to the Chicago Cultural Center, crowned by the largest Tiffany stained-glass dome in the world. Spend the evening at the Harris Theater for Music and Dance. And don't leave without lakefront wall climbing, tennis playing, mini golfing, playground frolicking, or ribbon skating at Maggie Daley Park.
Note: All Millennium Park Campus sights with the exception of the Art Institute of Chicago and Harris Theater are free.
Navy Pier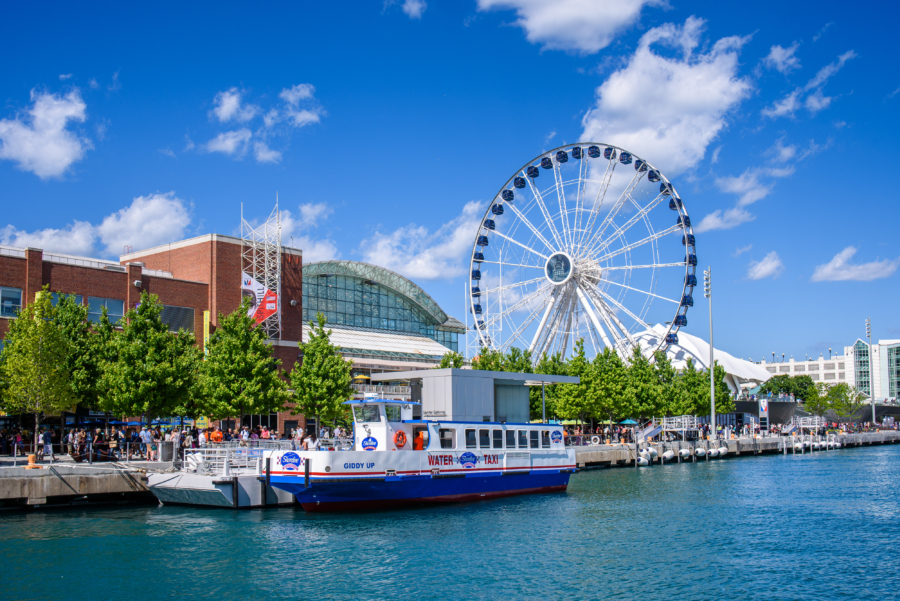 Navy Pier is a must-see Chicago destination. This family-friendly attraction has endless options for things to see and do: scenic boat rides on the lakes, summer fireworks displays, outposts of local food favorites, the largest rooftop bar in the county, free outdoor music, indoor gardens, carnival rides, and so much more.
The Centennial Wheel at Pier Park is one of Navy Pier's most recognizable sights. This nearly 200-foot ride, inspired by the world's first Ferris wheel that debuted at Chicago's World Fair, consists of climate-controlled gondolas that take you soaring almost above the lakefront. Another favorite: summer fireworks displays every Wednesday and Saturday from Memorial Day to Labor Day. They're especially jaw-dropping when watched from the deck of one of Navy Pier's many cruise boats.
A couple more classic things not to miss: A play at The Yard at Chicago Shakespeare, live music in the Miller Lite Beer Garden, having a cocktail at Offshore Rooftop, and exploring at the Chicago Children's Museum.
Chicago Riverwalk

Whether you're in the mood to relax, party it up, or soak in culture, the Chicago Riverwalk is a variety of interests and experiences rolled into one. Sip wine on a riverside patio, or go island style under a canopy of light-strewn trees. Kayak the Riverwalk's skyscraper canyon, take an architectural boat tour, or kick back on a tiki party boat. Visit a working bridgehouse and view the largest video-projected artwork in the world at Art on theMART. You can even immerse yourself in nature with some pier fishing and bird-watching, right in the heart of downtown Chicago.
Museum Campus

The setting for Museum Campus couldn't be lovelier — three Beaux-Arts-inspired buildings sitting on the shores of Lake Michigan. Set in lush parks and gardens, Field Museum, Shedd Aquarium, and Adler Planetarium (the oldest planetarium in the Western Hemisphere, by the way), sit side by side, beckoning lovers of ancient civilizations, undersea worlds, and amazing universes.
Best of all, you have the option of getting there by Shoreline Sightseeing Water Taxi from either Navy Pier or Willis Tower — which is the perfect way to travel on a beautiful summer's day.
A couple of things not to miss: Máximo the Titanosaur (the largest creature ever known to man) and SUE the T.rex at Field Museum; sharks, belugas, stingrays, sea otters, and sea lions at the Shedd; and high-powered stargazing at the Adler's Doane at Dusk.
Observation decks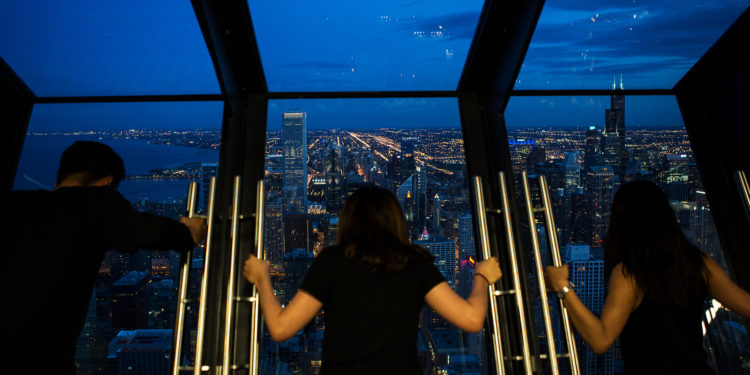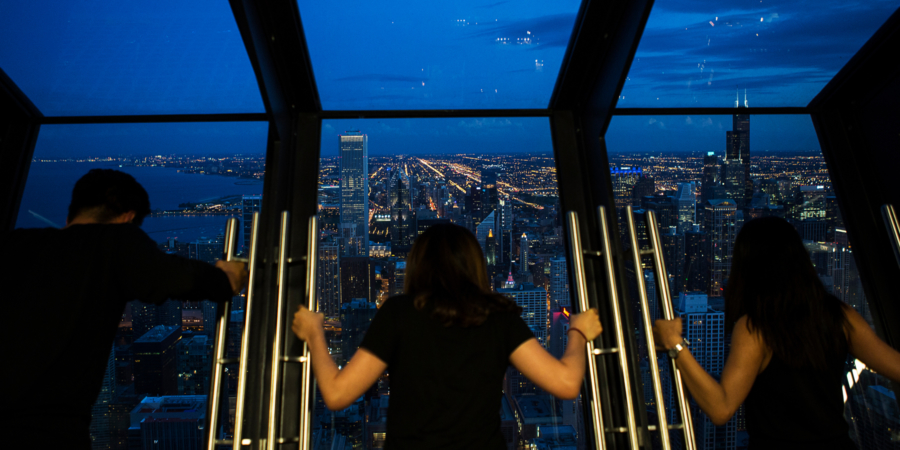 Chicago has two adrenaline-pumping observation deck experiences, located in two of the city's tallest skyscrapers. Skydeck at Willis Tower (formerly Sears Tower) invites you to literally step out on The Ledge, or rather a glass box that extends approximately 4 feet from the skyscraper's facade, over 1,300-feet above ground level. TILT at 360 CHICAGO, located within 875 N. Michigan Ave. (formerly the John Hancock Center), tips you out and over The Magnificent Mile, and affords views over the city and Lake Michigan from 1,000 feet up.
Must-do experiences
Get out on the water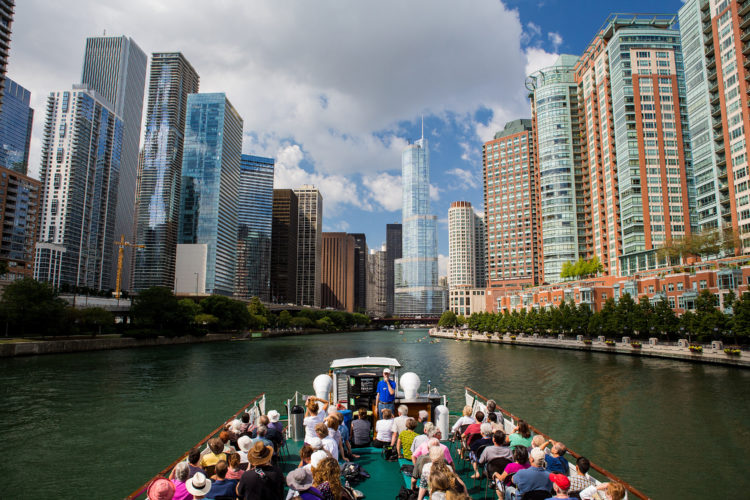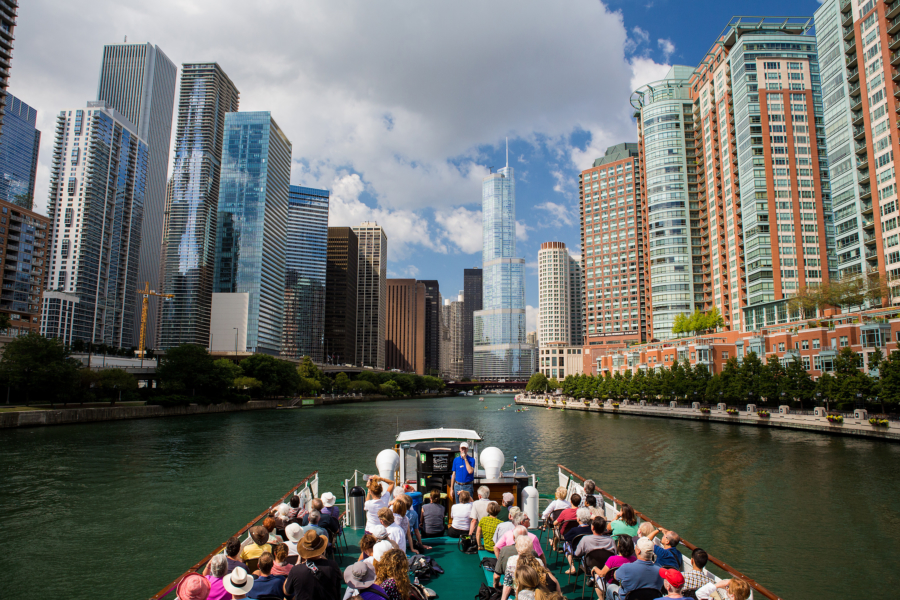 Some of the best views of Chicago are from the water. Whether you want to learn about the city's history, get the inside scoop on the city's rich architectural legacy, watch fireworks over the lake, or simply kick back and take in the sights, there's a boat cruise in Chicago for you.
Go to the theatre
Theatre is where Chicago bares its fearless soul. From Broadway In Chicago and Tony Award-winning companies, to legendary improv showcase The Second City and more than 200 storefront theatres, you'll find classic, unconventional, and innovative productions all over Chicago.
For Chicago style theatre at discounted prices, plan your trip for the city's annual Chicago Theatre Week in February. Or check out this month's 10 Hot Shows Not to Miss, with half-priced tickets from Hot Tix.
Note: 2019 is the Year of Chicago Theatre. Check out shows, events, and celebrations.
Eat and drink up the city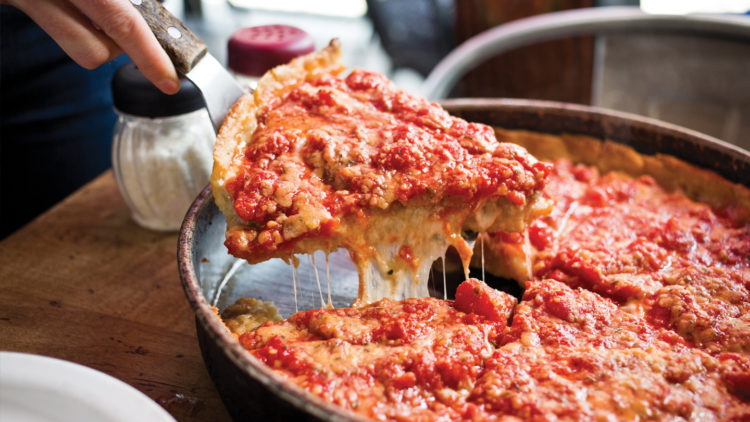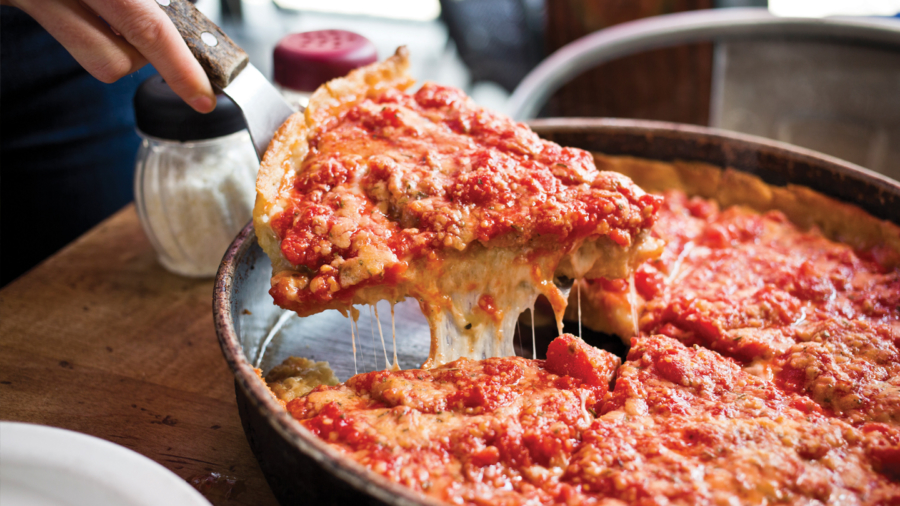 Take a bite out of classic Chicago foods like deep dish pizza, Italian beef sandwiches, and Chicago style hot dogs (hold the ketchup). Experience award-winning fine dining at the city's star chef-led and Michelin star-rated restaurants. Get a frothy mustache at any of the Chicago metro area's 160-plus craft breweries (you can tour most of them, too). Or sample a little of all of them at Chicago Friday Night Flights beer tasting events over the summer. Oh, and you can lift your spirits at any one of the city's many craft distilleries, too. Vodka, whiskey, gin, brandy — pick your poison.
For something extra special, plan your trip around one of the city's food and drink festivals and events, including Chicago Restaurant Week in January, the James Beard Awards and James Beard Eats Week in May, Taste of Chicago in July, and Chicago Gourmet in September.
Chicago Greeter: free guided tours
Taste, shop and explore the neighborhoods with a friendly local as your guide with a Chicago Greeter. Explore rich histories, diverse cultural traditions, and hidden treasures. See sides of the city you may not have adventured out to on your own, and take away a truly authentic Chicago experience. Greeter visits are customized based on your choice of neighborhoods, language, and interests.