As one of only a few U.S. cities with two MLB teams, Chicago and its baseball diehards divide their loyalties between the Chicago White Sox on the South Side and the Chicago Cubs on the North Side.
The White Sox have definitely earned their bragging rights. The team swept the Houston Astros to win the World Series in 2005, led by Ozzie Guillén. the first Latino manager in history to win a World Series. The Sox also won it all in 1906 and 1917. If you're a baseball fan in town during the season, a trip to Guaranteed Rate Field is something that shouldn't be missed.
Check out the Chicago White Sox schedule.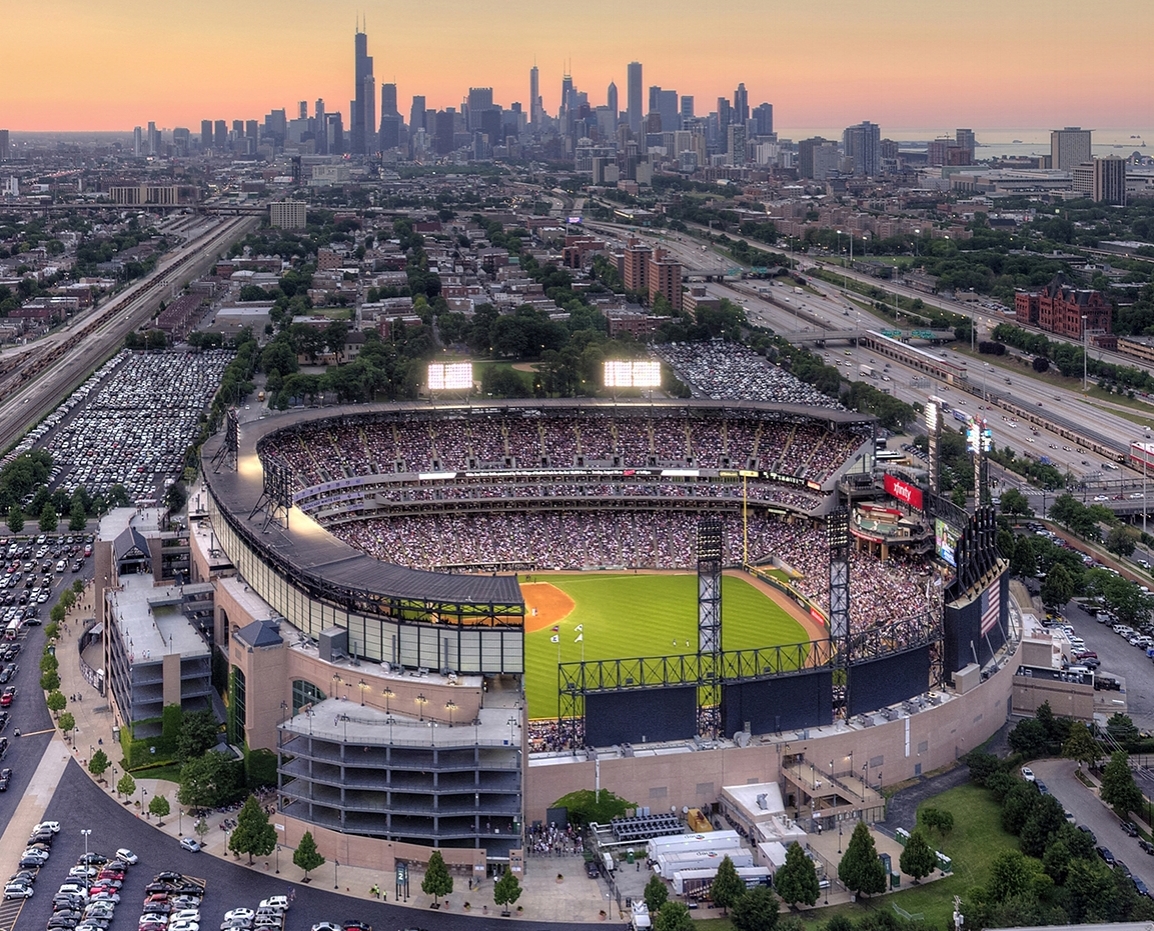 Guaranteed Rate Field
Guaranteed Rate Field is all about the fan experience. There are a slew of things to see and do, including visiting the two-tiered CIBC Fan Deck for a panoramic view of the playing field; a stop at the Goose Island Craft Kave, a two-tiered, open-air craft brew oasis located on field level near Gate 2; a 15,000-square-foot Xfinity Kids Zone located in left field, featuring a youth-sized whiffle ball diamond, batting and pitching cages and batting "swing" boxes; the ChiSox Bar and Grill, a multi-level, indoor/outdoor restaurant and bar located inside Gate 5; and right next-door, the Chicago Sports Depot for all those White Sox, Bears, Blackhawks, Bulls and Fire goodies.
Definitely take a bite out of a Cuban Cornet while you're there. The White Sox have a rich Cuban tradition reflected in its players, sports history…and elevated ballpark menu. The Cuban Comet Sandwich, specifically, is named for the late, great outfielder and coach Minnie Minoso. It's a hot-pressed sandwich, with sliced ham, Mexican-style shredded pork barbacoa, Swiss cheese, mustard, sliced pickles, and plenty of garlic-and-citrus mojo sauce.
You can also grab a selfie with one of the greats at White Sox Legends Sculpture Plaza. There are statues of Minnie Miñoso, Carlton Fisk, Charles Comiskey, Luis Aparicio, Nellie Fox, Billy Pierce, Harold Baines, Frank Thomas and Paul Konerko at the Field. Check out the Guaranteed Rate Field ballpark guide.
Game day experience
Tailgating
Tailgating is the perfect way to get in the spirit. This longstanding tradition starts two hours before games in select parking lots outside the ball park. On a summer night, fans can be seen sitting around a grill, tossing bean bags, enjoying a few drinks and gearing up for the game.
Fireworks
Once you're in the ballpark, watch the sky light up with fireworks pre-game, and after Sox home runs and victories. Even more extravagant firework shows are held after designated games.
​Rock n' Roll
Over the years, the team has adopted some of rock's legendary songs, most notably AC/DC's "Thunderstruck" as the game gets ready to start.
Theme Nights
In true Chicago spirit, humor is often a part of the game. The White Sox offer a number of special theme nights, including Elvis Night, '70s Night, and the all-time favorite: Mullet Night. So get ready to strut your stuff!
The Crosstown Classic
This is the hottest ticket in town. The Sox go against their local rivals, the Chicago Cubs, for some interleague action, and a chance to secure the ultimate hometown bragging rights…at least until they play again next year. Check out dates and tickets.
Getting to the game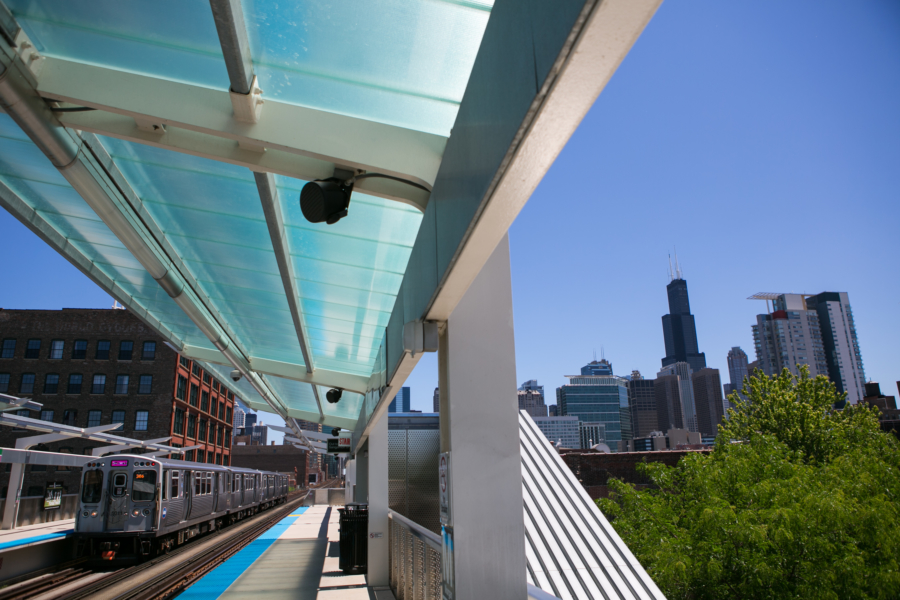 Reaching Guaranteed Rate Field is easy whether you're driving or taking public transportation. The Chicago Transit Authority (CTA) offers convenient and cheap options by train and bus, while drivers can find plenty of parking around the stadium and in close proximity to the highways. Get all the info here.
Where to stay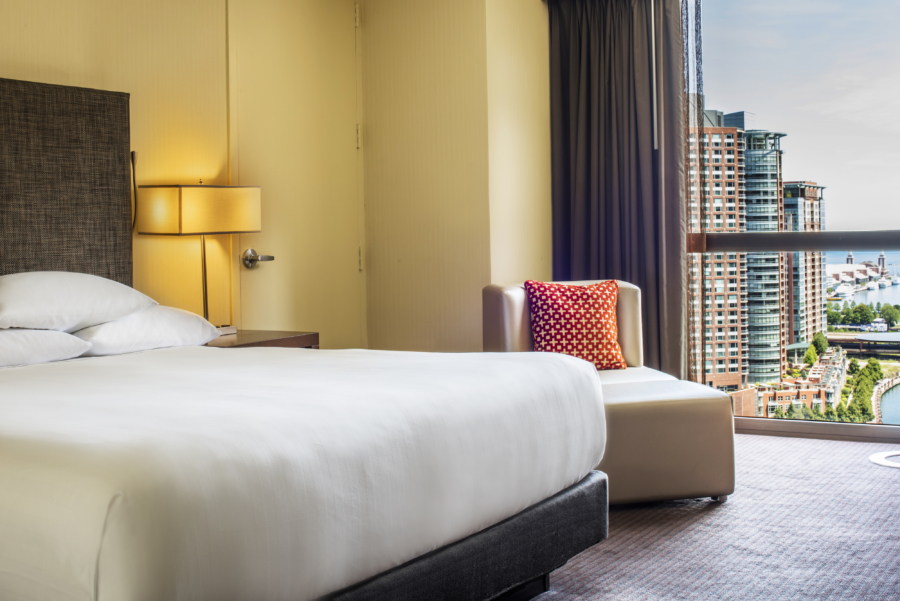 Traditional: Marriott Marquis Chicago This four-star hotel close to McCormick Place made its grand debut on the Chicago skyline in September 2017. The hotel spans 40 stories overlooking Lake Michigan, downtown Chicago and the South Loop.
B&B: Wheeler Mansion If stately, historic charm is your thing, head to the Wheeler Mansion, a tranquil urban estate located steps from the McCormick Convention Center, Michigan Avenue shopping and Lake Michigan.
Traditional: Hyatt Regency McCormick Place This 4-Star Hyatt has Lake Michigan as its backdrop and provides easy access to waterfront trails, Guaranteed Rate Field, the Museum Campus, and more.
Luxury: The Blackstone With a museum-quality art collection, this storied architectural icon offers modern accommodations with views of Lake Michigan and Grant Park, dining at its acclaimed Mercat a la Planxa restaurant, craft cocktailing and entertainment at Timothy's Hutch and little luxuries like turndown service, the 1600 CLUB Lounge and more.
Guaranteed Rate Field, 333 W. 35th St.