Mark your calendars: National Pizza Week is Jan. 9 – 15. Whether it's a real holiday or not, it's the perfect excuse to chow down on some 'za all week long. And what better place to celebrate than Chicago? The city is home to some of the best pies in the country, from deep dish to crispy thin crust and everything in between. Here's just a slice of Chicago's pizza options.
Chicago's classic deep dish

Chicago's deep dish pizza is legendary. Invented here during the 1940's, Chicago's signature style of pizza is instantly recognizable for its bowl-like crust filled with cheese, sauce and toppings. Make sure to grab a knife and fork before digging into one of these hefty pies:
Pizzeria Uno
Considered by many to be the original deep dish, Pizzeria Uno has become a local legend in the heart of downtown. Their signature pie is loaded with sausage, pepperoni, onions, peppers, mushrooms, mozzarella, romano, and Uno's own chunky tomato sauce. If there's a wait, try your luck at their second location Pizzeria Due right down the street.
Lou Malnati's Pizzeria
This family-owned chain is one of the city's best known spots for deep dish pizza. Lou's was founded by the son of Rudy Malnati, who's credited by many as being the inventor of Chicago-style pizza. They've stayed true to that original recipe, expanding their pizza empire to 52 Chicagoland locations. No matter which you visit, make sure to upgrade your pie to include their signature buttercrust.
Gino's East
Gino's East is known for their Chicago-style deep dish pizza. But there's so much more to love about the local chain. Their downtown location on LaSalle Street is also a brewery and small-stage venue, showcasing live music and comedy throughout the week. Of course, the pizza is worth mentioning. The 50-year-old recipe is slowly baked in seasoned cast iron pans until the crust is golden and flaky, then served piping hot and table-side, right out of the pan.
Giordano's
Giordano's is famous for their stuffed deep dish pizza, which comes full-to-the-brim with a range of fresh toppings. The menu includes staples, like the Chicago Classic filled with pepperoni, mushrooms, green peppers and onions, and inventive options, like the Greek with spit roasted gyro meat, feta and mozzarella cheese, and Greek herb blend, served with a side of tzatziki sauce.
Pequod's Pizza
Looking for a fresh spin on deep dish? Pequod's Pizza serves up their crave-worthy caramelized-crust version near Lincoln Park. The casual pub bakes their deep dish in cast-iron pans, so the cheese overflows onto the edges and gets the perfect amount of almost-burnt. To avoid a wait, call ahead before you go. Or just wander down the street to sister establishment Whale Tale for a free coffee or pop while you wait.
Thin-crust favorites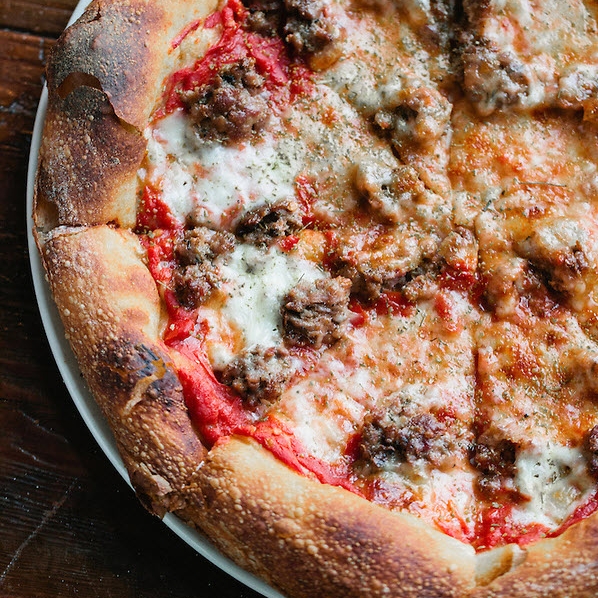 Chicago is so much more than deep dish. There's authentic Neapolitan-style pies, coal-fired crusts, gluten-free options and so much more. Get your thin-crust fix at these Chicago spots:
Aurelio's Pizza
Chicago's oldest franchise pizza chain has stayed true to their award-winning thin crust recipe. Their original storefront opened in 1959 with just four tables. Today, there are more than 40 locations, including one in the South Loop and another in Lakeview near Wrigley Field. The chain is known for their consistent quality, crispy crust, and family-friendly atmosphere.
Coalfire
Coalfire isn't Chicago-style pizza, but that's because it isn't anything-style pizza — they've created something that's just their own. Their addictive thin-crust pies combine the best of a variety of different styles, emerging from the 1,500 degree coal oven with crispy edges and a delicate center. Try the lasagna pie, topped with mozzarella, berkshire ​sausage, garlic, ​sweet ​red peppers, and dollops of whipped ricotta.
Home Run Inn
This family-owned business has been tossing up classic Chicago pizza since 1947. Home Run Inn's thin crust pies are made fresh daily, making them some of the most beloved pizzas in the city. Their original location first opened as a small tavern on Chicago's South Side in 1923. Today, they have four Chicago locations, including the original near South Lawndale, plus Beverly, Lakeview and near Midway Airport.
Spacca Napoli
Get a taste of Italy at this Ravenswood spot. Spacca Napoli has earned legions of loyal fans, who come back again and again to enjoy authentic Neapolitan-style pizza in the casual, rustic space. Their dough is tended daily and baked in ovens built by third and fourth-generation artisans from Napoli. And many of their ingredients come from exclusive Italian vendors, creating a pie you can't get anywhere else in the city.
Unique Chicago pizzas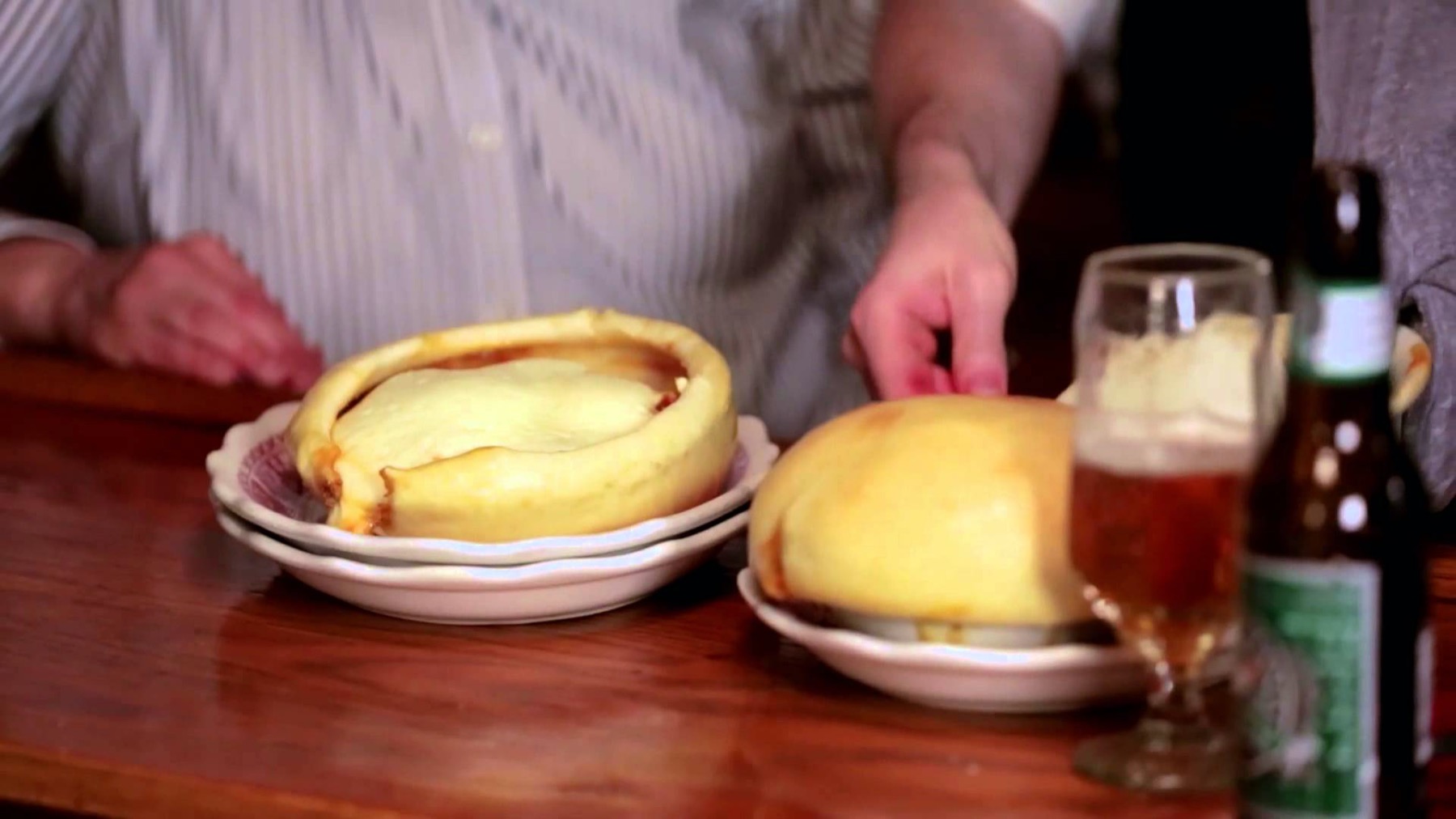 Some spots defy easy categorization. From classic pies with a twist to one-of-kind creations, these unique Chicago pizza joints are forging their own path.
Connie's Pizza
This old-school space has some new-school followers. Chance the Rapper has been open about his devotion to the classic Chicago spot, dropping references to Connie's into his songs. The local chain decided to return the favor with their Take a Chance Pizza. It's their classic Sicilian-style pizza shaped into the number "3", the local rapper's iconic logo. Chance prefers plain cheese, but you can add toppings to your heart's content. Plus, 55% of all proceeds from the pizza will be donated to Chance's charity SocialWorks.
Chicago Pizza and Oven Grinder
Three words: Pizza. Pot. Pie. This Lincoln Park pizzeria is known worldwide for their signature creation. Each pizza pot pie is made from scratch, with triple-raised Sicilian-style dough, homemade sauce, a special blend of cheeses, sausage, and whole, fresh mushrooms. If you have room, don't skip an order of Mediterranean bread on the side.
Piece Brewery and Pizzeria
This Wicker Park spot is crafting more than just pizza. They also brew their own beer, including pale ales, IPAs, seasonal brews, and more. Each pairs perfectly with their New Haven-style pies. Many menu items feature local ingredients, like a barbeque pie with Lillie's Q sauce and a red pizza topped with Hot Doug's famous Atomic Sausage.
Pizzeria Bebu
Pizzeria Bebu has brought a new take on thin crust to Chicago. Their crispy, perfectly charred crust has already earned them legions of fans — and a spot on Michelin's Bib Gourmand list. Their selection of regular pies ranges from classic (margherita, pepperoni) to inventive (jalapeno popper, carbonara). Can't decide? All pizzas can be made half and half.
Chicago pizza tours
Chicago Pizza Tours: Hop on the Chicago Pizza Tour bus for a guided tour of the city's pizza culture. You'll learn the science behind the pies, sample legendary slices and go off the beaten path to visit hidden gems. In just a few hours, you'll cover 20 miles and taste multiple styles of pizza from all across the city.
Pizza City USA Tours: A James Beard Award-winning food reporter and Chicago local will guide you through this in-depth tour of the best Chicago pies. Steve Dolinsky has sampled 185 local pies and uncovered 10 distinct regional styles. His tours go beyond the deep dish hype to give visitors an authentic taste of Chicago pizza as you walk through different city neighborhoods.