Within Chicago's diverse neighborhoods lies a global food scene where you can taste flavors from all over the world. Sample dim sum specialties from China, tandoori-roasted meats from India, traditional sweets like conchas and pan dulce from Mexico, and so much more.
There's tons to explore, so the best way to do it is to dive right in. Check out a few of our international neighborhoods and the beloved local restaurants that bring cuisines from around the globe straight to your plate.
Pilsen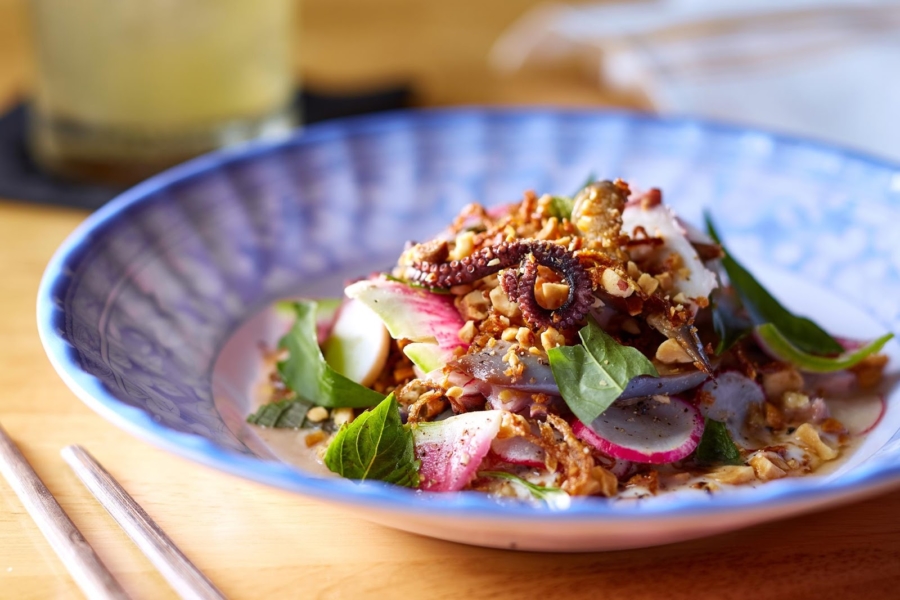 Pilsen is one of the city's most vibrant areas, from the colorful murals lining the streets to the bold dishes being served in its acclaimed restaurants. This Latino neighborhood is known as the go-to spot for delicious Mexican fare, from authentic to innovative, that attracts diners from all over the city.
Grab goodies to go at Panaderia Nuevo Leon, a traditional self-service Mexican bakery that's been around since 1973. Take your pick from conchas, gorditas dulces, bolillos, empanadas, donuts, and pan dulce made from scratch daily. Kristoffer's Cafe and Bakery is another must, with customers (including celebrity chef Rick Bayless) lining up for its famous tres leches cake.
De Colores is known for their excellent seafood and local art hanging on the walls. And at HaiSous, the award-winning dishes explore the flavors and depths of Vietnamese cooking. Their all-day cafe right next door serves up banh mi and specialty coffee by day, plus cocktails at night.
Chinatown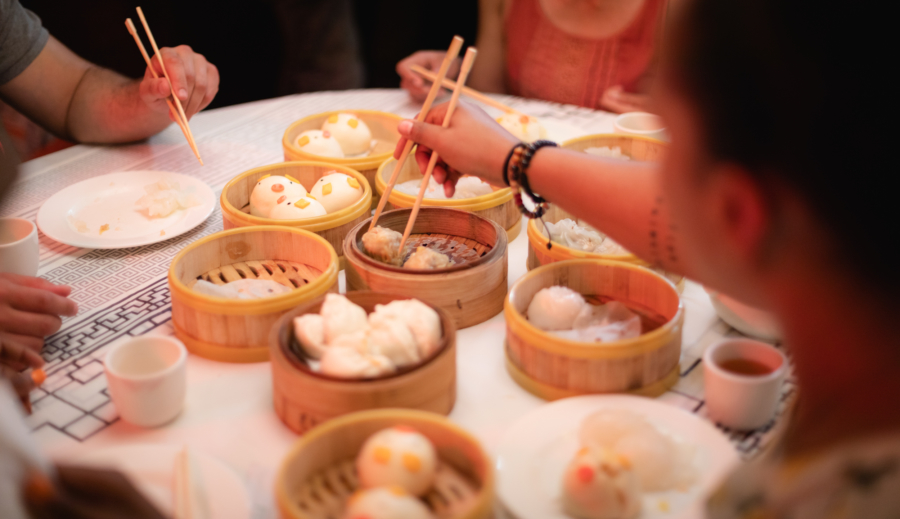 Established more than 100 years ago, Chicago's Chinatown is your one-way ticket to authentic Chinese cuisine. The neighborhood's elaborately adorned streets are dotted with bakery windows displaying traditional snacks, cozy dim sum shops, and award-winning restaurants specializing in flavors from all over China.
Start your visit at the newer Chinatown Square Mall, an outdoor space located just north of the main Wentworth Avenue area. For dim sum and delicious Cantonese dishes, head to MingHin Cuisine, a Michelin Bib Gourmand favorite. Or colorful Joy Yee Noodles makes for the perfect lunch spot with dishes that combine culinary styles and traditions from across Asia. Don't miss their specialty — Taiwanese Bubble Tea, a sweet drink spiked with tapioca pearls.
If you're in the mood for something casual, Strings Ramen Shop offers up all varieties of noodles and rice bowls in a laid-back setting. After lunch, walk to the original section of Chinatown where you can admire the endless selection of old-school baked goods at the neighborhood's oldest bakery, Chiu Quon. Take your pick from traditional Chinese treats, like savory BBQ pork buns, sweet coconut custard buns, and lotus bean paste mooncakes. Or just grab one of each, along with a cup of Yin Yang (half coffee, half milky tea).
West Ridge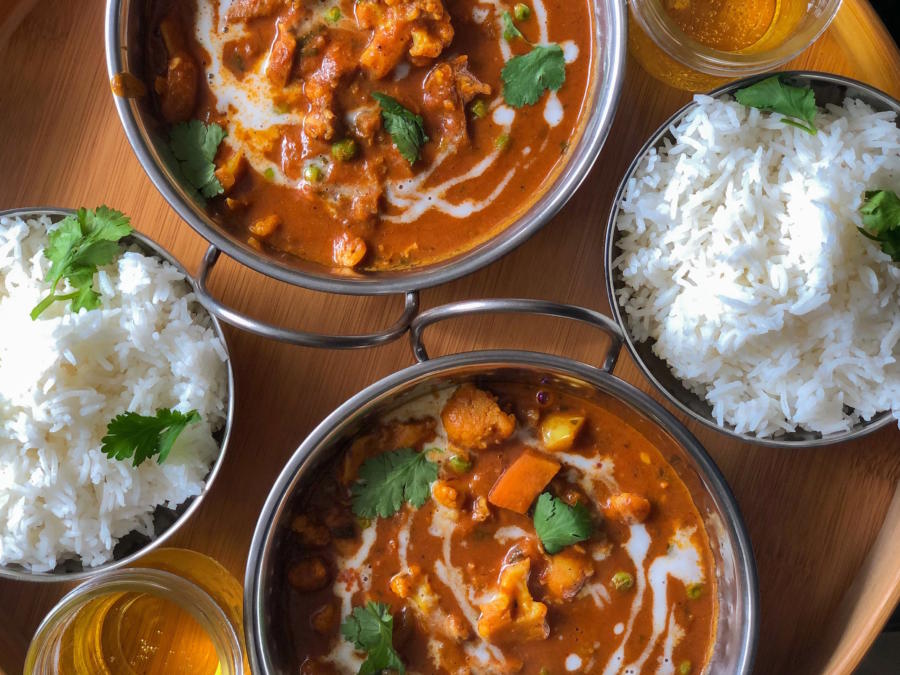 West Ridge is the heart of Chicago's Indian and Pakistani communities. And the area around Devon Avenue is the city's culinary "Little India", with a dynamic mix of specialty grocery stores, beloved bakeries, and long-standing restaurants that have become local institutions.
A good place to start is Hema's Kitchen, where you can order home-style Indian dishes like bubbling pots of curries, aromatic roasted meats, and fluffy garlic naan in a casual setting. An insider tip: regulars swear that Hema's has some of the best lamb vindaloo in the city.
Just one block west, Tiffin Indian Kitchen serves classic dishes with modern twists in an upscale atmosphere. Order fan favorites like the tandoori roasted meats, deep fried prawns, and mulligatawny soup (a South Indian specialty). Or try a bit of everything at their popular lunch buffet, filled with fragrant dishes that will keep you coming back for more.
If you've got room for dessert, head to Tahoora Sweets & Bakery. The Indian bakery offers a long list of popular Indian desserts, like gulab jamun (cardamom-spiced donut holes) and barfi (a fudge-like sweet with flavors like pistachio, mango, or chocolate).
Little Village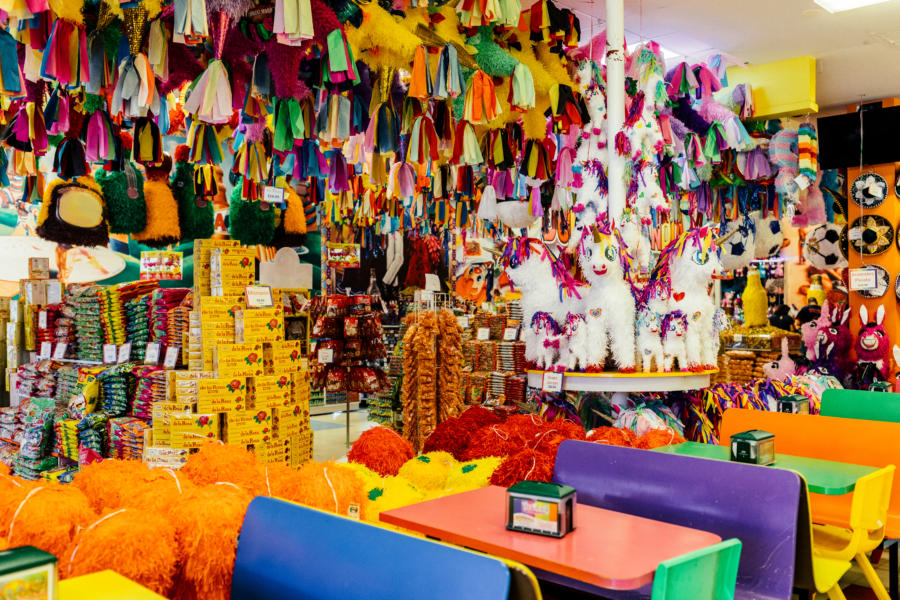 Little Village, or "La Villita" as the locals call it, is home to some of the city's most authentic Mexican cuisine. Stock up on traditional baked goods and pastries like pan dulces and conchas at spots like Rosy's Bakery or La Baguette, both located in the heart of the neighborhood on 26th Street.
Don't miss Mi Tierra, where you can grill fresh meats and seafoods at the table. The fun atmosphere makes it a popular gathering spot for birthdays and celebrations. And Nuevo Leon is a generations-old family restaurant known for tacos and Mexican staples.
If you have a sweet tooth, don't miss Dulcelandia del Sol — a colorful wonderland with every type of confection you can imagine.
Greektown
In the foodie world, Chicago's West Loop is known as one of the hottest dining districts in the country. But just a few blocks away from the trendy spots on Randolph Street, you'll find the original West Loop dining experience — Greektown, a bustling enclave filled with traditional bakeries, energetic tavernas, and family-owned restaurants.
Athena is always busy with diners enjoying classic Greek dishes in modern digs. Grab a spot on the sun-soaked patio and order the roasted leg of lamb, a gyro with fresh pita, or the flaming saganaki (a dish that was first introduced to America in Chicago's Greektown).
Artopolis Bakery sits just one block north. The cozy cafe features an in-house bakery, where you can sample traditional Greek treats. Try the Galaktoboureko, a traditional milk custard with a hint of orange in a buttery phyllo shell, or a big slice of melt-in-your-mouth spinach and feta spanakopita.
And at Santorini, you can get a taste of island life with a long list of traditional dishes, like keftedes — Greek meatballs sautéed in olive oil and topped with lamb sauce and cheese. All the dishes, along with a roaring fireplace in colder months and a pretty patio in the summer, will transport you straight to the Mediterranean.
Edgewater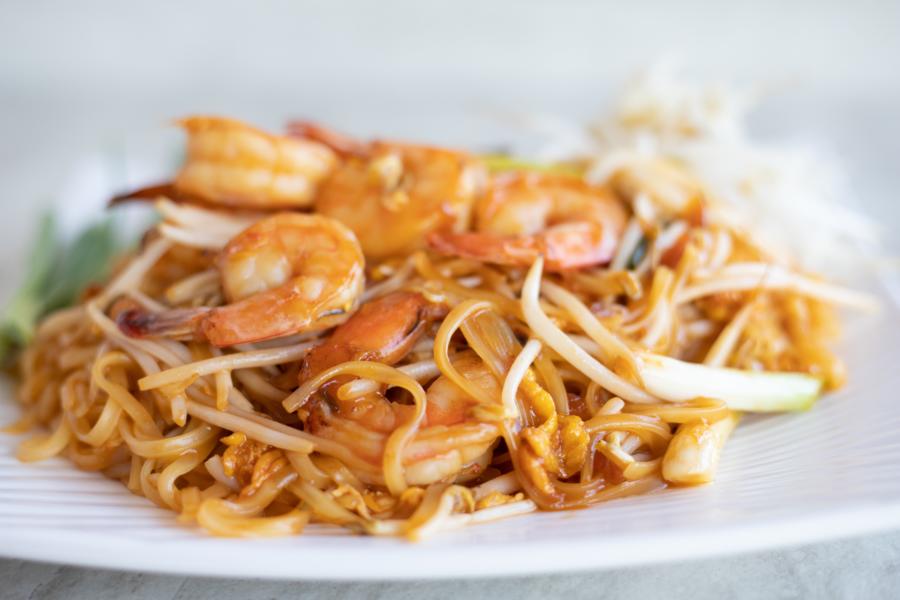 Edgewater is a bit of a melting pot when it comes to their dining scene. The charming lakefront neighborhood is packed with globally inspired restaurants – you can visit almost every continent within a few blocks.
Head to Ethiopian Diamond for excellent cuisine from their namesake region. Their "Taste of Ethiopia" menu is a good place to start for newcomers. It's filled with tasty bites of slow-cooked beef, vegetable stew, meat-filled pastries, and more. Mango Pickle is another neighborhood favorite, serving traditional and modern Indian dishes. The menu rotates frequently with the seasons and incorporates tons of locally sourced ingredients.
Indie Cafe is a casual sushi spot that incorporates Thai and Japanese flavors into their dishes. And don't miss Dak, a casual Korean spot known for their wings, or Herb, a Thai restaurant and long-time Michelin Bib Gourmand favorite.
Little Italy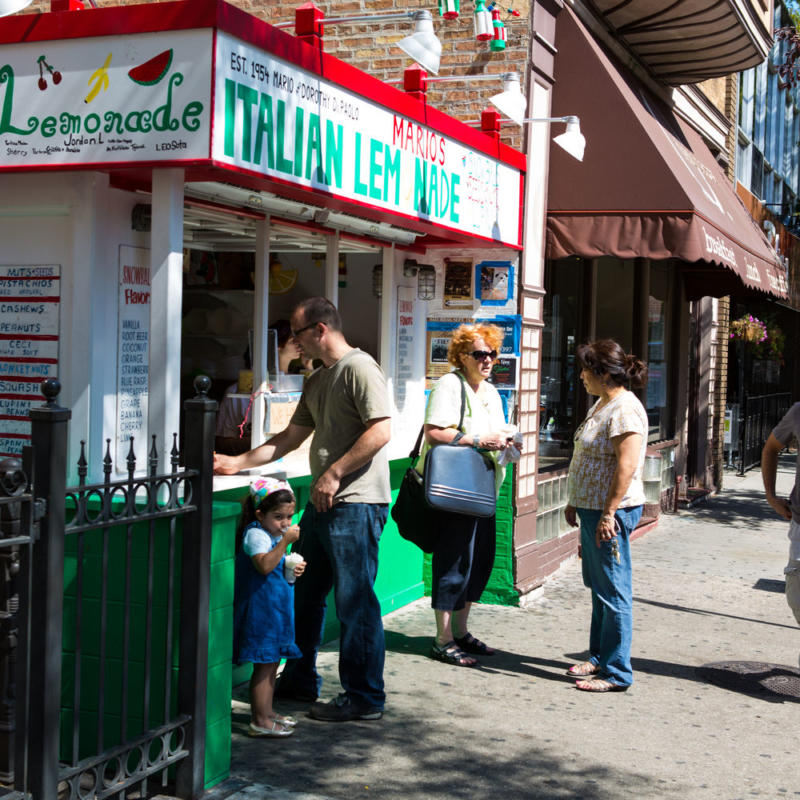 Venture to this neighborhood to experience Chicago's rich Italian-American heritage. Head straight to Taylor Street, from Morgan Street west to Ashland Avenue, where you'll find restaurants and delis that have been around for generations.
Mario's Italian Lemonade is a curbside stand that's been serving up shaved ice since they opened in the 1950s. Just a few blocks away at Conte Di Savoia, you'll find an old-world Italian deli and gourmet grocery store that's been serving the neighborhood since 1948. Stop in for traditional Italian sandwiches, salads, antipasto meats, cheeses, olives, and more.
And at Tuscany on Taylor, you'll find wood-fired pizza, Tuscan-inspired seafood, and pasta dishes served in a stylish trattoria with a shaded patio.