If you're wondering where to eat in Chicago, don't worry — we've got you covered. Just make your way through this roundup of famous local dishes, only-in-Chicago specialties, and original dishes that got their start here. From upscale to casual, this list has something for every taste and budget. Here's a taste of Chicago's iconic eats and mouthwatering must-haves.
1. Chicago style hot dog
Get an original Chicago style hot dog at Portillo's, where they'll load your dog with mustard, relish, freshly chopped onions, sliced tomatoes, peppers, and a kosher pickle, nestled in a steamed poppy seed bun.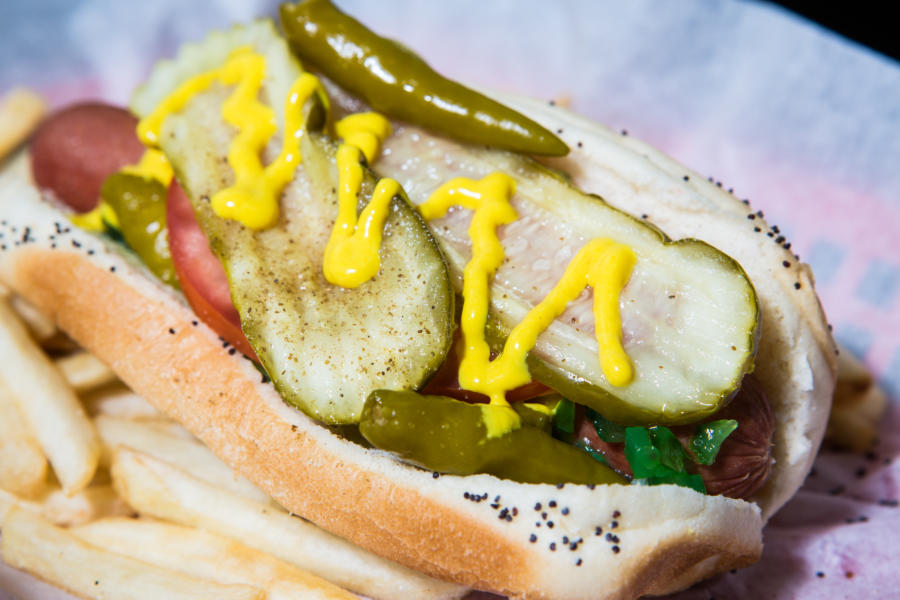 2. Garrett Mix popcorn
Head over to Garrett Popcorn Shops — a Chicago tradition since 1949 — and nosh on Garrett Mix, a sweet and savory blend of CaramelCrisp popcorn and CheeseCorn flavors.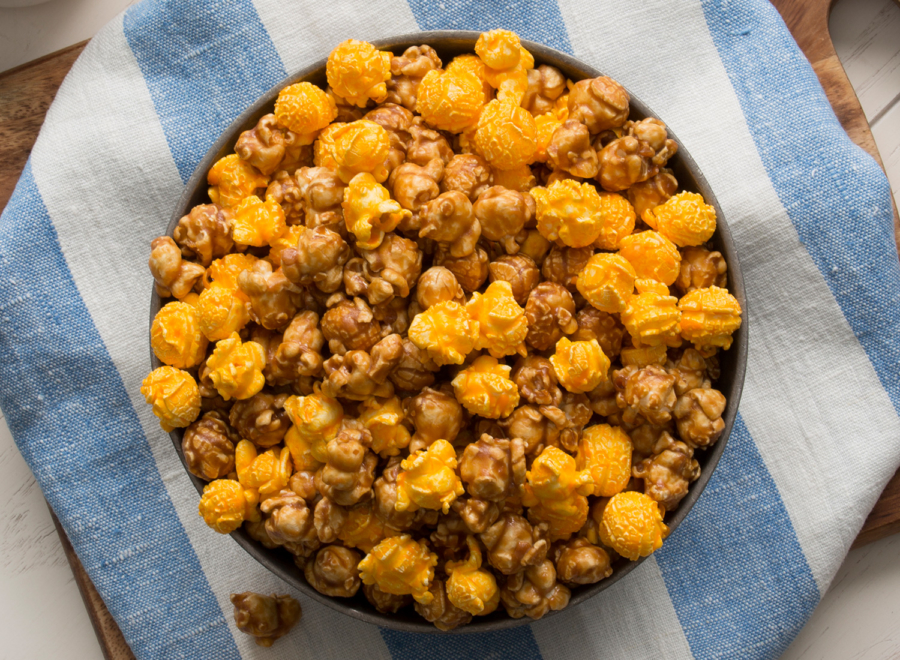 3. Deep dish pizza
Order a Numero Uno deep-dish pizza from Uno Pizzeria & Grill (a mainstay since since 1943), which is loaded with sausage, pepperoni, onions, peppers, mushrooms, and chunky tomato sauce, topped with mozzarella and romano. (Want more deep-dish ideas? Don't miss the flaky, buttery crust at Lou Malnati's, the sauce-covered pies at Gino's East, or the over-the-top stuffed crust at Giordano's.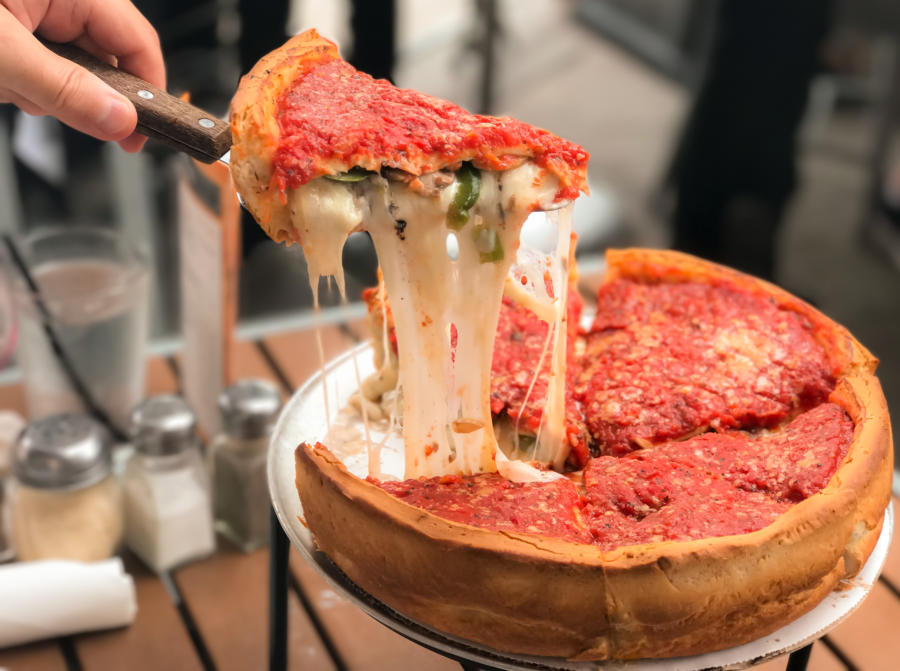 4. Jibarito
Get a taste of Puerto Rico with a jibarito: a sandwich made with fried green plantains (instead of bread) and loaded with your choice of filling — seafood, meat, or vegetables. This specialty was invented right here in Chicago. An authentic version can be found at La Bomba, a casual Puerto Rican-inspired spot near Humboldt Park.
5. Swedish cinnamon rolls
Indulge in the ultra-soft, frosting-laden cinnamon roll duo at Swedish diner Ann Sather, a brunch staple for over 60 years with three Chicago locations.
6. Eli's Cheesecake
Satisfy your sweet tooth with a slice of dense, creamy cheesecake with crisp, all-butter cookie crusts from Eli's Cheesecake, serving up desserts since 1980.
7. Steakhouse fare
Opt for a perfectly prepared cut of meat at Chicago's first steakhouse Gene & Georgetti, founded in 1941. (Craving more carnivore options? Try any of the delectable cuts of USDA Gibsons Prime Angus Beef at Gibsons Steakhouse, or order the Filet Marsala at The Rosebud, a favorite for over forty years.)
8. Italian beef
Order the famous Italian beef sandwich at Al's Italian Beef — a sandwich stalwart since 1938 — and make sure to get it the Chicago way: loaded with hot and sweet peppers and dipped in "gravy" (beef juice) for an unbelievably juicy, flavorful meal.
9. Greek cuisine
Say "opa!" as you watch your server at Greek Islands light the famous flaming saganaki appetizer (Kasseri cheese flamed in brandy) ablaze right next to your table. Located in the heart of Greektown, this spot claims to be "the most popular Greek restaurant in America."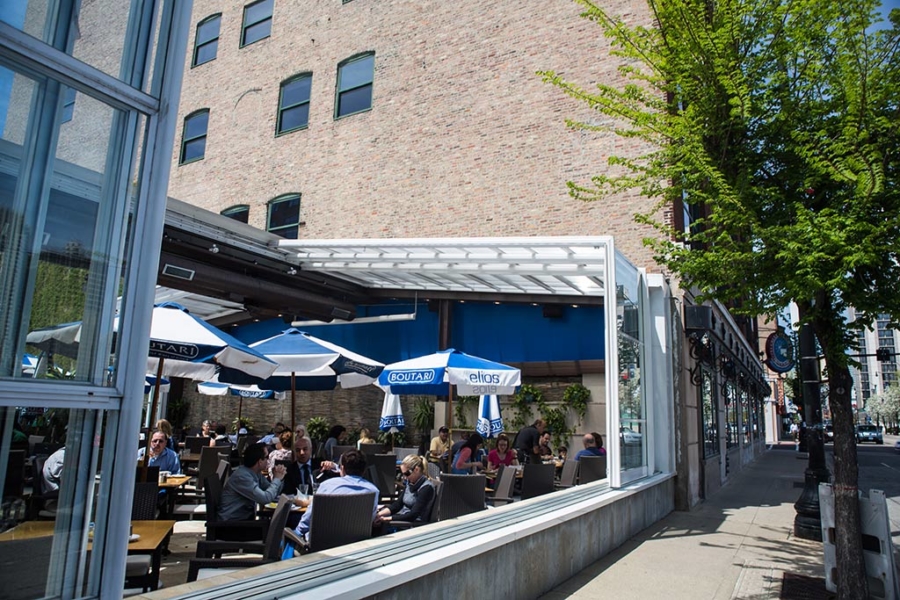 10. Shaved ice
During warmer weather months, cool off with a shaved ice at Mario's Italian Lemonade, a mainstay stand since 1954, open May through September.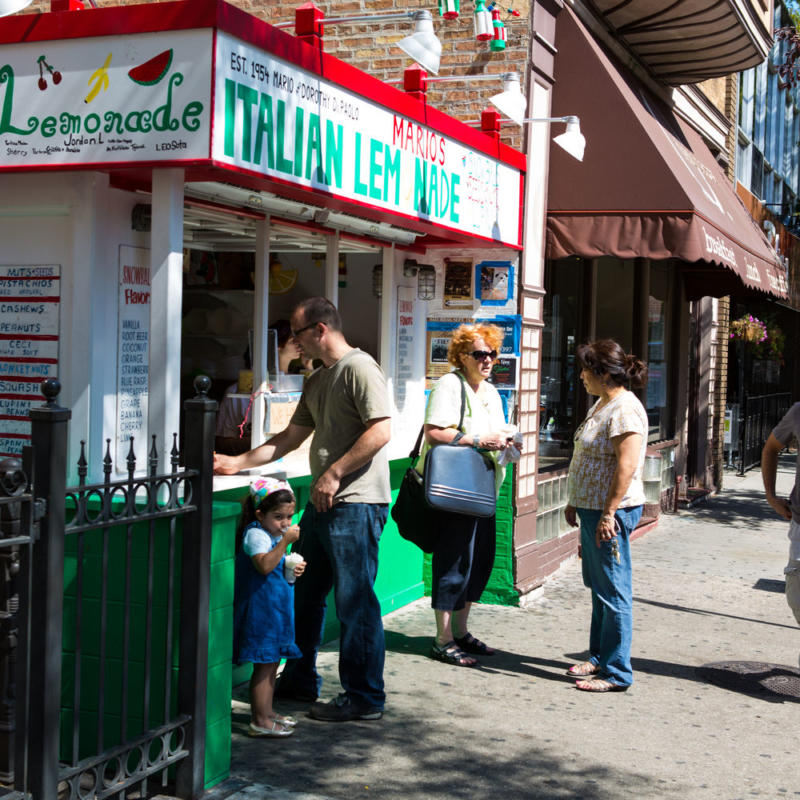 11. Barbecue ribs
Order a mouthwatering rack of sauce-slathered ribs at Twin Anchors Restaurant & Tavern, one of Chicago's oldest restaurant dating back to 1932. (Looking for more barbecue joints? Chicago has plenty, like Lem's Bar-B-Q, the old-school South Side spot circa 1954).
12. Corned beef
Visit Manny's Cafeteria & Delicatessen, a Chicago institution since 1942, for their corned beef sandwich, piled high with tender sliced corned beef between two pieces of soft rye.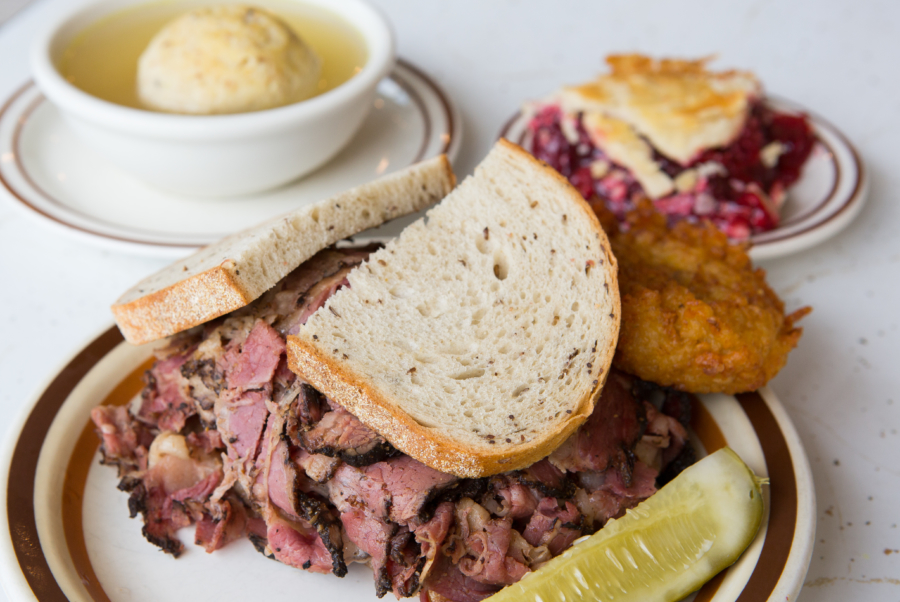 13. A classic cheeseburger
For a cheap bite to eat, order a cheeseburger from the world famous Billy Goat Tavern, which opened in 1934 and has even had a Saturday Night Live skit immortalizing the casual joint. (Looking for a gourmet burger fix? Try one of the many creative heavy-metal-inspired burgers at Kuma's Corner, or go with the legendary cheeseburger at Au Cheval, repeatedly dubbed one of the best burgers in America).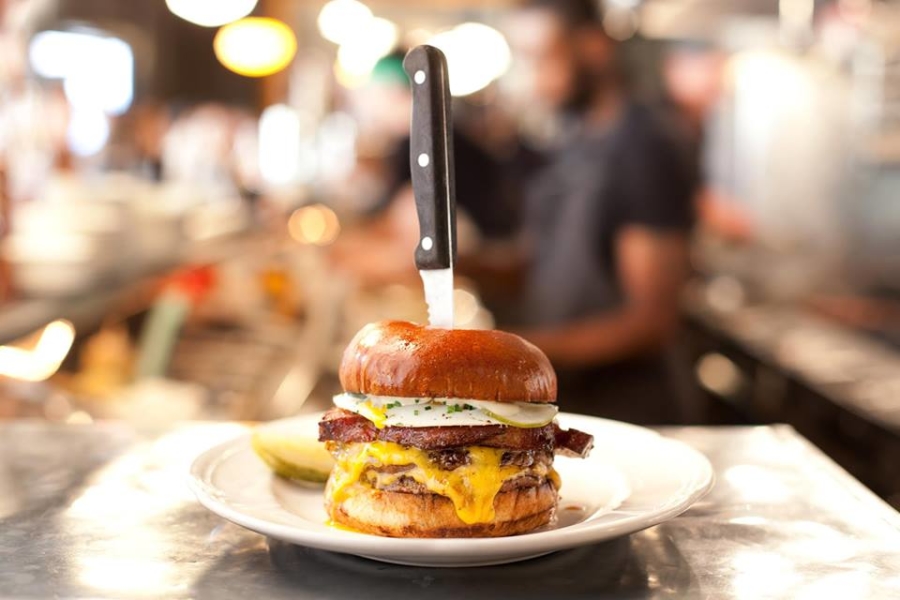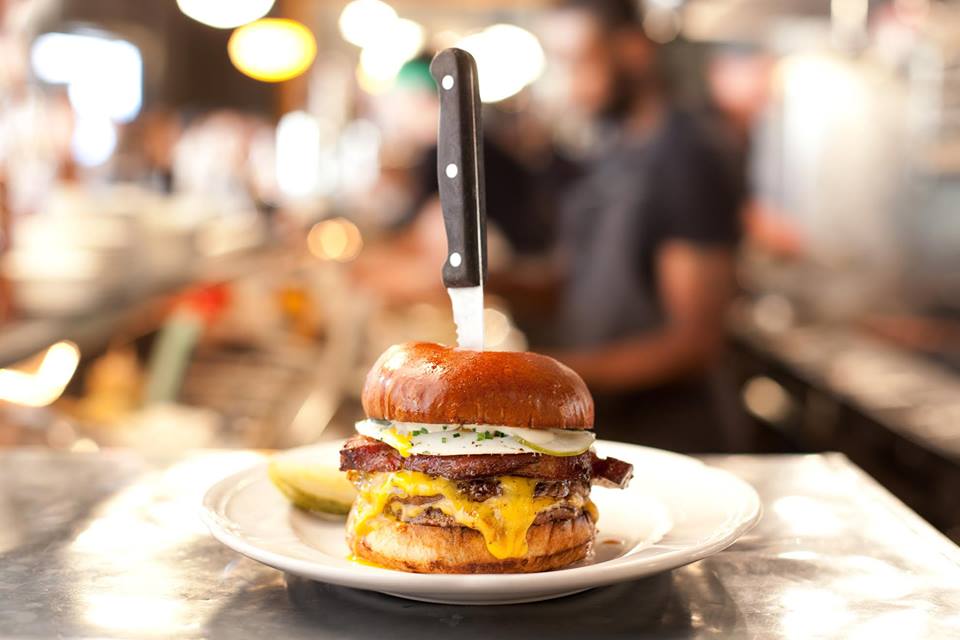 14. Authentic tacos
Try the beloved carnitas tacos at Las Carnitas Uruapan, which has had Chicagoans lining up for ultra-flavorful, slow-cooked pork street tacos since 1975. (Craving more recommendations? The Little Village and Pilsen neighborhoods have you covered: try El Milagro, where the corn tortillas are made from scratch, or go with Bib Gourmand winner DeColores for an artful fine dining experience.)
15. The Original Rainbow Cone
Dating back to 1926, The Original Rainbow Cone in the Beverly neighborhood is one of Chicago's oldest ice cream shops, serving up its signature cone each season: a tower of rainbow flavors with orange sherbet, pistachio, Palmer House (New York vanilla with cherries and walnuts), strawberry, and chocolate.
16. Chicken Vesuvio
Order the "best Chicken Vesuvio in the city" at Harry Caray's Italian Steakhouse, where half a bone-in chicken is roasted with quartered potatoes, sweet peas, garlic, and white wine. The original recipe for this iconic dish has won the hearts of visitors and locals alike.
17. Polish sausage
At Jim's Original, they've been serving their polish sausage the same way since 1939, so get a taste of the "Original Maxwell Street Polish Sausage Sandwich" from the people who invented it. Here, you can fill up on a juicy and crunchy smoked Polish sausage nestled into a hot bun and topped with yellow mustard, a pile of grilled Spanish onions, and spicy hot sport peppers. They'll even throw in a free bag of French fries.
18. German fare
Serving up authentic German fare in a beer hall environment since 1898, The Berghoff is the go-to spot for Old World-style sausage and German beer. After all, The Berghoff obtained the first liquor license in Chicago after the Prohibition.
19. Chicken pot pie at The Walnut Room
Visit The Walnut Room inside Macy's on State Street — the first restaurant to ever open in a department store — and order Mrs. Hering's Chicken Pot Pie: a flaky, flavorful comfort dish that's been on the menu since 1890.
20. The original brownie
Sink your teeth into a dense, chewy Bertha's Famous Brownie from Palmer House, where the brownie was originally created in 1893 for the Chicago World's Fair. The brownie is available at both Potter's and Lockwood Restaurant.