Aug. 19 – 20, 2023
Free admission • Chicago lakefront
Starting in the summer of 1959, the Chicago Air and Water Show has grown to be the largest and oldest free admission air and water exhibition in the United States. The spectacular two-day event draws an audience of over two million to the city's stunning beachfront to see military and pilots perform astonishing stunts above the waters of Lake Michigan.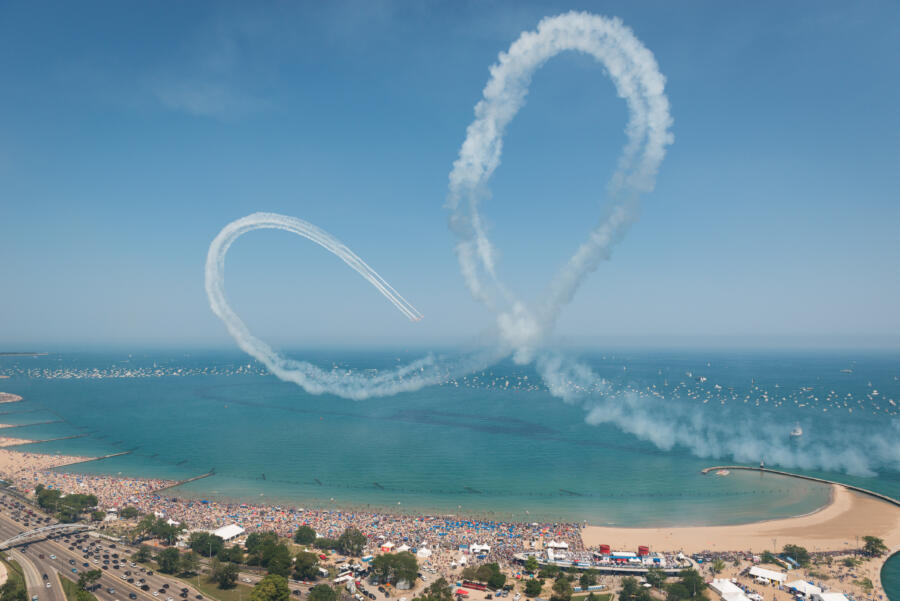 For more than 60 years, the multi-day show has taken to the skies above Lake Michigan, with North Avenue Beach as the center point. Make sure to arrive early to secure your spot and catch the spectacular demonstrations by aircrafts, boats, and diving and parachute teams. It's a thrilling, bucket list experience — soak up the sun, breathe in the crisp lake breezes, and feel the rumble of jet engines soaring overhead.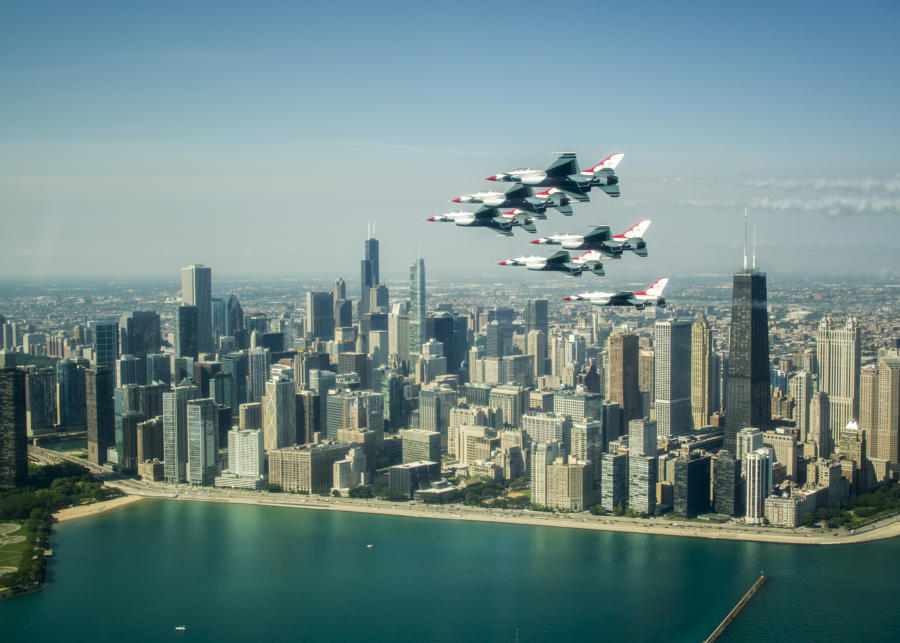 Where to watch the Chicago Air and Water Show
On the beach
The prime viewing location for the Chicago Air and Water Show is near the water. If you want to be in the center of the action, bring chairs or a blanket and stake out a spot on the sand or grass anywhere on North Avenue Beach from Fullerton Avenue to Oak Street. You can also see the show from iconic lakefront attraction Navy Pier and its many outdoor patios.
Reserve a cabana space at Caffe Oliva for breezy, unobstructed views from Ohio Street Beach. A little further north, grab a seat at Theater on the Lake's waterfront patio.
For the VIP treatment, head to Shore Club. Enjoy the show from the beachfront bar's sand-covered patio, dotted with private cabanas. Or grab a seat at Castaway's, a beach bar and grill with cool drinks, live music, and excellent views of the water and skyline.
Cruise the waters
If you'd rather get on the water yourself, hop aboard one of Chicago's many lakefront boat cruises. There are a variety of tour boat companies that offer special cruises with incredible views of the Air and Water Show — enjoy a lunch buffet and unobstructed views with City Cruises, experience a piece of local history with Chicago Fireboat Tours, or explore cruise options with Mercury Cruises, Wendella Boats, Shoreline Sightseeing Company, Seadog Cruises, Chicago's First Lady.
Get a sky-high view
For a bird's eye view, head up to 360 CHICAGO observation deck, where you'll be blown away by the 360-degree panoramas and the vastness of Lake Michigan below. Enjoy drinks from 1,000 feet up at Cloud Bar for unbeatable city views. In the iconic Willis Tower, enjoy watching the jets fly by at eye level from the 103rd-floor Skydeck Chicago.
If you prefer an open-air environment, carve out a spot on a rooftop bar, like at The J. Parker atop Hotel Lincoln, Devereaux at The Viceroy, or Offshore Rooftop at Navy Pier (one of the largest rooftop bars in the world).
Check out our full guide on where to watch the Chicago Air and Water Show.
Air & Water Show performers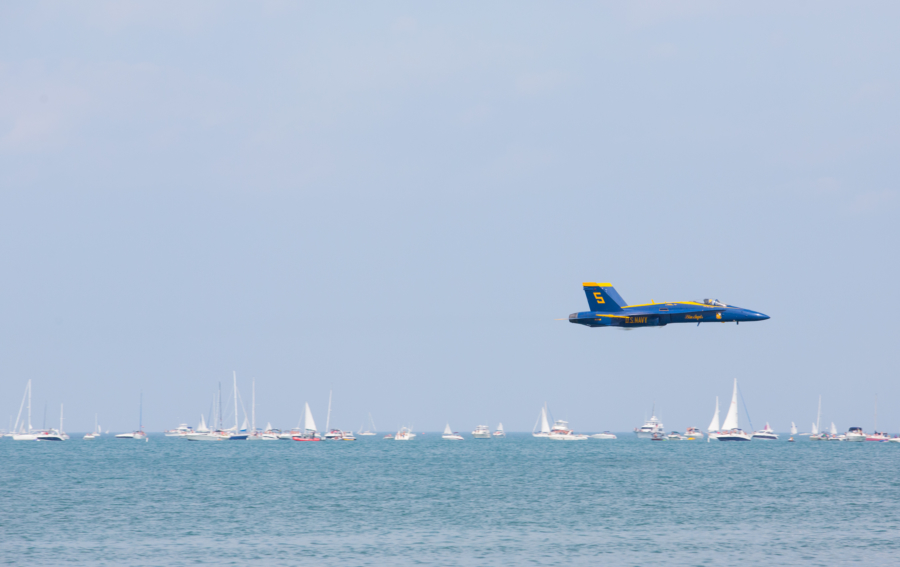 Royal Air Force Red Arrows:  For over a hundred years the Royal Air Force has defended the skies of Britain and projected Britain's power and influence around the world. Today the RAF is engaged in 15 missions on 4 continents in 22 countries.
U.S. Navy Blue Angels: The U.S. Navy Blue Angels have been astounding audiences since 1946 with their commanding presence and aerial maneuvers in their F/A-18 Hornet. The team has thrilled more than 427 million fans choreographed aerobatic and high altitude performance maneuvers.
U.S. Army Parachute Team Golden Knights: Jumping out of an aircraft 12,500 feet above the earth's surface, racing to North Avenue Beach at speeds exceeding 120 mph and landing with smiles, ready to do it all again; all in a days work for the Golden Knights. For more than 50 years, the U.S. Army Parachute team has amazed and thrilled audiences with their precision parachute demonstrations in more than 14,000 shows in all 50 states and 48 countries.
U.S. Navy Parachute Team Leap Frogs: A typical Leap Frogs performance consists of fourteen jumpers leaping out of an aircraft at an altitude of 12,500 feet. The jumpers typically open their parachutes at around 5,000 feet, then fly their canopies together to build dramatic canopy-relative work formations.
U.S. Air Force F-22 Raptor Demo: The 5th Generation F-22's unique combination of stealth, speed, agility, and situational awareness, combined with lethal long-range air-to-air and air-to-ground weaponry, makes it the best air dominance fighter in the world.
USMC Osprey Demo: The Osprey is an American multi-mission, tiltrotor military aircraft with both vertical takeoff and landing (VTOL), and short takeoff and landing (STOL) capabilities. It is designed to combine the functionality of a conventional helicopter with the long-range, high-speed cruise performance of a turboprop aircraft.
USAF A-10 Thunderbolt II: The A-10 Thunderbolt II is the first Air Force aircraft specially designed for close air support of ground forces. They are simple, effective and survivable twin-engine jet aircraft that can be used against all ground targets, including tanks and other armored vehicles.
KC-135 Stratotanker: The KC-135 Stratotanker is a military version of the 1950s-era 707 commercial passenger jet. The Air Force inventory of 732 aircraft are more than 50 years old and have been retrofitted several times with new engines, avionics and structural upgrades.
C-130 Hercules: The workhorse of the Air Force combat airlift fleet, the C-130 Hercules has been in service for more than half a century. Designed specifically to transport troops and equipment in the combat zone via airdrop or short runways, the Hercules operates throughout the U.S. Air Force serving with Air Mobility Command, Air Force Special Operations Command, Air Combat Command, U.S. Air Forces in Europe, Pacific Air Forces, Air National Guard and the Air Force Reserve Command, fulfilling a wide range of operational missions in both peace and war situations.
T-38 Talon: The T-38 Talon is a twin-engine, high-altitude, supersonic jet trainer used in a variety of roles because of its design, economy of operations, ease of maintenance, high performance, and exceptional safety record.
U.S. Coast Guard MH-65 Dolphin Helicopter: These helicopters will perform a simulated air-sea helicopter rescue. Watch as the helicopter's rescue swimmer free-falls from 30 feet into Lake Michigan, recover a simulated survivor, and is hoisted back to safety.
U.S. Coast Guard Cutter: United States Coast Guard Cutter is the term used by the U.S. Coast Guard for its commissioned vessels. They are 65 feet (19.8 m) or greater in length and have a permanently assigned crew with accommodations aboard. They carry the ship prefix USCGC.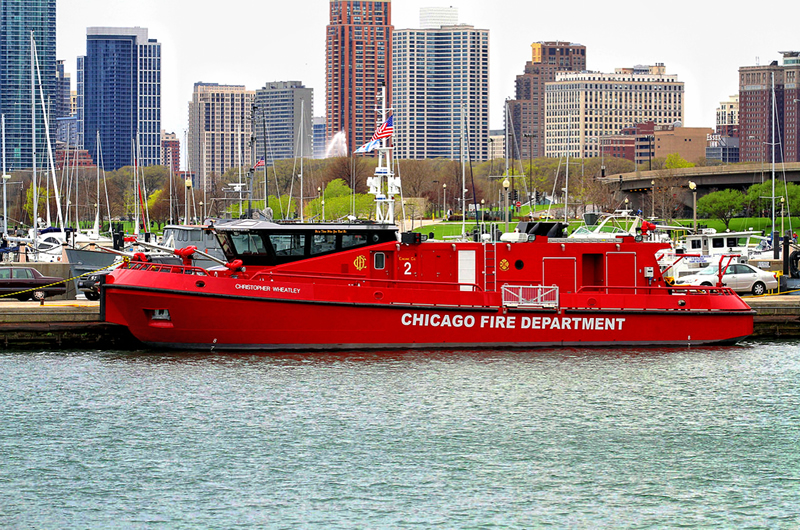 American Airlines: American Airlines is committed to reinvesting in its products and services to improve the travel experience for its customers. American's investment in its fleet is the latest in a series of strategic investments the company believes are necessary to enhance the overall customer experience, as well as maintain and grow market share.
Bill Stein Aerosport: Bill Stein has logged over 5,000 hours of aerobatic and formation flight. Bill began flying aerobatics when he was still a student pilot and has been dedicated to perfecting his skills ever since. Since 1995 Bill has performed at air shows all across the United States and has entertained millions air show fans.
Chicago Fire Department Air/Sea Rescue: The Air Sea Rescue Unit was established in 1965, where they provide search and rescue services for 37 miles of lakefront, an extensive river system, numerous lakefront venues, and the largest harbor system in the U.S. Divers assigned to the Air Sea Rescue Unit are trained under public safety rescue diver guidelines specific to Chicago's needs and particular environment. Air pilots are trained in helicopter search and rescue, and hoist rescue techniques patterned after nationally recognized standards.
Chicago Police Department Helicopter: The focus of these aircraft is to provide an additional resource to ground units. The use of Helicopters as resources enhance the capabilities of first responders through the deterrence and prevention of crime, by hardening of targets through focused aerial patrol and increasing response time.
Sean D. Tucker & Team Oracle: In airshow flying, Sean is the world's premier performer in terms of entertainment value and piloting skill. He's been flying airshows world-wide since the mid-70's and has won numerous aerobatic competitions. In that time, Sean has flown more than 1000 performances at more than 425 airshows, in front of more than 80 million fans.
Susan Dacy in the Super Stearman Model 70: Susan is one of only a few females performing airshows in a biplane, and is the only woman flying exhibition in the Super Stearman. Susan is a Chicago-based International Captain, currently flying 777. She's flown more than sixty different types of aircraft, and has logged more than 33,000 hours.
The Firebirds Delta Team: The Firebirds flight demonstration combines the precision of formation aerobatics with radical gyroscopic tumbles and heart stopping head-on madness guaranteed to keep you on the edge.
Matt Chapman Air Shows: Matt Chapman is recognized as an extraordinary aerobatic pilot who thrills millions of airshow fans each summer. He began flying aerobatics in 1984 and quickly worked his way up to the highest level of competition aerobatics – the Unlimited category. Recognized for his skills, he won one of only five slots on the U.S. Unlimited Men's Aerobatic Team in 1996 and 1998.
Warbird Heritage Museum Foundation P-51 Mustang: The North American Aviation P-51 Mustang was an American long-range single-seat World War II fighter aircraft. The Mustang first flew in Royal Air Force service as a fighter-bomber and reconnaissance aircraft before conversion to a bomber escort, employed in raids over Germany, helping ensure Allied air superiority from early 1944. The P-51 was in service with Allied air forces in Europe and also saw limited service against the Japanese in the Pacific War.
Herb Hunter — "The Voice" of the show and a former pilot in the show himself — takes to the announcer's stand with his informative and entertaining play-by-play, so you're always in the loop.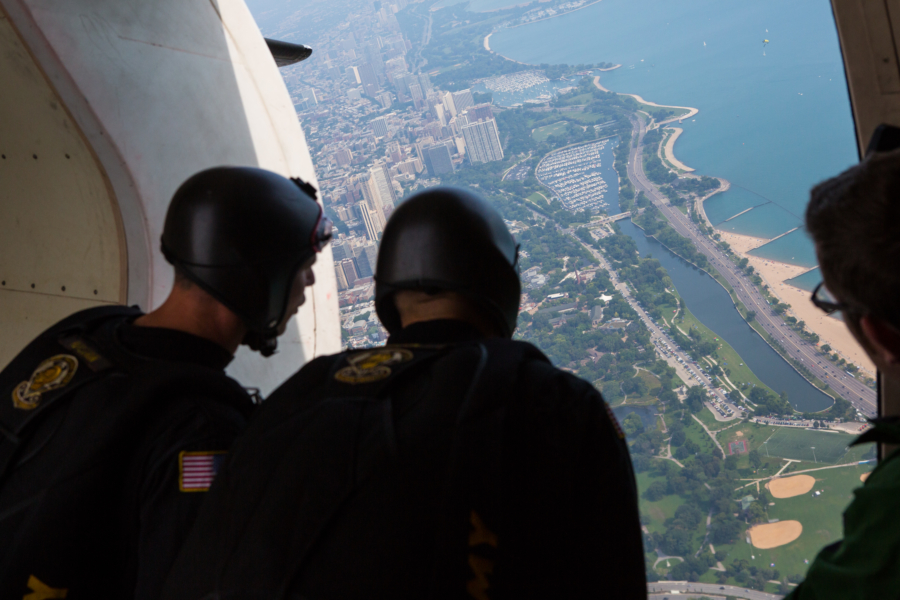 For helpful tips to plan your visit to the Chicago Air and Water Show, visit ChicagoAirAndWaterShow.us.