Free admission • Millennium Park
The Millennium Park Summer Music Series features free weekly concerts, showcasing a broad spectrum of genre-defying musicians — both established and emerging.
Grab a seat at the Jay Pritzker Pavilion or spread out on the Great Lawn for a varied selection of outdoor performances from local, national, and international acts.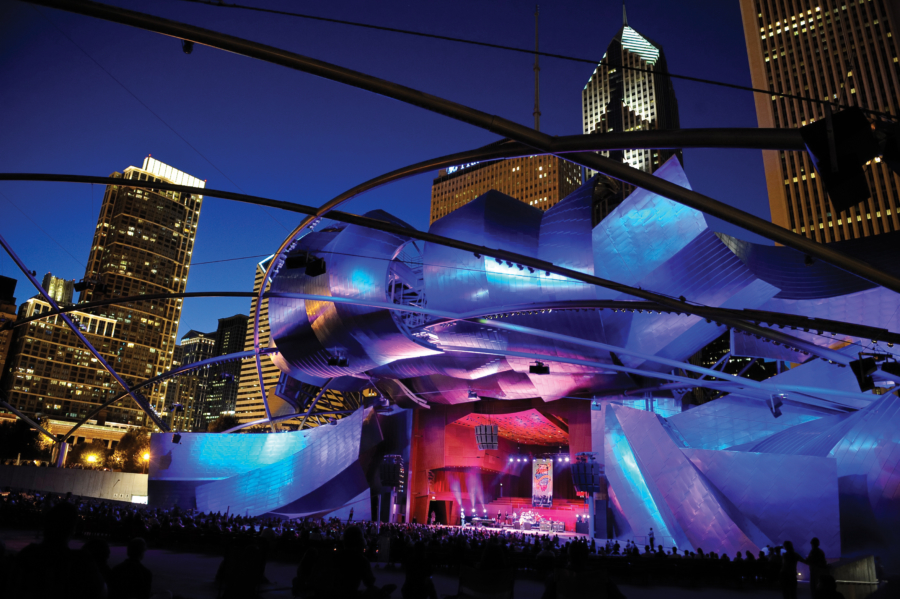 Check out the 2019 schedule to get a taste of the Millennium Park summer music series.
Thursday, June 13, 6:30 p.m.
Mt. Joy
Folk rockers Mt. Joy became near overnight sensations when their 2016 song "Astrovan" racked up millions of streams on Spotify. Following tours and performances with the likes of The Shins, The Head and the Heart, The Lone Bellow, and Whitney, the five-member band released their self-titled debut album last year.
Rayland Baxter
One of the hardest-touring artists on the road today, Rayland Baxter spent three months soul searching and obsessively songwriting at a rubber band factory turned studio. The resulting spectacular album Wide Awake is infused with the Nashville native's easygoing, soulful sound with British Invasion melodies and rock and roll swagger.
Monday, June 17, 6:30 p.m.
Cory Henry and the Funk Apostles
GRAMMY Award-winning organist Cory Henry may be best known for his role in the critically-acclaimed instrumental jazz-pop orchestra Snarky Puppy. On his debut album with the Funk Apostles, Art of Love, the band whips up an intoxicating blend of blues, soul, R&B, Afrobeat, gospel, and jazz by blurring genres and upending expectations at every turn.
Liniker e os Caramelows
At the forefront of Musica Preta Brasilera (Black Brazilian Music), the Caramelows, fronted by the soulful black trans woman Liniker Barros, combine soul and R&B with the tropical heritage of Brazilian music. Their viral hit "Zero" led to the crowd-funded album Remonta and the recent release Goela Abaixo.
Monday, June 24, 6:30 p.m.
Chucho Valdes & Jazz Batá
Winner of six GRAMMY Awards and three Latin GRAMMY Awards, Cuban pianist, composer, arranger, and band leader Chucho Valdes has been a key figure in the Afro-Cuban jazz for the past 50 years. Chucho returns to the exploration of the sacred rhythms of the sacred batá drum, the music that would form the foundation of his history making group Irakere.
Fareed Haque + Casseus
Fareed Haque is an international guitar virtuoso steeped in classical and jazz music. His unique command of the guitar infuses his performances with tradition and fearless innovation. He will perform the works of the late contemporary Haitian American guitarist and composer Franz Casseus.
Thursday, June 27, 6:30 p.m.
Flora Cash
Husband-and-wife duo Flora Cash craft atmospheric indie folk and pop music born out of a cross-Atlantic courtship that began on Soundcloud. The Swedish Shpresa Lleshaj and American Cole Randall followed up their 2017 album Nothing Lasts Forever (And It's Fine) with the viral hit "You're Somebody Else."
SUSTO
The indie rock and alternative country project SUSTO centers around the lyrical narrative of singer-songer Justin Osborne. The acclaimed album Ever Since I lost My Mind is a mix of new partnerships and collaborations with old friends, anchored in perceptive songs exploring connection, loss and transience.
Monday, July 1, 6:30 p.m.
Car Seat Headrest
Car Seat Headrest began as a solo project of Will Toledo and now includes Andrew Katz (drums), Ethan Ives (guitar), and Seth Dalby (bass). The band, whose music transverses various genres under the "indie" label including lo-fi, electronic, and pop rock, recently released a re-recorded, re-imagined edition of its classic Twin Fantasy.
Naked Giants
Rock band Naked Giants is comprised of vocalist and guitarist Grant Mullen, bassist and vocalist Gianni Aiello, and drummer Henry LaVallee. Their debut studio album SLUFF was released last year to positive critical reviews. The band has toured with Car Seat Headrest since 2018.
Monday, July 8, 6:30 p.m.
Brent Cobb
Anchored by southern storytelling and swampy, country-soul swagger, Brent Cobb's debut album Shine on a Rainy Day became a critical and commercial hit that garnered a GRAMMY Award nomination. The Georgia native's 2018 followup, Providence Canyon album amps things up and pushes the sound forward with upbeat mixes of rock and country about life on the road.
Lydia Loveless
Firebrand alt-country singer Lydia Loveless combines the honky tonk sound and style of classic country with the no-quarter attitude and spunk of punk rock divas. Her highlight anticipated fourth album Real was released by Bloodshot Records followed the 2016 documentary Who is Lydia Loveless? about her life and music and directed by Gorman Bechard.
Thursday, July 18, 6:30 p.m.
Orchestral Interpretations of J Dilla–Directed by Miguel Atwood-Ferguson
Multi-instrumentalist, arranger, composer, music director, producer, DJ and educator Miguel Atwood-Ferguson will direct a re-envision of the music of Jay Dee (J Dilla). The performances will feature the composed and conducted historic "Suite for Ma Dukes" in tribute to the transcendent modern hip hop producer J Dilla.
Kenny Keys
Chicago native Kenny Keys is a keyboardist, pianist, composer, producer, session musician, and teacher of music. Following his 2016 debut Everything Must Change, a mellow instrumental hip hop and jazz-infused album, he has co-produced the 2018 digital album entitled Corinthian Cadillac with LA-based platinum-selling producer J. Kelr (Blended Babies).
Thursday, July 25, 6:30 p.m.
Los Amigos Invisibles
The performance-oriented Venezuelan dance band, Los Amigos Invisibles plays a blend of disco, acid jazz, and funk mixed with Latin rhythms. In addition to releasing eleven critically-acclaimed albums, including the 2009 GRAMMY Award-winning Commercial, the band is lauded internationally for their explosive live shows reaching nearly 60 countries.
Natalie Prass
Natalie Prass is a musician on the rise. The singer-songwriter's 2018 album The Future and The Past is a powerful work of art and feminist statement from an artist who is only beginning to tap her full range of considerable powers.
Monday, July 29, 6:30 p.m.
Rev. Sekou
Rev. Sekou's music is a unique combination of North Mississippi hill country music, Arkansas delta blues, Memphis soul, and pentecostal steel guitar. The noted activist, theologian, author, documentary filmmaker, and musician released the 2017 album In Times Like These, including the modern Civil Rights anthem "We Comin'."
Cha Wa
New Orleans brass band-meets-Mardi Gras Indian funk band Cha Wa radiates the fiery energy of their city's street culture. In 2019, the band received a GRAMMY nomination and last year, the band, whose name "cha wa" means "we're comin' for ya" in Indian vernacular, released their sophomore album Spyboy — a combination of '70s funk rhythm, right horn parts, and deep, bouncing sousaphone.
Monday, Aug. 5, 6:30 p.m.
Love Love Love — Chicago Celebrates the Music of Donny Hathaway
The great R&B, soul music master Donny Hathaway will be celebrated in a showcase performed by Chicago artist under the musical direction of Corey Wilkes. Named the 49th greatest singer of all time in a 2010 list published by Rolling Stone, Donny Hathaway is foundational to American soul music, with enduring songs like "The Ghetto" and "Where is the Love." His influence can be heard in contemporary artists from R&B to hip hop to jazz.
Thursday, Aug. 15, 6:30 p.m.
Jupiter & Okwess
Jupiter & Okwess' musical expression spans from East Berlin (where Jupiter grew up) to the Congo with hints of James Brown and the dominant Congolese rumba style. The band's second album Kin Sonic transcends the Congo's unexplored musical heritage and dives into a pool of modern sounds.
Noura Mint Seymali
Noura Mint Seymali is a nationally beloved star in Mauritania and one of the foremost emissaries of modern Moorish music. Touring notable festivals and esteemed venues throughout the world, the griot vocalist and ardine (a type of harp) master merges the ancient musical traditions of Saharan and West Africa with a powerful, contemporary voice.
Please note: Schedule is subject to change. For the latest on Millennium Park Summer Music Series and all Millennium Park events, visit millenniumpark.org.