On the ice since 1926, the Chicago Blackhawks are one of the original six National Hockey League teams, and boast one of the most storied in professional hockey.
It will be no surprise, then, that the team has a slew of records and legends to its name, like the Presidents' Trophy for finishing a season with the most points, frequent playoff appearances – including five consecutive showings – and five Stanley Cup victories, including in 2010, 2013 and 2015.
The Blackhawks' impressive list of Hall of Famers includes players like center Stan Mikita (1958-1980), left wing Bobby Hull (1957-72) and goaltender Ed Belfour (1988-1997).
Check out the Chicago Blackhawks schedule.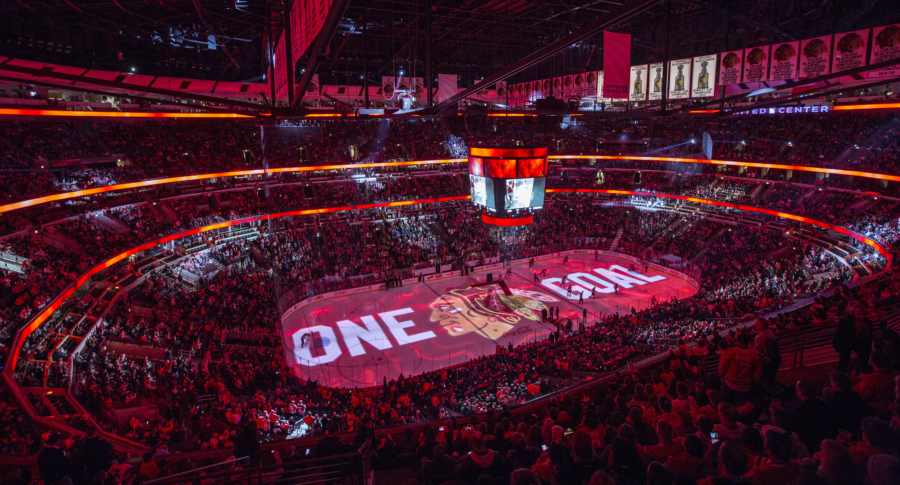 The United Center, home to the Chicago Blackhawks and Chicago Bulls, is the largest arena in the United States and was designed for a truly 21st century experience. The arena hosts over 200 events a year, from sports to blockbuster concerts, including The Rolling Stones, Eric Clapton, Bruce Springsteen and the E Street Band, Paul McCartney, U2, and The Who. More than 40-million guests have visited the United Center since it opened in 1994.
Around the United Center, there are a number of great locations to enjoy the game other than the seats. A standing-room-only ticket will give you access to watch from one of four bars carved into the corners of the 300-level concourse. Large-screen televisions show not only the Blackhawks game but also other Chicago sporting events that might be taking place at the same time. But make sure to get there early!
Game day entertainment
Get to the arena at least an hour early to see the pre-game skate and warm-ups you never get to see on TV.
Before the game even begins, the crowd is at a fever pitch. Classically trained opera singer Jim Cornelison, now known around the country for his roaring rendition of the National Anthem, is joined by organist Frank Pelico and a few veterans on a legendary red carpet on the ice to kick off the game.
Blackhawks fans carry on one of the most famous traditions in professional sports fandom, cheering loudly during the National Anthem, which started in 1985 when the crowd couldn't contain its excitement before a playoff game against the Edmonton Oilers.
During every home game, a former Blackhawks player is available to sign free autographs on the 100 level. There are also stations where kids can make a poster to encourage their favorite player. And the Blackhawks mascot, Tommy Hawk, is always wandering the arena and willing to take photographs with fans.
United Center, 1901 W. Madison St.