Winter is one of the most magical times of the year in Chicago, when snow gives the city an added sparkle. Embrace the flakes and set off on an outdoor adventure, from ice skating to sledding and showshoeing. Or escape the chilly temps and head indoors to warm up in a winter garden, see a play, or dine at a new restaurant. You'll find there are lots of ways to love winter in Chicago.
Millennium Park ice skating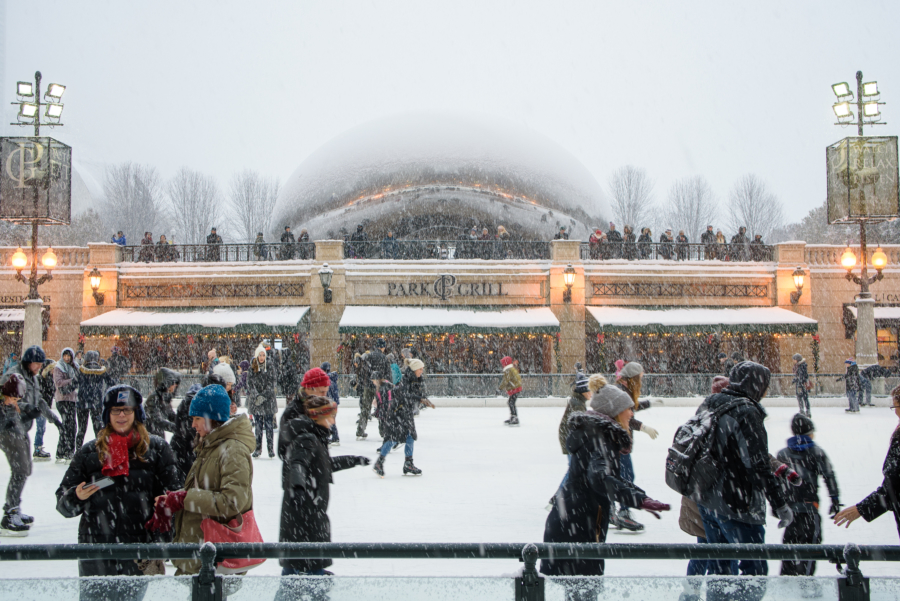 You'll feel like you're skating in the middle of a Chicago postcard, with the frosty cityscape and glittering Cloud Gate sculpture (also known as "The Bean") creating the perfect winter scene at the McCormick Tribune Ice Rink in Millennium Park. Admission is free and skates are available to rent, so you can practice making perfect figure eights to your heart's content. Take a free ice skating lesson on select mornings, or jam to a live DJ on the first and third Thursday nights of the month. McCormick Tribune Ice Rink is open through March 8, weather permitting.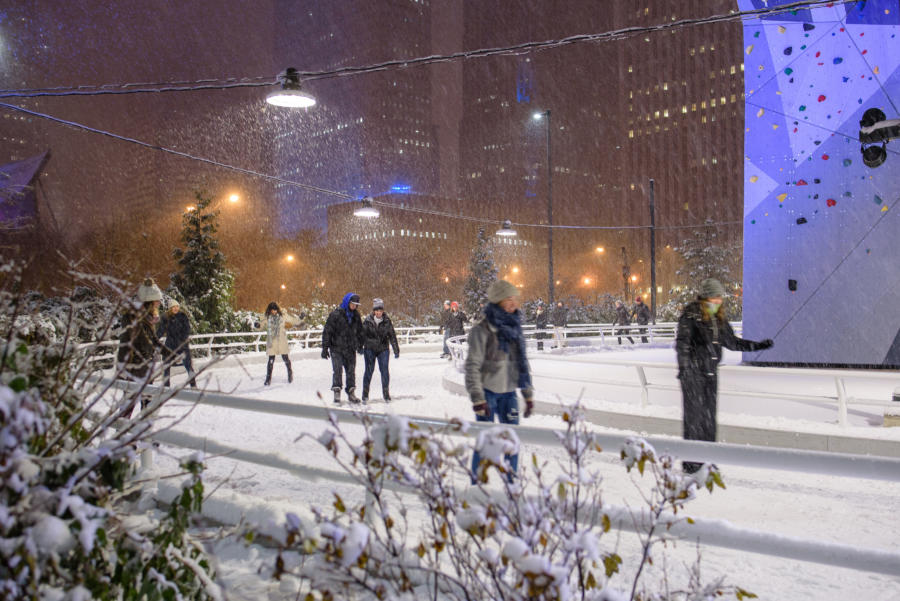 Strap on a pair of skates and glide through a winter wonderland along the curvy Skating Ribbon that meanders through scenic Maggie Daley Park. The winding path, which is twice the length of a lap around a traditional skating rink, passes by pine trees and a rock climbing wall (open during warm weather). Skates are available for rental. The free Skating Ribbon is open through early March, weather permitting.
Neighborhood skate rinks
Skate beneath twinkling lights with historic Wrigley Field as your backdrop at The Rink at Gallagher Way in Wrigleyville. The ice rink is open daily and offers skate rentals, as well as skate aids for the little ones. Hour-long curling lessons are offered during select dates in January by local curling clubs. The Rink at Gallagher Way is open through Feb. 16.
In Hyde Park, make tracks to the Midway Plaisance Ice Rink on the University of Chicago campus. Fun fact: the rink stands on the exact spot where the first-ever Ferris Wheel was erected for the 1893 World's Fair. A bonus is the warming center, where you can duck in and shake off winter's chill before heading back out to the rink for more skating.
Rooftop ice rinks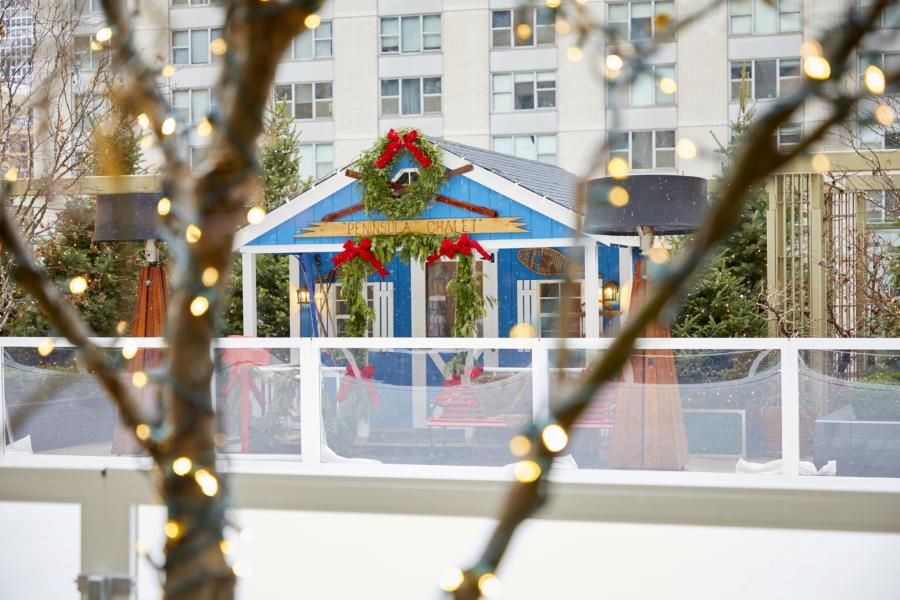 Skate in style on The Peninsula Sky Rink at the luxe Peninsula Chicago hotel. The seasonal ice rink is located on the picturesque fourth-floor Terrace, featuring festively lit trees, music, and bird's-eye views of The Magnificent Mile. The charming chalet offers hot drinks and snacks. All proceeds from the Sky Rink, including skate rental fees, are donated to two local children's charities.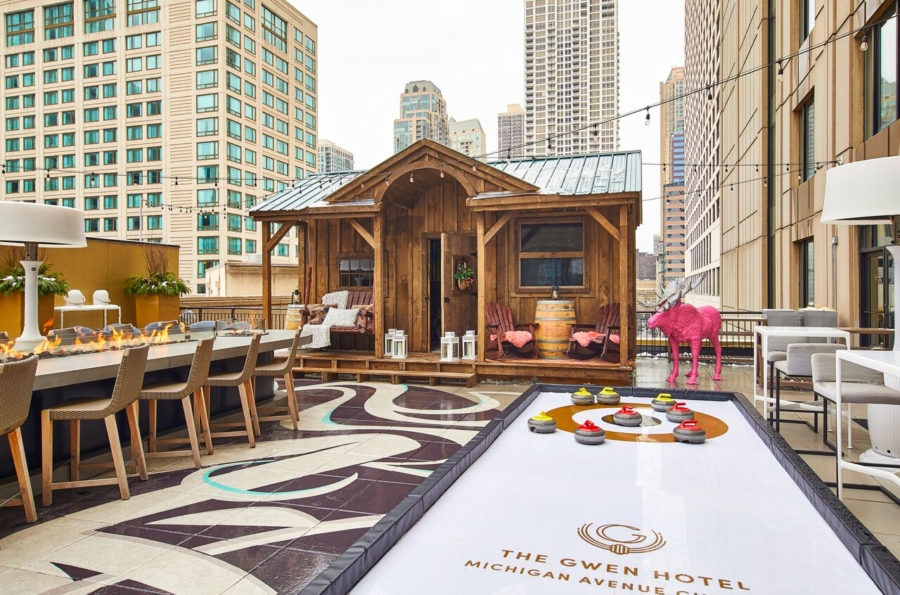 Go iceless on the upstairs curling rink at The Gwen Hotel, surrounded by panoramic skyline views. It's all about cocktails and curling at the chic, fifth-floor Gwen Terrace, which features a nontraditional rink and a nightclub vibe. Warm up by the fire pit or kick back on the lounge seats and enjoy contemporary American bites from chef Matt Jergens. Curling reservations are available in 30-minute intervals.
Sledding & snowshoeing
Located on parkland surrounding historic Soldier Field (home of Chicago Bears football), the Soldier Field Sledding Hill features a 33-foot slope that makes it a must for thrill-seeking sledders. The Chicago Park District pumps out faux snow when there isn't enough of the real stuff, ensuring that the sledding hill is always white and fluffy. And the panoramic view of Lake Michigan from the top of the peak can't be beat.
Go snowshoeing on Northerly Island, a manmade peninsula located just east of Soldier Field that juts out into the waters of Lake Michigan. Whoosh along winding nature trails, where you can catch a glimpse of winter birds and views of the stunning Chicago skyline, then warm up inside the fieldhouse. Snowshoe equipment can be rented for two hours on select Saturdays from January through March, and there must be at least three inches of snow on the ground for proper snow trekking. Don't miss the free Polar Adventure Days on Jan. 25 and Feb. 29, when visitors can make nature-inspired winter crafts and encounter Siberian huskies, wolves, and birds of prey.
Snowy zoo fun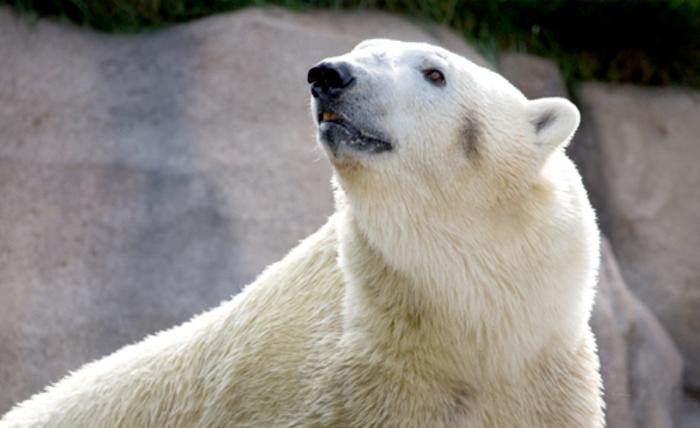 Chicago's free Lincoln Park Zoo is open 365 days a year. In the colder months, you can watch polar bears and snow monkeys play outside. Many of the animals move indoors during the winter, so warm up inside the animal houses, where you can watch penguins, gorillas, and more. Wander over to the Farm-in-the-Zoo and discover the scenic ice skating rink nestled next to the big red barn and festooned with string lights. Glide by farm animals and the scenic South Pond. The rink is open through February and skate rentals are available.
Winter garden warm-ups
Tropical any time of year, the free Lincoln Park Conservatory is the perfect place to warm up while wandering among the towering palms, ancient ferns, and exotic flowers. Built in the late 1800s and dubbed a "paradise under glass," the Lincoln Park Conservatory is made up of four display houses: the Palm House, Fern Room, Orchid House, and Show House, which hosts annual flower shows.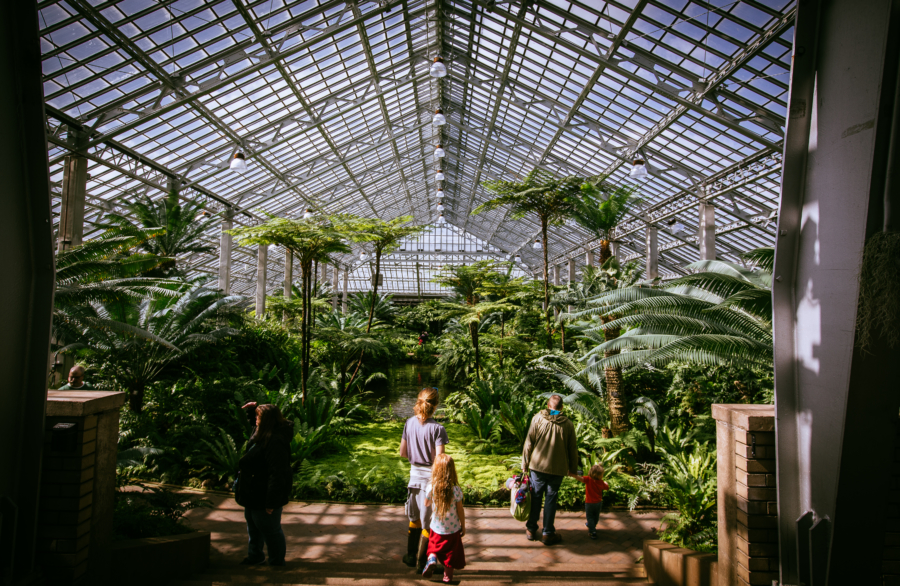 Spanning two indoor acres, the Garfield Park Conservatory is one of the largest conservatories in the nation. Designed by legendary landscape architect Jens Jensen, thousands of plant species are on display throughout eight distinctive rooms. The Conservatory's Fern Room features rocky outcroppings and an indoor lagoon that replicate the swampy landscape of prehistoric Chicago. Visit the Aroid House and marvel at artist Dale Chihuly's blown glass yellow lilies displayed in the Persian Pool.
Can't-miss wintertime events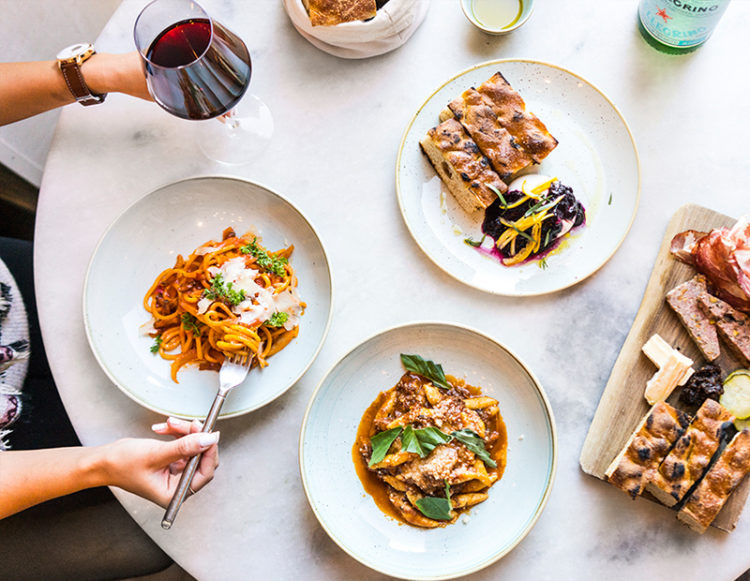 Chicago Restaurant Week kicks off on Jan. 23 with First Bites Bash at the Field Museum, where you can sample food and drinks from more than 70 of the city's top chefs and mixologists. During Chicago Restaurant Week, held Jan. 24 – Feb. 9, enjoy prix fixe menus from more than 400 restaurants throughout the city and nearby suburbs. Get inspired with 9 new restaurants to try during Chicago Restaurant Week.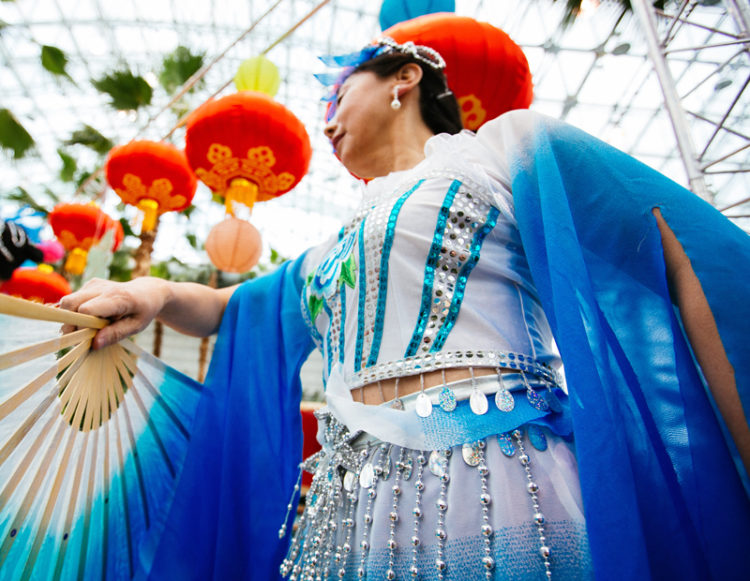 From Jan. 24 – Feb. 9, celebrate Chinese New Year and welcome the Year of the Rat with citywide events that honor Chinese heritage. Catch the Chinatown Lunar New Year Parade, featuring colorful floats and traditional lion dances. And see cultural performances at the Chicago Cultural Center, Symphony Center, Navy Pier, and more.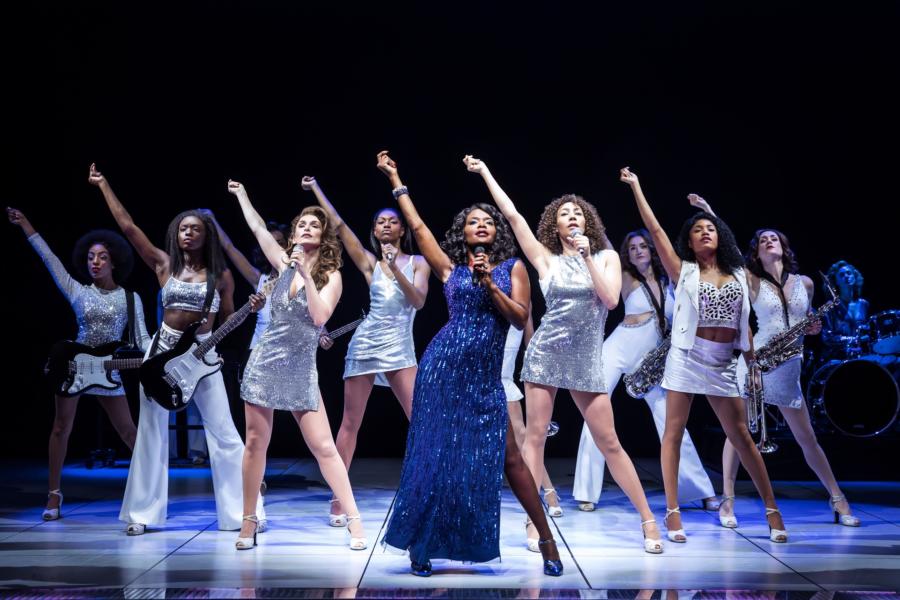 One of the best times to catch a play is during the annual Chicago Theatre Week, presented from Feb. 13 – 23. Chicago celebrates its world-renowned theatre scene during this annual 10-day celebration, offering discounted tickets to more than 100 productions. See everything from musicals to dramas in venues that include historic downtown stages and neighborhood storefront theatres.