---
Why we love it
It's home to the lakefront Museum Campus, where you'll find three of Chicago's biggest museums. Also in the South Loop, you'll find celebrated jazz clubs, a mix of crowd-pleasing restaurants, and vibrant historic areas like industrial Motor Row and charming the Prairie Avenue District.
Explore like a local
Catch a show at Buddy Guy's Legends — the iconic blues musician performs at his namesake club each January.
Take a tour of Chess Records where numerous blues legends once recorded classic songs.
Grab a seat at the bar at Moody Tongue, the world's only Michelin-starred brewery.
Insider tips
It's a little mind-blowing arriving on the site of Chicago's Museum Campus. The three gorgeous neoclassical buildings that house the museums are set against the blue waters of Lake Michigan on one side and the soaring skyline on the other.
Take the Shoreline SightseeingWater Taxi straight to the Shedd Aquarium, home to more than 32,000 aquatic creatures from all over the plant. The Adler Planetarium — America's first planetarium — is more than a museum; it's a laboratory, a classroom, and a community exploring the universe together. And the monumental Field Museum is home to Máximo the Titanosaur, SUE the T. rex, and more than 40 million other artifacts.
Venture to the historic Motor Row District, Chicago's former automobile manufacturing hub, now an entertainment destination with the colorful Lips Drag Palace, VU Rooftop bar, Duneyrr Fermenta brewery, and more.
In the nearby Prairie Avenue District, you can stroll "Millionaire's Row," lined with mansions that once belonged to Chicago's elite, including the historic Glessner House museum. The South Loop is also home to Soldier Field, which means you'll find plenty of Bears fans here in the fall and winter.
Chicago Greeter: free guided tours
Taste, shop and explore the neighborhoods with a friendly local as your guide. Explore rich histories, diverse cultural traditions and hidden treasures. See sides of the city you may not have adventured out to on your own, and take away a truly authentic Chicago experience. Greeter visits are customized based on your choice of neighborhoods, language and interests.
Request a tour with a Chicago Greeter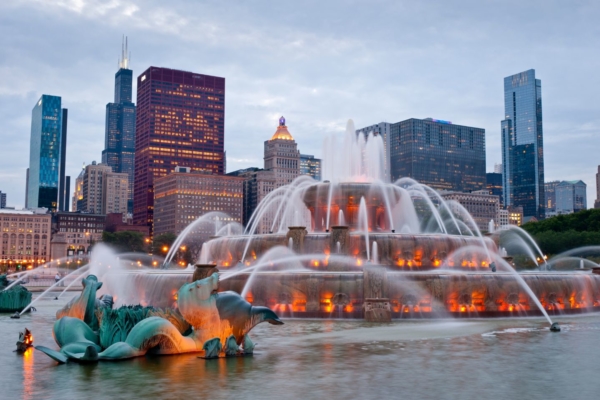 Welcome to our new series of self-guided Chicago Greeter tours, presented by Bank of America. Each walking tour is created by a knowledgeable local to…