There's nothing quite like St. Patrick's Day in Chicago, when Irish taverns fill with revelers, cultural celebrations pop up in every corner of the city, and the Chicago River sparkles brilliant shades of emerald green. 
The history of St. Patrick's day in Chicago goes back more than 175 years. Now a longstanding tradition, Chicago's Irish parade was first held in 1843 and became an official city event in the 1950s. The dyeing of the Chicago River was added in 1962, quickly becoming one of Chicago's most famous events. 
Along with the downtown festivities, Chicago's proud Irish heritage is also on full display in our neighborhoods — from Beverly (a traditionally Irish enclave) to the Irish American Heritage Center near Albany Park.
Explore the top ways to celebrate St. Patrick's Day with events and things to do in Chicago.
Chicago River dyeing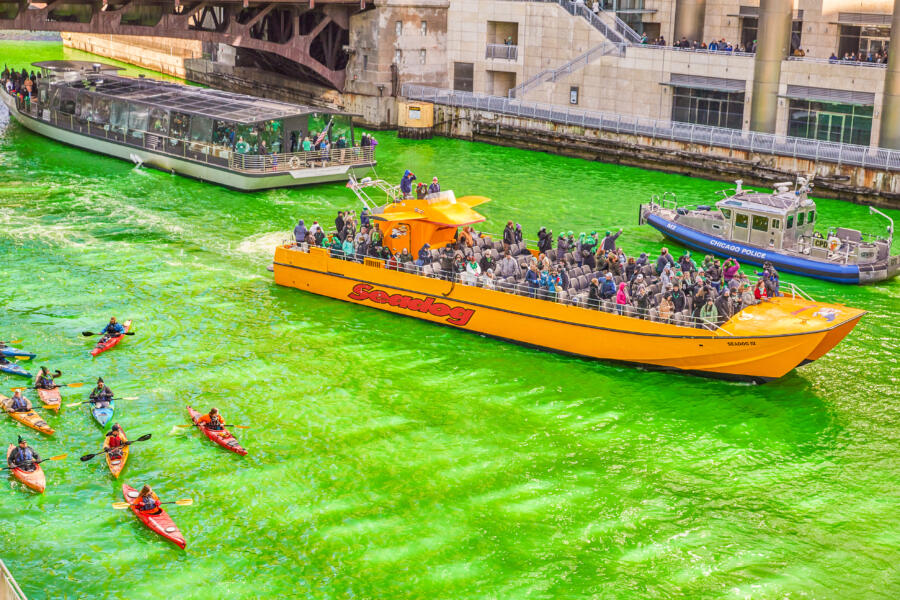 Saturday, March 11, 2023, begins at 10 a.m.
Chicago River between State and Columbus
The Chicago River dyeing is one of the most unique St. Patrick's Day celebrations in the world. Typically held the Saturday before St. Patrick's Day (the same day as the downtown parade), this bucket-list event is a beloved tradition that dates back over half a century. 
The first time the Chicago River was dyed green was in 1962, thanks to a suggestion from the local plumbers union. That first river dyeing turned the waters green for nearly a month — nowadays, the color only lasts for a few hours. The plumbers union still holds the river-dyeing honors today, and their environmentally friendly dye formula remains a closely kept secret. 
View this post on Instagram
Be sure to get there early for a good view and to watch the union members working their magic from various boats. The river dying kicks off early and always has lots of spectators lining the Chicago Riverwalk and bridges between State and Columbus. The brilliant green color only lasts a few hours, so be sure to catch a glimpse and snap some photos before heading off to a local tavern to enjoy some green beer.
Chicago St. Patrick's Day parade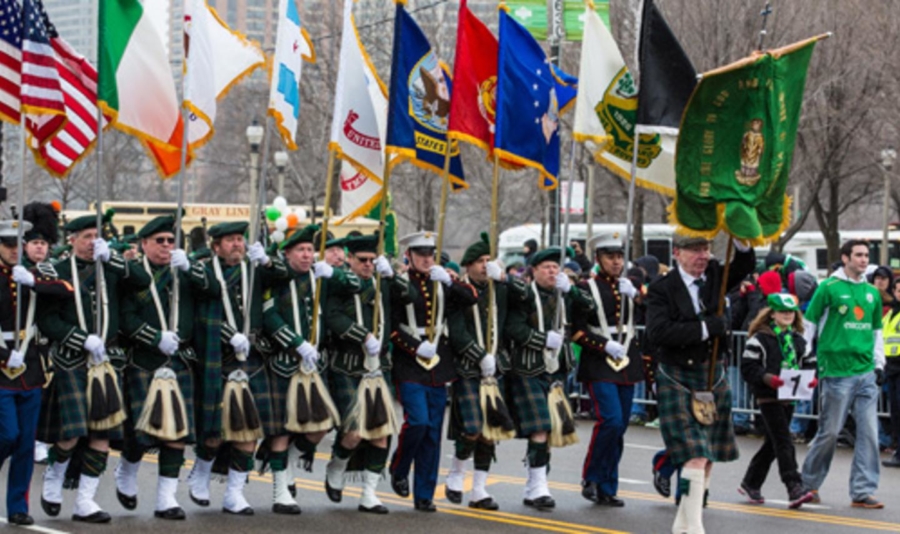 Saturday, March 11, 2023, begins at 12:30 p.m.
Columbus Drive between Balbo Drive and Monroe Drive
The annual Chicago St. Patrick's Day Parade is one of the largest St. Patrick's Day parades in the country and the centerpiece of the city's unforgettable St. Patrick's Day celebrations.
Don your best green outfit or kilt and grab a good spot before the parade starts at noon. You won't want to miss The Shannon Rovers Irish Pipe Band, the city's premier Irish band, who have been leading the procession since the first official parade in 1956. You'll alsosee plenty of colorful floats waving their Irish flags high, troops of Irish step dancers, marching bands, bagpipers, and more during the three-hour celebration. 
Chicago River cruises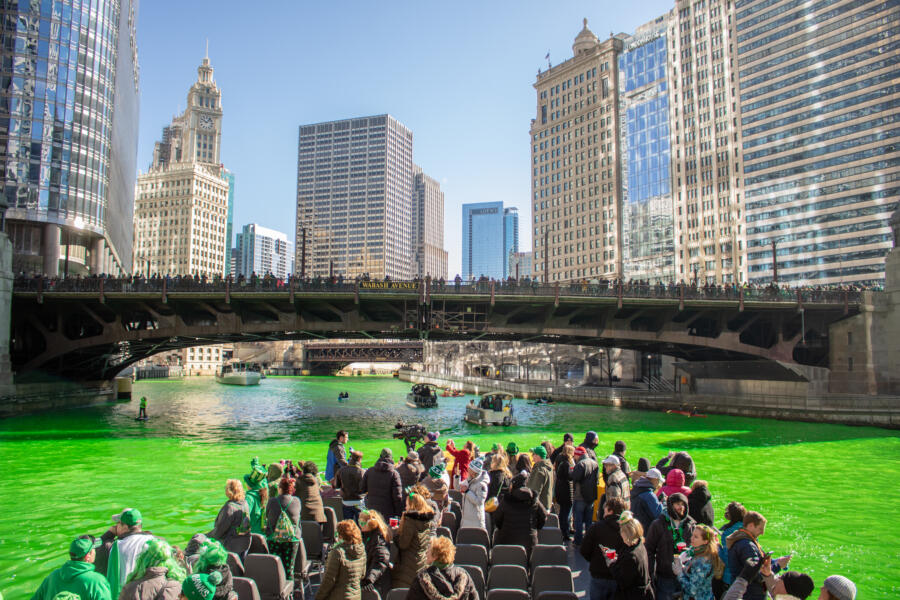 Saturday, March 11, 2023
Admire the emerald green river from the best seats in the house. Chicago's river cruises offer a one-of-a-kind perspective of the day's festivities. Watch the waters turn green, enjoy themed cocktails, hear live bagpipe music, and wave at the thousands of spectators lining the river's banks.
Festive food and drink specials
Looking for some corned beef and cabbage? How about the perfect pint of Guinness or a boozy Shamrock Shake? Maybe you're looking for a spot to grab a bite while watching the Chicago River dyeing? Well you're in the right place! Celebrate St. Patrick's Day at one of the many restaurants and bars in the city that will be featuring an array of traditional fare and creative twists on classics. Thanks to Chicago's immigrant roots and robust Irish community, finding Irish fare is easy. The city's restaurants always go all out with the food, and of course, drink specials. 
Check out our round-up of festive food and drink specials all around the city.
South Side Irish Parade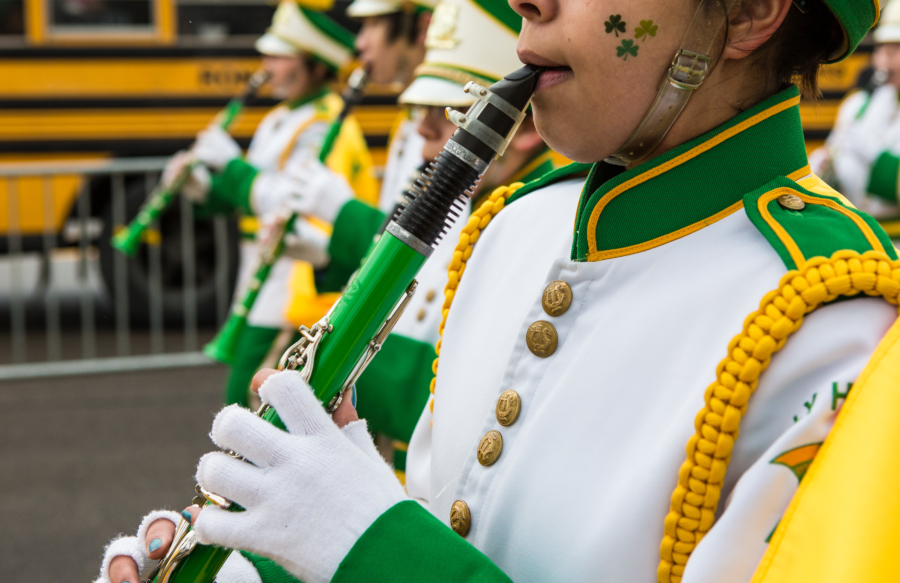 Sunday, March 12, 2023
Western Avenue between 103rd and 115th Streets
A long-time tradition, the South Side Irish Parade is a homegrown, family-friendly celebration of Irish heritage. Join the thousands of fellow revelers that gather to watch the bands, dance troupes, and this year's newly crowned parade queen. 
The story goes that the first parade was organized by two neighbors and best friends who thought the kids needed a way to celebrate St. Patrick's Day. The very first parade marched down Western Ave in 1981— and they keep the same route today.
After the parade, take some time to explore Chicago's Beverly neighborhood, one of the city's longest-standing Irish communities. Stop inside one of the area's many neighborhood bars to raise a pint with the locals.
Northwest Side Irish Parade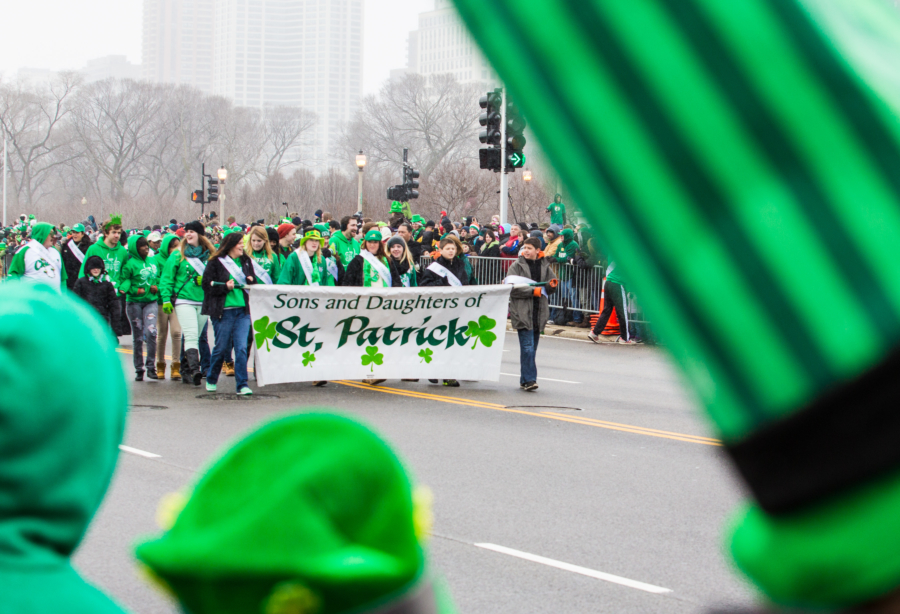 Sunday, March 12, 2023
Begins at 12 p.m.
Neola Avenue to Northwest Highway
Come enjoy this fun community event that celebrates faith, family, and Irish heritage. The Northwest Side Irish Parade kicks off at noon and winds through the Norwood Park neighborhood, beginning at William J. Onahan School running south on Neola Avenue to Northwest Highway, then heading north on Northwest Highway up to Harlem Avenue. Stay for an after-party that includes a corned beef and cabbage dinner, cheesecake, beer, wine, soda, and live entertainment. 
St. Patrick's Day neighborhood events
St. Patrick Festival at Irish American Heritage Center
After the downtown parade, head to the northwest side to visit the St. Patrick's Day Festival at the Irish American Heritage Center for one of the city's biggest, family-friendly celebrations. This festival is great for kids and adults alike, and features traditional and contemporary Irish music and dance, Irish food and drink for purchase, children's activities, and vendors selling Irish gifts. Entertainment includes the Academy of Irish Music, the Trinity Irish Dancers, Shannon Rivers, and more.
Shamrock'n the Block at Old St. Patrick's Church
This West Loop church is hosting its annual pop-up Irish pub, Shamrock'n the Block, with live entertainment, food, and a heated tent beer garden. This all-ages event will also feature activities for kids, including shamrock craft packs. Shamrock'n the Block kicks off on March 11 at 11:30 a.m. – 5:30 p.m.