From raucous pub crawls to lively parades, there nothing quite like St. Patrick's Day in Chicago. In March, Irish taverns are packed with revelers, jovial crowds fill the city streets, and the Chicago River sparkles brilliant shades of emerald green.
Explore this year's St. Patrick's Day 2020 events in Chicago.
Downtown St. Patrick's Day events

Chicago River dyeing
Saturday, March 14, 2020
Chicago River (between Columbus & Wacker Drives)
One of the world's most famous St. Patrick's Day traditions, the Chicago River is dyed emerald green each year. The river dyeing is a beloved tradition for many generations of Chicagoans that dates back over half a century.
Each year, thousands of spectators will line the bridges and scenic riverwalk to catch a glimpse of the bright green waters. Get there early to grab a spot between State and Columbus; the water starts turning green at 9 a.m. and only keeps its color for about five hours, so don't miss it!
St. Patrick's Day parade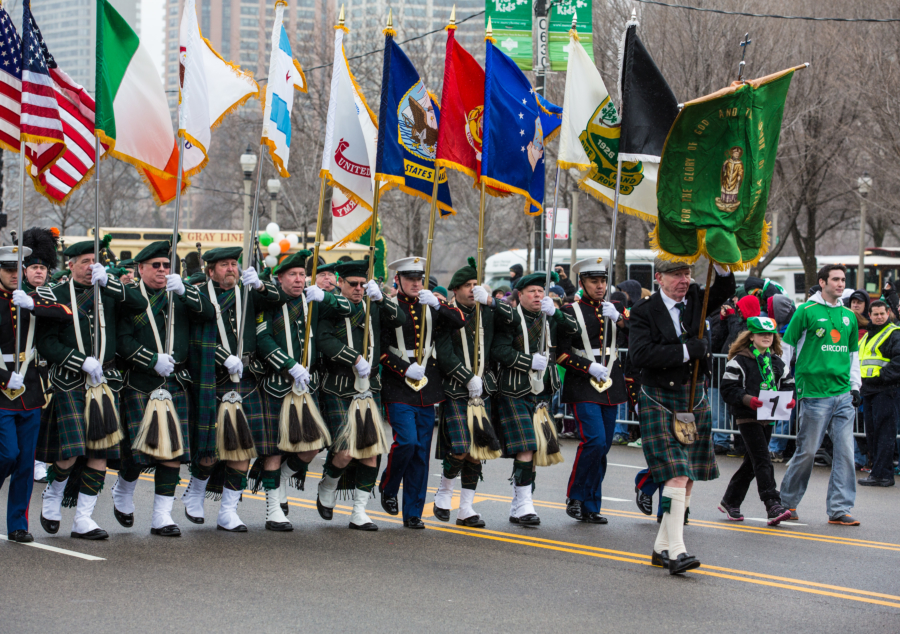 Saturday, March 14, 2020
Columbus Drive (between Balbo Drive & Monroe Drive)

Experience one of the largest St. Patrick's Day parades in the country. The 65th annual Chicago St. Patrick's Day Parade is the centerpiece of the city's unforgettable St. Patrick's Day celebrations.
The procession travels north on Columbus Drive, beginning at Balbo Drive and ending at Monroe Drive. Don your best green outfit or kilt and grab a good spot before the parade starts at noon. Plan on seeing plenty of colorful floats waving their Irish flags high, troops of Irish step dancers, marching bands, bagpipers, and more during the three-hour celebration.
Neighborhood celebrations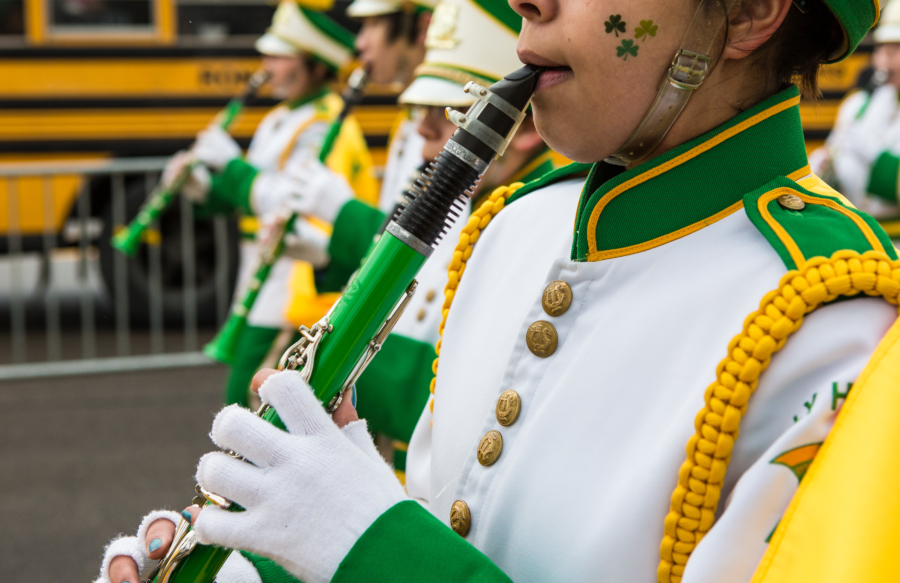 St. Patrick Festival at Irish American Heritage Center
Irish American Heritage Center (4626 N. Knox Ave.)

After the downtown parade, head north to the Irish American Heritage Center for one of the city's biggest St. Patrick's Day celebrations. This family-oriented event features traditional and contemporary Irish music and dance, food and drink for purchase, children's activities, and vendors selling Irish gifts. Visit the center's library, art gallery and museum for programming and exhibits, such as Irish language lessons, a genealogy workshop and a book sale. Entertainment includes the Irish Heritage Singers, the Shannon Rovers Irish Pipe Band, O'Hare School of Irish Dance, and more.
South Side Irish Parade
Sunday, March 15, 2020
Western Avenue (between 103rd & 115th Streets)

A long-time tradition, the South Side Irish Parade is a family-friendly celebration of Irish heritage. The Beverly neighborhood parade steps off at noon from 103rd Street and proceeds south down Western Avenue to 115th Street.
Line the route with 150,000 fellow revelers to watch the bands, dance troupes and parade queen, or stop inside the neighborhood bars to raise a pint with the locals. Earn those pints during the Emerald Isle Mile, a one-mile race that kicks off just before the parade at 11:30 a.m.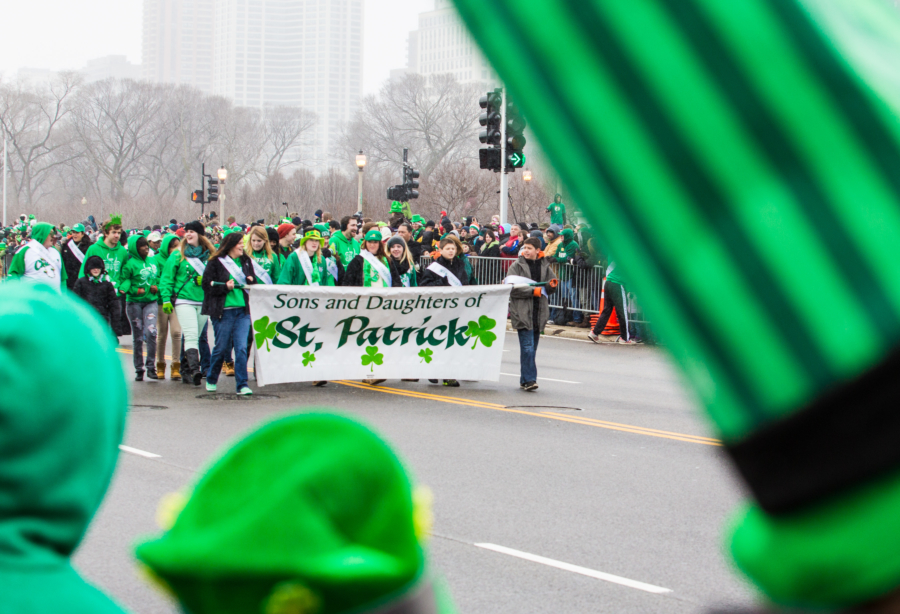 Northwest Side Irish Parade
Sunday, March 15, 2020
Onahan School (6634 W. Raven St.)

Enjoy this fun community event that celebrates faith, family and Irish heritage. The Northwest Side Irish Parade kicks off at noon and winds through the Norwood Park neighborhood, beginning at William J. Onahan School running south on Neola Avenue to Northwest Highway, then heading north on Northwest Highway up to Harlem Avenue.
Stay for an after-party at St. Thecla Falcon Hall (6725 W. Devon Ave.) from 1 – 5 p.m. that includes a corned beef and cabbage dinner, cheesecake, beer, wine, soda, and live entertainment. Tickets are $15 for adults, $10 kids age 3 to 10, plus $5 for a drink wristband for guests 21 and older.
Special events & performances

Gaelic Storm
March 13 – 14, 2020
House of Blues Chicago (329 N. Dearborn St.)

After nearly two decades and more than 2,000 live shows, Gaelic Storm — the chart-topping, multi-national Celtic band — performs at House of Blues Chicago for two high-energy nights of traditional Irish music with modern influences
Wendella's St. Patrick's Day cruise
March 14, 2020
Wendella Sightseeing Boats (400 N. Michigan Ave.)

Experience a Chicago tradition up close on Wendella Sightseeing Boats. View the annual dyeing of the Chicago River while listening to festive Irish music. The 21+ cruise, which goes from 9 – 11 a.m., includes a full-service bar (with green beer, of course).
Wendella is also offering a kids cruise from 9 – 10:15 a.m. Family-friendly activities and a full cash bar will be offered while on board, and festive attire is encouraged.
Spirit of Chicago St. Patrick's Day lunch cruise
March 14, 2020
Navy Pier (600 E. Grand Ave.)

Expect a sea of green aboard the Spirit of Chicago lunch cruise. Take to the waters of Lake Michigan on a scenic 2-hour boat ride from 3:30 – 5:30 p.m. Enjoy a full lunch menu with classic options corned beef and cabbage, plus green beer available for purchase. Celebrate with music, dancing and St. Patrick's Day decorations with the city skyline as your backdrop.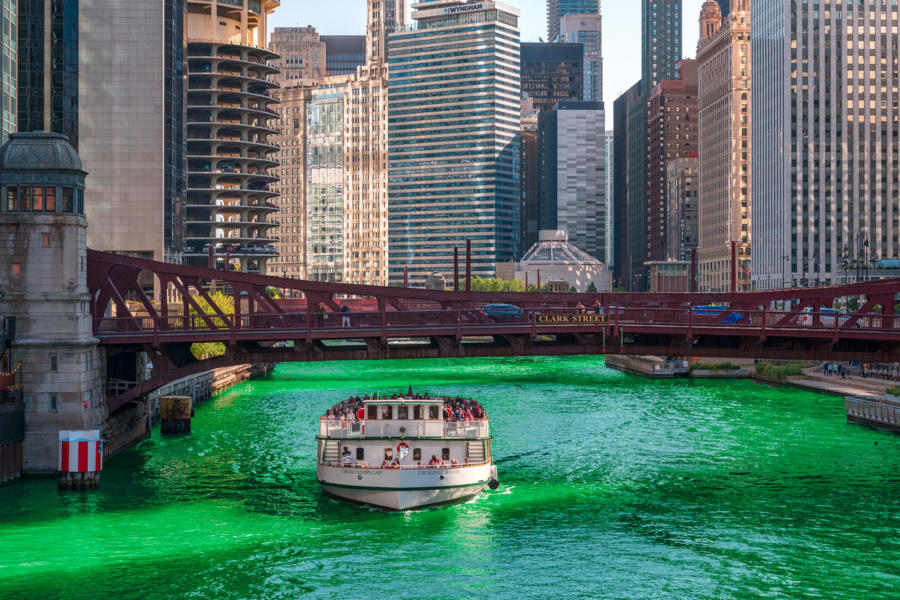 Chicago's First Lady Clover Cruises
March 14, 2020
112 E. Wacker Drive
Witness the dyeing of the Chicago River for St. Patrick's Day like never before – from the inaugural St. Patrick's Day Clover Cruise from Chicago's First Lady Cruises! Board their luxurious vessels and experience live bagpipers, specialty Irish drinks and eats, a festive photo booth, and more. Cruises depart at at 9 a.m., 9:30 a.m., 12 p.m., and 12:30 p.m.
Siamsa Na Ngael: Celtic Celebration
March 11, 2020
Symphony Center (220 S. Michigan Ave.)

The annual Siamsa na nGael celebration features Celtic song, dance and story-telling. This year's celebration will tell the story of a brave Irish woman who devoted herself to community organizing and advancing the rights of workers.
Forever Green
March 6, 2020
Theater on the Lake (2401 N. Lake Shore Dr.​)
Forever Green is one of Chicago's largest and longest running St. Patrick's Day celebrations, hosted by the Young Irish Fellowship Club of Chicago. Considered by many to be the kick-off to St. Patrick's Day celebrations in Chicago, Forever Green is sure to get you in the St. Patrick's Day mood, with Irish music, dancing, and craic (Gaelic for fun and amusement).