Daniel Burnham is arguably one of the most impactful figures in Chicago's history. Considered one of the founding fathers of the Chicago School of Architecture, Burnham formed the architectural firm Burnham & Root with his partner John Wellborn Root in 1873. After Root's death in 1891, the firm became D.H. Burnham & Co. and continued to design impressive structures throughout the city.
As chief director of the World's Columbian Exposition of 1893, Burnham envisioned the fair as an assembly of beautifully arranged structures woven into a landscape design. Burnham's design of the fair has been credited for inspiring the City Beautiful movement and the development of the modern American city. Burnham's vision of the modern American city culminated with the Plan of Chicago in 1909, a groundbreaking urban plan for Chicago.
Much of the way Chicago looks today can be traced back to Burnham's Plan of Chicago.
Where to stay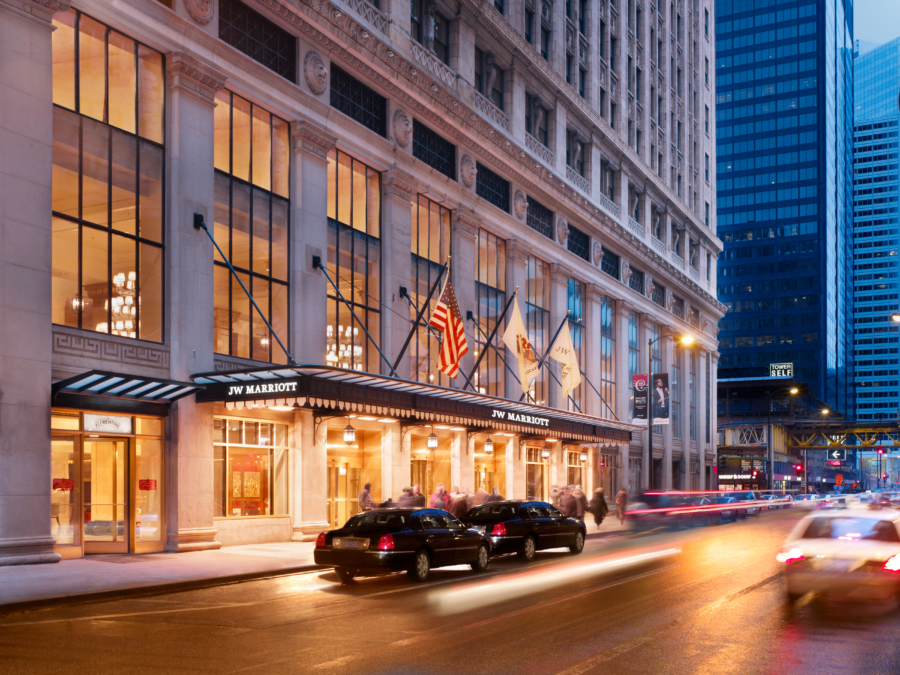 Staypineapple (formerly Hotel Burnham)
Staypineapple is located in the old Reliance Building, a National Historic Landmark building that was originally designed by John Root and finished by D.H. Burnham & Co. after Root's death. The building is a great example of the Chicago School of Architecture with its steel frame, terra-cotta façade and the use of Chicago windows.  While staying at the hotel, check to see if the Chicago Architecture Center has a tour of the building scheduled to learn about the building's history, early tenants and the massive restoration process that brought this landmark back to life. 1 W. Washington St.
JW Marriott Chicago 
The JW Marriott Chicago, formerly the Continental & Commercial National Bank Building, was originally designed by Graham, Burnham & Co., a firm set up by Daniel Burnham's sons and Ernest Graham to succeed D.H. Burnham & Co. after Burnham's death in 1912. The building features exquisite neo-classical design and offers travelers a one-of-a-kind authentic destination in Chicago's downtown Loop district. After a full restoration, the building maintains many of the original design features by Burnham's firm. While staying at the hotel, make sure you walk across the street to see one of Burnham & Root's masterpieces, the Rookery Building. 151 W. Adams St.
Exploring Burnham Buildings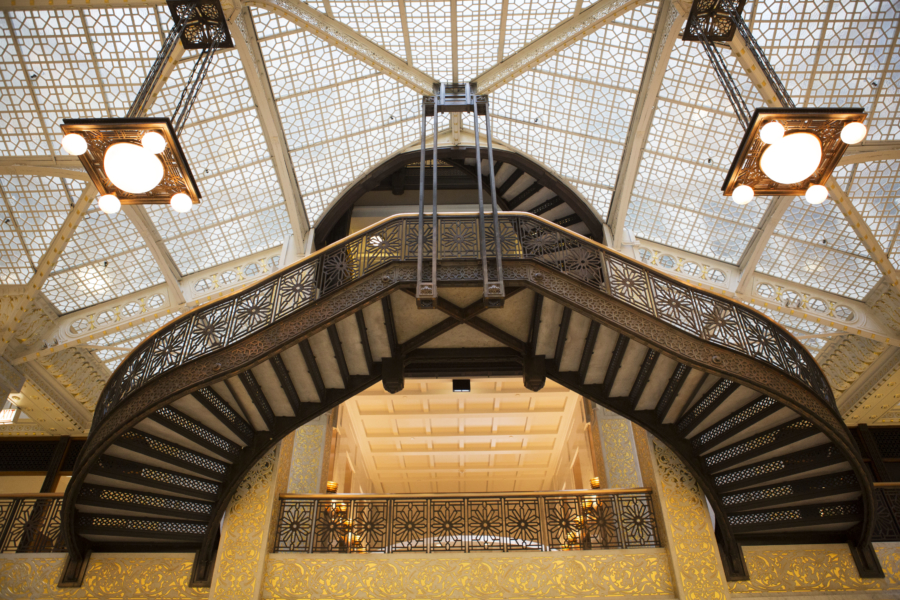 Chicago Architecture Center 
The Chicago Architecture Center (CAC) is the leading organization devoted to celebrating and promoting Chicago as a center of architectural innovation and as such CAC highlights Daniel Burnham's legacy in Chicago on multiple tours. Their Daniel Burnham: Architect, Planner, Leader tour explores some of Burnham's best-known landmarks as well as lesser-known designs on this tour that examines all facets of Burnham's legacy. The Devil in the White City tour will take a look at Burnham as the chief director of the 1893 World's Columbian Exposition. Two walking tours that explore multiple Burnham buildings include Historic Downtown (North Loop): Treasures of Culture and Commerce, which explores the Reliance Building (Hotel Burnham) and Macy's on State, and the Historic Downtown (South Loop): Rise of the Skyscraper, which focuses on the Monadnock Building and the Rookery, among others.
To take an in-depth look at some of Burnham's most influential buildings, the Chicago Architecture Center offers individual buildings tours as well. The Macy's on State: The Legacy of Marshall Field's explores the massive building in detail including the Tiffany ceiling. To see the world's tallest commercial building with load-bearing masonry walls, check out the Monadnock Building tour. The Railway Exchange (Santa Fe) Building tour examines the 1904 D.H. Burnham & Co. building where Burnham himself had an office and where the 1909 Plan of Chicago was produced. The Rookery Building tour explores both the interior and exterior of one of Chicago's most famous and beloved historic buildings by Burnham & Root. Venture to the 11th floor for a visit to the architects' private library-rarely open to visitors.
Visit the 1894 Reliance Building (Staypineapple Hotel) and explore the exterior, interior lobbies, and two upper floors of this Daniel Burnham-designed building where much of the original marble, mahogany doors, and decorative wrought iron work are still in evidence.
Learn more about dates, times and meeting locations of the various tours. For group tour bookings, contact groupsales@architecture.org or call (312) 322-1130.
Museums by D.H. Burnham & Co.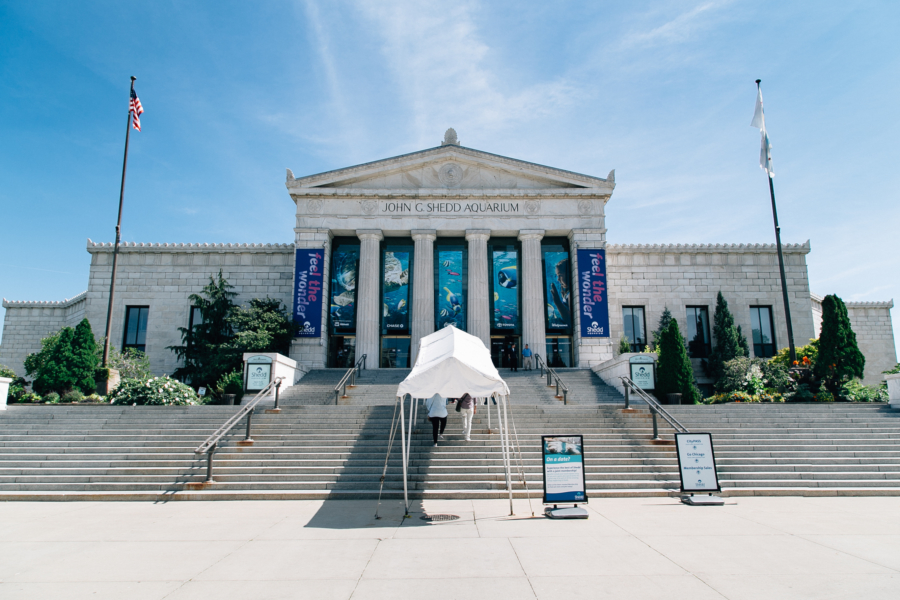 Museum of Science & Industry
Originally designed by Charles Atwood of D.H. Burnham & Co. as the Palace of Fine Arts for the 1893 World's Columbian Exposition, the Museum of Science & Industry (MSI) was reconstructed by Burnham's successor firm of Graham, Anderson, Probst, and White. MSI is the largest science center in the Western Hemisphere, is home to more than 35,000 artifacts and nearly 14 acres of hands-on experiences designed to spark scientific inquiry and creativity. Since opening its doors in 1933, MSI has welcomed more than 180 million guests from around the world. 5700 S. Lake Shore Drive
Field Museum 
The Field Museum's current building was designed by D.H. Burnham & Co. in a neo-classical style and later finished by Burnham's successor firm Graham, Anderson, Probst & White. The Field Museum's founding purpose was the accumulation and dissemination of knowledge, and the preservation and exhibition of objects illustrating art, archaeology, science, and history. With 4.6 billion years under one roof, Field Museum is your passport to travel around the world and back in time. 1400 S. Lake Shore Drive
Shedd Aquarium
The Shedd Aquarium was designed by Ernest Graham of the firm Graham, Anderson, Probst & White, which was the successor firm to Graham, Burnham & Co.  Daniel Burnham was Ernest Graham's mentor at D.H Burnham & Co. and it was Graham who decided on the Beaux-Arts style of the building in order to make a better structural match with Shedd's neighbor, the Field Museum. Strap a mask and flippers onto your imagination and chart a course to Shedd Aquarium. Have you ever gotten eye-to-eye with a dolphin? Or met a penguin on a stroll to the South Pole? Or immersed yourself in an Amazon flooded forest? At Shedd, it's all possible. 1200 S. Lake Shore Drive
DuSable Museum of African American History
The DuSable Museum of African American History was founded in 1961 by Dr. Margaret Burroughs and is housed in a 1910 building designed by D.H. Burnham & Co. The DuSable Museum is one of the few independent institutions of its kind in the U.S. Developed to preserve and interpret the experiences and achievements of people of African descent, it is dedicated to the collection, documentation, preservation, and study of the history and culture of Africans and African Americans. The DuSable Museum is proud of its diverse holdings that number more than 15,000 pieces and include paintings, sculpture, print works, and historical memorabilia. Special exhibitions, workshops, and lectures are featured to highlight works by specific artists, historic events, or collections on loan from individuals or institutions. The museum will continue to be connected to Daniel Burnham when it expands into the Washington Park Stable building designed by Burnham & Root in 1880. 740 E. 56th Place
Exploring places to play and shop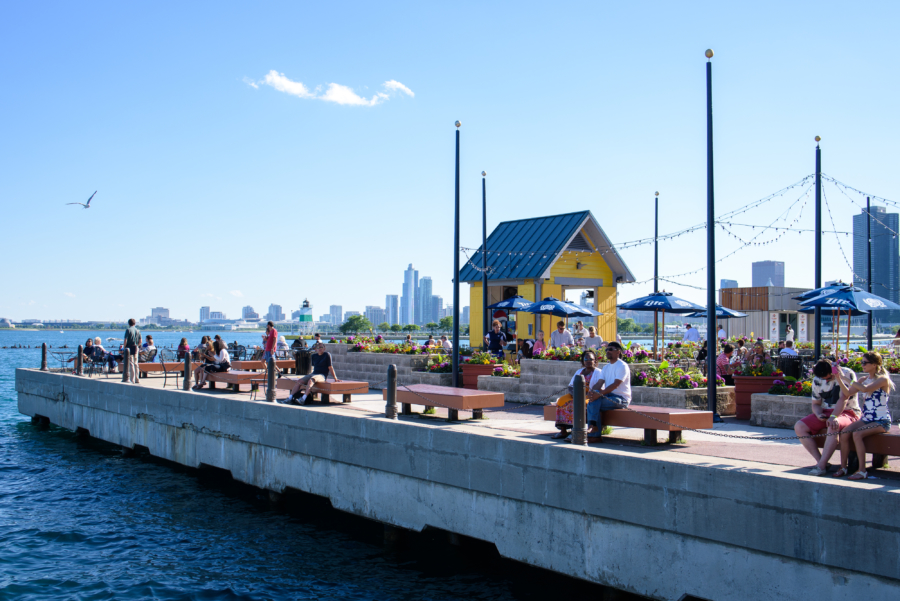 Chicago Symphony Orchestra
Chicago's Symphony Center was designed by D.H Burnham & Co. in 1905 as Orchestra Hall.  The Chicago Symphony Orchestra was looking to acquire a permanent home to perform and since Burnham was on the orchestra's board it was determined that the Symphony Center would be designed by Burnham and built on land that he owned. The Chicago Symphony Orchestra is consistently hailed as one of today's leading orchestras. For a full list of scheduled performances and to buy tickets, visit www.cso.org. 220 S. Michigan Ave.
Navy Pier
Navy Pier was built in 1916 as part of the 1909 Plan of Chicago developed by architect and city planner Daniel Burnham and his associates. Daniel Burnham envisioned two piers jutting out into Lake Michigan as business and leisure areas for Chicagoans but only was built and was originally named Municipal Pier #2. The pier was officially named Navy Pier in 1927 to honor the Naval personnel that served there during WWI. Today, Navy Pier is one of the Midwest's top tourist and leisure destinations, attracting more than 8.6 million visitors a year. From rides to restaurants, exhibitions to entertainment, shopping to dining cruises and tour boats, and fireworks, Navy Pier has it all — in a location unlike any other. 600 E. Grand Ave.
Macy's on State
The massive Macy's department store, formerly Marshall Field's, on State Street was designed by D.H. Burnham & Co. between 1892 and 1914 in four different sections. Some of the main features not to be missed while you shop or dine are: the Great Clocks, known as the "Sentinels of State Street," with their ornamental ironwork and timeless beauty, still remain a popular meeting place for Chicagoans and visitors alike; the Tiffany Ceiling, which was installed in 1907, contains over 1.6 million pieces and is the largest unbroken example of Tiffany Favrile glass in the world; and the three-tiered Burnham Fountain. Macy's on State Street is the second largest department store in the world, recognized as a National Historic Landmark and is listed on the National Register of Historic Places. Customers can shop and dine their way through the 12-floor building that has been a tradition for generations of Chicagoans. 111 N. State St.
Grant Park
Proudly referred to as Chicago's "front yard," Grant Park is a 319-acre public park located in the Loop. Grant Park's most notable features include Millennium Park, Buckingham Fountain, the Art Institute of Chicago, and the Museum Campus, made up of the Field Museum, Shedd Aquarium, and Adler Planetarium. Daniel Burnham envisioned Grant Park as a formal landscape with museums and civic buildings and the park takes on many of those characteristics today. Grant Park is home to many of Chicago's celebrations throughout the summer including Taste of Chicago, Blues Fest, Jazz Fest, Summer Dance, and numerous parades. Enjoy a walk through the park to discover beautiful gardens, amazing public art or to visit one of Chicago's premier cultural attractions. 337 E. Randolph St.
Burnham Park
Burnham Park, totaling 600 acres, sits on Chicago's lakefront just south of Grant Park. This park was named for Chicago's famous Burnham who envisioned a south lakefront park with a series of manmade islands, linear boating harbor, beaches, meadows, and play fields. Burnham Park today features the naturalistic Promontory Point designed by Alfred Caldwell; Northerly Island; a popular skate park at 31st Street; beaches located at 12th Street, 31st Street, and Oakwood & 57th Street; bird sanctuaries; and beautiful natural areas. 5491 S. Shore Drive
Graceland Cemetery
Daniel Burnham died in 1912 and is buried in Graceland Cemetery along with many other influential architects who contributed to Chicago's architectural legacy, including Ludwig Mies van der Rohe, Louis Sullivan, John Wellborn Root, William Holabird, Dwight Perkins, David Adler, and Ernest Graham. Both the Chicago Architecture Center and the Chicago History Museum offer walking tours of Graceland Cemetery, which is on the National Register of Historic Places. On the tour, hear the stories of how these architects and other prominent Chicagoans shaped this great city. 4001 N. Clark St.