Looking for alternative outdoor group activities in Chicago that are a bit off-the-beaten-path? Hike nature trails on an island in Lake Michigan, swim at the city's only inland beach, and even go rock climbing in the heart of downtown. Check out these hidden gems for an exciting outdoor adventure to add to your group's Chicago itinerary.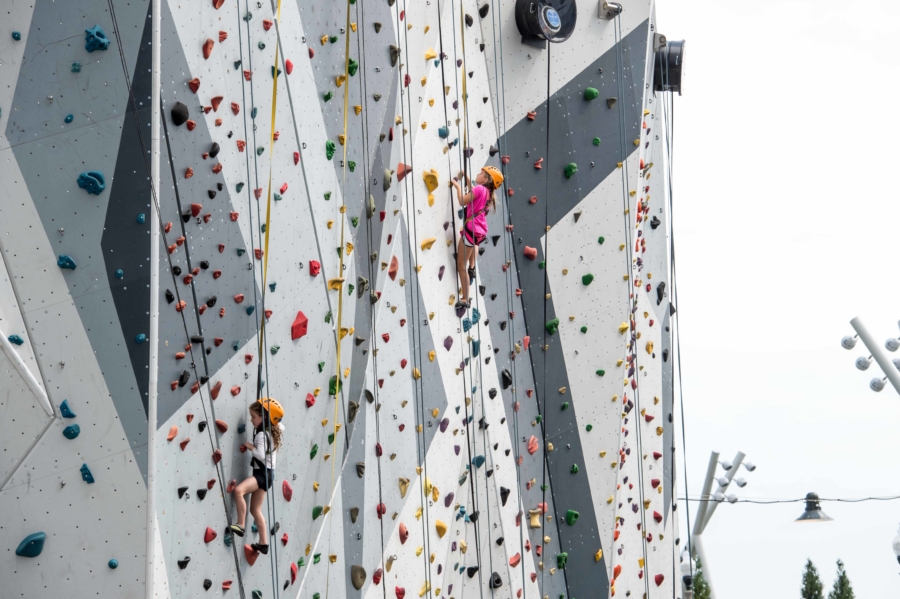 Sculptural rocks and boulders reaching heights of up to 40 feet form the Maggie Daley Park Climbing Wall, Chicago's only outdoor climbing park. The soaring wall is divided into beginner and advanced spaces, with 25–100 climbers allowed on the wall at once on a first-come, first-served basis. Nearby, don't miss the Maggie Daley Park Skating Ribbon, where you can rent roller blades or scooters (and ice skates in the winter) and whoosh along a landscaped path that weaves through the center of Maggie Daley Park.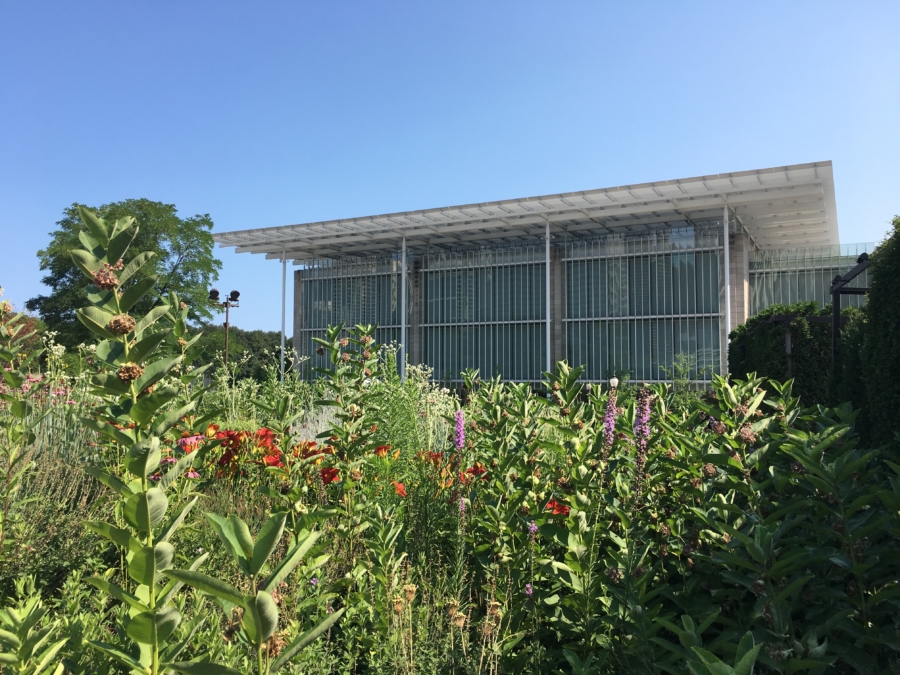 Millennium Park draws crowds to its reflective Cloud Gate sculpture, affectionately known as "The Bean," which is a favorite backdrop for the quintessential Chicago selfie. But make your way to the quiet southeast corner of Millennium Park and you'll discover the award-winning Lurie Garden, where you can arrange for a private group tour of the grounds from May through September. Here you'll discover a serene escape with a picturesque floating wooden footbridge that leads to more than 200 different kinds of plants and flowers tended to by buzzing bees from nearby hives.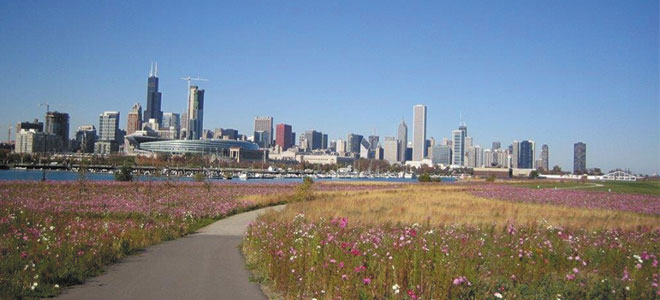 Head to the lakefront and spend the afternoon on Northerly Island. This manmade peninsula, located just east of Soldier Field, juts out into the waters of Lake Michigan and boasts a stunning view of the Chicago skyline. Take your group for a stroll on the winding paths that meander through native prairie grass and colorful wildflowers visited by fluttering butterflies. The outdoor Huntington Bank Pavilion hosts big-name concerts on Northerly Island during the summer.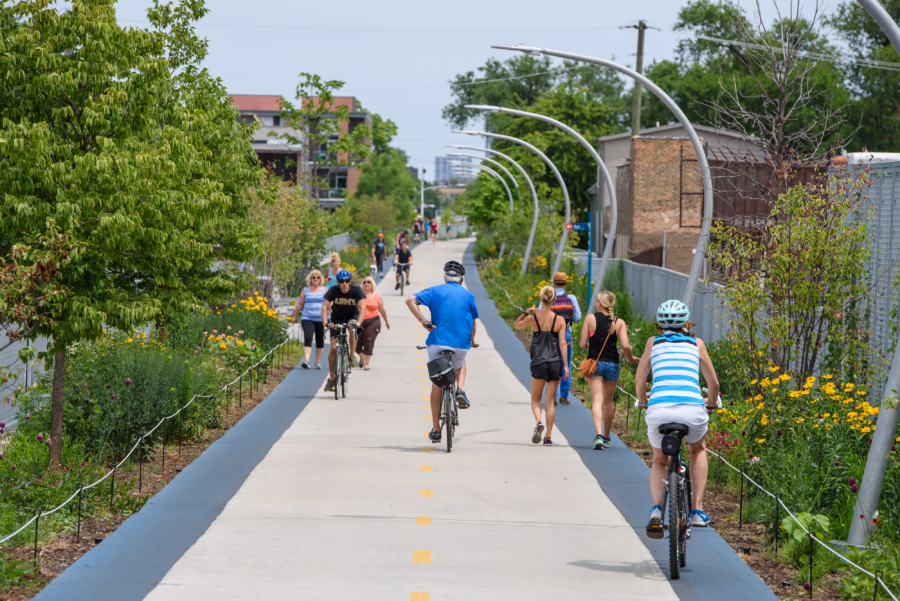 Cruise over to The 606, an elevated park and bike-friendly trail winding through four of Chicago's hippest neighborhoods: Wicker Park/Bucktown, Logan Square, and Humboldt Park. You can rent wheels from a nearby Divvy bike-share station. Not only is the trail beautifully landscaped, but the linear path (which follows the route of an old railroad line) offers the perfect vantage point to admire leafy neighborhood parks and boulevards from above.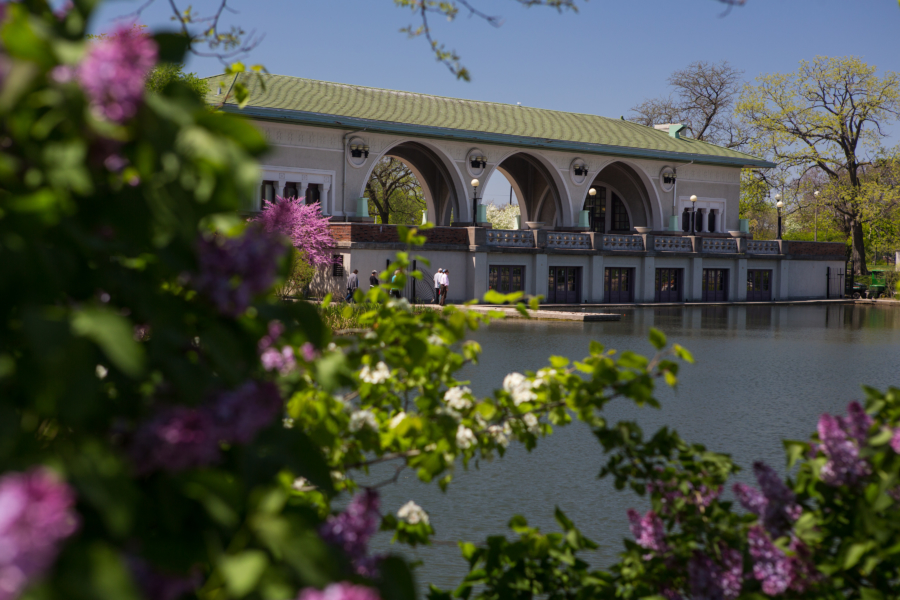 The Humboldt Park neighborhood's namesake Humboldt Park was designed by legendary Danish landscape architect Jens Jensen. It's home to a historic fieldhouse, lovely gardens, a boat house, and lush lagoons. Go for a swim at Humboldt Beach (Chicago's only inland beach), located on a natural swimming pond. Afterwards, visit The National Museum of Puerto Rican Arts & Culture, housed in the park's former stables.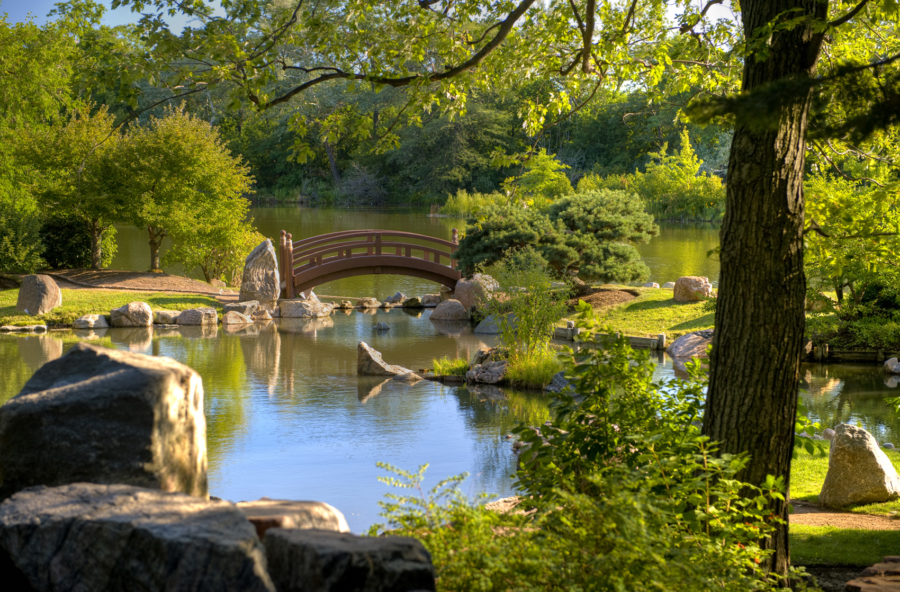 One of Chicago's most historic parks is also one of its most scenic. Nestled on the lakefront edge of the Hyde Park neighborhood, Jackson Park is best known as the site of the 1893 Chicago World's Fair. Explore the park's Garden of the Phoenix, an authentic Japanese garden set on a tranquil lagoon. Do some bird watching and see the stunning Sky Landing sculpture created by famed artist-musician Yoko Ono.