If you're someone who likes to take the road less traveled, consider some of Chicago's many off-the-beaten-path options. These Chicago companies are the go-to for groups looking to do private tours for corporate outings, convention attendees, student/youth groups, or other small groups.
Learn the unique history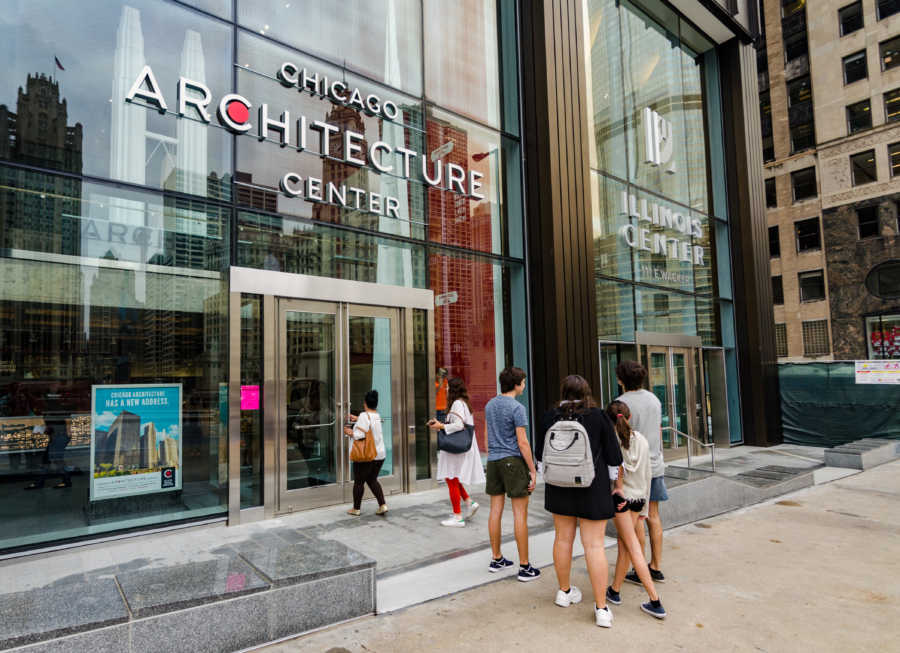 Chicago Architecture Center
Looking for a unique journey through Chicago history? Sign up for the Chicago Architecture Center's Devil in the White City Tour, where volunteer docents from the Chicago Architecture Center will bring Erik Larson's bestselling story of Chicago's 1893 World's Fair to life.
Chicago Hauntings
For an eerie walk through Chicago's supernatural past, hop aboard a bus with Chicago Hauntings for The Original Chicago Hauntings Tour, which takes groups through the city's most haunted historical sites.
Take in unique views
Chicago Detours
Go underground with the Chicago Detours' Pedway Tour, which guides groups through a web of concealed tunnels underneath approximately 40 blocks of Chicago streets.
Inside Chicago Walking Tours
It's one thing to see a building on a bus or boat, but the exterior is only half the fun! Go inside with Inside Chicago Walking Tours for the complete story, and hear tales from a unique perspective — the settlers, immigrants, architects, and revolutionaries who explored, created, and lived their lives in Chicago.
Vertiport Chicago
Show your group sky-high views of the city with a once-in-a-lifetime helicopter tour. With Vertiport Chicago tours, your group will see the spectacular sights of the city and learn the fascinating history of Chicago's famous landmarks.
Chicago Helicopter Experience
Give your group an unforgettable experience from the air with a daytime, twilight, or nighttime helicopter ride around Chicago. They'll marvel at the spectacular views of the skyline and Lake Michigan.
Wateriders
Once your group has seen the city by land and air, it's time to grab a kayak and see it from the water. A professional guide will lead your adventurous travelers on a kayak tour through downtown Chicago by way of the Chicago River.
Explore by boat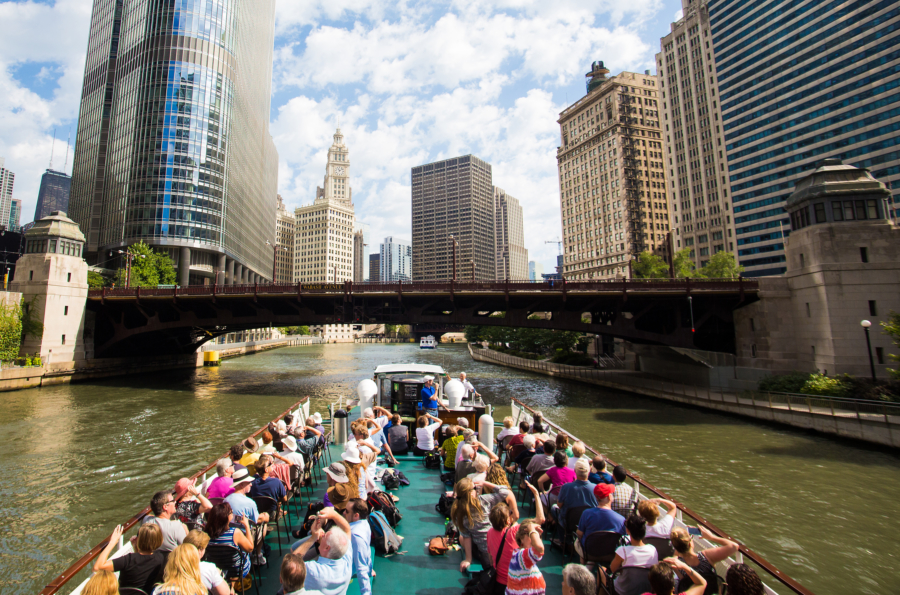 With Lake Michigan providing some of the best skyline views and the Chicago River cutting right through the downtown area, a boat tour is one of the best ways to acquaint your group with our city.
Chicago's First Lady
This cruise company is partnered with the Chicago Architecture Center to provide one of the most authoritative, architecturally focused tours in the industry.
Shoreline Sightseeing 
Shoreline Sightseeing has shown off Chicago for over seventy years with a variety of river and lake tours. For a fast and fun way to see the sights, take your group on a Shoreline water taxi.
Spirit of Chicago
For a cruise ship-like experience, don't miss a trip with Spirit of Chicago that offers dinner, entertainment, and an amazing view. 
Wendella Sightseeing Tours
For a trip that includes a journey out to Lake Michigan and some food and drink tastings, book a Wine & Cheese or Beer & BBQ cruise with Wendella.
Explore by bus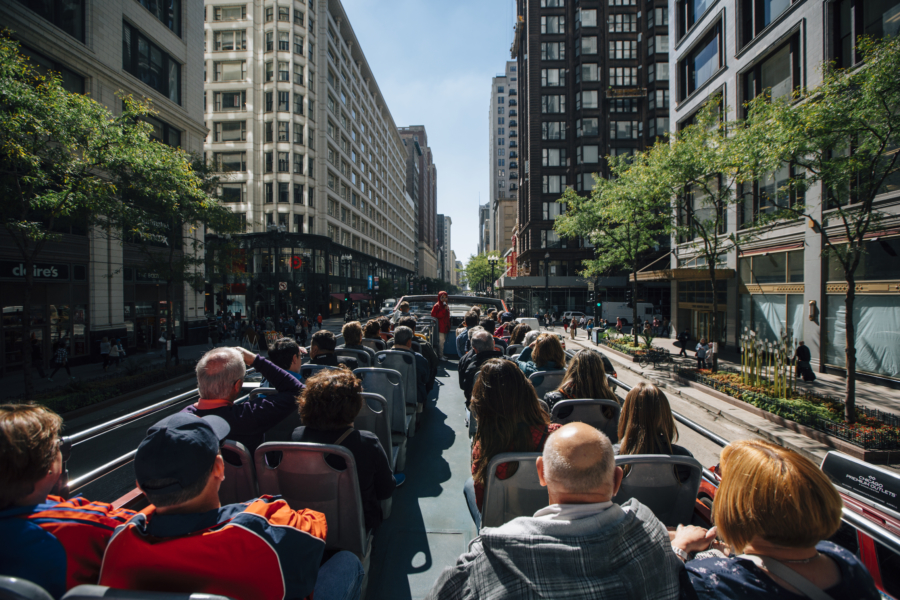 After your group has cruised the water ways, it's time for them to hit the pavement with some of our city's amazing bus tours.
Big Bus Tours
This hop-on, hop-off bus takes groups on an extensive route and offers the flexibility to get off the bus to explore areas of interest. Choose from Classic, Premium, or Deluxe tickets or the Night Tour.
Chicago Gray Line
For a comprehensive tour of all things Chicago, consider Gray Line's Inside Chicago – Grand Tour. The four-hour tour covers most of Chicago's expansive outer drive, parks, and includes stops at the Lincoln Park Conservatory and Museum Campus.
Chicago Trolley & Double Decker Co.
The hop-on, hop-off sightseeing tour covers 13 miles of our city's amazing retail, cultural, and family attractions. Guests can stay on board for a full orientation of Chicago, or hop off at any one of their many stops and start exploring the city.
Explore by bike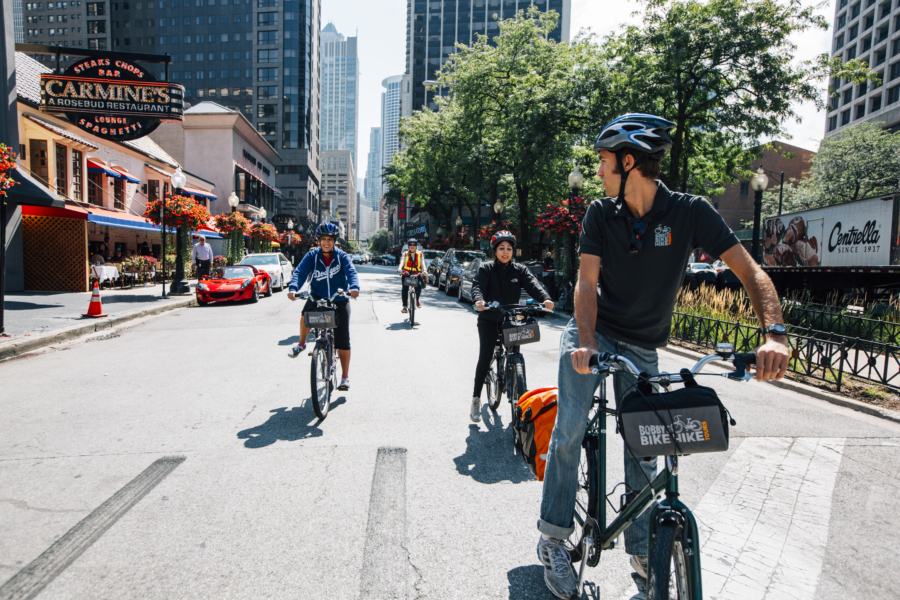 With more than 170 miles worth of bike path, including a 26 mile-long stretch along the city's lakefront, we encourage your group to pedal its way through Chicago.
Bike and Roll
Choose from several guided tours from Bike and Roll, ranging from an exploration of Lincoln Park to a nighttime ride to the fireworks on Lake Michigan.
Bobby's Bike Hike
This is a convenient bike tour option for groups who are looking for a fun, guided tour through some of Chicago's off-the-beaten path spots. Bike through neighborhoods, sample iconic Chicago foods or even take a night tour.
Cruise by Segway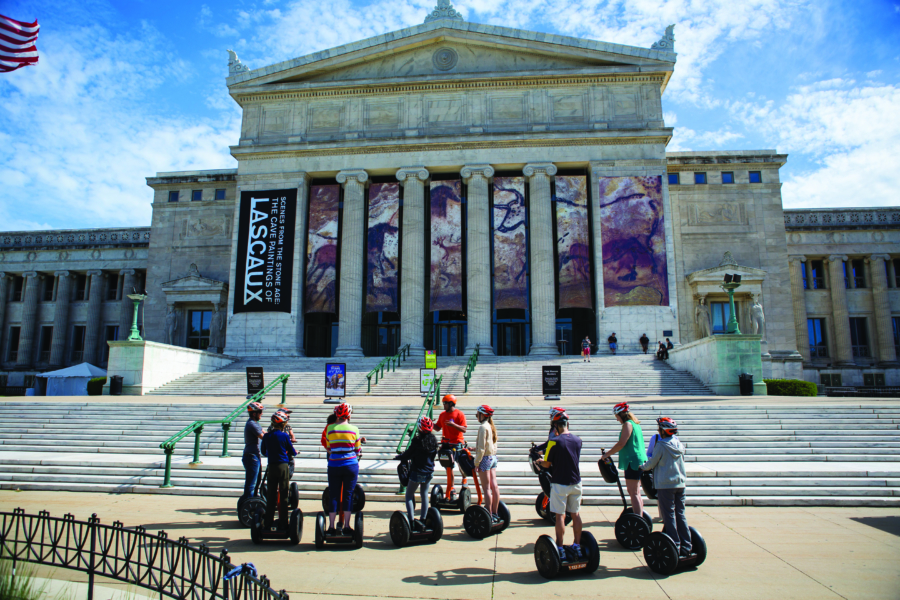 For a unique perspective on Chicago, your group will have a blast with our city's Segway tour options.
Absolutely Chicago Segway Tours
This fun Segway company offers an eight-mile glide that starts in either Millennium Park or Navy Pier. See landmarks, architectural masterpieces, and public art pieces.
Segway Experience of Chicago
Glide your way down the Riverwalk and through parks in style with this Segway company, offering a variety of architecture and themed tours.
Steve's Segway Tours
Choose from an array of Segway tours, from Lakefront/Museum Campus tours to themed trips like a Hot Chocolate and Cool Segways Tour.