Chicago is known as the birthplace of modern architecture. After the Great Chicago Fire of 1871, many architects flocked to the city for the opportunity to take part in the city's rebuilding efforts. One architect who came to Chicago to make a name for himself was Frank Lloyd Wright.
Wright arrived in Chicago in 1887 and became a draftsman in Louis Sullivan's firm, Adler and Sullivan, where he worked closely under Sullivan's mentorship. Considered one of the founding fathers of the Prairie School of Architecture, Wright was named the greatest American architect of all time by the American Institute of Architects.
Exploring Frank Lloyd Wright buildings
Frank Lloyd Wright Home & Studio 
Completed in 1889, the Frank Lloyd Wright Home and Studio is one of the most significant buildings in the history of American architecture. It is important because Wright lived and worked there, using it as a laboratory to develop a truly American design expression known as the Prairie style. From this workshop, Wright designed and built approximately one quarter of his life's work. Guided tours of the home and studio are available year round through the Frank Lloyd Wright Trust. 951 Chicago Ave., Oak Park, IL
Robie House
Completed in 1910, Robie House is considered the definitive example of Prairie-style architecture and also a masterpiece of modern architecture. The American Institute of Architects designated the Robie House as one of the 10 most significant structures of the 20th century. Located in the Hyde Park neighborhood, it was designated a National Historic Landmark in 1963, and is now a public museum operated by the Frank Lloyd Wright Trust. Guided interior tours for individuals and groups are available through the Frank Lloyd Wright Trust. 5757 S. Woodlawn Ave.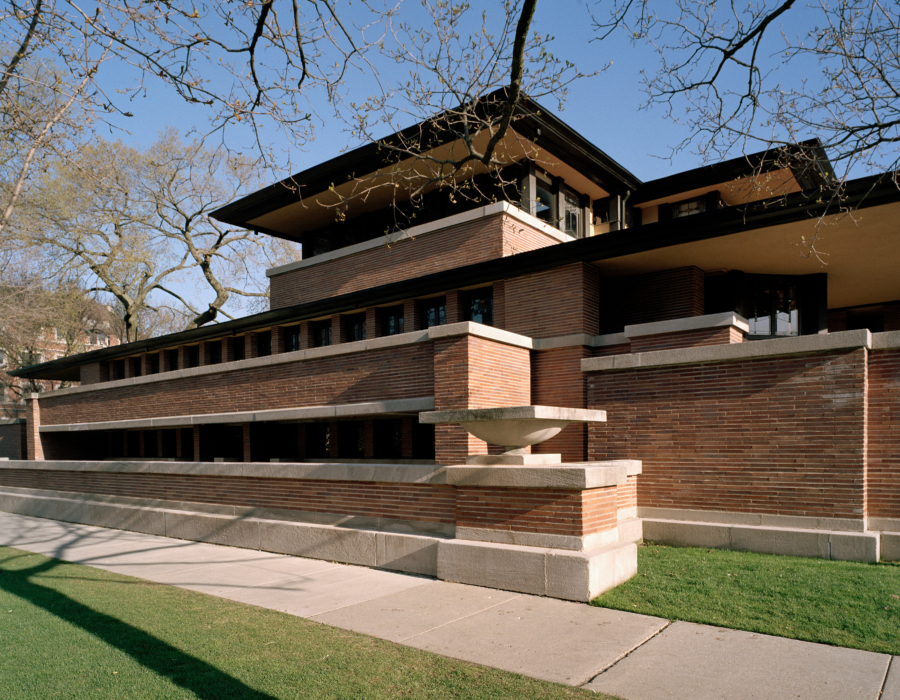 Unity Temple
Unity Temple is Frank Lloyd Wright's only surviving public building from his Prairie-style period and was declared a National Historic Landmark in 1970. Limited by a modest budget and an urban site, Wright created a bold design and used unconventional materials to produce one of his most significant accomplishments. Constructed of exposed, poured-in-place reinforced concrete, Unity Temple was perhaps the first house of worship to be built from a material reserved for factories and warehouses. Guided interior tours and self-guided tours for individuals and groups are available through the Frank Lloyd Wright Trust. 875 Lake St., Oak Park, IL
The Rookery
In 1905, Wright was commissioned to remodel the light court and lobbies of Daniel Burnham and John Root's 1888 Rookery Building in the heart of Chicago's financial district. Wright realized a stunning balance between Burnham & Root's ornamental ironwork and his own vision to create a spectacular environment and the result is one of his most dramatic interior compositions — a luminous and brilliantly articulated central light court. Guided interior tours of the light court for individuals and groups are available through the Frank Lloyd Wright Trust. 209 S. LaSalle St.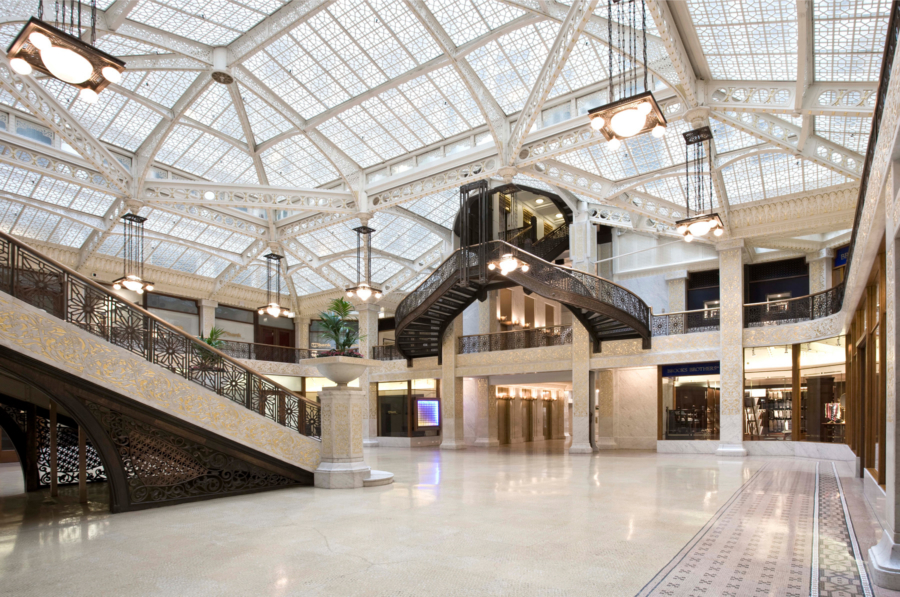 Bach House
Built in 1915, Wright's Bach House is a modification of his design for "A Fireproof House for $5000," published in Ladies Home Journal in 1907. The house was executed between Wright's return from Europe in 1911 and his departure to Japan in 1916 to oversee construction of the Imperial Hotel. In contrast to the expansive, open Prairie houses Wright designed prior to his European sojourn, the Bach House is strongly centered and self-contained in its geometry, efficient scale, and modern window designs. The Emil Bach House was placed on the U.S. Register of Historic Places in 1979. Guided tours for individuals and groups are available through the Frank Lloyd Wright Trust.
The Bach House is a unique property that offers guest rooms on the second floor and indoor and outdoor event spaces for your special occasion. For more information regarding the guest rooms and special events, visit www.emilbachhouse.com. 7415 N. Sheridan Rd.
Charnley-Persky House Museum
The Charnley-Persky House, completed in 1892, has long been recognized internationally as a pivotal work of modern architecture and stands as evidence of the extraordinary power of Louis Sullivan and Frank Lloyd Wright's creativity in collaboration. With the Charnley House, Sullivan rejected the historical details common to Victorian architecture in favor of abstract forms that later became the hallmarks of modern architecture. It is a sign of Sullivan's admiration for Wright that the senior architect allowed his draftsman to become involved in the design process at all. The dramatic interior of the house is symmetrical in plan and dominated by an atrium that soars from the first floor hall to a skylight two floors above. The ornament found throughout the interior and exterior of the building reflects both Sullivan's love of sinuous plant forms intertwined with underlying geometric forms and Wright's variations of these themes.  Guided tours for individuals and group are available through the Society of Architectural Historians. 1365 N. Astor St.
Chicago Architecture Center Tours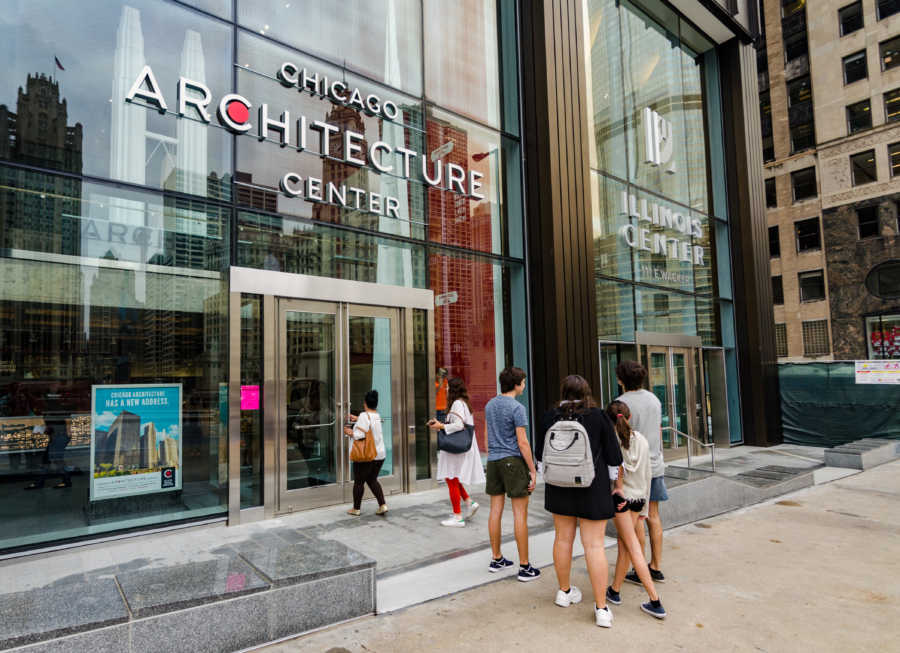 The Chicago Architecture Center (CAC) is the leading organization devoted to celebrating and promoting Chicago as a center of architectural innovation and as such, CAC conducts numerous tours that focus on Frank Lloyd Wright and the buildings he designed in Chicago. For bus tours, Frank Lloyd Wright in Oak Park is an extensive look at the exteriors of a rich selection of Wright designed homes in the suburb of Chicago he called home. CAC's Highlights by Bus will take tour participants to the Hyde Park neighborhood of Chicago where they will explore the interior of Robie House and learn the stories of three other Wright homes in the neighborhood.
For individual buildings tours, the Chicago Architecture Center offers a tour of the famed Rookery Building, an 1888 Burnham & Root building in which, Frank Lloyd Wright was commissioned to remodel the light court and lobbies in 1905. In addition, The Rookery is on the itinerary of CAF's Historic Downtown (South Loop) Rise of the Skyscaper tour. During the Fine Arts Building tour, discover a treasure trove on Michigan Avenue and learn its development from a carriage showroom to the high-profile artists colony that made its reputation with tenants including Frank Lloyd Wright. Multiple locations
For group tours, email groupsales@architecture.org or call (312) 322-1130.