Art can be found everywhere in Chicago, from galleries to museums to public squares and street corners. Chicago is a living art exhibit waiting to be explored.
Art galleries
Galleries can be found all over Chicago, but there are a few neighborhoods that have blossomed as distinguished art districts.
Pilsen, Bridgeport, and Hyde Park
These South Side neighborhoods have come into their own in recent years, offering dozens of new galleries featuring young artists and diverse mediums. In Pilsen, some 30 artist-run galleries can be found at 18th and Halsted, forming the Chicago Arts District, where gallery walks take place the second Friday of every month. Bridgeport is home to Bridgeport Art Center and Zhou B Art Center, situated in large warehouses on West 35th Street. In Hyde Park, visitors will find contemporary works from Chicagoans at Hyde Park Art Center and Logan Center.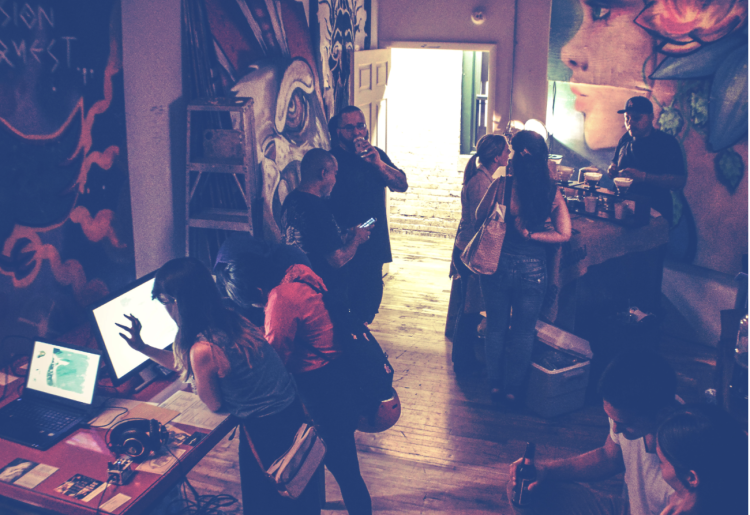 River North
This neighborhood is packed with galleries, making it a great place to browse. On the first Thursday of every month, visitors can take part in an art crawl and open house, operated by Brave New Art World. The tours vary each month, but some stops could include the Ken Saunders Gallery, showcasing luminous bowls and glass objects; The Project Room, hanging Tibetan photos and Cuban prints; Richard Norton Gallery, featuring impressionist and modern paintings; or Judy A Saslow Gallery, showing fun outsider art.
West Loop
Known mostly for its acclaimed "restaurant row," West Loop also has an emerging art scene. Galleries are tucked amid industrial buildings, giving them an edgy and exclusive vibe. Threewalls hosts exhibit exploring material and non-material, while street artists display their talent at Vertical Gallery. Carrie Secrist Gallery has been around for more than two decades, while Kavi Gupta Gallery showcases modern sculpture, paintings and photography for visitors to explore.
Wicker Park/Bucktown
Attracting young, outlier artists,  Wicker Park and Bucktown have quickly grown into one of the most cutting-edge art regions in Chicago. Intuit – The Center for Intuitive and Outsider Art features interesting folk art, including pieces from famous outsiders such as Henry Darger. Monique Meloche Gallery set up a lovely window display of mixed-media works, inviting passersby to come in and explore more. For something completely different, check out Eyeporium Gallery, an experimental space doubling as an eyewear store. Many artists live and work at Flat Iron Arts Building and host monthly First Friday events.
Art museums
There are a wide variety of art museums in Chicago, showing eclectic, cultural, traditional and contemporary collections from every century.
The Art Institute of Chicago
One of the most well-known art museums in the city, and the country. The award-winning attraction boasts over 260,000 pieces of art that encompasses more than 5,000 years of art from cultures around the world.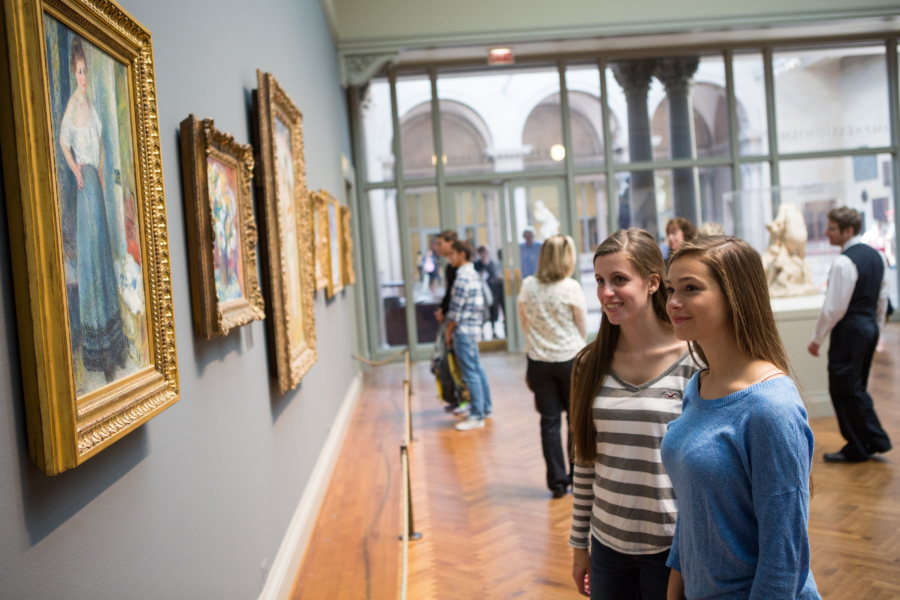 Smart Museum of Art
The official art museum of the University of Chicago, the Smart Museum of Art houses acclaimed special exhibitions and an extensive permanent collection. Free admission.
National Museum of Puerto Rican Arts and Culture
Housed in a historic building in Humboldt Park, the National Museum of Puerto Rican Arts and Culture is one of the only museums in the nation dedicated to celebrating Puerto Rico's rich history and heritage through year-round arts and cultural exhibitions.
Museum of Contemporary Art
One of the largest museums dedicated to contemporary works of art, the MCA features some of the most interesting art. Since 1945, it's been known for though-provoking painting, sculpture, photography, video, and performance art.
National Museum of Mexican Art
Home to one of the country's largest Mexican art collections, this museum stands as a prominent first-voice institution for Mexican art and culture in the U.S. The permanent collection includes thousands of unique pieces showcasing the creativity from ancient Mexico to modern Mexican-American.
Ukrainian Institute of Modern Art
This intimate museum showcases contemporary art as a shared expression of the Ukrainian and American experience. In existence for over 40 years, the Ukrainian Institute of Modern Art offers a robust schedule of exhibitions, musical and literary events, films, and gallery talks in the vibrant West Town neighborhood.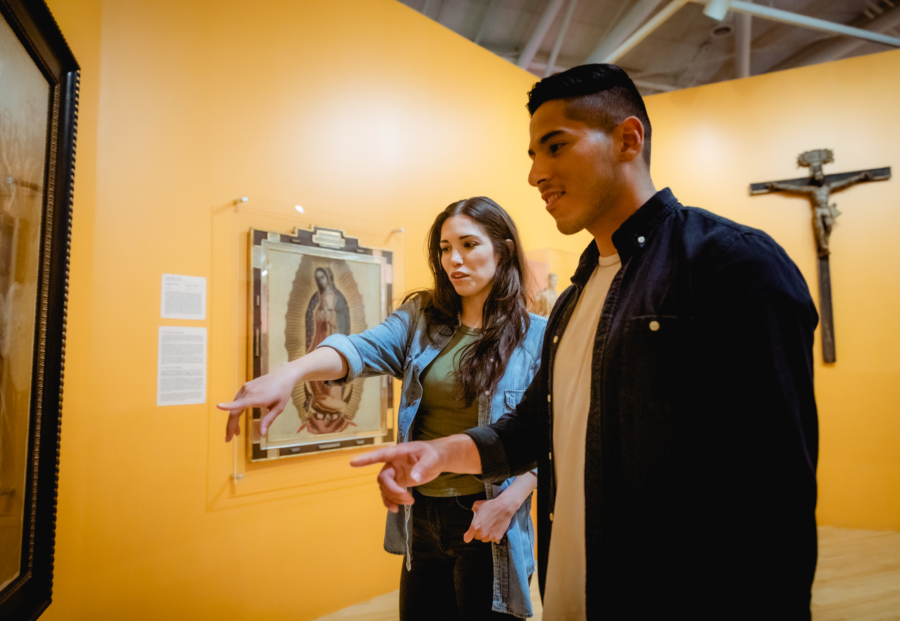 Public Art
Walk down any street in Chicago and you are sure to come across some form of art, from sculptures to murals. These pieces are an authentic representation of the city, as well as the local artists who live here and the nationally recognized ones that admire Chicago. Some of the best places to see this public art include:
The Loop
The downtown area offers more than towering, architectural gems and world-class dining. It also features an impressive collection of public art that spans across blocks. Head to Daley Plaza to see the famous Picasso sculpture, created specifically for Chicago by the artist himself; or venture to Chase Plaza to see the whimsical Four Seasons mosaic.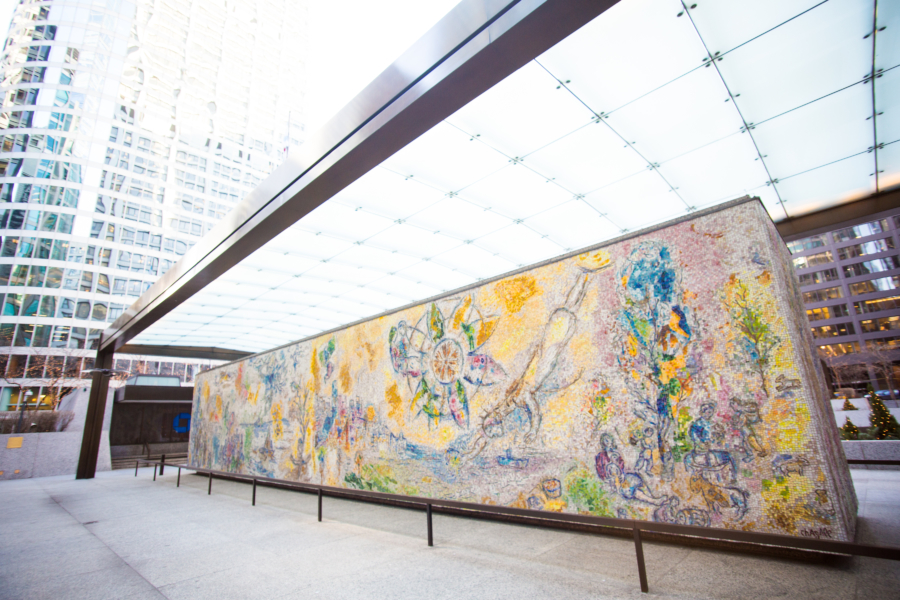 Analyze the curvilinear flickering flames of Freeform, a stainless steel piece designed by Richard Hunt installed on the façade of the Bilandic Building; or honor those who have served the US at the Vietnam Veterans Memorial on the riverwalk, featuring a tiered plaza, waterfall, and black granite block with the names of Illinois soldiers.
Just south of the Loop, check out the Wabash Arts Corridor. This living urban canvas features several whimsical, large-scale murals that have transformed the South Loop neighborhood into a bustling public art haven.
Pilsen
One of Chicago's most vibrant neighborhoods, this Latino enclave is known as a hub for public art. The streets of Pilsen have been adorned with colorful street art since the late 1960s and 1970s, often featuring works that showcase the area's Hispanic heritage and identity. To see the neighborhood for yourself, take the 'L' train to the 18th Street Pink Line stop — which is a work of art in itself. The station has been decked out in paintings by local art students.
The parks
Chicago's various green spaces are filled with statues, fountains and intriguing art pieces. Walk through Millennium Park to find Anish Kapoor's mind-bending Cloud Gate sculpture, affectionately called "The Bean" by Chicagoans, squeezed between the Greek-inspired Peristyle and interactive Crown Fountain. New public art installations pop up throughout the parks, guaranteeing that you will see something different each time you visit.
Neighborhoods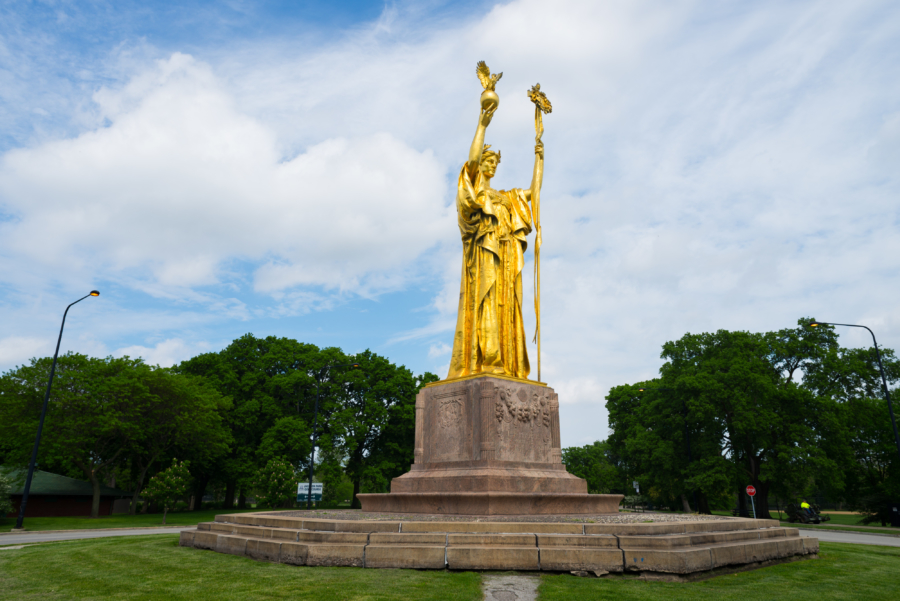 Many of Chicago's neighborhoods feature pieces of public art designed for specific cultures, traditions, historical figures or cultural icons. Many of these are hidden gems just waiting to be found.
In Lincoln Park, The Eagle Columns sit on the corner of Wrightwood and Sheffield. These three eagle forms appear to be rising in states of flight, and were built to commemorate politician John Peter Altgeld.
At the Belmont Red and Brown line stop sits the Space Junction of Energy, a bright orange steel-plate sculpture that is meant to suggest the movement of mass through space as it either expands or compresses as you change your viewing location.
In Hyde Park, check out the oldest public sculpture in Chicago, the Francis M. Drexel Memorial Fountain in Drexel Square. The fountain is dedicated to Austrian-born banker Francis Drexel. In the West Loop, gaze upwards at the towering Batcolumn on West Madison Street. The bat-shaped metal latticework structure is nearly 100 feet tall and is a symbol of the city's baseball history.
On the University of Illinois at Chicago campus, you will find a number of interesting public art pieces, including Slabs of the Sunburnt West, a massive bronze ground plate conceived as a memorial to Illinois poet Carl Sandburg.
There are hundreds more influential public art pieces throughout the city, so keep your eye out as you wander the streets.