---
Why we love it
Rich in Latino culture, Pilsen is a neighborhood that overflows with music, art, culinary tradition, and nightlife. It's home to award-winning restaurants, iconic music venues, and sensational murals as far as the eye can see. Maybe that's why it was named one of the coolest neighborhoods around the world by Forbes.
Explore like a local
Spend an evening exploring open studios and galleries in Pilsen's thriving arts district during free Second Fridays events.
Sip margaritas on the lively patio at La Vaca, then satisfy your sweet tooth with gorditas dulces at Panaderia Nuevo Leon.
Celebrate Día de los Muertos (Day of the Dead) in Pilsen, when Harrison Park is filled with colorful ofrendas, live music, and family-friendly activities.
Insider tips
The first thing you'll notice about Pilsen is the colorful street art. The buildings are covered in massive paintings and mosaics that pay homage to the neighborhood's Hispanic roots. Take a stroll around the neighborhood to soak it all in, particularly the 16th Street Murals.
The neighborhood's thriving arts scene has become known as the Chicago Arts District. This seven-block stretch is filled with artists lofts, studios, retail spaces, galleries, and more. Another must for art lovers is Pilsen Arts and Community House, a local gallery focused on community and accessibility.
Pilsen is also a haven for offbeat boutiques, hip eateries, and cool music venues standing alongside bodegas, panaderias, and family-owned restaurants serving authentic Mexican cuisine. Don't miss the National Museum of Mexican Art while you're there. This free museum immerses visitors in Mexican culture through a stunning collection of textiles, folk art, prints, photos, and more.
Pilsen is also home to a diverse dining scene, known for everything from authentic taquerias to acclaimed fine dining. Dig into modern versions of Vietnamese family recipes at HaiSous, feast on classic Mexican staples at 5 Rabanitos, and try elevated takes on globally inspired flavors at S.K.Y.
And you can't leave the neighborhood without exploring one of the city's most beloved music venues, Thalia Hall, where you can catch indie rockers, famed comedians, and live DJs in a striking space modeled after the Prague Opera House. The venue shares a historic building with Dusek's Board & Beer (award-winning tavern fare), Punch House ('70s vibes and large-format drinks), and Tack Room (live piano music in the building's former carriage house).
Chicago Greeter: free guided tours
Taste, shop and explore the neighborhoods with a friendly local as your guide. Explore rich histories, diverse cultural traditions and hidden treasures. See sides of the city you may not have adventured out to on your own, and take away a truly authentic Chicago experience. Greeter visits are customized based on your choice of neighborhoods, language and interests.
Request a tour with a Chicago Greeter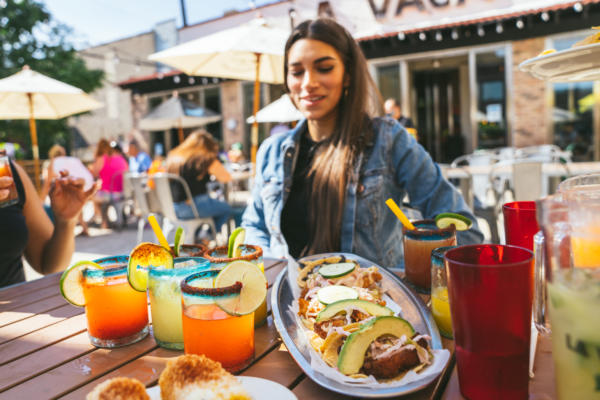 One of the Chicago's most colorful and culturally rich neighborhoods, Pilsen is known for its arts community, dining scene, and nightlife. The area's first inhabitants…