Become the ultimate urban explorer and tour Chicago by 'L' train, part of the Chicago Transit Authority (CTA). It's easy to navigate, kind to your wallet, and gives you the chance to see the city from one end to the other. Best of all, you can hop on and off whenever and wherever you like.
Whatever your interest — art and architecture, food and drink, theatre and performing arts, shopping (and more shopping) — you'll find it traveling from neighborhood to neighborhood on the city's famed elevated train. All you need is a Ventra card and a free afternoon. Let's go.
Red Line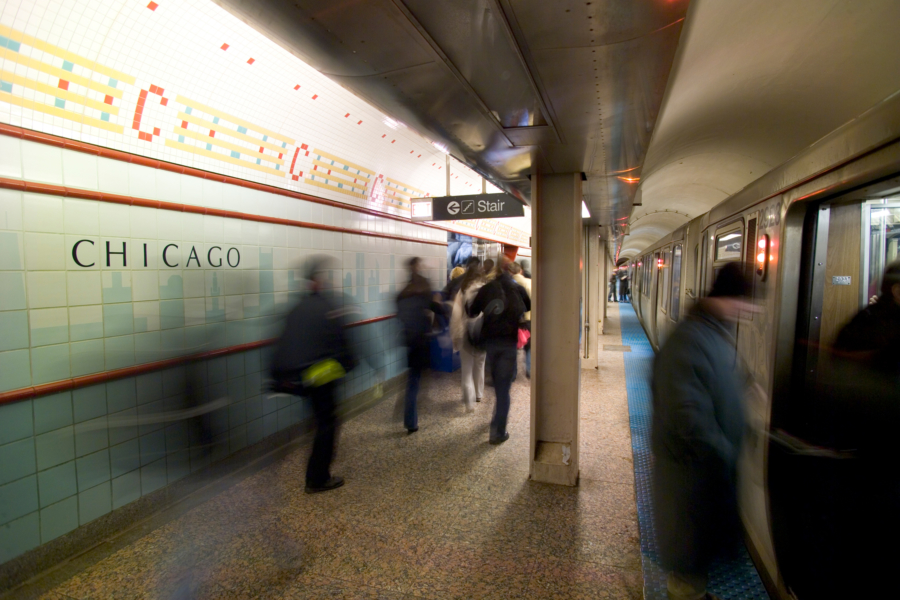 Stop: Cermak/Chinatown to explore Chinatown
Hop off at the Cermak-Chinatown stop to explore one of the oldest Chinese communities in the country. The Nine Dragon Mural Wall just outside the station is the first thing that welcomes you. From there, stroll under the Chinatown Gate to eat at authentic dim sum joints and delicious Chinese eateries, shop colorful stores brimming with classic Chinese souvenirs, and snap photos of traditional Chinese architectural features. Don't miss outdoor, pedestrian-friendly Chinatown Square, too, where you'll find cafes and boutiques, as well as the neighborhood's famed Chinese Zodiac statues, located at the center of the mall. Ping Tom Memorial Park is an idyllic place to kayak along the river and picnic with the city skyline in view. Pay a visit to the Heritage Museum of Asian Art and the Chinese-American Museum of Chicago while you're there.
Stop: Chicago to explore The Magnificent Mile and more
You'll find shopping, dining, and sightseeing within steps of the Chicago Red Line stop. Experience the Gold Coast's stately architecture, upscale boutiques, and fine dining. Shop along The Magnificent Mile, then pay a visit to 875 N. Michigan Ave. for a thrilling TILT experience at the iconic skyscraper's 360 CHICAGO observation deck. At Water Tower Place, you can test your skills against the greats at the interactive Chicago Sports Museum. Then hop next door to see a show at award-winning Lookingglass Theatre. Don't miss the Museum of Contemporary Art for provocative exhibits, performing arts, and free live jazz on Tuesday evenings throughout the summer.
Stop: Berwyn to explore Andersonville
Get off at the Berwyn stop to explore Chicago's "shop local capital," with independently owned storefronts all along Clark Street. Andersonville is rooted in Swedish tradition, which makes it a great place to grab authentic Scandinavian pastries and dishes. Stop into the Swedish American Museum, shop for everything from antiques to artisanal gifts (Andersonville Galleria is a local favorite), and dine and drink along Clark Street's bustling restaurant strip.
Green Line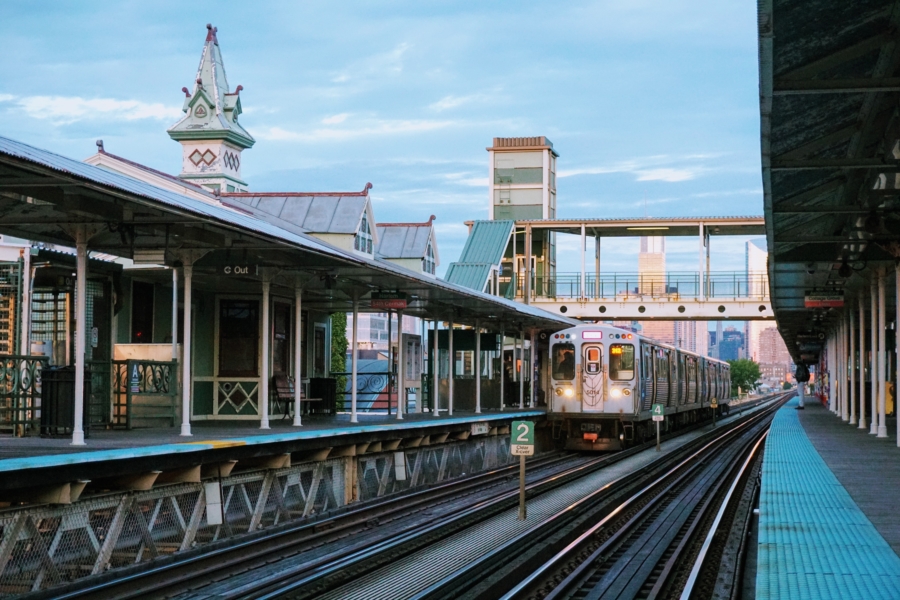 Stop: Conservatory – Central Park Drive to explore Garfield Park Conservatory
Garfield Park Conservatory is all the reason to make a stop at this Green Line station. This "landscape art under glass" is one of the largest conservatories in the world. Visit the conservatory for free to explore koi ponds, waterfalls, and exotic plants in spaces like the Palm House, Fern Room, Desert House, and Aroid House.
Stop: Roosevelt to explore the South Loop
Exit at the Roosevelt stop to visit Museum Campus, one of Chicago's many must-sees. The Field Museum is home to jaw-dropping natural history collections. Adler Planetarium is the oldest planetarium in America, and a whole lot of fun for aspiring space explorers. And the Shedd Aquarium is one of the largest aquariums in the world. Afterwards, go explore nature and soak up the sun at Northerly Island. If the timing's just right, you can catch a concert at the Huntington Bank Pavilion, with views of the lake and city.
Stop: Morgan to explore the West Loop
Come to the West Loop hungry. It's famed for its Restaurant Row along Randolph Street, where you'll find some of the hottest reservations in town. The entire area oozes industrial charm, with converted warehouses and former meat-packing plants all around. Shop the Randolph Street Market for antique and vintage finds on the last weekend of every month, then visit the neighborhood's many art galleries and auction houses. Don't leave without a visit to Greektown, home to great restaurants, bakeries, and the National Hellenic Museum.
Stop: Bronzeville/35th/IIT to explore Bronzeville
You're going to feel the allure of Bronzeville as soon as you exit the station. Amazing mansions and inspiring public art are only part of the story — there's its rich history as well. The likes of Pulitzer Prize recipient Gwendolyn Brooks, civil rights activist Ida B. Wells, and legendary musician Louis Armstrong are associated with this center of African American culture and famed civil rights, jazz, blues, and gospel music mecca. In fact, you'll likely to walk by the former homes of Louis Armstrong, Nat King Cole, and others while you're out taking photos of all that great Victorian-era architecture.
Don't skip the Robert W. Roloson Houses, too; they're the only Frank Lloyd Wright row homes ever built. Then walk down Martin Luther King Drive to see lots of public art, including Alison Saar's Monument to the Great Northern Migration, The Bronzeville Walk of Fame, and The Victory Monument. Check out the stunning African and Caribbean art at Gallery Guichard. Don't leave Bronzeville without a tour of the Illinois Institute of Technology campus, and particularly the School of Architecture, helmed by legendary architect Ludwig Mies van der Rohe from 1938 — 1958. The Chicago Architecture Center offers Mies and Modernism: The IIT Campus Tour, if you'd like to dig a little deeper into the institute's amazing architectural history.
Blue Line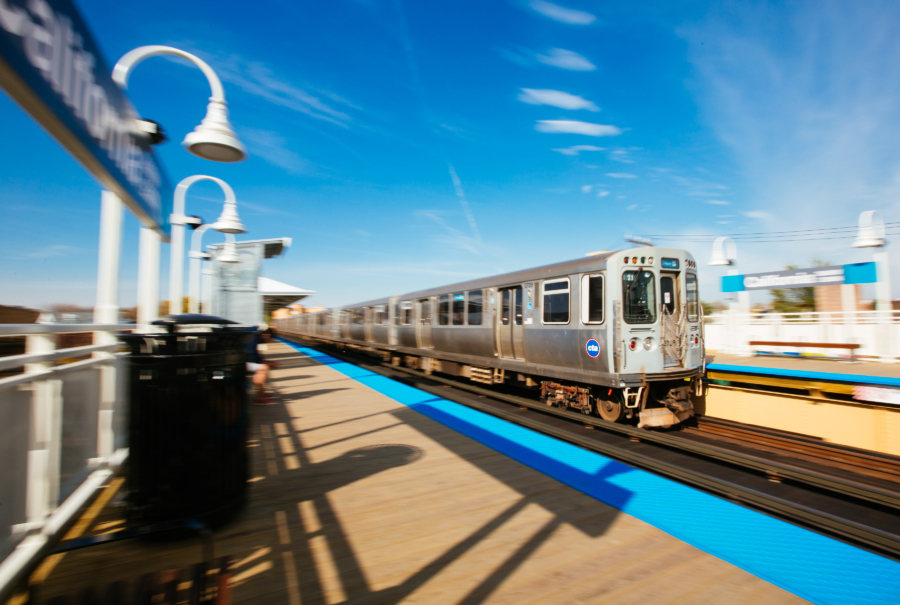 Stop: California to explore Logan Square
The California stop drops you right in the heart of Logan Square's happening restaurant and nightlife scene along Milwaukee Avenue. You'll find the Chicago Distilling Co., Revolution Brewing's Brewpub, the Chicago Diner (for great vegetarian and vegan food), and a seemingly endless row of bars, clubs, and lounges.
Stop: Damen to explore Wicker Park and Bucktown
As soon as you walk out of the door at the Damen stop, you'll see popular taco joint Big Star and its buzzing patio straight ahead, speakeasy The Violet Hour to your right, and The Robey hotel, with its fabulous rooftop bar and skyline views, to your left. That tells you everything about the nonstop energy of these adjoining neighborhoods. Add in progressive art spaces, unique boutiques, alternative music venues, and The 606 elevated trail just a short walk away, and you have a recipe for a great Wicker Park and Bucktown experience.
Stop: Chicago to explore West Town
West Town is a funky, eclectic neighborhood filled with unique, off-the-beaten-path experiences. Stop into Intuit: The Center for Intuitive and Outsider Art, an intimate museum with a fascinating collection, and the Ukrainian Institute of Modern Art, where you'll find Ukrainian contemporary culture celebrated through exhibitions, concerts, readings, lectures, and films. Then head to Grand Avenue for an upscale architectural salvage and antique treasure trove, and some of the city's latest food and drink hotspots.
Pink Line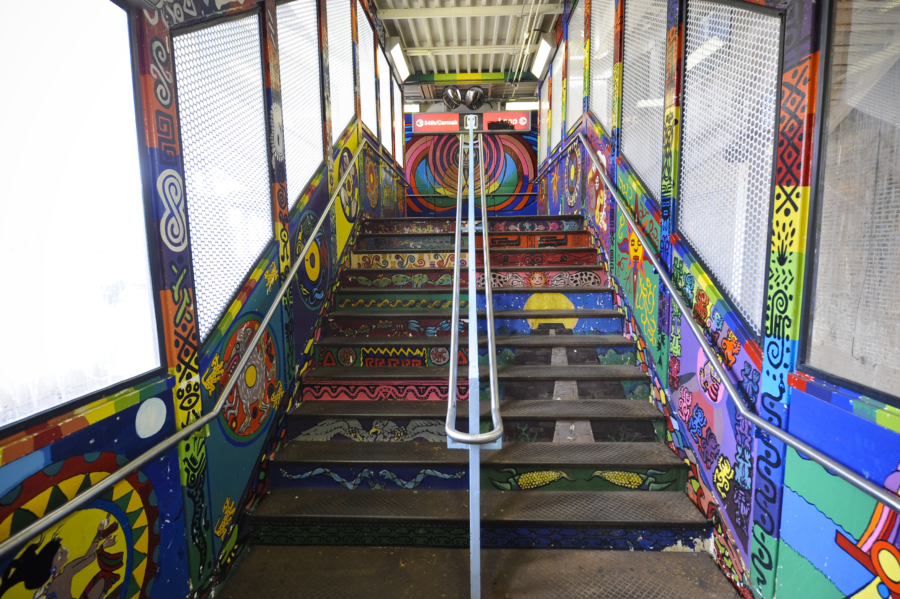 Stop: 18th Street to explore Pilsen
The first thing you see when you get off the train at the 18th Street stop is an explosion of colorful murals. And that tells you a lot about Pilsen. Its home to dozens of artist studios that you can tour for free on 2nd Friday gallery nights. Pilsen is also a proud Latino community, so you'll find authentic Mexican restaurants and bakeries everywhere. The National Museum of Mexican Art is a must-see on your visit to the neighborhood. It's home to one of the largest collections of its kind in the nation. Don't miss Michelin-starred Dusek's Board & Beer, concert venue Thalia Hall, and nightlife havens the Tack Room and the Punch House. All four hotspots are located in the same landmark building.
Stop: Washington/Wabash to explore the Loop
You'll love being in the heart of it all at the Washington/Wabash station. Some of the city's most famous sights are within an easy walk, including Millennium Park, the Art Institute of Chicago, the Chicago Cultural Center, the Chicago Architecture Center, and the Chicago Riverwalk. You can also shop along State Street (make sure you pay a visit to historic Macy's on State Street), walk by iconic Chicago skyscrapers, dine at classic Chicago restaurants, and live the high life at stunning rooftop bars. The Washington/Wabash stop also lands you close to the Loop Theatre District, so if you want to catch a hit show, this is the place to be.
Brown Line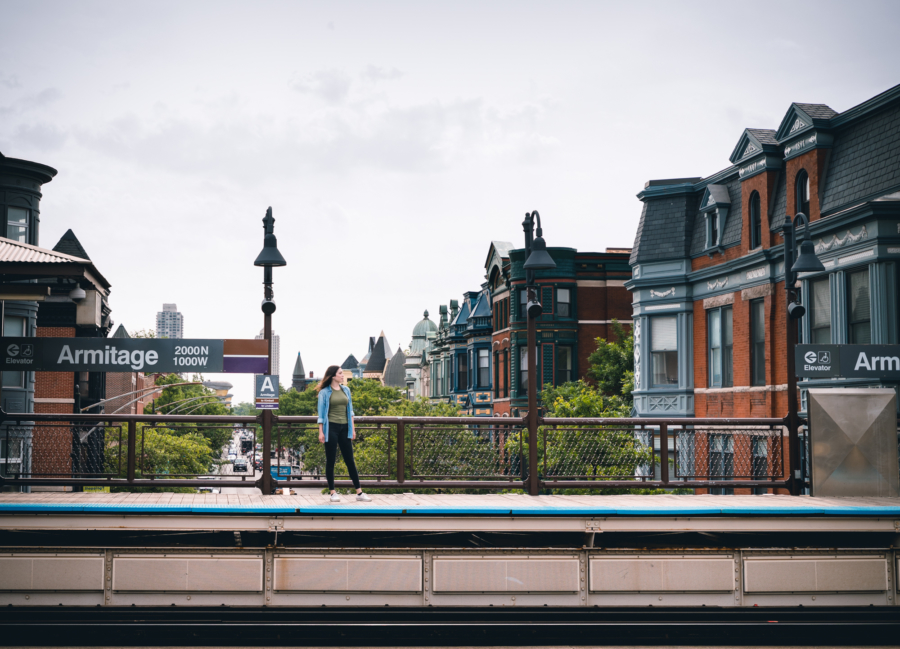 Stop: Western to explore Lincoln Square
Head straight for the cobbled stretch of Lincoln Avenue at the cross-section of Lawrence and Western for old-world German charm (don't miss Merz Apothecary and Gene's Sausage Shop & Deli). At Lincoln Square's Old Town School of Folk Music, you can take a class, catch a folk concert, or play along during a folk music jam. And at the Davis Theater, you can catch a film in a vintage movie house that's been restored and updated with every luxury.
Stop: Armitage to explore Lincoln Park
Descend the steps at Lincoln Park's Armitage stop and the first thing you'll see is a stretch of charming Victorian row homes and cottages, now home to great eateries, bars, and boutiques. Shop for unique finds and grab a bite before heading east towards the lakefront. You'll have your pick of Lincoln Park Zoo, Lincoln Park Conservatory, the Chicago History Museum, the Peggy Notebaert Nature Museum, and Alfred Caldwell Lily Pool, among other great outdoor spots. Or take the Brown Line one stop south to the Sedgwick station to explore Old Town boutiques, restaurants, bars, and improv at The Second City.
Stop: Belmont to explore Northalsted, Wrigleyville, and Lakeview
Northalsted (also known as Boystown) is the epicenter of Chicago's LGBTQ+ community, and Wrigleyville is home to one of America's oldest ballparks — Wrigley Field — where the Chicago Cubs play their home games. Take a Wrigley Field tour for a behind-the-scenes look at baseball history, then picnic and see a concert at Gallagher Way. Get a famous Chicago style dog (hold the ketchup) and explore Lakeview's Belmont Theater District. The Blue Man Group at Briar Street Theater is a neighborhood crowd pleaser. It's performance art mixed with live music, mixed with comedy — and audiences of all ages love it. Great shops, restaurants, cafes, and bars (including lots of Cubs-themed sports bars around Wrigley Field) round out your visit.
Ready to explore? Visit the CTA for 'L' train maps, schedules, and fares.