---
Why we love it
In a city known for its extensive collection of green space (Chicago is the "city in a garden" after all), Garfield Park is truly one of a kind. Located in the heart of the neighborhood, the area'snamesake park first opened in 1874 and remains a sprawling urban oasis and a favorite for locals and visitors. 
The neighborhood's crown jewel is the Garfield Park Conservatory. Wander between the themed rooms in the Conservatory to see lush displays of exotic plants from all over the world — you'll see why they call it landscape art under glass. 
Explore like a local
Insider tips
Wander around Garfield Park: Start your day meandering through the Garfield Park grounds. The park was originally designed by legendary landscape architect Jens Jensen and remains an excellent example of his pioneering Prairie-style design. 
The centerpiece of the park is the Garfield Fieldhouse — trust us, you won't be able to miss it. The massive gold-domed structure is both dramatic and detailed, one of the few Chicago buildings designed in the Spanish Baroque style. It looks out over a fishing lagoon and a natural area that includes wetland, prairie, and savanna. The park also holds tennis courts, soccer fields, a playground, a swimming pool, and a flower garden.
On the north side of the park, you'll find the Garfield Park Conservatory, also designed by Jensen. Completed in 1908, the striking glass structure was designed to emulate a "great Midwestern haystack". Admission is always free, with donations accepted. Spend some time admiring the manicured outdoor gardens before heading inside, where you can explore the desert house, fern room, tropical palm house, and more.
Grab a bite while giving back: Beyond the park itself, Garfield Park is making a name for itself as an emerging hub for food entrepreneurs. Inspiration Kitchens is an innovative concept that's both a restaurant and a training facility to help people experiencing houselessness. Stop by on Fridays to try their contemporary American fare.
Dive into the local art scene: Next, continue your neighborhood exploration at345 Art Gallery. The modern space displays work from local artists and students who specialize in painting, wood burning, sculpture, and beyond. Check their calendar for upcoming events, like live music performances and paint-and-sip classes.
Chicago Greeter: free guided tours
Taste, shop and explore the neighborhoods with a friendly local as your guide. Explore rich histories, diverse cultural traditions and hidden treasures. See sides of the city you may not have adventured out to on your own, and take away a truly authentic Chicago experience. Greeter visits are customized based on your choice of neighborhoods, language and interests.
Request a tour with a Chicago Greeter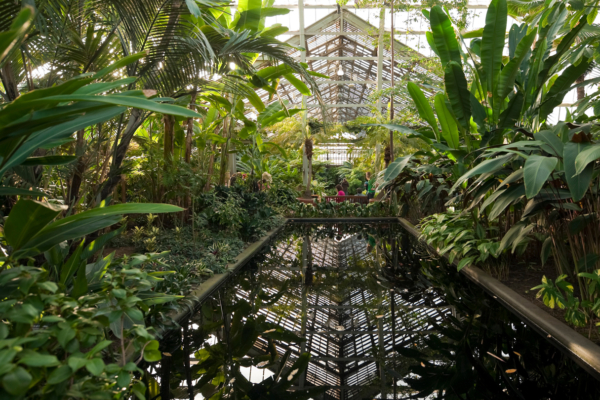 Chicago's Garfield Park neighborhood is a nature lover's paradise. The area is home to a sprawling chain of green spaces, with the historic Garfield Park…