---
Why we love it
Logan Square is a thriving, multi-cultural community of arts organizations, intimate music venues, locally owned shops, trendy cocktail bars, and beyond. Its creative energy and urban vibe make it a go-to for locals looking for the next cool thing.
Explore like a local
Insider tips
Take a stroll down stately Logan Boulevard, which cuts through the heart of the neighborhood. It's lined with regal limestone homes and anchored by the soaring Illinois Centennial Monument, designed by the same architect who created the Lincoln Memorial in Washington D.C.
Just a few steps away, you'll find the historic Logan Theatre. This vintage movie house opened in 1915 and has been revamped to include a cozy bar and lounge. The Logan, as the locals call it, screens everything from first-run films to cult classics to indie favorites. It also hosts the annual Chicago Underground Film Festival, the longest-running underground film fest in the world.
For a taste of Logan Square nightlife, take your pick from trend-setting cocktail bars, under-the-radar venues with local bands, and burgeoning breweries and distilleries. Check out Longman & Eagle, a modern take on an old-school Chicago inn with a mind-blowing whiskey selection. Or order a cocktail made with small-batch spirits at Chicago Distilling Company. Catch a performance at cool-kid staple The Whistler, a hybrid cocktail bar, gallery, record label, and music venue.
Among the neighborhood's diverse dining scene you'll find Michelin-rated spots, pizza places with cult followings, funky noodle shops, and unexpected fusion concepts. Hip coffee houses, minimalist boutiques, and a Sunday Farmers Market round out the Logan Square experience.
Chicago Greeter: free guided tours
Taste, shop and explore the neighborhoods with a friendly local as your guide. Explore rich histories, diverse cultural traditions and hidden treasures. See sides of the city you may not have adventured out to on your own, and take away a truly authentic Chicago experience. Greeter visits are customized based on your choice of neighborhoods, language and interests.
Request a tour with a Chicago Greeter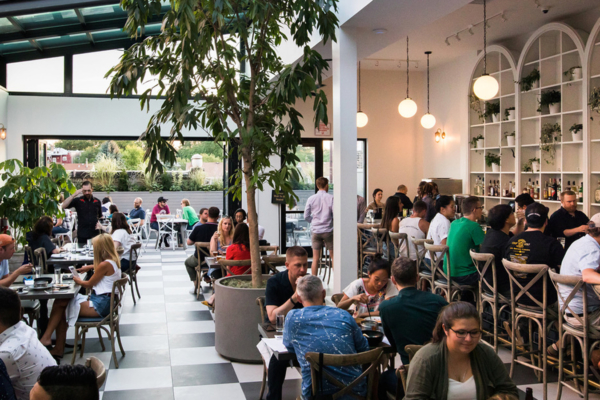 Logan Square is a one-of-a-kind neighborhood that you can really only find in Chicago. This long-time Latino community has seen an influx of new residents…