There's always something cool happening in Pilsen and Bridgeport on the southwest side. These distinct neighborhoods — from a vibrant, Hispanic enclave known for its colorful street art to a homey neighborhood with deep Irish roots — have something in common — cool breweries that are worth the trip.
Stop 1: Lagunitas Brewing Company
Go behind the scenes at one of the biggest breweries in Illinois: Lagunitas Brewing Company, between the Pilsen and North Lawndale neighborhoods. The spacious taproom features views of the production facility, live music, a full menu of munchies, and all of Lagunitas' greatest hits. Create your own flight of classics (like the popular Little Sumpin' Sumpin' Ale) and limited-release brews (like a rum barrel-aged ale). 
Stop 2: Alulu Brewery and Pub
Craft beer and a chef-driven menu are a winning combination at Alulu Brewery. Their exclusive small-batch brews are all made in-house and are only available at their brewpub. That includes two dozen different varieties, so you're definitely going to want to get a flight. The food menu mixes American and Eastern European influences for an eclectic take on pub cuisine. There's also cocktails, beer cocktails, mocktails, and house-made "drinking vinegars".
Stop 3: Marz Community Brewing Co.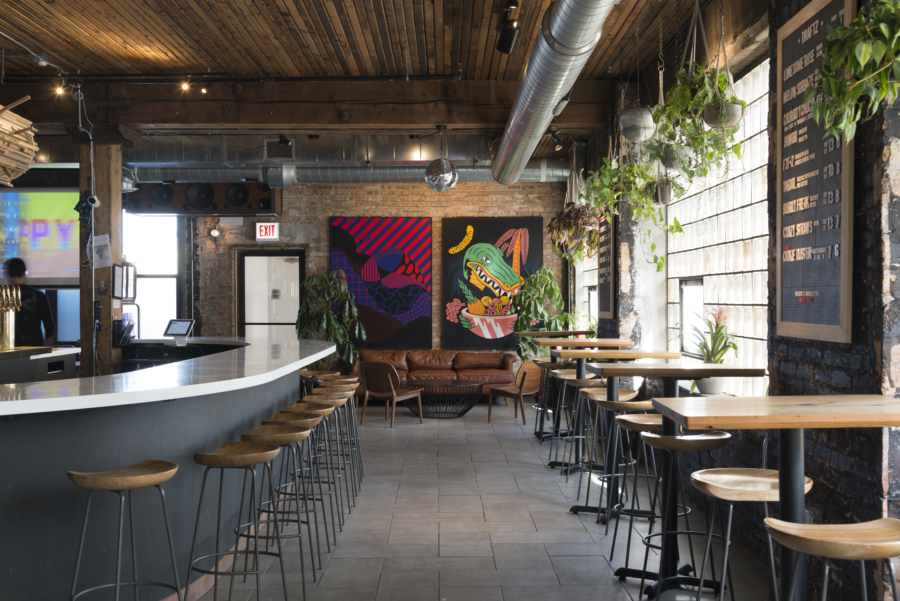 Like the name suggests, Marz is truly a community brewery. They have a full roster of artists and designers from Chicago and all around the world who design their bottles and cans, and even created the vibrant murals that cover the taproom walls. The space also features vintage arcade games, a gallery space, and music curated by a radio station that operates out of a local art gallery. Oh, and 24 beers on tap, from experimental styles to barrel-aged wild ales.
Stop 4: Whiner Beer Company
Whiner Beer Company takes its own unique spin on things. Its Belgian- and French-inspired beers are aged in oak wine barrels and are known for their sour tang. They pair perfectly with the naturally leavened, wood-fired pizzas that are made-to-order, Whiner's brewing methods are environmentally responsible; it's located in The Plant, a net-zero energy business incubator. 
Looking for more craft breweries in Chicago? Try some new brews while exploring Chicago neighborhoods with these craft beer itineraries.