You never know where a tour of Chicago might take you. You might find yourself sitting in the Chicago Cubs dugout, looking for ghosts in a haunted alleyway, kayaking through a skyscraper canyon, or eating the best brownie you've ever had in a historic hotel. No matter what you're looking for, these unique Chicago tours guarantee a one-of-a-kind, off-the-beaten-path perspective of the city.
Chicago Detours
Chicago Detours are no ordinary walking tours. Their tours take a creative approach to history and architecture, led by expert, passionate guides. They offer a variety of walking tours that go beyond the ordinary to explore stories and places that even locals don't know about. Their Loop Interior Architecture Walking Tour takes you inside some of the city's most stunning buildings and deep below its streets through the underground Pedway system. Their food and drink tours are also popular, taking you off the beaten path into Chicago's neighborhoods.
Chicago Hauntings
Get creeped out on a Chicago Hauntings tour. The Original Chicago Hauntings Ghost Tour By Bus is a good place to start — you'll hit some of the most actively supernatural spots in the city, including the sites of Fort Dearborn, the St. Valentine's Day massacre, Iroqouis Theatre fire, and more. Other Chicago Hauntings Tours include the Lincoln Park Ghost Tour, Devil in the White City Tour, Killers of Chicago Tour, and more.
Tour Through a Lens
Want to capture the best of your trip to Chicago? Tour Through a Lens helps you tell your travel story during immersive photography tours with a local guide. These urban photography adventures — with options for individuals and public or private groups — are perfect for smartphone users, hobbyists, and pro photographers alike.
Your guide will share quirky stories and fun facts about the city while helping you creatively photograph iconic sights and local gems in just the right light. Tours range from a few hours to a full day. Choose a custom tour built for your goals, interests, and equipment or a public group tour of the city's alleyways or trains.
L Stop Tours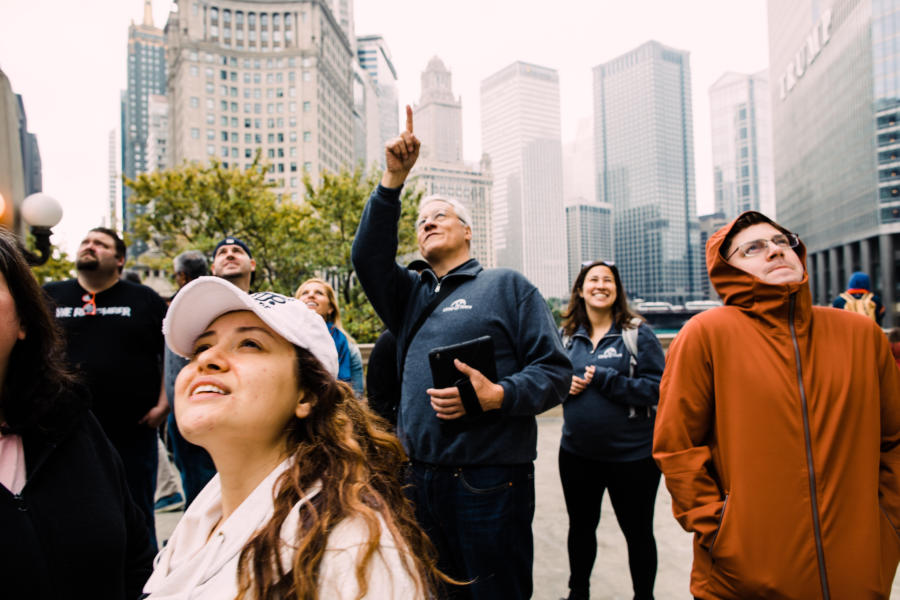 The 'L', Chicago's raised public transit system, is one of the best ways to explore the city. L Stop Tours will take you through different Chicago neighborhoods, with a unique tour for each 'L' line. Explore Chinatown on the Red Line, discover hidden gems on the Green Line, and marvel at street art in Pilsen on the Pink Line. Each tour covers one to three diverse neighborhoods and includes transit fare and an expert guide. Many also include fun extras, like food and drinks, museums visits, and more.
Statue Stories Chicago
Statue Stories Chicago is a free, city-wide arts initiative that brings public art to life. Hear statues tell their own stories by scanning a nearby QR code with your smartphone. You'll get a call back with a recorded monologue from Chicago's most celebrated writers, actors, and comedians — think John C. Reilly as Abraham Lincoln or Steve Carell as Man With Fish at the Shedd Aquarium. Hear the stories behind everything from Cloud Gate (aka "The Bean") to the lions guarding the Art Institute of Chicago. Check out the full list of statues, as well as walking tours.
City Running Tours
Get your miles in and your heart racing with a City Running Tour. Jumpstart your day with some early morning sightseeing with your choice of 5K routes. Led by professional guides, you'll stop to see the sites, share stories, and snap photos, all while getting in a light workout.
Free Tours by Foot
Looking for a budget-friendly way to see the city? Free Tours by Foot are pay-what-you-can walking tours with no upfront cost, so you can determine the value after the tour. There are tours that explore every corner of the city: hear about infamous gangsters in Lincoln Park, hear about the birth of the skyscraper in the South Loop, take a downtown Ghost Tour, get a deep dive into Millennium Park, walk the Riverwalk, or explore the trendy West Loop.
Urban Kayaks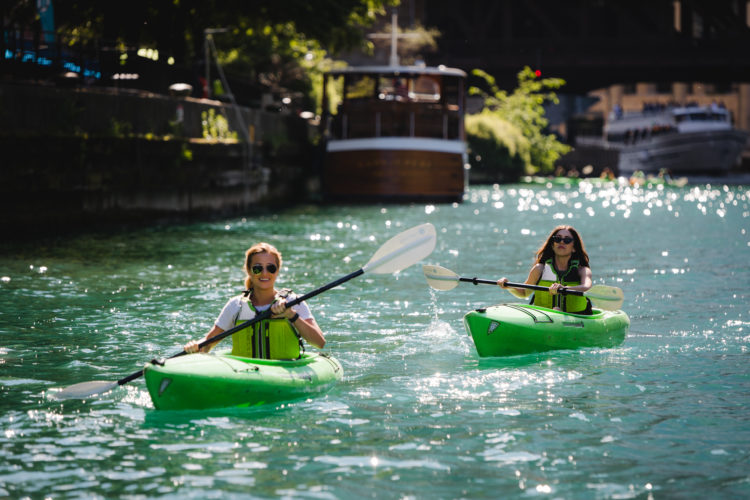 One of the best ways to see the city is from the water. With Urban Kayaks, you can explore the lake or river on a guided kayak tour. Paddle the Chicago River through the heart of the city, surrounded by soaring skyscrapers and some of the city's most iconic buildings. Or head to Monroe Harbor, where you'll cruise down the scenic lakefront to the Museum Campus and back. Choose from daytime, evening, or fireworks tours. All skill levels are welcome.
Untouchable Tours – Chicago's Original Gangster Tour
Experience Chicago as it was during the 1920s and 1930s with Untouchable Tours. Visit all about the classic Prohibition-era hot spots and hear historically accurate accounts of the exploits of Capone, Moran, Dillinger, and the rest of their infamous crew. Stops include the site of the St. Valentine's Day Massacre and the historic theatre where John Dillinger was shot and killed.
Chicago History Museum tours
Who knows more about Chicago history than the Chicago History Museum? The local museum offers a packed schedule of fascinating tours, covering a range of subjects and time periods. Check out some of their offerings, then hop on their website to book your spot:
Chicago's on Fire Tour
The Loop 'L' Tour
Devil in the White City Tour
Pilsen Murals Walking Tour
Union Station Walking Tour
Rosehill Cemetery Tour
Chicago Architecture Center tours
Explore the city from a new perspective. The Elevated Architecture: Downtown 'L' Train tour from the Chicago Architecture Center showcases Chicago's amazing architecture from the unique viewpoint of our elevated trains. Learn the history behind this iconic public transit system (like why we call it the 'L') and find out how it has helped shape the Loop into what it is today. The Chicago Architecture Center offers a wide range of boat, bus, bike, and walking tours all over the city.
Bizarre Bucktown Walking Tours
Get the inside scoop on some of Chicago's most eclectic areas. Bizarre Bucktown Walking Tours offers a local perspective on all the weird and wonderful stories of Bucktown and Wicker Park. Hear about hauntings, scandals, activism, beer barons, oil tycoons, mobsters, and more, as you learn about how these unique neighborhoods came to be.
Chicago Theatre tours
Step behind the scenes on a Marquee Tour of The Chicago Theatre, where you will discover the glorious French-Baroque architecture of this majestic venue, stand on the famous stage, and see renowned performers' autographs on dressing room walls. Broadway in Chicago also offers tours of some of their iconic Theatre District stages on Saturdays.
Palmer House tour
Take a walk through history — and enjoy an amazing meal while doing it — with The Palmer House Hilton's History is Hott Lunch & Tour. Start out by dining inside Lockwood, the historic hotel's modern American restaurant. That includes the hotel's signature brownie (the treat was invented there during the 1893 World's Fair). After lunch, get a tour of the Palmer House's art-deco lobby, grand ballrooms, guest rooms, and other sites not typically open to the public from the resident historian.
Wrigley Field Tours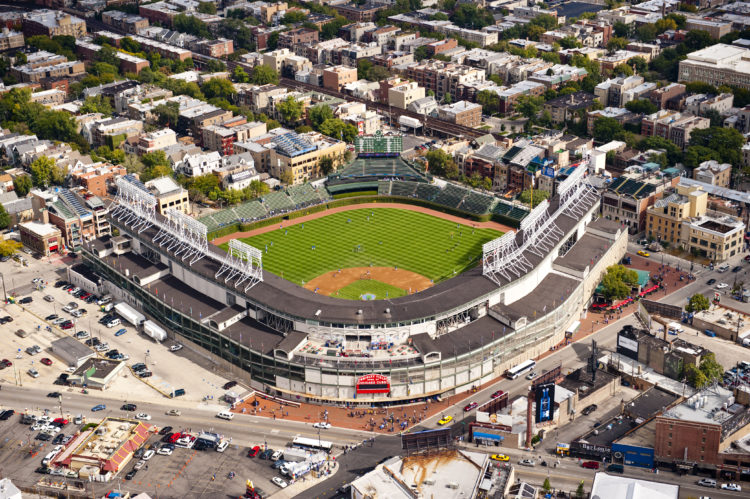 Go behind the scenes of the second oldest ballpark in the country with a Wrigley Field Tour. The daily tours might take you to the press box, bleachers, visitors clubhouse, Cubs' dugout, and even out on the field where you can gaze out at the iconic ivy in the outfield — just like Ernie Banks, Billy Wiliams, and Sammy Sosa used to. Kids, history buffs, and baseball fans alike — though maybe not White Sox supporters — will love getting an inside look at the Friendly Confines. On game days or days of special events, some access may be restricted, so it's best to check before purchasing tickets.
Please note: some of the above tours are available seasonally and are weather/event dependent. Please check with each tour company for availability.