---
Why we love it
Chicago's century-old Chinatown transports you straight to eastern Asia. As soon as you set foot in this historic neighborhood, you're in for the best kind of sensory overload. Stroll through elaborately adorned streets filled with traditional specialty shops, ornate architecture, storefronts packed with colorful wares and souvenirs, and family-owned restaurants with dishes you'll be craving long after you're home.
Explore like a local
Admire the

Nine Dragon Wall

, a stunning jewel-toned piece of art that honors ancient Chinese folklore.

Watch the

Chinatown Lunar New Year Parade

, part of the neighborhood's Chinese New Year celebrations every winter. 

Grab a traditional mooncake or baked pork bun at

Chiu Quon

, the neighborhood's oldest bakery.
Insider tips
Try authentic cuisine: Your first tip — always come to Chinatown on an empty stomach. There's no shortage of places to eat, with restaurants representing regional styles from all over China. Dig into steaming bowls of noodles at Strings Ramen, enjoy Cantonese specialties at Evergreen Restaurant, warm up with sizzling hotpot at Lao Jiu Men, or enjoy classic dim sum at Ming Hin. These are just a few examples — your options are truly endless.
See the sights: First, head to Chinatown's main stretch along Cermak Road and Wentworth Avenue, where you'll find retail, restaurants, detailed architecture, and more. Pop into the colorful storefronts to shop for exotic teas, handmade ceramics, hard-to-find beauty products, unique jewelry, and more. 
Keep your eye out for the Pui Tak Center, an ornately designed building with a fascinating history. And stop into The ART Gallery to view a curated selection of works by Asian artists.
Next, check out the outdoor Chinatown Square mall, located just north of the main Wentworth Avenue District. Here, numerous cafes and boutiques are gathered in a picturesque, pedestrian-friendly setting. Grab some bubble tea and see if you can spot your sign among the 12 Chinese zodiac statues located in the middle of the mall.
Spend time by the water: Looking for some under-the-radar skyline views? Ping Tom Memorial Park offers a stunning perspective of the city and the Chicago River. Once an abandoned rail yard, the waterfront park is now a rolling green space that's an idyllic setting for walking, picnicking, and kayaking.
In the summer, people gather in the park to enjoy special events like concerts, dance performances, Shakespeare in the Park, movie screenings, and the annual Dragon Boat Race event. 
The park is also a great spot to start and end your day in Chinatown, thanks to the Water Taxi. This seasonal boat ferries visitors between Ping Tom Park from the Loop, making it an easy and scenic way to get to Chinatown.
Chicago Greeter: free guided tours
Taste, shop and explore the neighborhoods with a friendly local as your guide. Explore rich histories, diverse cultural traditions and hidden treasures. See sides of the city you may not have adventured out to on your own, and take away a truly authentic Chicago experience. Greeter visits are customized based on your choice of neighborhoods, language and interests.
Request a tour with a Chicago Greeter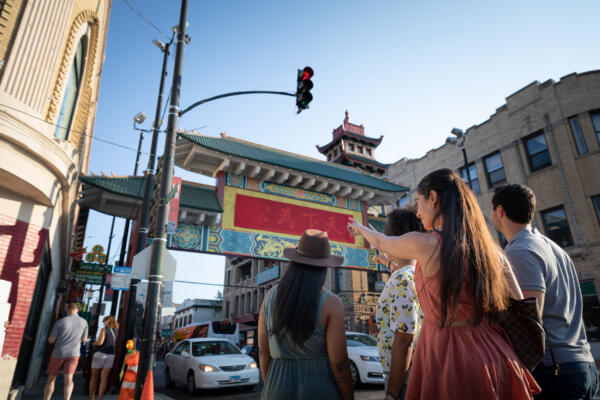 Chinatown is one of the most unique neighborhoods in Chicago. Easy to get to from downtown, the tight-knit community has been at this current location…