---
Why we love it
Bronzeville is a center for African-American life and culture in Chicago. Historically known as the city's "Black Metropolis," Bronzeville has a strong sense of pride in its influential history and cultural scene.
Immerse yourself in this art-filled community, where you'll find a diverse array of galleries, historic landmarks, and lively events like the annual Bud Billiken Parade, the nation's largest African-American parade, which draws more than one million spectators each August.
Explore like a local
Insider tips
Take a walk through history: This community is known for its rich history and a flourishing, modern-day renaissance. Bronzeville's cultural contributions are vast — it was once home to Pulitzer Prize-winning poet Gwendolyn Brooks, civil rights activist Ida B. Wells, legendary musician Louis Armstrong, and more.
Throughout the 1950s, the neighborhood was known for its bustling commercial areas, popular music clubs, and community of intellectuals and social activists. Today, Bronzeville is embracing its legacy as a mecca for civil rights, jazz, blues, and gospel music. You'll also find an array of coffee shops, bistros, galleries, libraries, monuments, and restaurants, alongside spectacular Victorian-era architecture and 19th-century mansions.
Make sure to check out the Robert W. Roloson Houses, the only row homes that Frank Lloyd Wright ever built, and stroll by the former residences of great entertainers like Louis Armstrong, Nat King Cole, and the Marx Brothers, plus change-makers like Bessie Coleman, the first African American woman to hold a pilot's license. 
Keep an eye out for public art: In the midst of all that history, look for striking public art installations, like a sculpture-adorned stretch of Martin Luther King Drive that features a Monument to the Great Migration, the Bronzeville Walk of Fame, and The Victory Monument. You'll also find the Ida B. Wells Monument just a few blocks from her former residence.
Grab a local bite: If you're hungry, check out Truth Italian for a soulful take on classic Italian cuisine. Dine on old-school Southern soul food at Pearl's Place, enjoy Sunday jazz at Norman's Bistro, or soak in lakefront views at seasonal Pier 31. And Bronzeville Winery has a menu of comfort food (like shrimp and grits) and lighter fare, plus a patio and live music.
Chicago Greeter: free guided tours
Taste, shop and explore the neighborhoods with a friendly local as your guide. Explore rich histories, diverse cultural traditions and hidden treasures. See sides of the city you may not have adventured out to on your own, and take away a truly authentic Chicago experience. Greeter visits are customized based on your choice of neighborhoods, language and interests.
Request a tour with a Chicago Greeter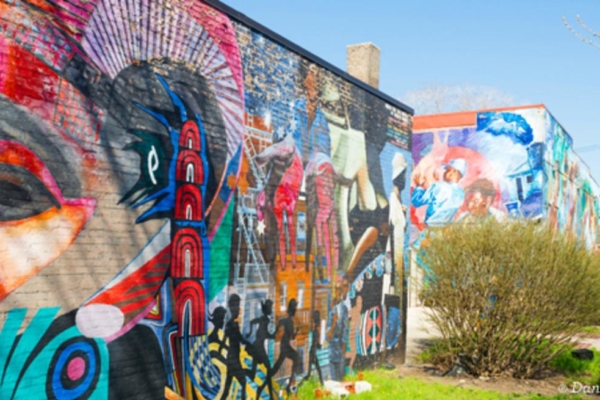 History lines the streets in Chicago's landmark Bronzeville neighborhood. Dubbed the city's "Black Metropolis," this south side community served as the headquarters for African American…