Millennium Park Campus is more than an attraction — it's an expression of the Chicago experience. The campus is home to Millennium Park (filled with free public events and iconic art), the historic Chicago Cultural Center, renowned Art Institute of Chicago, and adventurous Maggie Daley Park, and more.
Download the free iOS or Android Millennium Park app for events, maps, and more.
Jay Pritzker Pavilion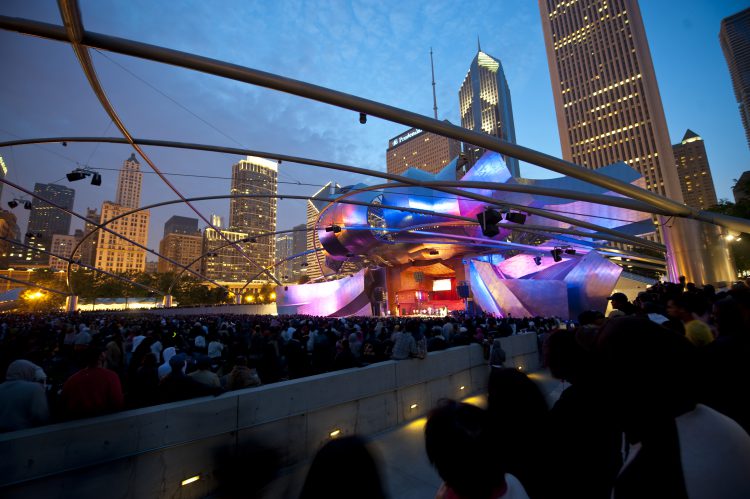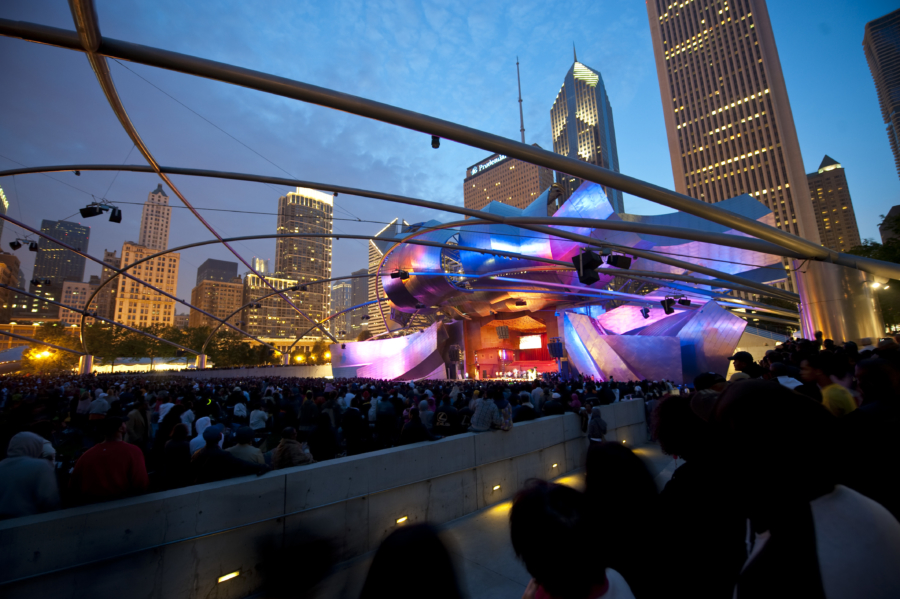 Frank Gehry's one-of-a-kind bandshell stands 120-feet tall, with a flowing crown of stainless steel ribbons and curving steel plates that make it a stunning and surreal place to see live entertainment. Plus, the pavilion has a state-of-the-art sound system designed to mimic the acoustics of an indoor theatre. Grab a seat or sprawl out on the Great Lawn with a picnic as you take in Millennium Park's Summer Music and Summer Film Series, and a host of annual festivals, including the Grant Park Music Festival, the Chicago Blues Festival, the Chicago Jazz Festival, and the World Music Festival.
Cloud Gate aka "The Bean"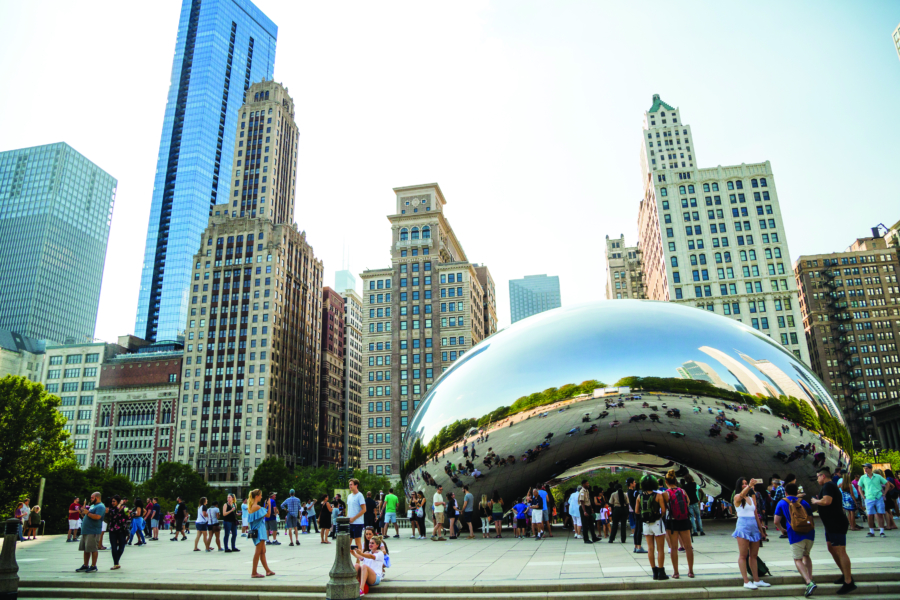 You can't come to Chicago and not visit The Bean, one of the city's most famous icons. Unveiled in 2005, this is British artist Anish Kapoor's first outdoor public sculpture in the United States, and one of the largest sculptures of its kind in the world. See yourself and the city skyline reflected on Cloud Gate's silky surfaces as you enter Millennium Park.

Crown Fountain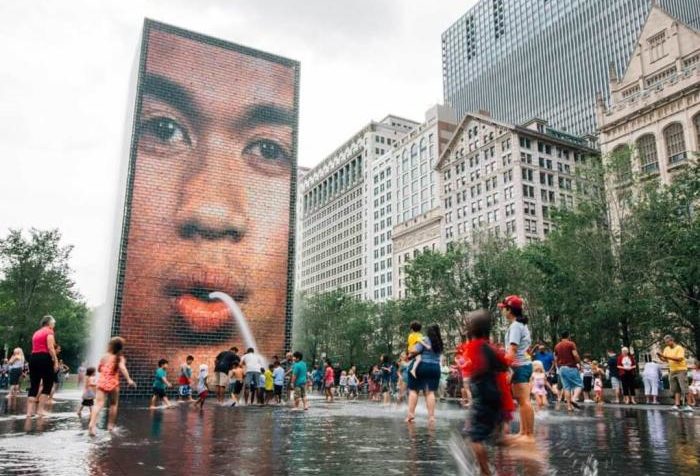 Conceptual artist Jaume Plensa's interactive, larger-than-life video sculpture is composed of a black granite reflecting pool positioned between a pair of 50-foot glass brick towers that use light-emitting diodes (LEDs) to display digital videos. From May through October, the faces of Chicago locals spout water from pouting lips, showering splashers with cooling spray.
Lurie Garden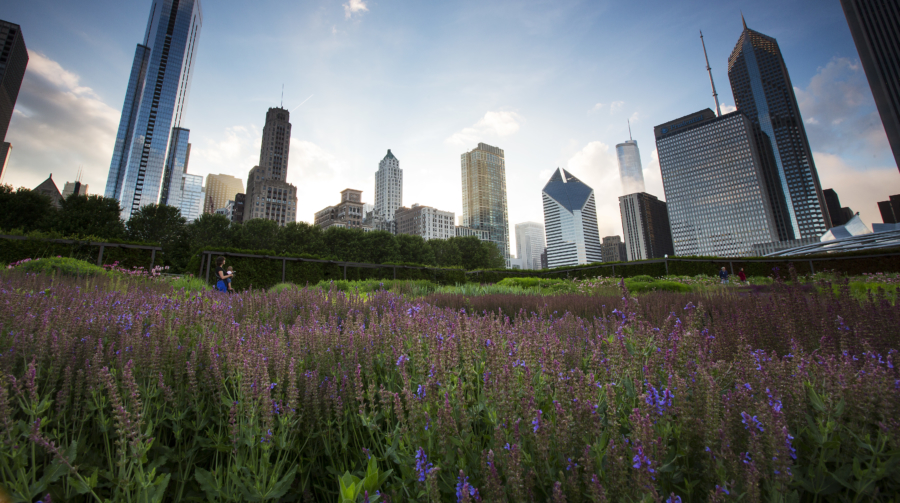 Lurie Garden is an award-winning masterpiece of botanical landscaping. Throughout the year, and for every season, native perennials and bulbs give the garden great diversity, creating a haven for wildlife, birds, and insects. Take free guided tours from May through September, or tour at your own pace throughout the year. Self-guided scavenger hunt worksheets in English and Spanish are also available for family fun as you stroll.
Maggie Daley Park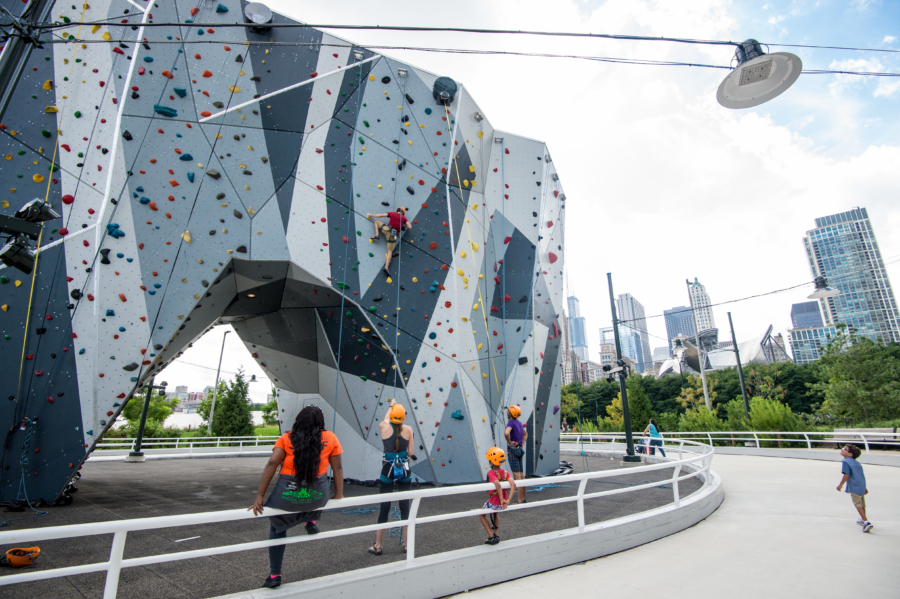 The spectacular oasis at Maggie Daley Park is a kid's fantasyland. The fun Play Garden is fashioned in the spirit of Alice in Wonderland and Charlie and the Chocolate Factory, with suspension bridges, tube slides, and a big ship to explore. Older kids flock to the 40-foot climbing wall and 18-hole mini golf course, putting through Chicago-themed obstacles. In the summer, the curvy Skating Ribbon becomes a walking and rollerblading path (in-line skate rentals are available). And in winter, the ribbon becomes a haven for ice skaters. Adults love the park, too, with tennis courts and picnic groves for a little recreation and relaxation. Take a walk along the spectacular stainless steel BP Bridge to reach neighboring Millennium Park.
Chicago Cultural Center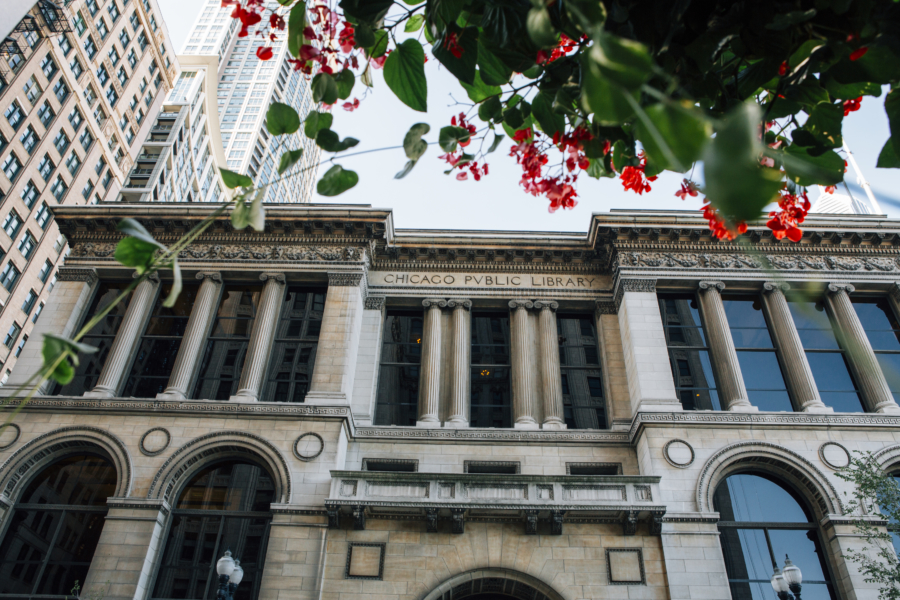 This Chicago landmark building is a stunner, but it's the free art, music, events, and movie screenings that make the Chicago Cultural Center such a gem. Not to mention the fact that it's home to the largest Tiffany stained-glass dome in the world. Taking up an entire city block, the venue presents more than 700 free humanities-focused programs each year. This is also where you'll find the Welcome Center, where you can sign up for a free tour of the building and free Chicago Greeter tours of Millennium Park, led by a knowledgeable local.
Art Institute of Chicago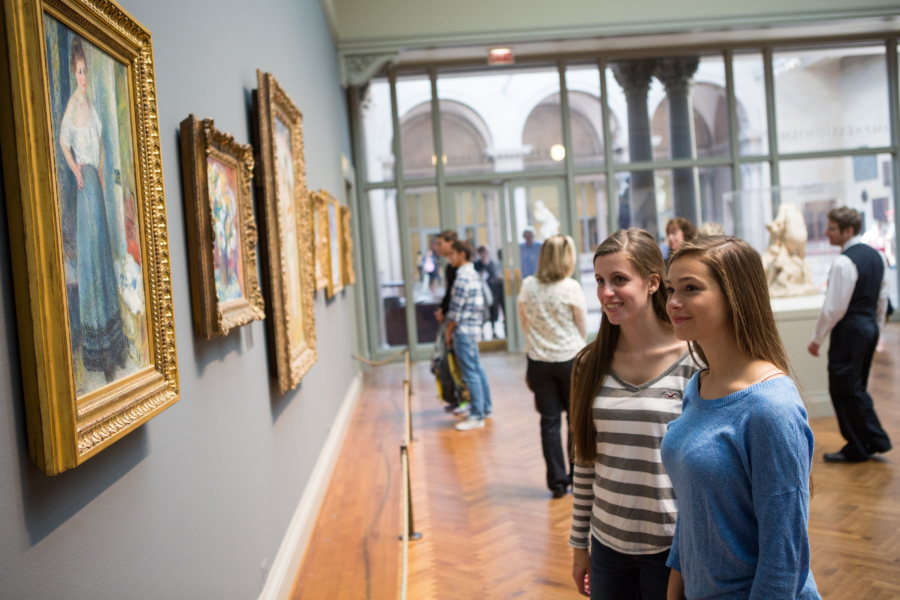 Take the Nichols Bridgeway from Millennium Park to the Art Institute of Chicago's Modern Wing, and find one of the most formidable art collections in the world, not to mention one of the oldest art museums in America. The Art Institute houses one of the largest collections of Impressionist and Post-Impressionist art outside Paris, and displays works spanning thousands of centuries, from Etruscan pottery and Ancient Greek reliefs to Pablo Picasso's The Guitarist and Edward Hopper's Nighthawks. The Art Institute's Modern Wing is also home to fine dining at Terzo Piano. Over the summer months, patrons clamor to be seated on the Bluhm Family Terrace, dining among rotating art installations, and enjoying unobstructed views of Millennium Park.
Harris Theater for Music and Dance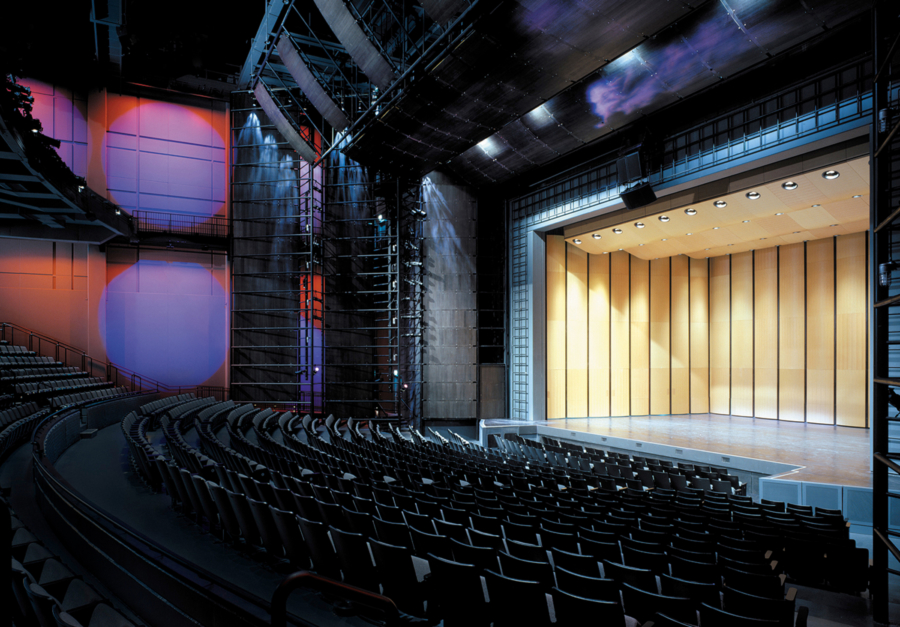 Harris Theater is Millennium Park's jaw-dropping indoor venue for the performing arts. Seating approximately 1,500 theatre, music, and dance lovers, Harris regularly features acclaimed local companies such as Hubbard Street Dance Chicago and Chicago Opera Theater.
McCormick Tribune Plaza & Ice Rink
The McCormick Tribune Plaza & Ice Rink is a year-round attraction along Michigan Avenue. Over the summer, it's a picturesque alfresco dining space and home to the Park Grill. In winter, it's a charming ice rink, with Cloud Gate and the city skyline as its backdrop.
Boeing Galleries
The Boeing Galleries comprise two paved outdoor spaces located on the mid-level terraces. Designed for public exhibitions and furnished with seating for park visitors, these free, open-air galleries are home to modern and contemporary art installations that rotate throughout the year.
Chicago Greeter tours
Take a free, guided walk with a local, and learn all about the history, art, and architecture of the park from someone who knows and loves it. No registration is required; simply meet at the Chicago Cultural Center lobby (77 E. Randolph St.). Groups of up to 10 depart at 11:30 a.m. and 1 p.m. daily.
Getting there
'L' train
The Washington & Wabash 'L' stop serves the CTA Brown, Green, Orange, Pink, and Purple Lines. Find more information and plan your route.
Metra train
Millennium Park is located directly above the Millennium Park Station at Michigan Avenue and Randolph Street, with access to the Metra Electric District and South Shore Line trains and the downtown pedway system. Find schedules, fares, and a map of downtown stations.
By car
Convenient parking is located in the Millennium Park Garage, Grant Park North, Grant Park South, and East Monroe Garages. Find information and pre-purchase parking.