Take a spin under a snow-capped city skyline along a ribbon of ice in the heart of downtown. Check out the seasonal ice skating rink in Chicago's Millennium Park.
Maggie Daley Park Skating Ribbon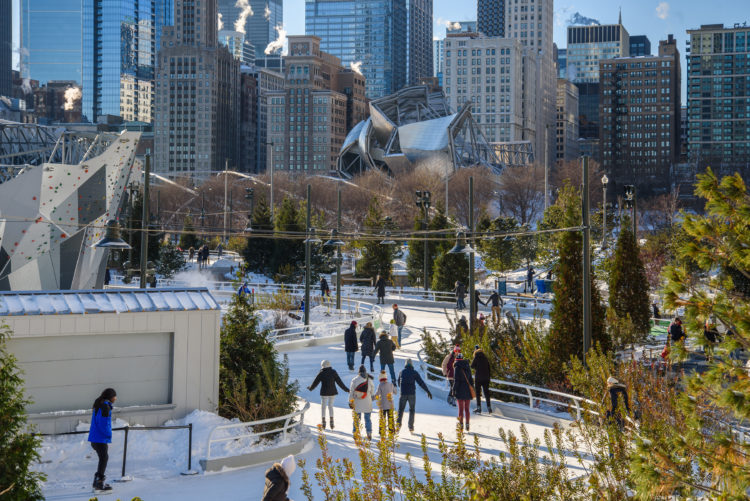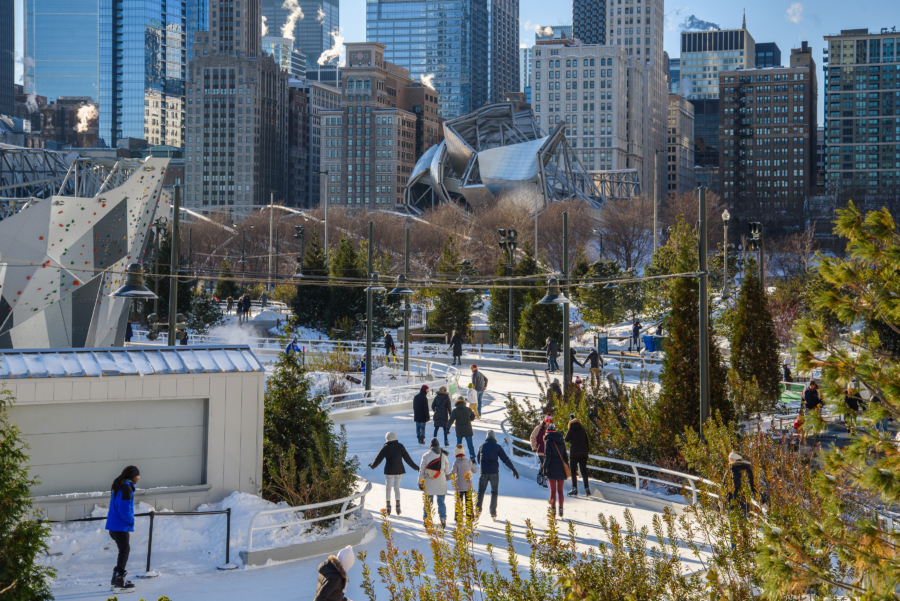 Opens Nov. 20, 2020
This neighbor to Millennium Park is home to a picturesque Skating Ribbon that meanders through snow-dusted pine trees, whimsical play spaces, and around soaring climbing walls.
Its path is twice the length of a lap around a traditional skating rink — which also means you should check the Zamboni schedule to avoid the lengthy ice resurfacing times.
Another tip: you'll need a reservation this year, but that means less lines and less waiting. Reservations open on Nov. 11 and limited spots will be available to ensure social distancing, so make sure to book your time slot early.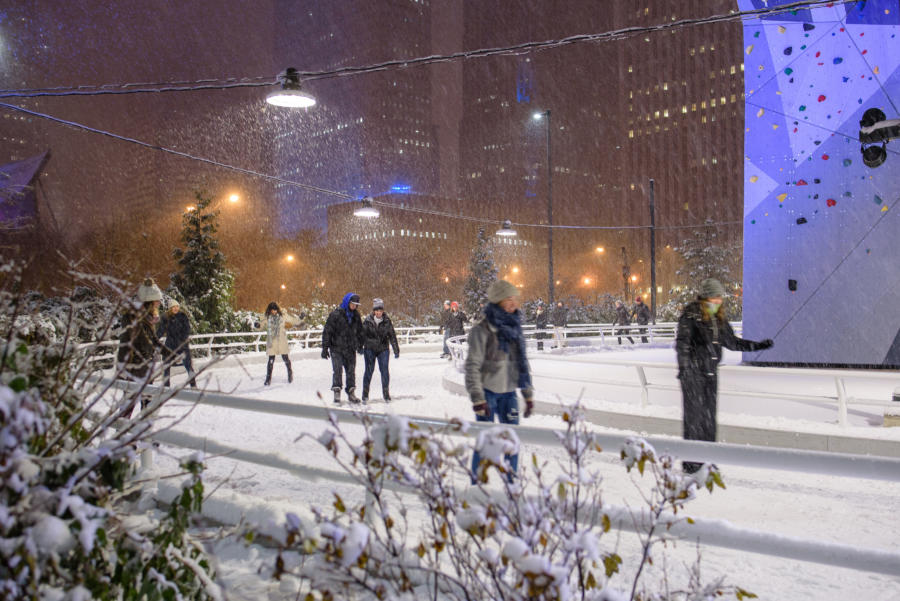 Skating Ribbon hours
Monday – Thursday: 12:30 – 2:00 p.m., 2:45 – 4:15 p.m., 5 – 6:30 p.m., 7:15 – 8:45 p.m.
Friday – Sunday: 11 a.m. – 12:30pm, 1:15 – 2:45 p.m., 3:30 – 5 p.m., 5:45 – 7:15 p.m., 8 – 9:30 p.m.
Skating Ribbon holiday hours
December 18th – January 3rd, Black Friday, New Year's Day, MLK Day and Presidents Day: 11 a.m. – 12:30 p.m., 1:15 –2:45 p.m., 3:30 – 5 p.m., 5:45 – 7:15 p.m., 8 – 9:30 p.m.
Thanksgiving, Christmas Eve/Day: 11 a.m. – 12:30 p.m., 1:15 – 2:45 p.m., 3:30 – 5 p.m.
New Year's Eve: 11 a.m. – 12:30 p.m., 1:15 – 2:45 p.m., 3:30 – 5 p.m., 5:45 – 7:15 p.m.
Skating Ribbon pricing
Admission with skates: $5
Skate rentals: $16
Holiday skate rentals: $20
Locker rentals: $5 – $8
Explore more to do in Millennium Park this winter.
---
McCormick Tribune ice rink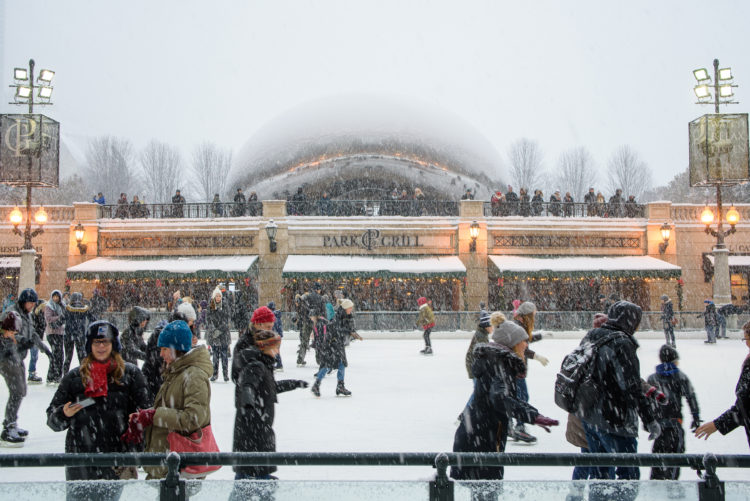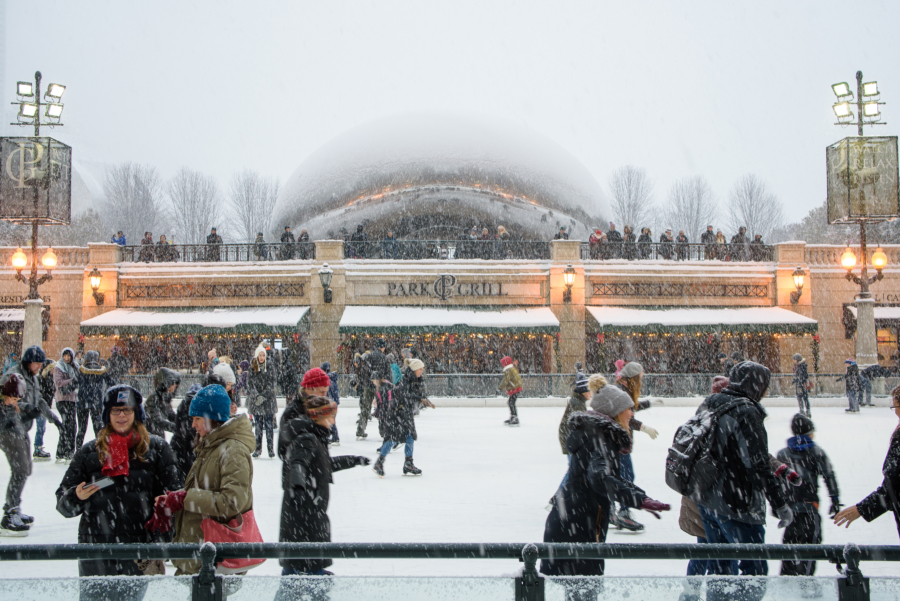 Update: The McCormick Tribune ice rink will be closed for the 2020/2021 season. We look forward to seeing you next year!
Whether you're a pro on skates or still just a little bit clumsy, the iconic skating rink in Millennium Park is a bucket list spot to take a spin on the ice. You'll be surrounded with breathtaking wintery views of Chicago, including the downtown skyline, the magical lights on the city's towering Christmas tree, and all the holiday lights reflected on the shining surface of Cloud Gate aka "The Bean."
Admission is free. But here's a tip: Each year more than 100,000 skaters visit the McCormick Tribune Ice Rink, so plan to go during off-times to avoid the big crowds and long lines for skate rentals.
Free admission, skate rental $13 Monday – Thursday, $15 Friday – Sunday and holidays, $1 locker rentals