Free admission • Grant Park
Welcome to the world's largest free-admission outdoor food festival. The 40th annual lakefront extravaganza lets you fill up on all the flavors of the city, from classic Chicago specialties to international cuisine to chef-inspired creations. It's the perfect opportunity to get a bite of some of the best Chicago restaurants.
In 2019, 82 restaurants participated in Taste of Chicago, including 24 pop-up spots and 17 food trucks. Plus, guests could check out local artists and their work, catch performances from local dance companies, and hear live music from big-name acts (all for free).
See the full list of 2019's participating restaurants.
How it works
Admission to the Taste of Chicago is free. Tickets for food and beverages are sold in strips of 14 for $10. You can use tickets to buy taste-size and full-size portions from any of the many food vendors. Every vendor offers small "taste" portions that are between 1 and 6 tickets (that's $3 or less), which gives visitors a perfect way to sample from a bunch of different Chicago restaurants. Walk up and down the rows of vendor booths — make sure not to miss the one-day pop-ups or the food trucks parked nearby.
Beverage tents and experiences are located throughout the event. In 2019, the CH Vodka Cocktail Lounge offered mixology specials to enjoy by Buckingham Fountain. The popular Goose Island Backyard Brewery served Taste-goers a select list of craft beers and ciders. And the Stella Rosa Wine Garden featured Riboli Family Wines, awarded the American Winery of the Year for 2018 by Wine Enthusiast.

What to do (besides eat)
Free concerts at the Petrillo Music Shell
Taste of Chicago also presents a diverse mix of national and international artists at nightly concerts at the Petrillo Music Shell along with a daily schedule of local artists at the Goose Island Stage.
Check out last year's star-studded lineup:
July 10: Sunflower Bean, Courtney Barnett
July 11: Cultura Profética, Bomba Estéreo
July 12: Taylor Bennett, De La Soul
July 13: Joywave, lovelytheband, The Strumbellas
July 14: Bilal, Meshell Ndegeocello, India.Arie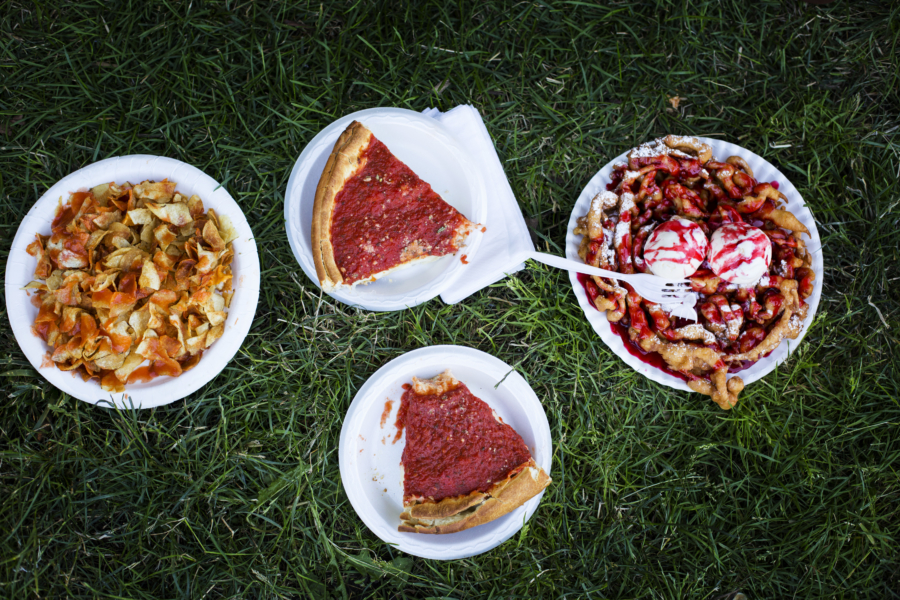 Grab a free spot in the lawn or buy tickets for a seat in the outdoor amphitheater. Other entertainment options throughout the 2019 festival included:
The Goose Island Stage offered five days of free performances by Chicago's best up-and-coming and established artists.
 The new Theatre Garden showcased local theatre groups with performances by the world renowned Second City, Porchlight Musical Theatre, and other sketch and improv groups.
Chicago's very own Kit Kat Lounge and Supper Club presented The Mermaid Diva Show on the west side of Buckingham Fountain each day at 3 p.m.
Chicago SummerDance, the largest annual outdoor live music and dancing series in the United States, offered free dance lessons in a variety of style at Buckingham Fountain Plaza each day of the festival from 5:30 to 8:30 p.m.
Join the new silent disco which happened daily at the fountain from 11 a.m. to 4 p.m. After getting a set of headphones, participants dance along to tunes from one of two DJs spinning different genres.
Families and kids enjoyed the Taste of Chicago Playground located on the west side of Columbus Drive. Back this year was the Ferris wheel along with an array of inflatables for kids. Tickets for rides were available for purchase on site.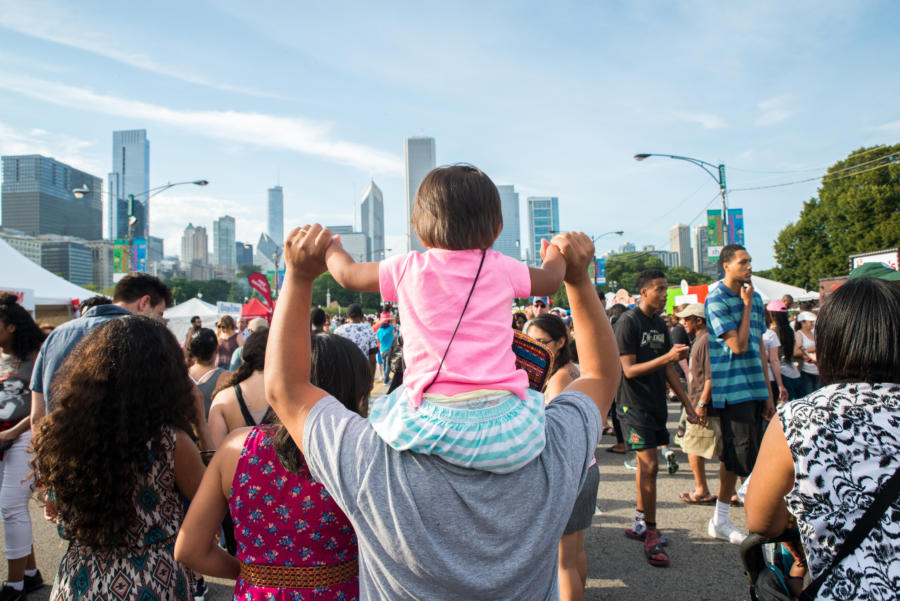 Demonstrations at the Taste Kitchen
The Lifeway Foods Taste Kitchen on Buckingham Fountain Plaza dished up a full menu of cooking demonstrations by local and national chefs including Chef Mary Nguyen of Saigon Sisters, Chef Martial Noguier of Bistronomic, Chef Michael Sheerin of Taureaux Tavern, and Chef Giancarlo Valera of Tanta Chicago.  Each day of the cooking demos featured a different culinary theme:
July 10: Best Lists highlighted award-winning chefs, restaurants, and dishes that have been featured on various "best of" lists.
July 11: City Streets featured chefs and restaurants from the many notable or historic city streets across Chicago.
July 12: Healthy Eating spotlighted delicious dishes that are also healthy, gluten-free, vegan, or vegetarian.
July 13: Spicy Hot starred a variety of cuisines that bring the heat.
July 14: Mac N Cheese Smackdown was a fun-and-friendly showcase of chefs battling it out for mac and cheese supremacy.
For the latest updates, visit tasteofchicago.us.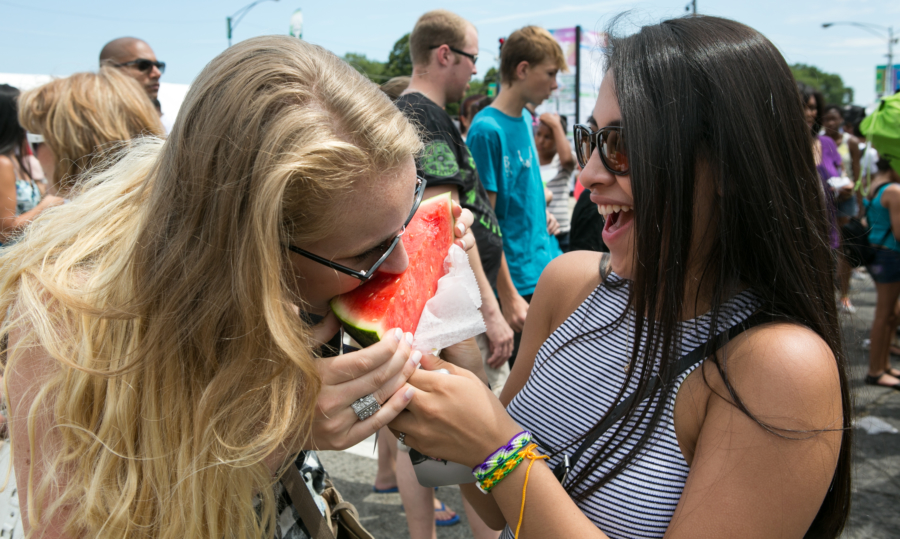 Getting there
Street closures: The following streets will be closed during the Taste of Chicago through Monday, July 16 at 4 p.m.:
Columbus, from Monroe to Balbo and from Balbo to Roosevelt (Balbo remains open to traffic)
Jackson, from Michigan to Lake Shore Drive
Congress, from Columbus to Congress Parkway semi-circle
Public transportation: Visit www.transitchicago.com 
Parking: Park right near the action at Millennium Garages
Biking: Bike parking is available on the perimeter of Grant and Millennium Parks. Visit the Chicago Bicycle Program for maps, safety, and other information.
Grant Park, 337 E. Randolph St.