A history-laden rising star in the world of craft beer, Chicago is the founding place of several craft breweries entrenched in tradition and local pride, many of which house amazing taprooms in which to wile away the hours.
Forbidden Root
In hip West Town, you'll find Chicago's first brewery dedicated to botanical beers using all-natural ingredients. With a nod to beer-making's earliest days, these alchemists use bark, stems, blossoms, sap, herbs, spices, leaves, flowers, and honey in their quest for new and different flavors. At the heart of Forbidden Root's tap room is a four-sided bar, standing at the center of a rich and woodsy environment. A pretty impressive gastropub menu rounds out the experience. 1746 W. Chicago Ave., West Town
Goose Island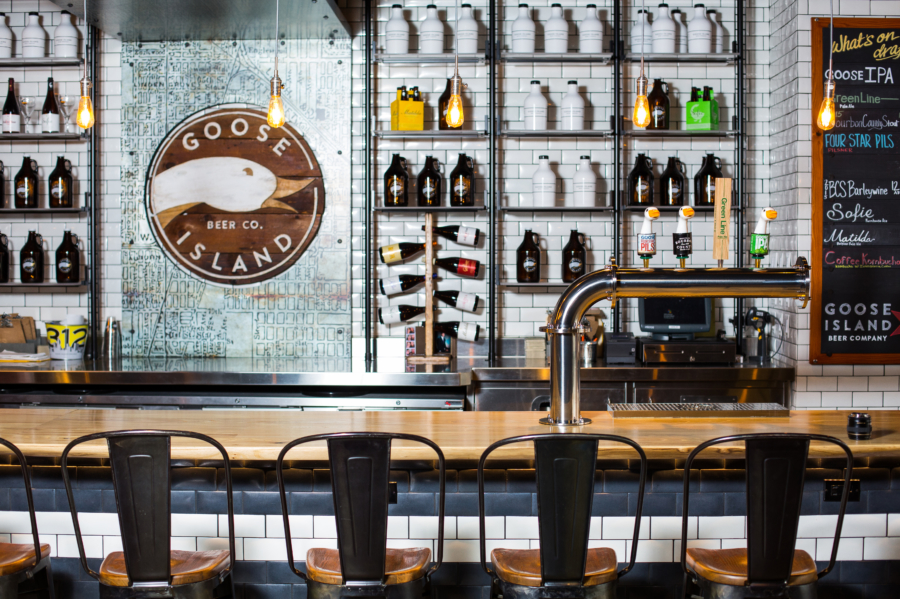 One the most well-known Chicago-born breweries, Goose Island, operated a  taproom room out of their Fulton Street brewery. Enjoy a freshly brewed pint of their classic brews, like 312 or Matilda, in the sleek taproom, with industrial seating and a combination of exposed brick and ceramic tiled walls. While you're there, take a tour of the production facility for an inside look at the brewmaster's process while sampling beers along the way. 1800 W. Fulton St.​, West Loop.
Hopewell Brewing Co.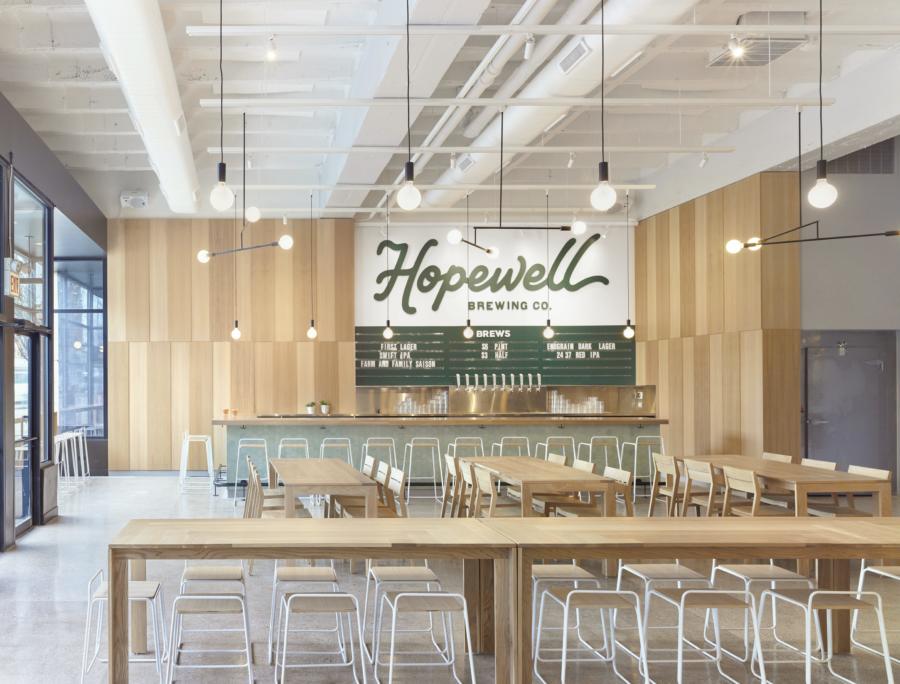 This open and airy taproom feels like the perfect neighborhood taproom. It's dog-friendly, features tons of communal seating, and even lets you bring in your own food from nearby eateries. Like their taproom, the beers from Hopewell Brewing Co. are bright and modern. You can order a pint or create your own flight from their line up of brews, which are a mix of classics and newer styles. Try the Ride or Die, a popular and ultra-drinkable pale ale. 2760 N. Milwaukee Ave., Logan Square
Motor Row Brewing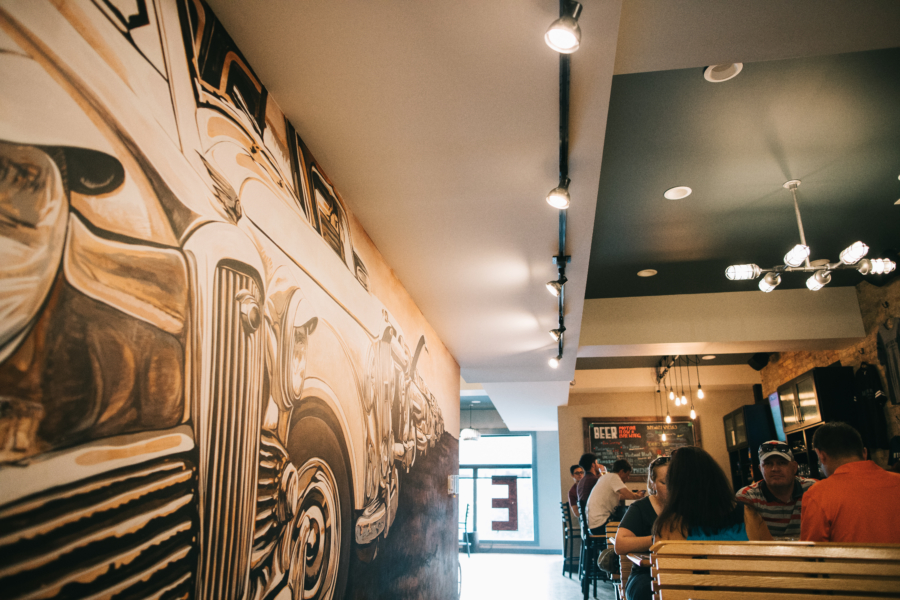 German influence meets Midwestern hospitality at Motor Row Brewing. Located in an historic landmark warehouse building, Motor Row Brewing takes you back in time to when the neighborhood was home to Chicago's auto industry. It offers extended seasonal releases (including a series of easy-drinking Belgian-style ales, perfect for summer), plus collaborations and experimental one-offs. 2337 S, Michigan Ave, South Loop
Corridor Brewery & Provisions
Farmhouse-style ales go hand in hand with a rustic farmhouse kitchen at Corridor Brewery & Provisions. Pair one of their hop-forward brews with a Midwest bar snacks or an artisan pizza made with local ingredients. The always-changing draft list ranges from double IPAs to fruity sours to funky saisons. This is the only spot to find Corridor brews, so think about grabbing a growler while you're there. 3446 N. Southport Ave., Lakeview
Moody Tongue Brewing Company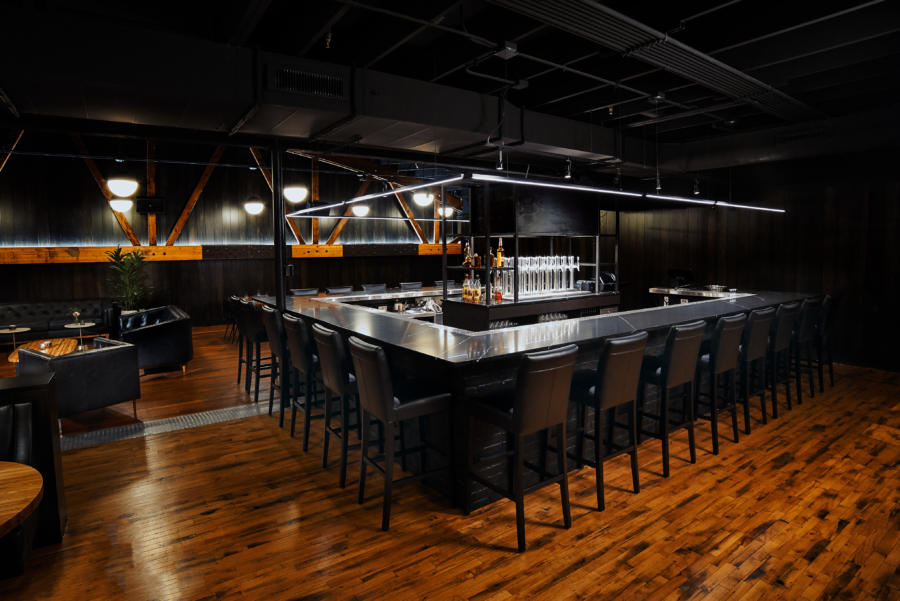 This acclaimed Chicago brewery has a sleek black-and-wood tap room that's both comforting and refined, with mid-century furniture, a historic library of brewing books, and an eye-catching fireplace. The beers at Moody Tongue evoke the same vibe, with a specialty beer program that includes whiskey and wine barrel-aged brews and their renowned Farmers Market Series and Sour Series offerings.
Lagunitas Brewing Company
This psychedelic space is the largest brewery in Illinois. Entering the facility feels like walking through a Willy Wonka-style light show, but things mellow out once you reach the 300-seat tap room. California-based Lagunitas Brewing Company serves up their classic brews, plus live music, munchies, and tree tours every day. 1843 S. Washtenaw Ave., Douglas Park
Revolution Brewing
Revolution Brewing's location on Kedzie Avenue is a true urban tap room. This is also where their kegs and cans are filled for distribution, so the space feels fittingly industrial. Revolution is Chicago's largest independent craft brewery, which means you've got plenty of brews to choose from. Try an old standby like Anti-Hero IPA or something a little different like the Rosa Hibiscus Ale. 3340 N. Kedzie Ave., Logan Square
Half Acre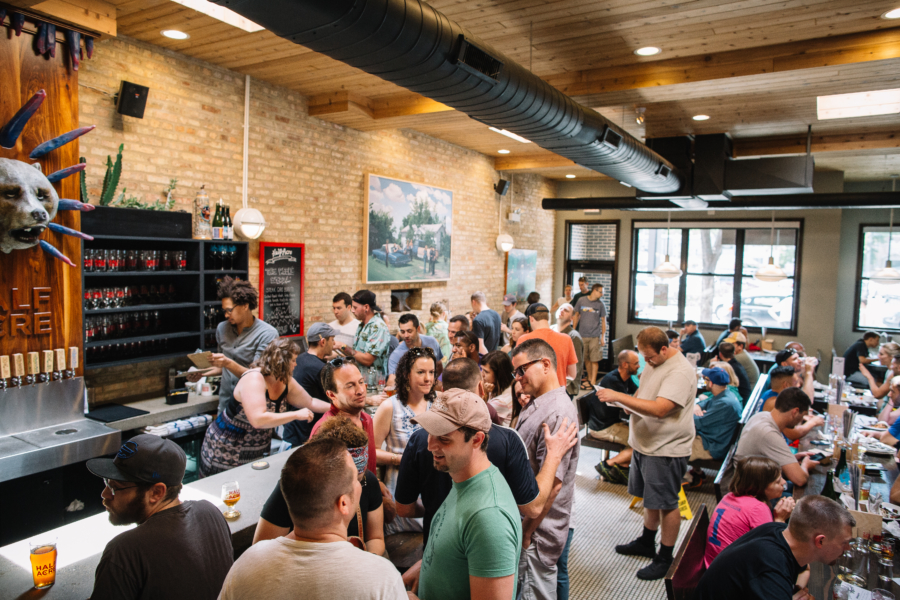 Half Acre began brewing in its North Center location in 2009, and rapidly became a Chicago institution. The tap room conducts brewery tours, sells cool merch in its on-site store, and offers tastings of the goods — The Daisy Cutter brew is a prevailing favorite among locals. And their Andersonville taproom, just a bit north, features a popular beer garden. 4257 N. Lincoln Ave., North Center & 2050 W. Balmoral Ave.​, Andersonville 
Lo Rez Brewing
The Lo Rez taproom in Pilsen was a true labor of love. The founders, former tech co-workers turned brewers, rehabbed much of the 19th-century industrial building themselves. The result is a soaring but cozy space that features brick walls, a 40-foot-long oak bar, a patio, and picnic tables that encourage mingling. They also encourage you to bring your everything, including food, games, darts, kids, and dogs — but they're got the beer covered. 2101 S. Carpenter St.​, Pilsen
Empirical Brewery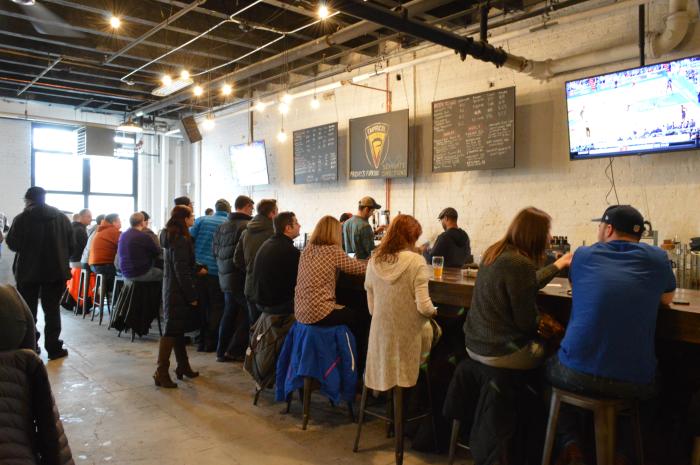 Empirical Brewing's taproom is a bit like walking into the lab of a mad (or at least buzzed) scientist. This experimental microbrewer is always texting new recipes with their signature one-barrel system — which means small quantities and lots of creativity. The brewers are known to collect feedback from taproom patrons and use it to further tweak their brews. Their Malt Row facility space includes their brewing space and a tasting room that's dog-friendly and bring-your-own-food. 1801 W. Foster Ave., Ravenswood
Alarmist Brewing
The Alarmist Brewing taproom, near Albany Park and West Ridge, is different for a reason. The family-owned spot wanted to create a community space where people could come together (which is why you won't see any TVs in the taproom). It's also super family-friendly, welcoming kids with snacks and juice boxes. You can sample all of Alarmist's flagship beers, like the Illinois-style Entrenched IPA and Belgian ale Phobophobia Patersbier, poured from taps with handles hand-carved by the owner's son. 4055 W. Peterson Ave.
Great Central Brewing Company
Taste some of the best craft beers from all around Chicago at Grand Central's taproom, located in the West Loop. This contract brewery, which helps brewery clients with their production, also turns out its own small batch beers. Choose from 24 craft beer on taps, including local favorites include the Free Bird American pale ale from Begyle Brewing Company and Maplewood's award-winning Charlatan APA. Great Central's own offerings (available on draft and in cans) include a German-style Helles lager and citrusy hefeweizen. But don't expect any tastings or flights. Great Central believes you need to commit to at least a half pint of beer in order to fully experience it. 221 N. Wood St, West Loop
Metropolitan Brewing
Serving up German-style lagers, Metropolitan Brewing is located in a converted 125-year-old warehouse with tranquil river views. Their popular beers — such as Dynamo and Krankshaft — are named for the industrial history of Chicago. In the taproom, you can get a pint, a growler, a six pack, a case of bottles, even a keg of their lager. 3057 N. Rockwell St.​, Avondale
5 Rabbit Cerveceria
The first Latin American-inspired brewery in the U.S., 5 Rabbit infuses Hispanic culture into American beer styles. The brews, named for days on the Aztec calendar, include an avocado stout, Mexican lager, and fruit-forward styles inspired by Mexican paletas. Try them all in their cozy taproom — they're the perfect complement to the tacos (served on Thursday evenings) and tamales (every Saturday afternoon). 6398 74th St.