A history-laden rising star in the world of craft beer, Chicago is home to some of the biggest names and most promising up-and-comers in the world of brewing. And you can experience the city's best craft breweries at these neighborhood taprooms and brewpubs, where you can sample one-of-a-kind beers, housemade ciders, special-release brews, and more. Check out some of the best craft breweries and taprooms all around Chicago.
ERIS Brewery and Cider House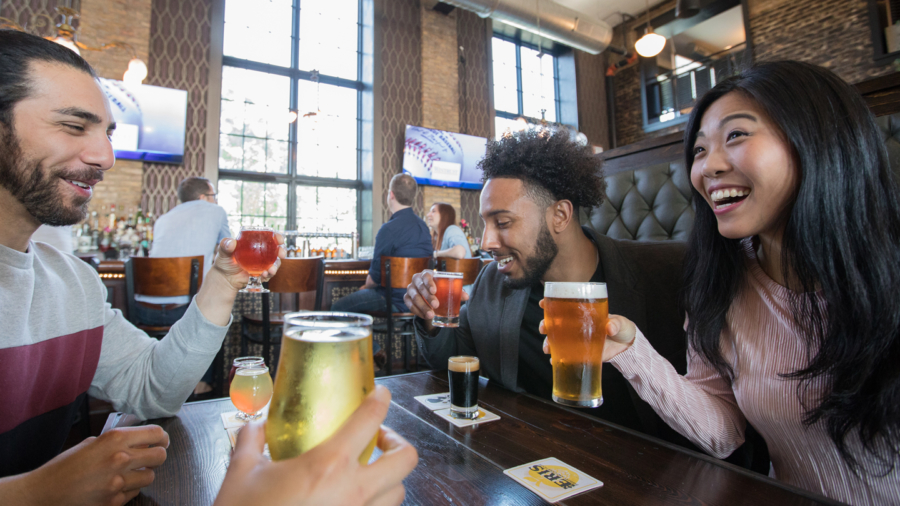 Named for the Greek goddess of mayhem, ERIS Brewery & Cider House is a women-owned spot in the Irving Park neighborhood that's earned a loyal following among locals for their hard ciders. Their taproom, housed in a historic building, has a relaxed atmosphere, a spacious patio, and a full food menu.
Crushed By Giants Brewing Company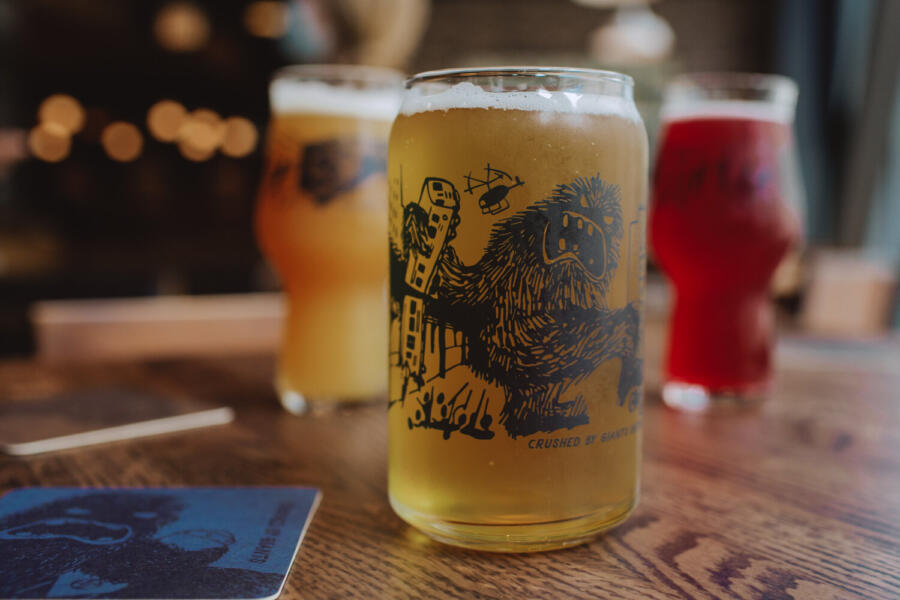 Just off Michigan Avenue in Streeterville, this independent craft brewery and restaurant serves up an ever-changing draft list featuring everything from hoppy IPAs to sours to funky saisons and beyond. The Crushed by Giants taproom, a modern space with soaring windows overlooking the surrounding cityscape, also offers a menu of simple but stellar dishes designed to perfectly pair with their brews.
Duneyrr Artisan Fermenta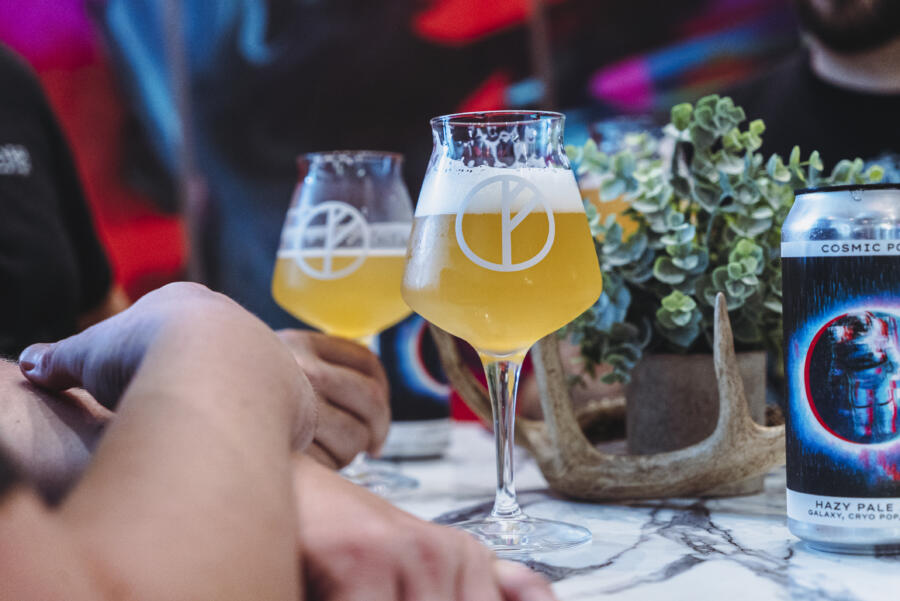 This taproom in the historic Motor Row district of the South Loop neighborhood showcases Nordic-inspired wild ales made with modern brewing techniques and local ingredients. Duneyrr is a microbrewery known for incorporating the ingredients and production methods of wine, cider, and mead into its artisan craft beers, resulting in a truly one-of-a-kind product.
Forbidden Root
In hip West Town, you'll find Chicago's first brewery dedicated to botanical beers using all-natural ingredients. With a nod to beermaking's earliest days, these alchemists use bark, stems, blossoms, sap, herbs, spices, leaves, flowers, and honey in their quest for new and different flavors. At the heart of Forbidden Root's taproom is a four-sided bar, standing at the center of a rich and woodsy environment. A pretty impressive gastropub menu rounds out the experience. Their Ravenswood sister location, Cultivate, is also worth a visit thanks to an impressive selection of draft beer, cider, and mixed drinks.
Goose Island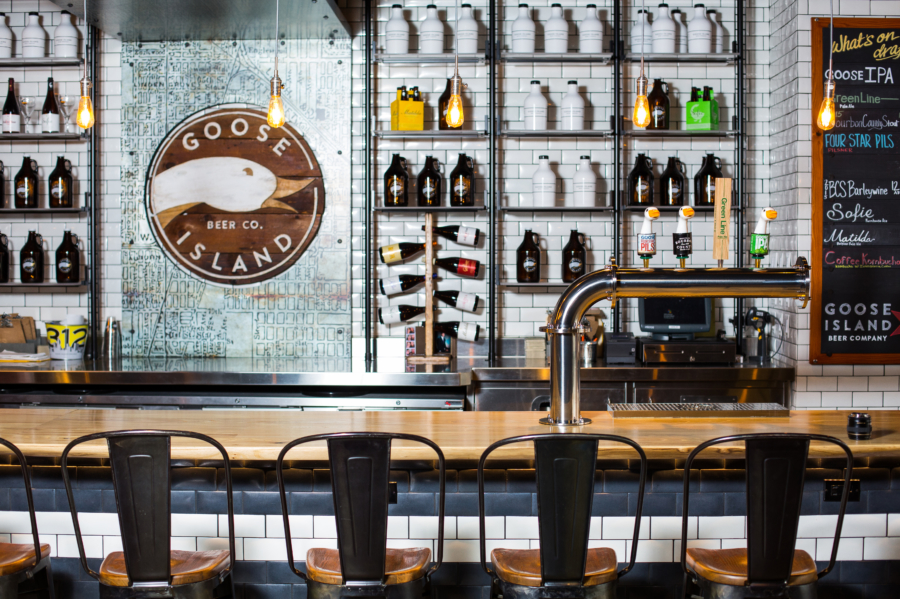 One of the most well-known Chicago-born breweries, Goose Island, operates a taproom room out of their West Loop brewery. Enjoy a freshly brewed pint of their classic brews, like 312 or Matilda, in the sleek, industrial taproom. While you're there, take a tour of the production facility for an inside look at the brewmaster's process while sampling beers along the way. 
Explore more: Go behind the scenes with these unique brewery tours and experiences.
Maplewood Brewery & Distillery
Maplewood is a neighborhood bar, taproom, and cocktail lounge all in one. The state's first location of its kind with brewing and distilling roots under one roof, Maplewood is all about handcrafted beer and spirits. Try their flagship line-up of year-round beers or sample seasonal, experimental, and small-batch release brews in this intimate space near the Logan Square neighborhood.
Hopewell Brewing Co.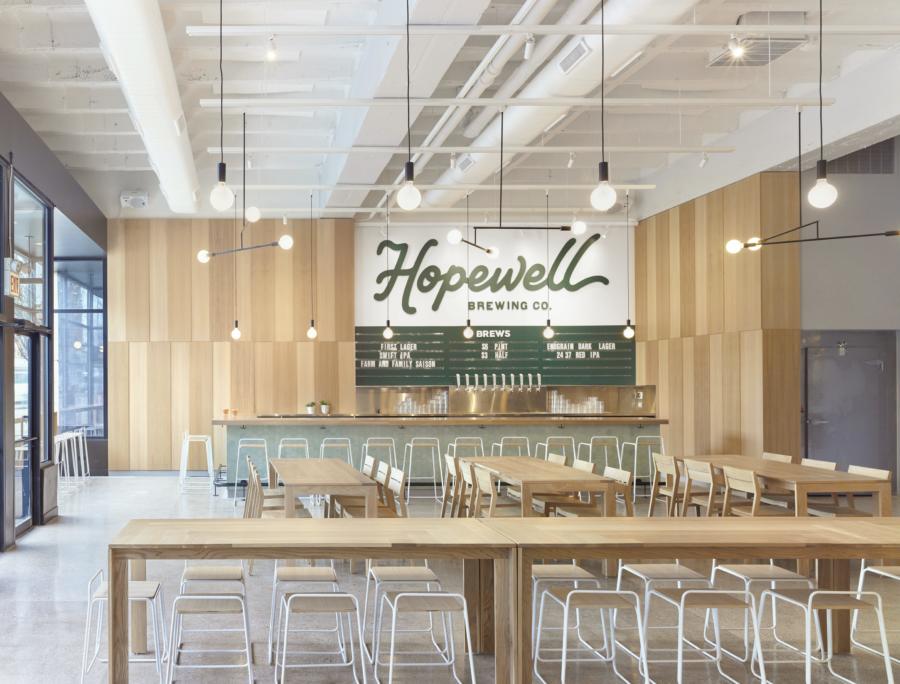 This open and airy taproom in Logan Square features tons of communal seating and even lets you bring in your own food from nearby eateries. Like their taproom, the beers from Hopewell Brewing Co. are bright and modern. You can order a pint or create your own flight from their lineup of brews, which are a mix of classics and newer styles. Try the Ride or Die, a popular and ultra-drinkable pale ale.
Dovetail Brewery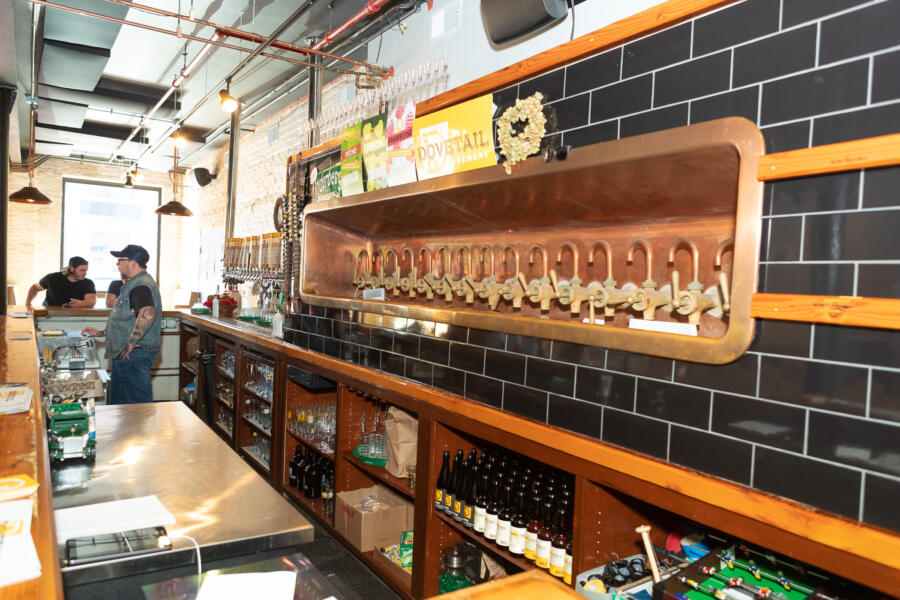 In Ravenswood, this cozy taproom uses Old-World techniques to create truly one-of-a-kind brews. With an emphasis on continental European styles, Dovetail Brewery is all about making what's old new again — including antique brewing equipment salvaged from one of the world's oldest breweries.
Explore more: Dovetail is located on Malt Row, home to a diverse array of local breweries and distilleries.
Old Irving Brewing Co.
Started in a garage, Old Irving Brewing Co. in Irving Park has grown into an award-winning neighborhood brewery and kitchen. The soaring space offers pints of ales and lagers directly from the source, alongside wood-fired eats and a full cocktail menu.
Moody Tongue Brewing Company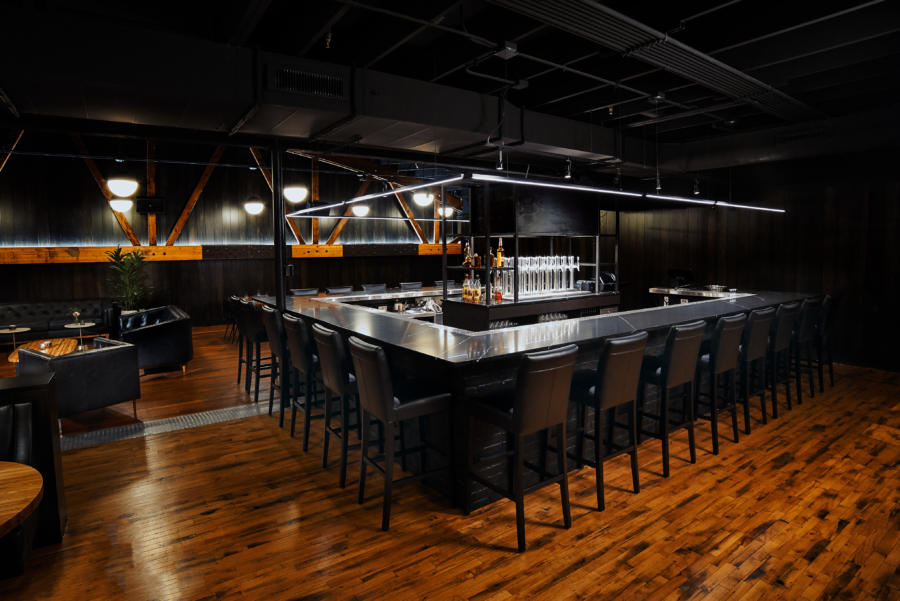 This acclaimed Chicago brewery has a sleek black-and-wood bar space that's both comforting and refined. The beers at Moody Tongue in the South Loop evoke the same vibe, with a specialty beer program that includes whiskey and wine barrel-aged brews and their renowned Farmers Market Series and Sour Series offerings.
Midwest Coast Brewing Company
In the heart of the Chicago Brewing District in West Town, Midwest Coast Brewing is a family-friendly, dog-friendly, just overall friendly taproom. Grab a seat inside or on the large patio, order up a flight of beers, and enjoy the mellow vibes. If you're hungry, you can bring your own food, order snacks at the bar, or check out their rotating schedule of local pop-ups.
District Brew Yards
With a focus on collaboration, District Brew Yards is a unique hands-on beer hall that invites guests to pour their own pints. This pioneering collective showcases an array of local breweries, including Twisted Hippo and Casa Humilde Cerveceria. Visitors can choose from around 40 self-serve draft beers, seltzers, and ciders. This results in a fun, interactive beer-drinking experience that's akin to a pub crawl under a single roof. 
Revolution Brewing
Revolution Brewing's location on Kedzie Avenue near Logan Square is a true urban taproom. This is also where their kegs and cans are filled for distribution, so the space feels fittingly industrial. Revolution is Chicago's largest independent craft brewery, which means you've got plenty of brews to choose from. Try an old standby like Anti-Hero IPA or something a little different like the Rosa Hibiscus Ale.
Metropolitan Brewing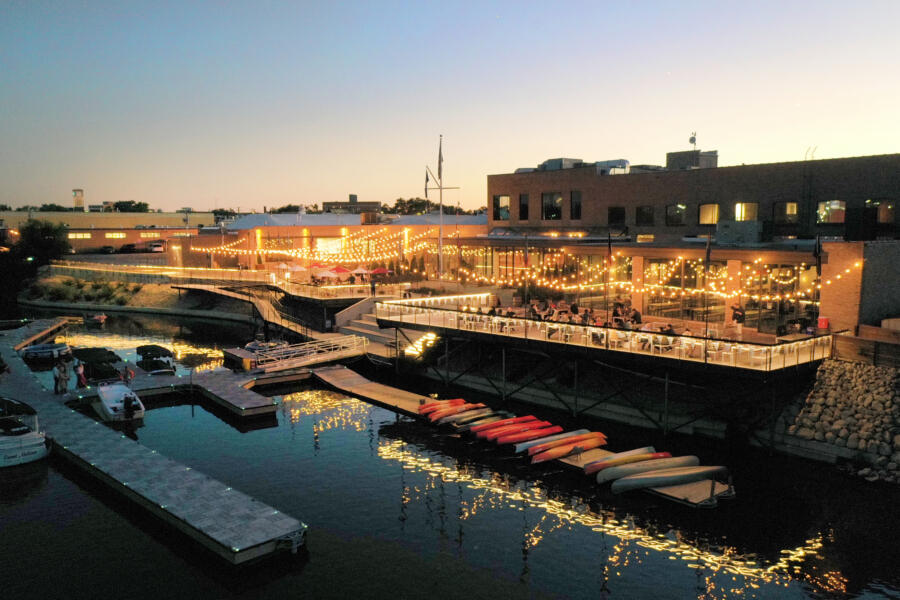 Serving up German-style lagers, Metropolitan Brewing is located in a converted 125-year-old warehouse in Avondale with tranquil river views. Their popular beers — such as Dynamo and Krankshaft — are named for the industrial history of Chicago. In the taproom, you can get a pint, a growler, a six-pack, a case of bottles, or even a keg of their lager.
Illuminated Brew Works
Tucked away in Chicago's Norwood Park neighborhood, Illuminated Brew Works is a Chicago-based brewery producing "beer for interesting times". That ranges from big, hazy IPAs to experimental sours to yeasty modern farmhouse ales that rotate with the seasons. Their tap room is truly one for the community, with weekly events like trivia and book clubs. Fill up a growler or join the IBW Beer Cult for special perks.
Corridor Brewery & Provisions
Farmhouse-style ales go hand in hand with a rustic farmhouse kitchen at Corridor Brewery & Provisions in Lakeview. Pair one of their hop-forward brews with Midwest bar snacks or an artisan pizza made with local ingredients. The always-changing draft list ranges from double IPAs to fruity sours to funky saisons. This is the only spot to find Corridor brews, so think about grabbing a growler while you're there.
Lagunitas Brewing Company
This psychedelic space is the largest brewery in Illinois and one of the top breweries in the nation. Entering the facility feels like walking through a Willy Wonka-style light show, but things mellow out once you reach the spacious taproom. California-based Lagunitas Brewing Company serves up its classic brews, plus live music, munchies, and fascinating tours and tasting experiences.
Half Acre Beer Co.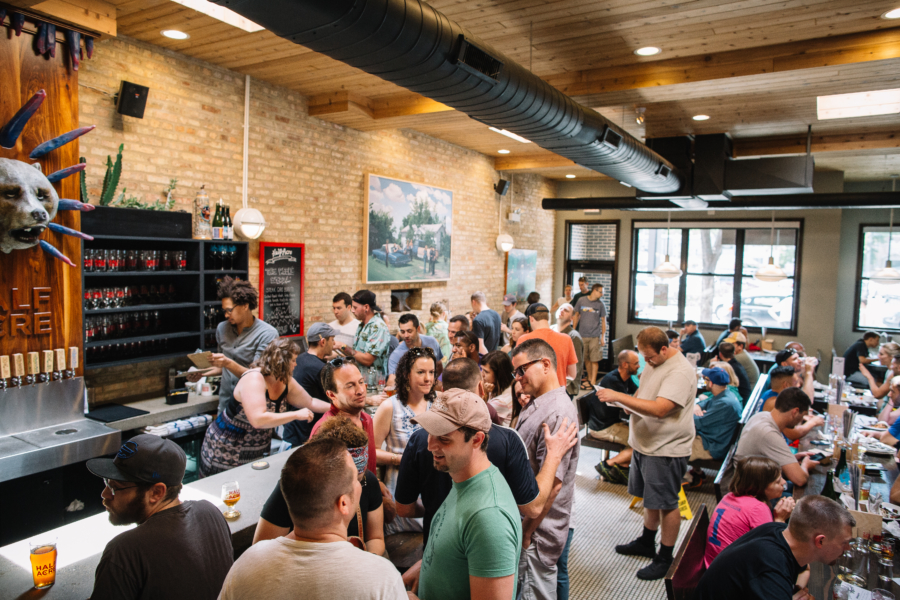 Half Acre began brewing in Chicago in 2009, and rapidly became a local institution. Their Andersonville facility is home to a taproom, retail shop, and popular beer garden. Grab a pint of the popular Daisy Cutter brew, order some food or coffee, and grab a six pack on your way out the door.
More craft brewery taprooms around Chicago