Update: The 2020 Chicago Gourmet event has been canceled to prevent further spread of COVID-19. We look forward to seeing everyone in 2021.
Welcome to the city's premier fine dining food festival.
Chicago Gourmet, presented by Bon Appétit magazine, features a week of show-stopping culinary events from Chicago's top chefs and sommeliers. It all leads up to the main event at Millennium Park, with cooking demos from celebrity chefs, wine master classes and mixology seminars, and some of the best eats and drinks the city has to offer.
Here's a taste of the 2019 schedule.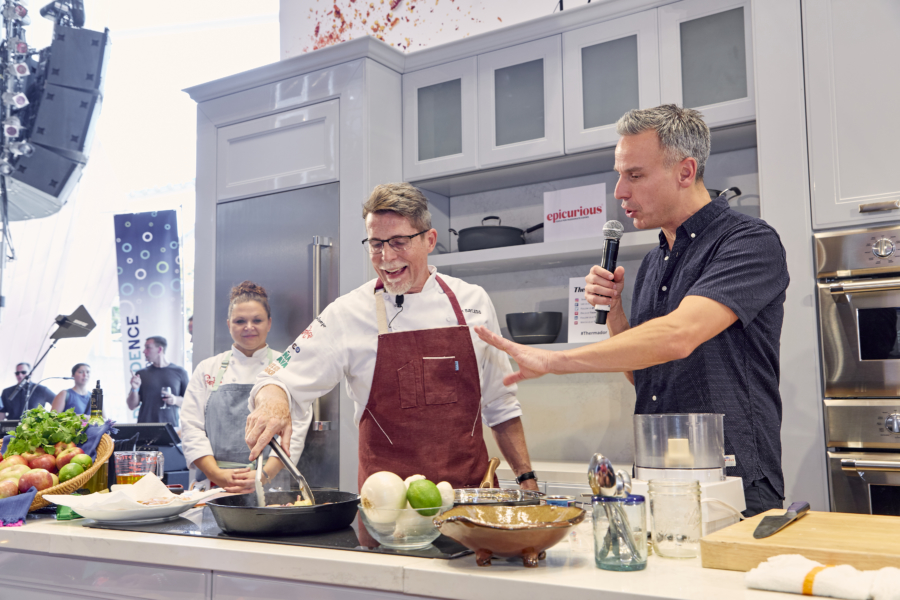 Main event: Chicago Gourmet Grand Tasting
The biggest event of Chicago Gourmet, the Grand Tasting is a culinary tour de force. Taste your way through some of the city's top restaurants, serving up samples from their tents under the stunning Pritzker Pavilion. Watch your favorite celeb chef give a cooking demo, head to a seminar to brush up on your culinary knowledge, or check out who's doing cookbook signings. And don't miss the drink tents offering wine, beer, and spirits tastings.
This year's celebrity chef lineup includes:
Rick Bayless
Andrew Zimmern
Sarah Grueneberg
Masaharu Morimoto
Stephanie Izard
Tony Mantuano
Fabio Viviani
Carrie Nahabedian
Grand Cru
Sample expertly curated, elite wines from around the world. This year, chef Tony Mantuano invited his fellow superstar chefs to prepare tastings based on Tony Award Winning Musicals.
In addition to the Grand Cru ticket, attendees must have a Chicago Gourmet Main Event ticket to access to the exclusive tasting.
Encore events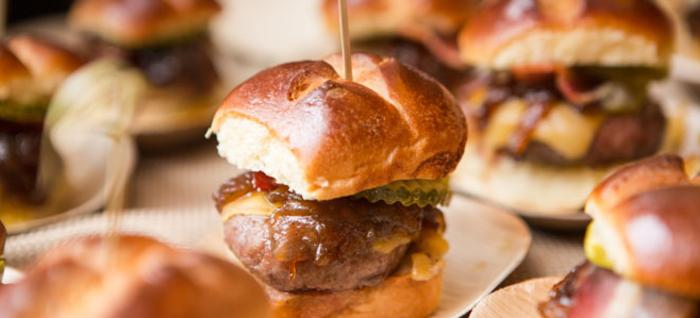 Raise your Glass to Freedom: A Hamilton Exclusive
Chicago Gourmet pairs one of the city's biggest shows with one of our biggest culinary stars during a VIP evening at Hamilton with Chef Rick Bayless. The evening begins with a cocktail reception and small bites at the CIBC Theatre, home of Hamilton. Guests will enjoy premier seating, and an exclusive question-and-answer session with a cast member after the show.
Italian Feast on the Odyssey Chicago River
Enjoy an Italian feast during a scenic evening on the Chicago River aboard Odyssey's stunning new all-glass vessel. The meal will be prepared by acclaimed chefs Fabio Viviani of Siena Tavern, Tony Priolo of Piccolo Sogno and Maillard Tavern, Carolina Diaz Terzo Piano, and Federico Comacchio Coco Pazzo.
Jef Comedy Jam at Theater on the Lake
Jeff Mauro, winner of Food Network Star and the self-proclaimed funniest chef in the city, hosts this new comedy-themed event. Guests will dine on flavorful barbecue from Mauro and other Chicago chefs, paired with refreshing cocktails and laughs from some of Chicago's most well-known comedians.
Battle of the Masters at Swift & Sons
Master Sommeliers will take center stage at this event, brining together food, wine and music all under one roof and on one menu. The sommeliers will go head-to-head during each course with a wine & song pairing to compliment the featured chef's dish. A fan favorite will be crowned champ at the end.
Hamburger Hop
The popular Hamburger Hop serves up gourmet burgers along with Blue Moon brews, Josh wines, fine spirits, and more. A celebrity panel of judges determines Chicago's Best Burger award, while guests crown the People's Choice.
Late Night Gourmet
The official Hamburger Hop after-party draws guests in to enjoy a night of mixing and mingling with Chicago's hottest tastemakers, influencers, and chefs.
The Big Chill(i): Gourmet Chili Cook-Off
Enjoy a superstar-studded chili competition that pits eight of Chicago's top chefs against one another in the chili competition of the year. Top chefs like Jimmy Bannos, Jr. (The Purple Pig, Piggie Smalls Gyro Shop), Abe Conlon (Fat Rice), Diana Dávila (Mi Tocaya Antojería), and more will all vie for the title of Chicago's best chili.
Rise & Shine Gourmet
Yoga, morning cocktails, and brunch bites prepared by some of Chicago's leading chefs — there's really no better way to start the day. Flow the early risers (8:30 a.m.) or sleepy Sunday crew (10 a.m.).
To see the full schedule and purchase tickets to all the festival events, visit the Chicago Gourmet website.