The sky's the limit in Chicago — literally. The city's iconic observation decks, Skydeck Chicago and 360 CHICAGO, are located in two of the world's most famous skyscrapers and offer jaw-dropping views and one-of-a-kind thrills. You're just an elevator ride away from making some unforgettable memories.
Skydeck at Willis Tower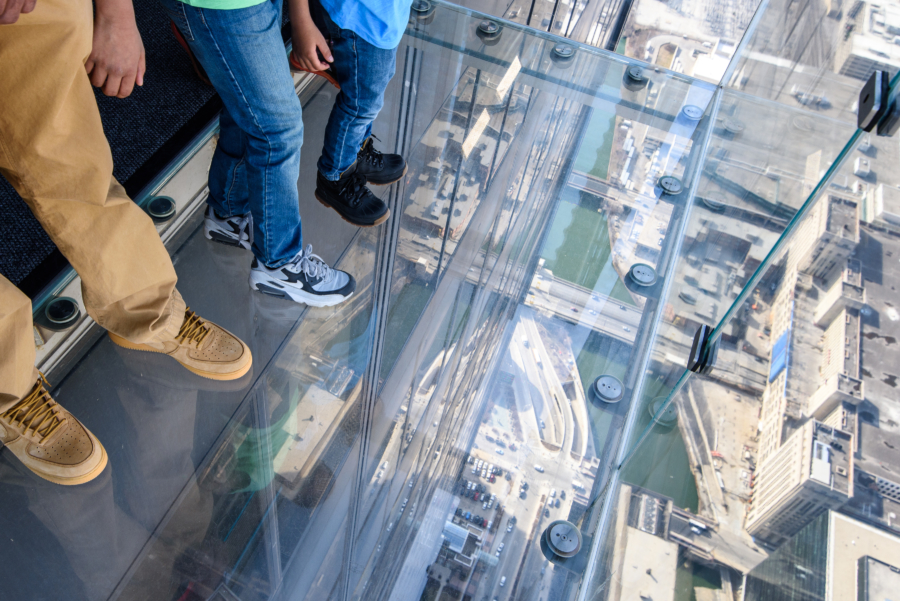 Step out on The Ledge at Skydeck, a glass box that hovers 1,353 feet in the air from the facade of Willis Tower, one of the tallest buildings on the planet.
The Ledge experience was inspired by all the face prints left on the Willis Tower's windows by visitors trying to get the best possible view. The all-glass platform feels like you're walking on air, with nothing to obscure your sightline of the Chicago River, Lake Michigan, and many of Chicago's most iconic buildings. You can even see up to four different states on clear days.
The best time to visit? Just after opening or after 5 p.m. to capture great sunsets and the glittering city nightscape.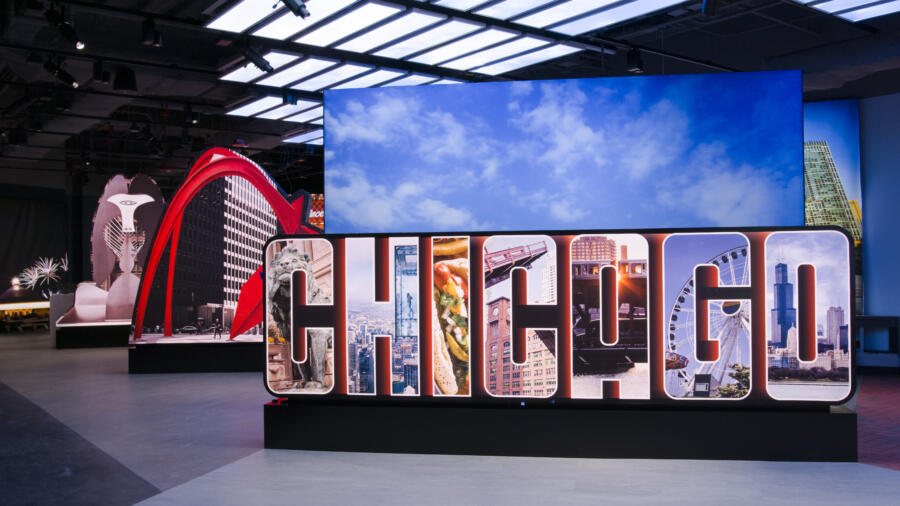 As if The Ledge weren't thrilling enough, there's a whole lot more to see on your Skydeck Chicago visit. The lower level is home to an interactive museum that celebrates the unique personality, history, neighborhoods and sites of Chicago. The experience covers everything from the Great Chicago Fire to a full-scale 'L' train replica to photo opps with iconic Chicago landmarks.
The Willis Tower is also home to Color Factory, an interactive art experience, and Kindling, a sprawling restaurant featuring a live fire kitchen and an award-winning chef.
Skydeck Chicago at Willis Tower, 233 S. Wacker Drive (entrance on Franklin Street)
360 CHICAGO at 875 N. Michigan Ave.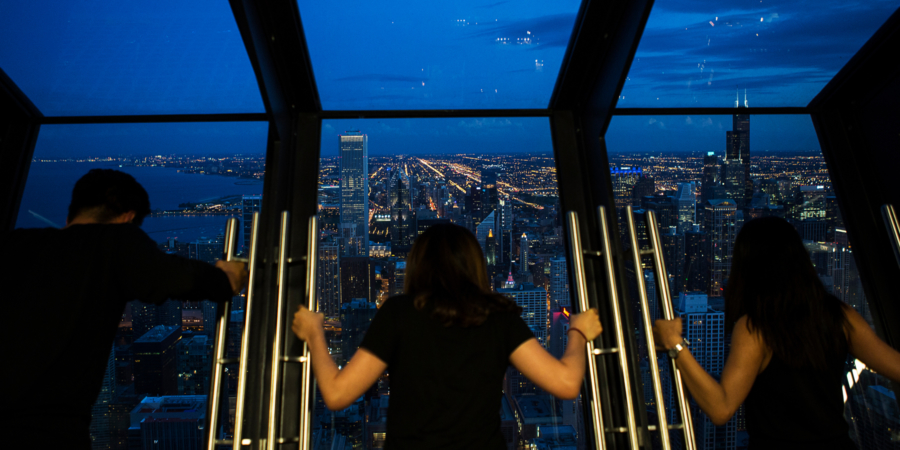 TILT is built to thrill. It's an enclosed platform that literally tilts you out and over Michigan Avenue at a staggering 1,030 feet. If you feel like you've never seen anything like it before, it's because you haven't — TILT is the first of its kind in the world.
You'll find this amazing attraction at the 360 CHICAGO observation deck inside one of the city's most famous skyscrapers — the former John Hancock Center at 875 N. Michigan Ave.
360 CHICAGO also features interactive exhibits about the city's history, neighborhoods, and architecture; and locally produced beer and spirits at CloudBar, the highest bar in the city.
360 CHICAGO, 875 N. Michigan Ave.

Get tickets for Chicago observation decks
Go Chicago
Save up to 55% admissions to Chicago's top attractions with Go Chicago. Explore Chicago at your own pace. Pay nothing at the gate — just use the pass on your phone or print it out in advance. No need to exchange money or hand over a credit card with contactless scanning at the attraction. The interactive mobile app will have you traveling around the city like a local! Choose from 25+ attractions, including:
Skydeck Chicago

Shoreline Architecture River Cruise

Hop-On Hop-Off Big Bus Tour

Art Institute of Chicago

Navy Pier rides

And so much more!
Explore Go Chicago options:
Go Chicago — All Inclusive
Go Chicago — Explorer
Go Chicago — Build Your Own