First, they were industrial areas. Then came the foodie scene. Now these hip neighborhoods are brewery hubs, too. Visit for that only-in-Chicago warehouse feel and urban energy. While you're there, stop by a few galleries — another thing that makes this part of town so special.
Stop 1: Forbidden Root Brewery
First stop, Chicago's first botanic brewery. The team at Forbidden Root Restaurant & Brewery (a brewer, a rootmaster, and an alchemist) take inspiration from early brewing techniques that included bark, stems, flowers, spices, and roots. They use these old-fashioned ingredients with contemporary techniques to create multi-sensory beers like you've never had before. 1746 W. Chicago Ave.
Stop 2: On Tour Brewing Company
The beer is front and center at On Tour Brewing Company. Their open taproom, housed in a former warehouse, is centered around the glass-enclosed barrel rooms that put part of the brewing process on display. The beers, all named after Grateful Dead songs, include old stand-bys like IPAs and APAs, barrel-aged varieties, and a rotating guest cider on tap. 1725 W. Hubbard St.
Stop 3: District Brew Yards
This craft beer collective features three breweries and 40 different taps, for a customizable experience. By pooling their resources, the brewers at District Brew Yards have more flexibility to experiment and room to grow. You can sample beers from Around the Bend Beer Co., Bold Dog Beer Co., and Burnt City Brewing, plus experimental brews from their collaboration The Fourth Wall. It's like a brewery crawl under one roof. 417 N. Ashland Ave. 
Stop 4: Goose Island Taproom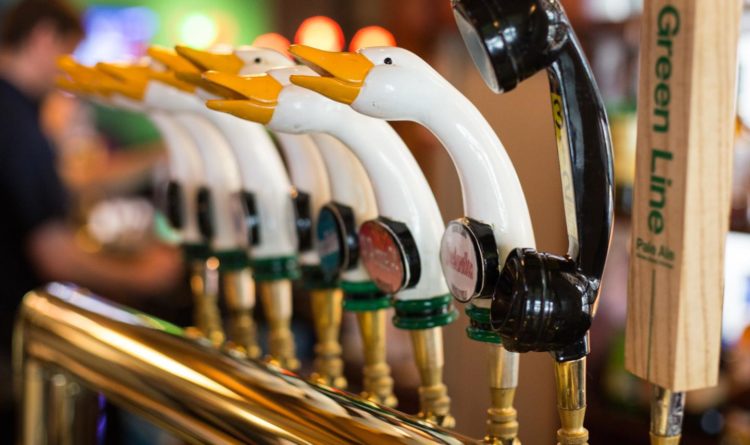 While it's distributed around the world, iconic Goose Island Brewing Company is still a Chicago-born brewery at heart. Their West Loop location is where they've been brewing their beer since 1995. It houses their taproom and production facility, so you can get an in-depth, small-group tour behind the scenes. Enjoy a pint in their taproom before or after your tour. 1800 W. Fulton St.
Stop 5: Great Central Brewing Company
The goal of Great Central Brewing Company is to help other breweries grow. They've opened up their brewing facility to new and established brands, to help them expand their production. As a result, the tasting room features an array of finely made beers from local, regional, and international breweries — and from the Great Central brewers themselves. 221 N. Wood
Stop 6: All Rise Brewing Company
Right off Union Park, live music venue Cobra Lounge shares a space with the All Rise Brewing Company taproom. The space is meant to be a come-as-you-are gathering place for the neighborhood. It comes stocked with plenty of draft options that change often — you might find a sour brown ale, a farmhouse rye, or a dry Irish stout. And the menu is filled with comfort food, like burgers, grilled cheese, and wings. 235 N. Ashland Ave.
Stop 7: Cruz Blanca Cerveceria
Finally, venture onto the West Loop's acclaimed Restaurant Row for one last pint. Cruz Blanca is a Mexican-influenced brewery with a walk-up taqueria counter. Try their latest small-batch brews, from juicy IPAs to sparkling rosé ales, and order one of the giant Oaxacan tostadas, piled high with smoked pork lion, crispy bason, queso, and more. 904 W. Randolph St.