Update: While Chicago beaches remain closed due to COVID-19, Chicago's waterfront restaurants are now open for the season. Check with individual restaurants for details.
Chicago is known for its famous skyline and urban neighborhoods, but it's also right next to one of the largest lakes in the country. That means miles and miles of sandy shoreline — and tons of great beach bars and restaurants. Check out some of Chicago's top waterfront restaurants right on the beach with great food and stunning lake and skyline views.
The Dock at Montrose Beach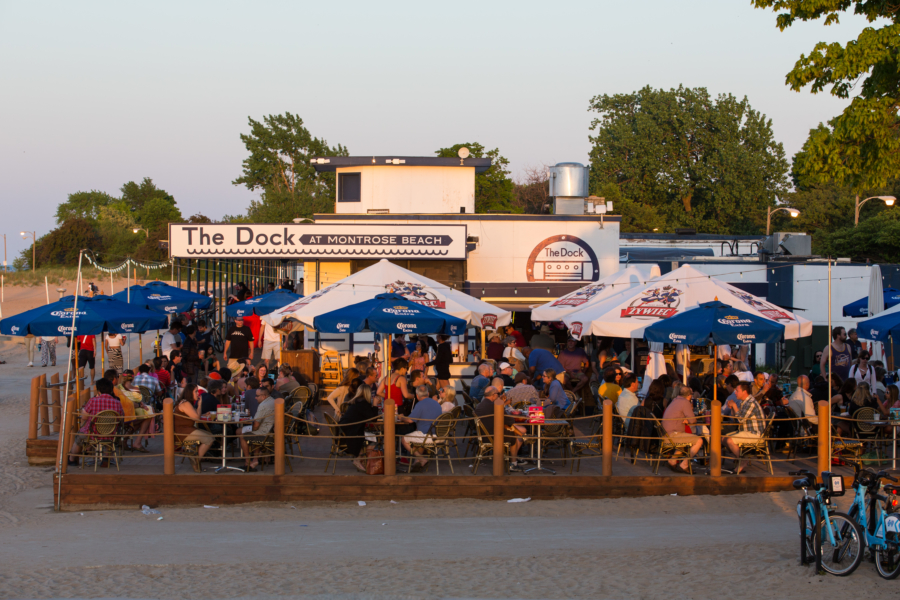 A favorite for waterfront dining on the north side is The Dock at Montrose Beach. After playing in the waves, strolling in the gardens, or letting your pup splash around at Montrose Beach, you can continue enjoying Lake Michigan from The Dock's large open patio. The food is simple and fresh, the scenery is spectacular, and you can even catch live bands on weekends.
Clock Tower Cafe
The striking English Gothic clock tower that sits along the lakefront at Waveland is home to the Clock Tower Café. The casual spot is popular with those playing on the nearby tennis courts and golf course, but all are welcome to enjoy cold drinks and a casual menu. Choose from burgers, salads, sandwiches, and hot dogs, plus your choice of seating on two different patios.
The Lakefront Restaurant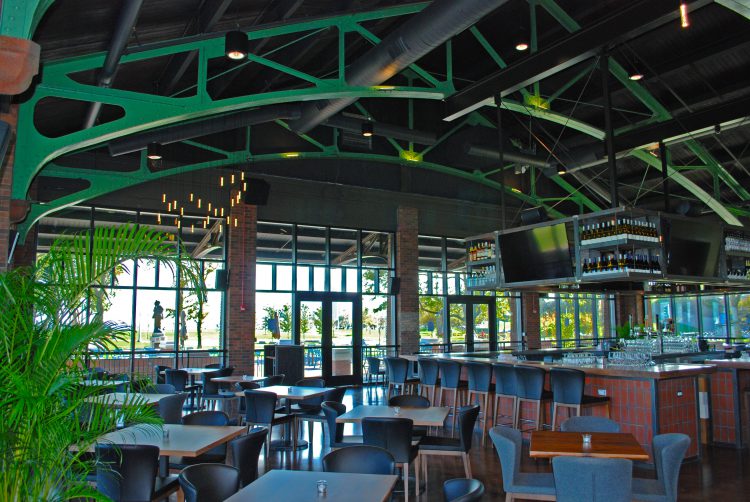 Located inside the historic Theater on the Lake, The Lakefront Restaurant is a stunning space serving upscale tavern fare. The patio offers unbeatable views of both the skyline and waterfront. Choose from a diverse menu of seasonally inspired dishes, from seafood to gourmet burgers to fresh salads. Their Sunday brunch service is also popular. Patio seating is first come, first serve and weather permitting.
Castaways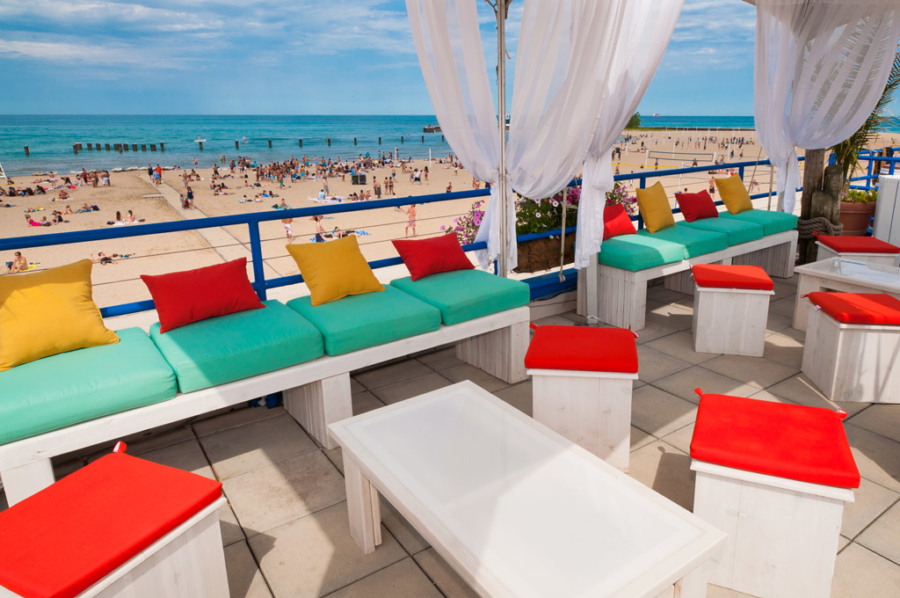 North Avenue Beach is home to one of the most popular beachfront restaurants. Castaways is instantly recognizable — when you spot the giant ship washed up on the sand, you'll know you're in the right place. While the first level's menu consists of ice cream and snacks, the rooftop is a beach bar and grill with burgers and frozen cocktails. The atmosphere is laidback during the week with casual beachgoers, and more high-energy on summer weekend when live DJs bring a party vibe.
Shore Club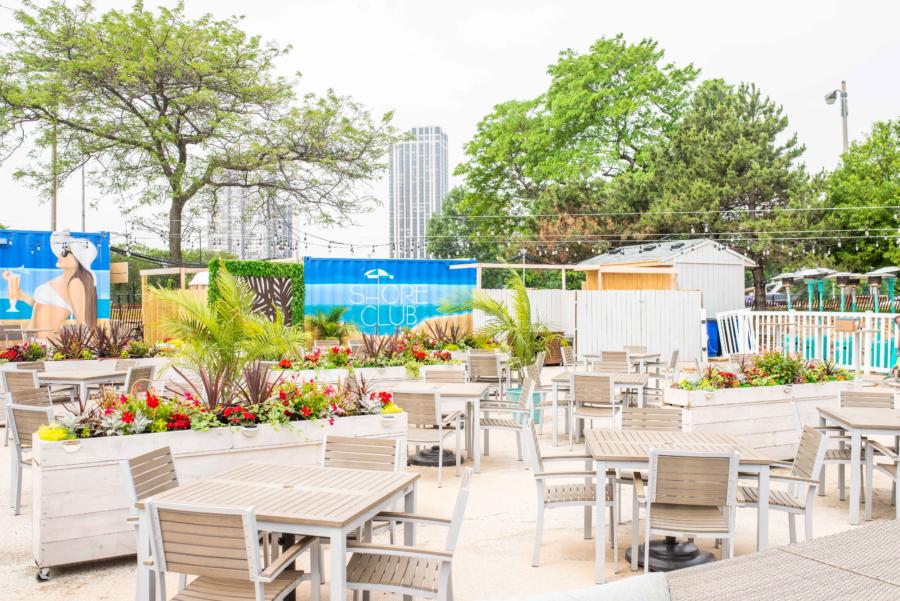 Also on the sands of North Avenue Beach, the resort-inspired Shore Club feels like an island getaway without leaving the city. Offering three different spaces — the Patio, the Oasis, and the Restaurant — the Shore Club's menu features Mediterranean-inspired shared plates and plenty of summer-y cocktails. In the exclusive Oasis area, reserve a private cabana where you can lounge in a daybed while enjoying personalized bottle service.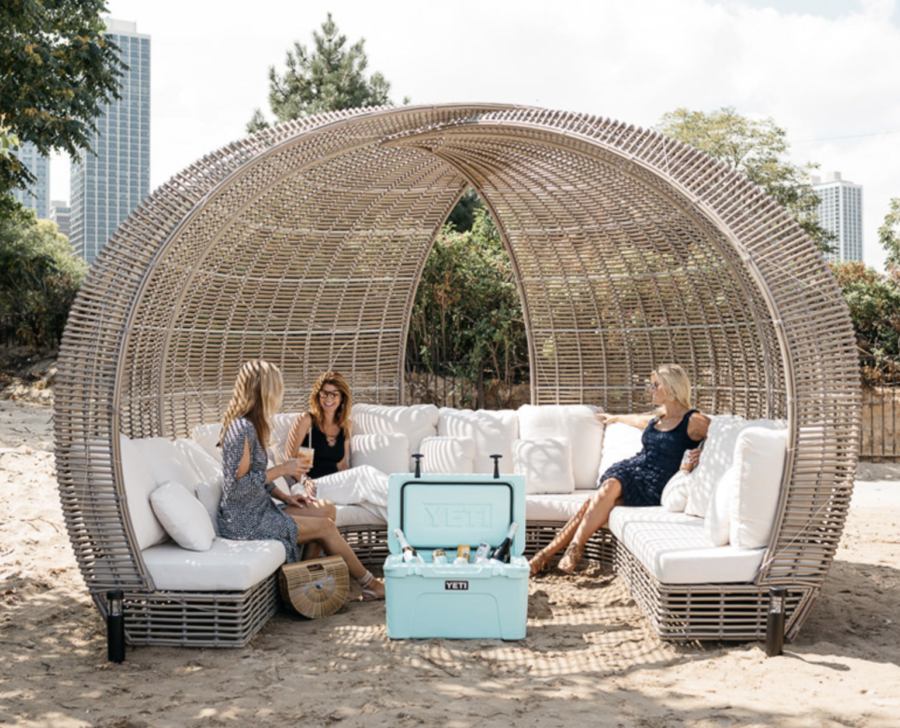 Caffe Oliva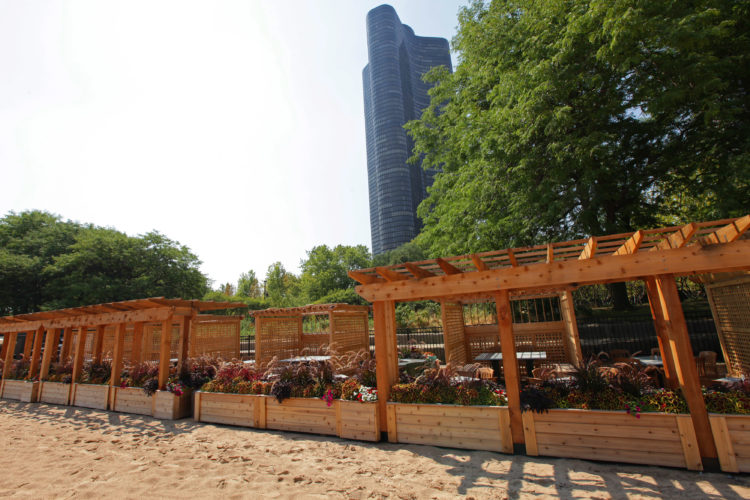 Tucked away on the calm shores of Oak Street Beach, Caffe Olivia offers a casual menu and sweeping lake views in a charming atmosphere. Food options include fresh salads topped with grilled calamari, fish tacos, coconut shrimp, burgers named for different Chicago locales, and more. The patio welcomes dogs and even serves a burger patty just for your furry companion.
Navy Pier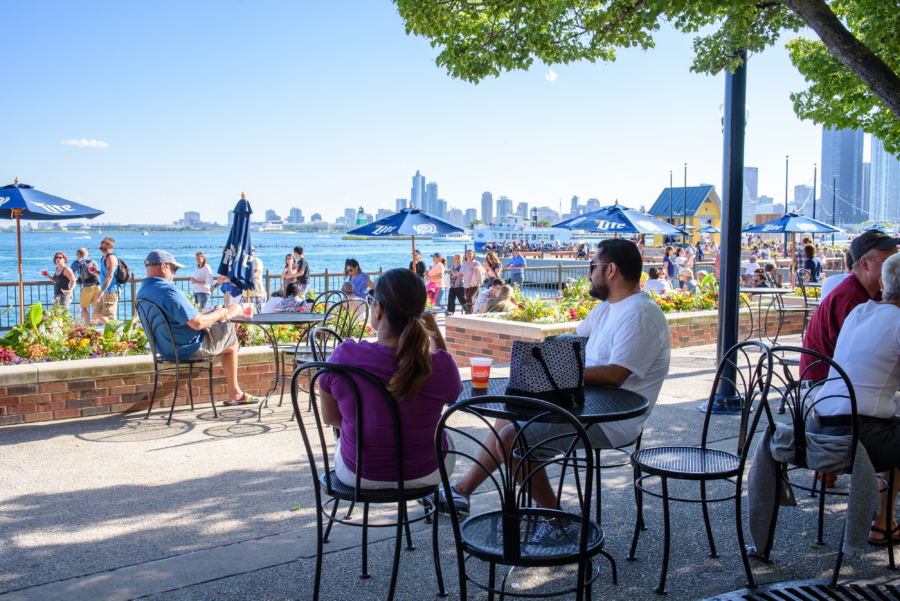 The lakefront Navy Pier offers tons of dining options, many with outdoor patios featuring water views. Enjoy a classic "cheezborger" at Billy Goat Tavern, casual Mexican fare at Chango Lango, frozen cocktails at the tiki bar at Jimmy Buffet's Margaritaville, or smoked meats at Harry Caray's Tavern. Explore all outdoor food and drink options at Navy Pier.
Del Campo Taco Stand
This no-frills Mexican joint is the perfect spot to grab a bite during a day at 12th Street Beach on Northerly Island. Head to the window at Del Campo Taco Stand and take your pick from budget-friendly options like tacos, tortas, elotes, and more, then find a spot on the sand to enjoy.
Lake Shore Cafe
A little further south, you'll find Lake Shore Cafe just across Lake Shore Drive from Oakwood Beach in Hyde Park. It's known as a gathering place for comfort food, seafood buffets, and live Jazz music can all be found at this establishment. It's not right on the beach, but the views of the lake more than make up for the distance.
Reggie's on the Beach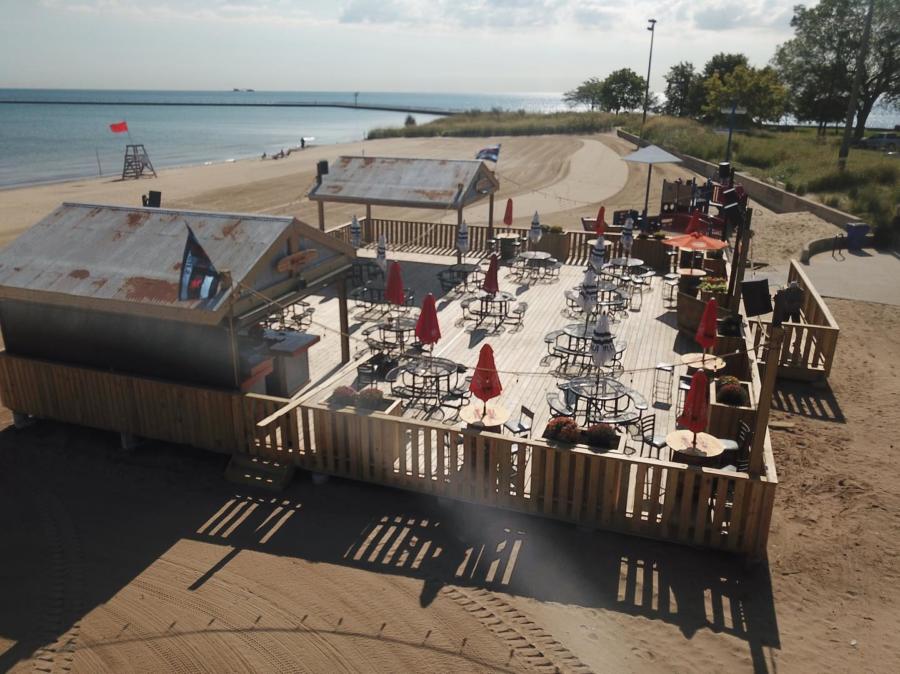 The beloved South Loop rock club has opened a waterfront restaurant and bar on 63rd Street Beach. Reggie's on the Beach is open all day for food and drinks, featuring casual dishes like burgers and salads and plenty of tropical drinks. Hop on the free shuttle that departs from Reggie's every hour on the hour from 12 p.m. – 8p.m.
Parrot Cage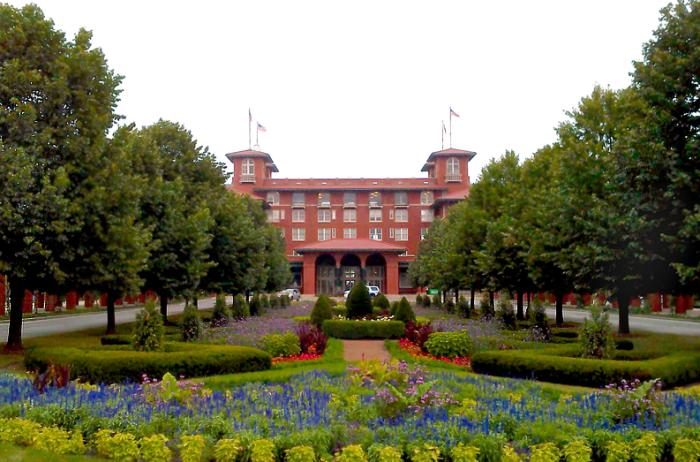 The Parrot Cage, steps from the picturesque South Shore Beach, is run by one of the most highly acclaimed culinary schools in the country. Students from Chicago's Washburne Culinary Institute use the restaurant to hone their skills in the kitchen, where they create highly rated modern American cuisine. The Parrot Cage is housed inside the landmark South Shore Cultural Center that provides a refined setting for your waterfront meal.