Chicago's nightlife scene has a long and fascinating history, from sultry clubs frequented by blues legends to Prohibition-era speakeasies with some notorious clientele.
Check out these retro (and retro-inspired) local bars and lounges where you can get a taste of classic Chicago.
Green Mill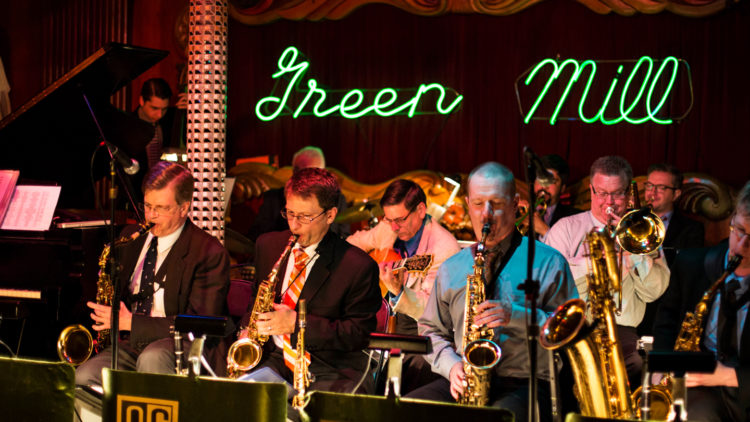 This legendary venue is one of Chicago's oldest nightclubs — and a favorite haunt of Al Capone. First opened in 1907, the Green Mill became a speakeasy during Prohibition. Today, it hasn't lost any of its vintage charm — you can even sit in Capone's favorite booth. But the main draw is the live music, with nightly jazz performances from big-name artists and local acts through the early morning hours. 4802 N. Broadway St., Uptown
Coco Club
This late-night speakeasy is tucked onto the second floor of a casual bar and grill — just tell the doorman "I'm with the club." You'll be whisked into a sophisticated and inviting space that draws inspiration from the '20s and '30s. Coco Club features a variety of live talent spanning genres, including dueling pianos, comedians, and lounge singers. The drink menu extends the Prohibition-era theme, with classic cocktails using quality ingredients. 3350 W. 47th St., Brighton Park
Coq d'Or at The Drake
You'll feel like you're in a private club when you walk into Coq d'Or, The Drake's historic cocktail lounge. The dark wood paneling, red leather booths, and richly colored murals all give the place an old-school elegant vibe. Opened in 1933, the bar was only the second place in Chicago to get a liquor license after Prohibition. Grab a seat at the bar and order a drink with Coq d'Or's own rye whiskey, created in collaboration with local distillery FEW Spirits. 140 E. Walton Place, Magnificent Mile
The Drifter at Green Door Tavern
During Prohibition, a green painted door was usually hiding an undercover speakeasy. The Green Door Tavern carries on that tradition — and not just with its name. A nondescript door in the restaurant's basement leads to The Drifter, an authentic '20s-era speakeasy with a hint of circus vibes. Nightly performances showcase local burlesque and vaudeville acts, and the carefully curated cocktail menu is printed on Tarot cards. 678 N. Orleans St., River North
The Hideout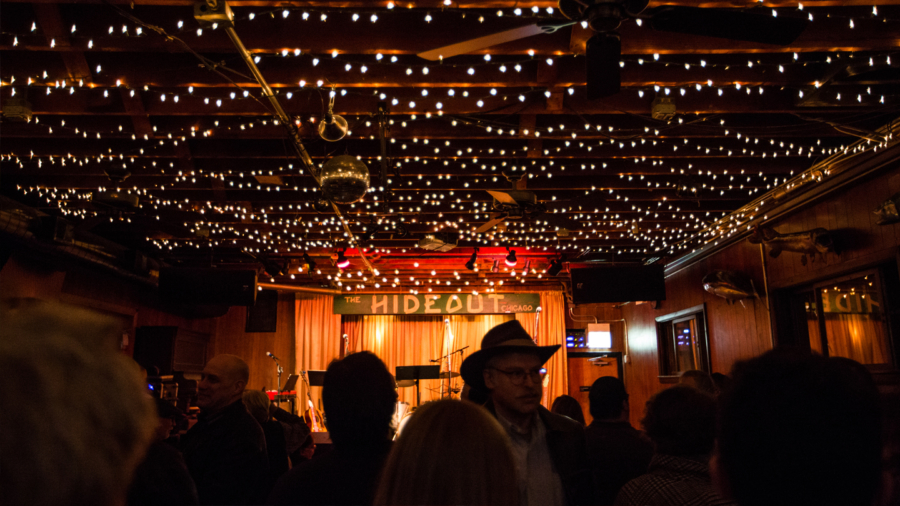 Everyone's welcome at The Hideout. A true community bar, this tiny venue's welcoming feel and eclectic events have earned it a legion of loyal regulars. Tucked inside a 100-year-old house, you might walk right by if not for the beer sign hanging above the door (and the crowd starting to form in the front yard). On any given night, you could see a live podcast recording on the intimate stage or a punk rock show on the front porch. 1354 W. Wabansia Ave., Wicker Park/Bucktown
Tortoise Supper Club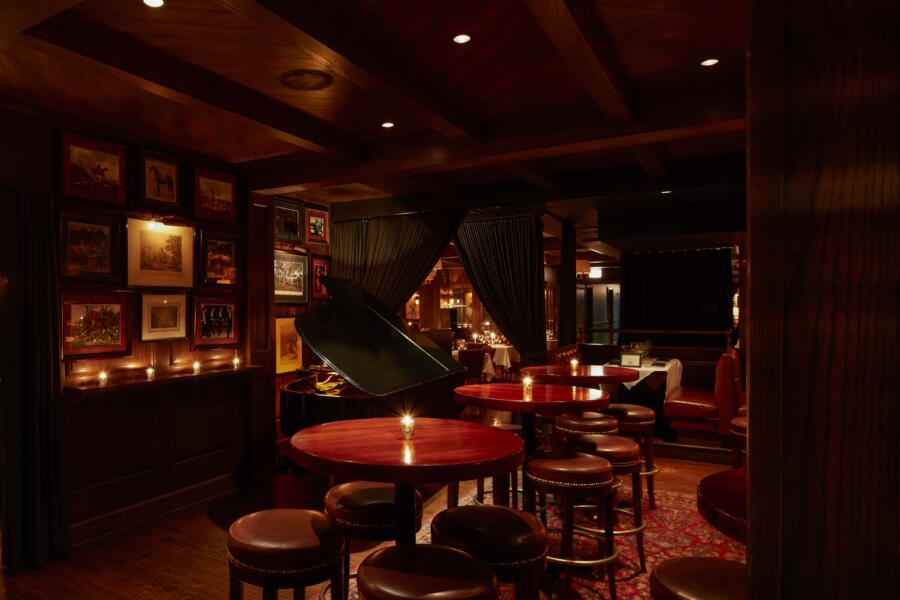 Tortoise Supper Club is a swanky, jazz-age supper club in River North serving up steaks, chops, and fresh seafood in an upscale atmosphere. Come for a happy hour drink in the lounge, dinner by the cozy fireplace, or live jazz played on the grand piano each weekend.
Simon's Tavern
This Andersonville hole-in-the-wall has been a favorite local hangout since it opened in 1934. Back then, Simon's was a grocery store with a subterranean speakeasy for the area's early immigrants. Today, the neighborhood's Swedish roots are still on display at Simon's — you'll find Viking paraphernalia on the walls and glögg (a traditional mulled wine) behind the bar. Unlike some speakeasies, it's easy enough to find. 5210 N. Clark St., Andersonville
The Violet Hour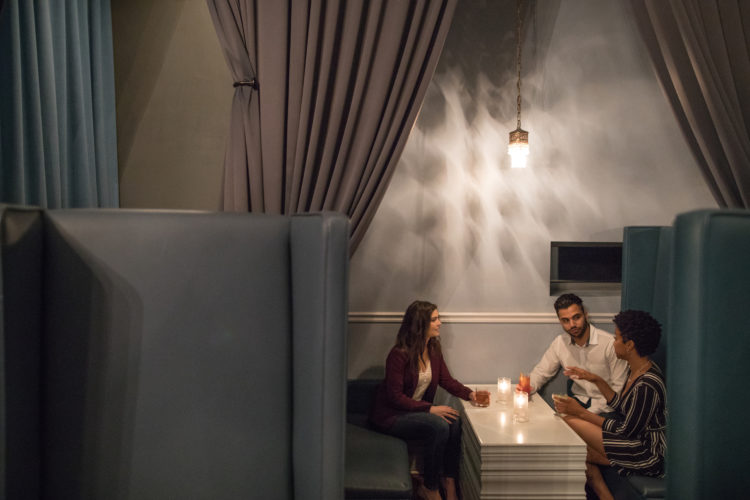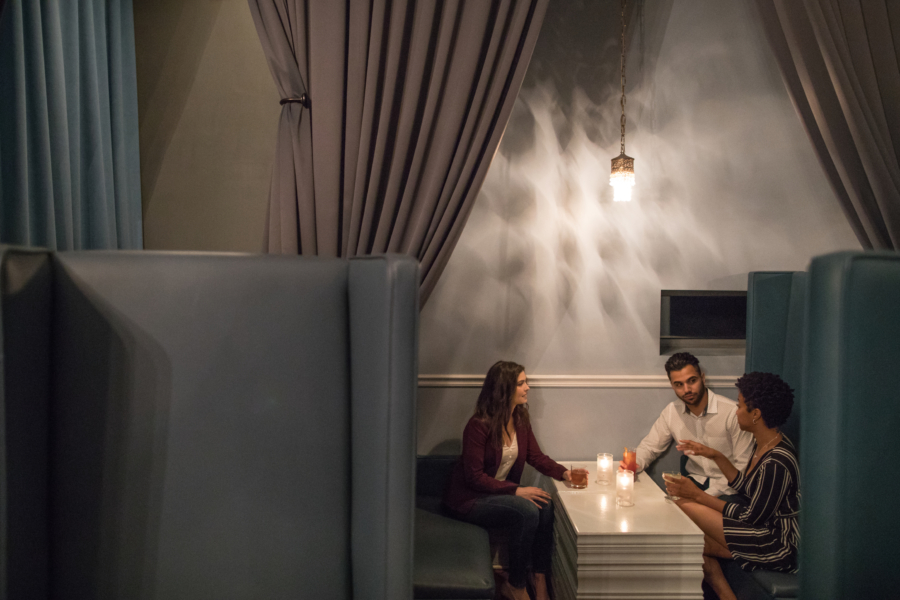 The Violet Hour, the acclaimed spot that revolutionized Chicago's craft cocktail scene, is hidden in plain sight in the heart of Wicker Park. The entrance is concealed by an ever-changing mural, but it's given away by a growing line each evening. Once inside, you'll find an upscale space rooted in the tradition of old-school speakeasies — and some of the best artisanal cocktails in the city. Just make sure to follow the house rules — number one: no cellphones. 1520 N. Damen Ave., Wicker Park/Bucktown