Chicago is a living canvas — literally. Tens of thousands of square feet of murals make their home on bridges, buildings, train stations, and even parking garages, telling the story of faith and hope, race and immigration, struggle and success, family and joy. The works of acclaimed street artists such as Hebru Brantley, Jeff Zimmerman, and Gaia are an integral part of the city's progressive arts culture.
Wabash Arts Corridor
With around 20 large-scale murals condensed into a seven-block stretch along Wabash Avenue (between Van Buren and Roosevelt Road in the South Loop), the Wabash Arts Corridor is something of a mecca for street art devotees. Use this map of mural locations to plan your route, and learn a little about some of the corridor's highlights here.
From Doom to Bloom by Collin van der Sluijs
This powerful jewel-toned mural by Dutch artist Collin van der Sluijis depicts two indigenous Illinois birds against larger-than-life blooms. At its heart, the work conveys triumph over adversity, and, ultimately, hope. The yellow-headed blackbird depicted was once common in Chicago, but has since disappeared, while the red-headed woodpecker is in danger of meeting the same fate. Van der Sluijs' work, which tends to focus on "personal pleasures and struggles in daily life," has been exhibited throughout Europe and in the United States. 1006 S. Michigan Ave.
Make Your Own Luck by ASVP
ASVP is a Brooklyn-based printmaking and street art studio founded by artists Simon Grendene and Victor Anselmi. The duo's mural, Make Your Own Luck, was created as part of Vertical Gallery's The Power of Paint series, which focused on the idea of using art to help others. It's a must-see work, emblazoned in red, white, and blue, with clear nods to advertising, pop, and comic-book culture — an ASVP trademark. 1 E. Balbo Drive, South Loop Club
Moose Bubblegum Bubble by Jacob Watts
You can't help but love Moose Bubblegum Bubble, a photo mural created by former Columbia College student Jacob Watts, one of the winners in the 2014 Columbia College Chicago's Wabash Arts Corridor Campus competition. It's whimsy at its best, with an enigmatic moose blowing a gigantic bubblegum bubble (which you likely gathered from the mural's title). If you happen to be on a CTA Green Line or Orange Line 'L' train as it rounds the curve south of East Ida B. Wells Drive, you'll get a perfect elevated view of the work. 33 E. Ida B. Wells Drive
Muddy Waters Mural by Eduardo Kobra
The late, great Chicago blues musician Muddy Waters is the subject of a nine-story mural by internationally acclaimed Brazilian street artist Eduardo Kobra. It was created in 2016, as part of the Chicago Blues Festival celebrations. Kobra's trademark color wheel of saturated hues and bold lines can't be missed as you stroll along State Street towards Washington Street. The artist is well-known for his monumental murals of famous people, including musicians Bob Dylan in Minneapolis and David Bowie in Jersey City. 17 N. State St.
Pilsen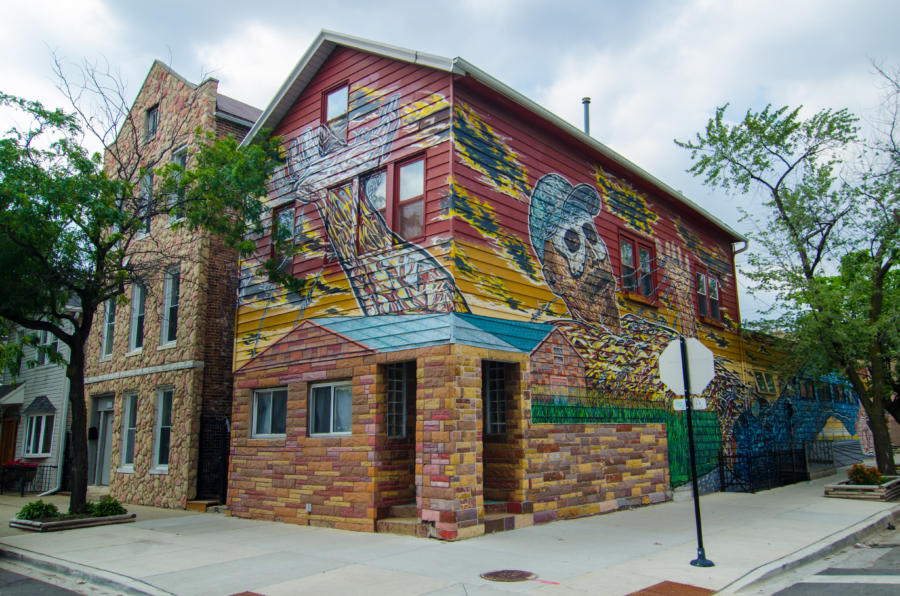 What started as a community project has skyrocketed into a full-blown mural movement in the heart of Pilsen, which, since the late 1960s and 1970s, has been a favored canvas for street artists and muralists. The neighborhood is a hub of Mexican culture and artistic expression, populated by dozens of artist's studios and art galleries. Tip: To meet emerging artists in person, visit Pilsen during the Chicago Arts District's (link to listing) monthly 2nd Fridays open studio and gallery walk.
Gulliver en el país de las Maravillas (Gulliver in Wonderland) by Hector Duarte
This award-winning Mexican-born artist turned his two-story Pilsen home and studio into a stirring depiction of the Mexican immigration experience. The mural covers roughly 3,000 square feet on three sides of the building, and features a giant, outstretched Mexican immigrant as Gulliver from Gulliver's Travels, struggling to break free from the barbed wire that binds him. It joins more than 50 murals Duarte has created in the Chicagoland area, each focusing on the themes of identity, immigration, and freedom. 1900 W. Cullerton St.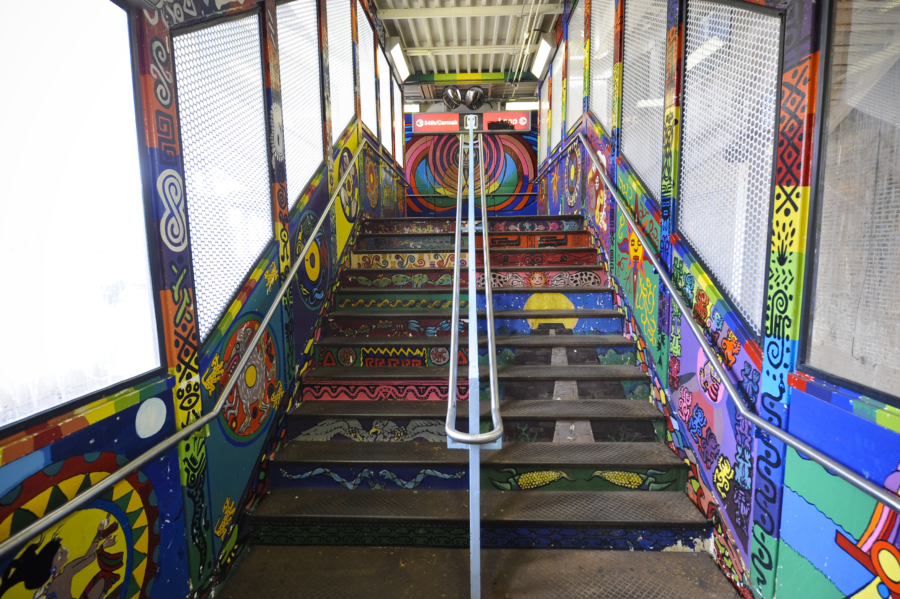 Quetzalcoatl and the Stork by Gaia
Quetzalcoatl and the Stork is inspired by Pilsen itself, focusing on the shared Catholic faith between the neighborhood's Polish and Mexican residents. For this particular mural, Baltimore-based street artist Gaia blends biblical figures with the two communities' mythological traditions — hence the appearance of the Mexican serpent god Quetzalcoatl, the child-bringing white stork of Slavic mythology, and compositional elements borrowed from Michelangelo's Sistine Chapel Creation panels. Gaia's studio work, installations, and gallery projects have been shown the world over, including at The Baltimore Museum of Art, Rice Gallery in Houston, and the Palazzo Collicola Arti Visive in Spoleto, Italy. 16th St. and Halsted St.
Increíbles las cosas a se ven(Oh, the Things You'll See) by Jeff Zimmerman
Jeff Zimmerman is best known for blending photorealistic images of locals with socio-political imagery relevant to the neighborhoods where his murals appear. For his three-panel Pilsen mural, painted above a laundromat, the artist creates a commentary on the immigrant experience among first, second, and third-generation Mexican Americans. He begins with references to the sacrifices made by those seeking to enter the United States, followed by a panel depicting blue-collar workers and skilled laborers, and culminates with a panel illustrating two graduates, a nurse and a teacher, accompanied by the words, 'Si, se puede,' or 'Yes, you can." In its entirety, the mural directly references the history and experiences of Pilsen residents who gaze upon it every day. 19th St. and Ashland Ave.
Galeria del Barrio by Aurelio Diaz
One of the neighborhood's oldest murals, Galeria del Barrio, was painted in 1976 by Aurelio Diaz, with the assistance of 20 children from St. Procopius Church. Twenty-two males in profile depict a dramatic evolution of emotions, collectively representing Mexican American identities and experiences. In 2009, artist Sam Kirk worked with the Chicago Public Art Group to restore the mural to its former glory. Blue Island and 16th St.
Untitled by Francisco Mendoza
Artist, muralist, and teacher Francisco Mendoza grew up on Chicago's south side, and was a pillar of the Pilsen community. His work, which tells the story of the city's rich Mexican heritage, is brilliantly illustrated at the 18th Street Pink Line 'L' Station in Pilsen. For this project, Mendoza collaborated with the National Museum of Mexican Art and his students at Gallery 18, a satellite of the city-run youth art program Gallery 37. The whole station is an exuberant expression of Mexican culture, with color filling surfaces on stairways and platforms throughout. 18th Street Pink Line 'L' Station
Logan Square and Wicker Park/Bucktown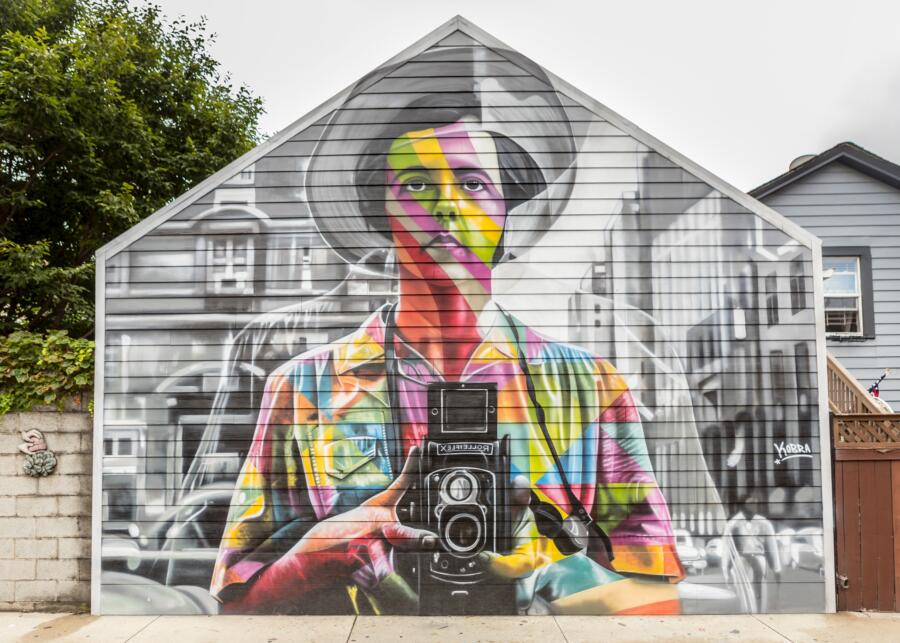 From the famed Greetings From Chicago mural brightening elevated train tracks to the ever-changing graffiti that covers the East Room on Milwaukee Avenue, Logan Square and Wicker Park/Bucktown are home to over 50 amazing murals. These neighborhoods, famed for their funky, hip vibe, couldn't be better venues for street artists wanting to share their work with the world.
Greetings From Chicago by Victor Ving and Lisa Beggs
New York City artists Victor Ving and Lisa Beggs have created approximately 30 "Greetings From" murals throughout the country, but Greetings From Chicago was the first. The artists incorporated iconic city images, including Willis Tower, the Chicago city flag, the Cubs baseball logo, and the nearby Logan Square monument, representing both classic aspects of the city and more off-the-beaten path corners that combined tell Chicago's unique story. 2226 N. Milwaukee Ave.
Nike Running by Hebru Brantley
Hebru Brantley's iconic Flyboys are perfectly depicted in Wicker Park/Bucktown's Nike Running, where four young city adventurers are depicted running so fast that their shoes leave dust and smoke in their wake. The mural is quintessentially Brantley, right down to the pop-art-meets-anime aesthetic. A Chicago native, his work has been exhibited throughout Europe and the United States, all the way from LA to Basel, Switzerland, and graces celebrity collections, including power couple Jay-Z and Beyonce. 2001 W. Concord Place, Nike Running Store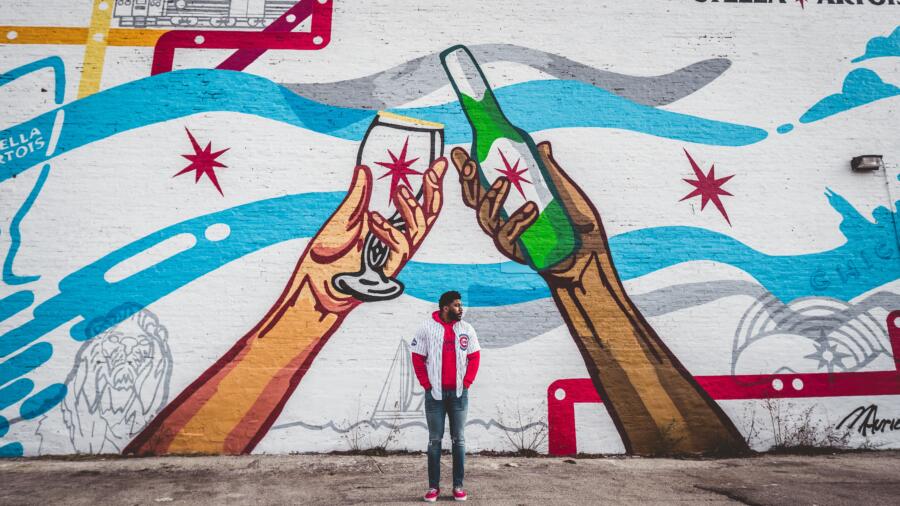 The ConAgra Brands Mural by Jeff Zimmermann
Jeff Zimmerman makes another appearance in Wicker Park/Bucktown (as well as other Chicago locations). His mural, which adorns the side of coffeehouse-meets-cocktail-bar Ipsento 606, is simply mesmerizing. The photo-realism is astounding enough, but then there's the location — right on The 606 elevated trail, and with a picturesque park sitting just below it. The monumental 42 x 90-foot mural depicts a montage of beautiful faces and nature-inspired motifs, combined with geometric forms in the saturated palette Zimmerman is famous for. 1813 N. Milwaukee Ave., Ipsento 606
Every Adventure Requires A First Step by Jerkface
A mischievous, grinning Cheshire cat is the centerpiece of NYC-based street artist Jerkface's colossal mural, located on the side of Lewis Towers in Wicker Park. Jerkface is well-known for his interpretations of pop culture icons, and Alice's cat is the perfect subject, conveying a sense of nostalgia, whimsy, emotion, energy, and unbridled youthfulness. 1166 N. Milwaukee Ave., Lewis Towers
Humboldt Park
Humboldt Park is a Caribbean escape shrouded in urban charm. Marked by two monumental metal Puerto Rican flags that measure almost 60 feet in height, Puerto Rico Town (formerly the Paseo Boricua) is the neighborhood's main thoroughfare, and a great place to start your discovery of Humboldt Park's murals. Some will stir you, others will make you smile — and all will inspire you to whip out your camera.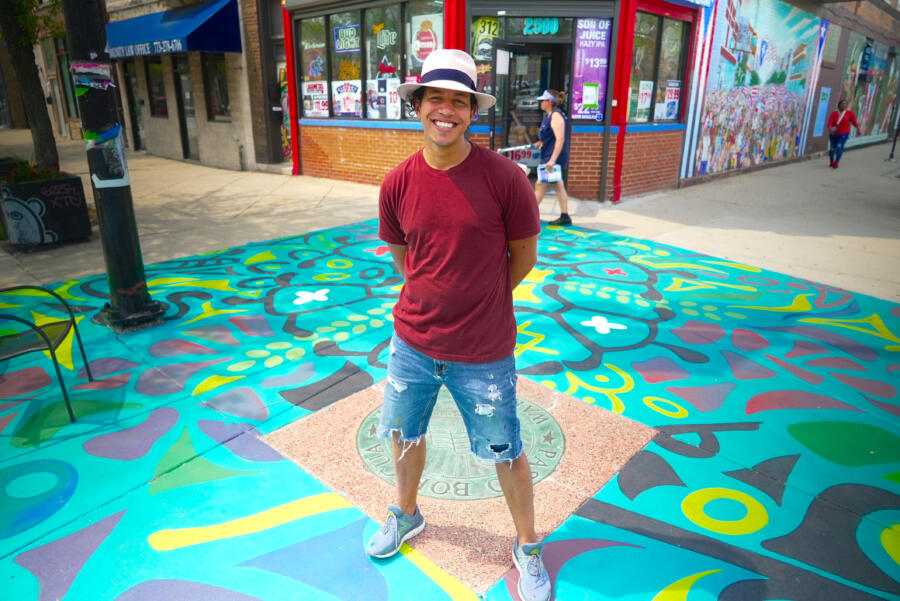 The Party by Jeff Zimmerman
This striking political mural sits outside Jeff Zimmerman's studio, and features the artist's characteristic portraits, saturated palette, and visual puns as a statement about the immigrant experience. It's a huge, beautiful work, loaded with meaning. California & Cortez
Birds of Latin America by Gamaliel Ramirez
Artist Gamaliel Ramirez, who passed away in 2018, painted many murals over his 40-year career in Chicago. This vibrant Humboldt Park work of art was brought to life in 1981 with the help of student artists from Centro Unidad Latina. It depicts Latin American bird species — including flamingoes, toucans, and parrots — making you feel like you just stepped into a lush rainforest. Ramirez believed that art belongs to the people, which made community murals one of his great passions. Division & Rockwell
Sea of Flags by Gamaliel Ramirez
Ramirez' Sea of Flags is another Humboldt Park favorite, and a lively representation of the neighborhood itself. The mural was inspired by a photograph of Fiesta Boricua, Humboldt Park's annual festival celebrating Puerto Rican music, dance, and culture. It's a perfect expression of the heart and soul of the neighborhood, and, in fact, was created with the help of local residents. Division & Campbell
Rogers Park
There are miles of murals in Rogers Park. In fact, the Mile of Murals public art initiative began in 2007, with the goal of nurturing and celebrating the neighborhood's artistic persona with over 14,000 square feet of murals. But Rogers Park's street art doesn't begin and end there. Murals of every description brighten underpasses, overpasses, and viaducts, among other "urban canvases," all over the neighborhood. Here are a few definitely worth checking out
Rogers Park Shuffle by Shane Treacy
Shane Treacy's mural is wonderfully whimsical — so much so that you can't help smiling as soon as you see it. It's a depiction of all the different people who live in Rogers Park, and a celebration of the rich diversity of the neighborhood. It's also the perfect thing to brighten an otherwise grey urban underpass. 1416 W. Chase Ave.
Audubon Mural Project by various artists
Part of the Mile of Murals project, artists collaborated with the National Audubon Society to create this striking mural, which draws attention to the impact of climate change on North American bird species. You'll see Illinois' endangered native birds represented, including the Tree Swallow, Baltimore Oriole, Peregrine Falcon, Bald Eagle, Hooded Merganser, and Crowned Night Heron. Artists involved in the project include Ruben Aguirre, Cheri Charlton. Andrea Jablonski, Anthony Lewellen, Tyrue Slang Jones, and Chris Silva. Greenleaf & Glenwood
Respiration by Hebru Brantley
You'll spot Hebru Brantley's work all over Chicago, and in some of the most unexpected places. In this case, you'll find Respiration tucked underneath Rogers Park's Metra train tracks, which makes it seem quite the hidden gem. The artist's famous characters are front and center, riding on top of trains and even flying high above them — and always wearing their trademark goggles. Ravenswood & Pratt
Urban Oasis by Leah Tumerman
There couldn't be a more perfect theme for a Chicago mural. Leah Tumerman's Urban Oasis borders on psychedelic, with nature blending into the city landscape. Look closely, and you'll see iconic Rogers Park architecture, too. It's a beautiful, fantastical scene, and it brightens the day for all who walk by it. Touhy & Glenwood
Note: While many of the city's murals are permanent, works displayed may change from time to time. Explore Chicago's street art scene with a local on a free Chicago Greeter visit.
Looking for more? Explore more public art in Chicago's neighborhoods.