---
Why we love it
If you're looking for off-the-beaten-path, under-the-radar Chicago, head to Rogers Park. You'll find architectural gems, authentic global eateries, and a cutting-edge theatre scene, all nestled in this welcoming lakefront enclave.
Explore like a local
Grab tickets for a show at Theatre Above the Law, which puts a fresh spin on

classic and new stories with an emphasis on mentoring young talent.



Take a tour of "the leather lifestyle" at the adults-only Leather Archives & Museum.
Walk the Mile of Murals, a community-led public art project that features more than a dozen large-scale murals that beautify the CTA Red Line tracks.
Insider tips
Rogers Park is one of Chicago's most diverse neighborhoods, with more than 60 different languages spoken. As you might expect, the neighborhood's dining options are just as diverse. Take a culinary journey around the world at Caribbean American Bakery, Redz Belizean Restaurant, Asahi Roll Sushi, Rocky's Tacos, Tostini Turkish Street Food, and beyond.
If you want a taste of Chicago's artsy side, Rogers Park is the perfect place to be. Check out the Glenwood Avenue Arts District, an inviting urban stretch with cobblestone streets, sprawling murals, art studios and galleries, an award-winning theatre, and entertainment venues hosting magic shows, cabaret, world music and more.
The area is also home to the pedestrian-friendly Glenwood Alfresco. Each summer, the Glenwood Sunday Market brings an array of local vendors, and the Glenwood Avenue Arts Fest (held the third weekend in August) features handmade art, live music, and studio tours.
Conveniently located near the CTA Red Line, Jarvis Square is a bustling commercial corridor with boutiques and antiques, restaurants and pubs, a theater, and coffee shops. You'll find year-round events like artisan markets, Oktoberfest, movie nights, live music, the Jarvis Alfresco community space, and more.
Rogers Park is also home to a burgeoning theatre scene, home to both long-standing institutions like The Factory Theatre (creating original shows for 25 years) and newcomers like The Rhapsody Theater (bringing magic, cabaret, and more to a historic space).
Head east until you hit the water to see the neighborhood's sandy shoreline and peaceful waterfront vistas from Loyola Beach. Near the lake, you'll find the Emil Bach House, designed by Frank Lloyd Wright. Completed in 1915, it was one of Wright's last Chicago commissions. Architecture buffs can even book an overnight stay, so you can spend more time exploring Rogers Park.
Chicago Greeter: free guided tours
Taste, shop and explore the neighborhoods with a friendly local as your guide. Explore rich histories, diverse cultural traditions and hidden treasures. See sides of the city you may not have adventured out to on your own, and take away a truly authentic Chicago experience. Greeter visits are customized based on your choice of neighborhoods, language and interests.
Request a tour with a Chicago Greeter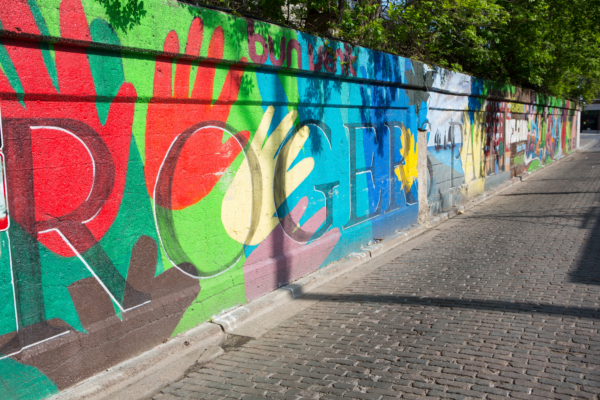 When deciding which of Chicago's neighborhoods to explore next, Rogers Park should be at the top of the list. This lakefront community ranks as one…