If you're craving a classic Chicago experience, then trying the city's most iconic foods is a must. Sure, we've got an acclaimed fine dining scene and more Michelin-starred spots than you could fit into just one trip — but we still love our deep dish pizza, mile-high ice cream cones, and Chicago style hot dogs (preferably enjoyed in a ballpark).
Deep dish pizza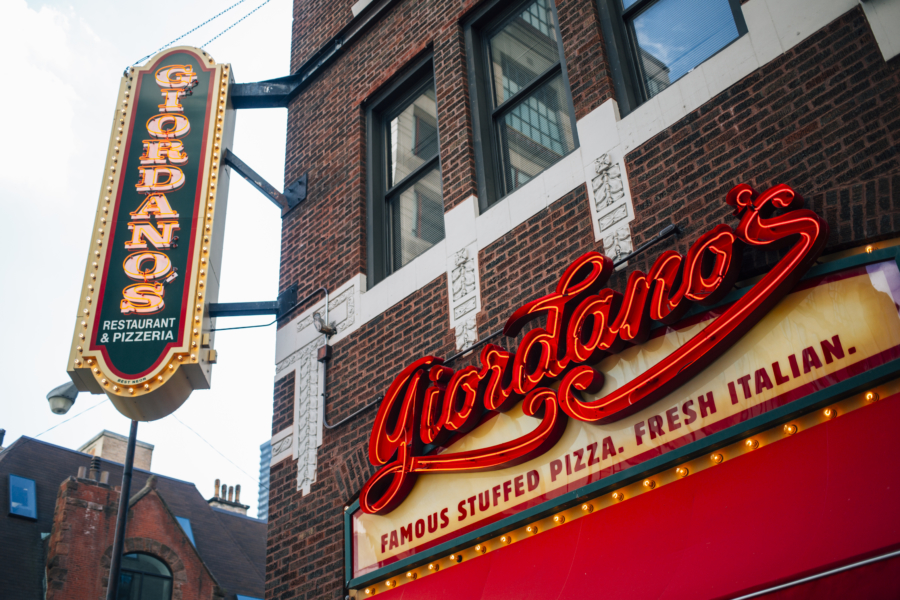 Forget too-thin crusts and skimpy toppings. This beloved comfort food is as hearty as they come, with a thick crust baked in a deep pan that's traditionally filled to the brim with cheese and topped with a layer of chunky tomato sauce. The result is a piping hot, gooey mountain of pizza goodness that's a true Chicago classic.
Want to taste it for yourself? You've got plenty of options. There's long-time favorite Uno Pizzeria and sister establishment Pizzeria Due in River North. Some say this is the birthplace of the deep dish pizza, invented in 1943 by the pizzeria's founder. Today, they use their signature spice blend to craft a flavorful sauce that tops all their ultra-deep dish pies.
With locations throughout Chicago, Lou Malnati's Pizzeria is another great stop. Pizzas are made with hand-selected ingredients like fresh mozzarella cheese sourced from the same small dairy they've used for more than 40 years. Insider tip: Don't skip their famous buttercrust. You can also get fresh-made frozen pizzas to bake at home.
Giordano's, with restaurants all over the city, adds its own twist to the classic Chicago-style pizza by doubling up on the crust and stuffing it with cheese. Every slice oozes the moment you pull it apart.
And at the original Gino's East of Chicago, close to The Magnificent Mile, you'll find deep dish pies with a golden, flaky crust and mounds of cheese and tangy tomato sauce — and an interior that's almost as beloved as the pizza itself. Don't forget to leave your mark on the walls scrawled with patrons' graffiti. You'll find more Gino's East pizzerias located in River North and the South Loop.
Chicago style hot dogs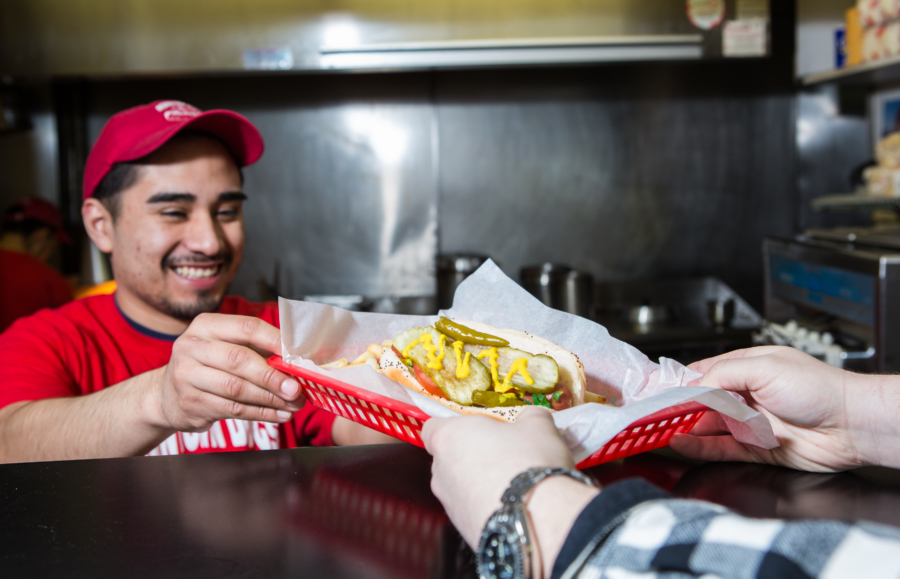 The classic Chicago style hot dog got its start as a cheap bite during the Great Depression. While they may not cost a nickel anymore, you can try the (still cheap) street food staple for yourself all over Chicago.
So, what exactly is a Chicago style hot dog? Here's how to do it right — an all-beef hot dog on a poppy seed bun, topped with yellow mustard, lots of relish, diced onions, tomato wedges, a pickle spear, sport peppers, a dash of celery salt — and most importantly, no ketchup.
Another hallmark of a classic Chicago dog — that all-beef hot dog came from Vienna Beef. Founded in 1893, the company first debuted their frankfurters at the Chicago World's Fair. It was an instant hit. Today, you can try their original family recipe at their Factory Store & Cafe.
You can hit all the reliable go-tos scattered throughout Chicago's neighborhoods, like Portillo's in the Loop and South Loop, The Wiener Circle in Lincoln Park, Jim's Original in Little Italy, and Redhot Ranch, with locations in Bucktown and Lakeview. If you're looking for a bite of Chicago history, family-owned Dave's Red Hot opened in 1938, making it one of the oldest hot dog stands in the city.
You can also try one (preferably with a cold beer) at a Chicago White Sox game at Guaranteed Rate Field or cheering on the Chicago Cubs at Wrigley Field.
Italian beef
You can get it hot (with giardiniera peppers) or sweet (with sweet peppers); dry (no gravy), wet (extra gravy on top), or dipped (the whole sandwich takes a bath). No matter how you order it, you'll be getting a taste of one of Chicago's most famous creations — the Italian beef sandwich. The delicious (and messy) sandwich consists of a crusty Italian roll piled high with thinly sliced and seasoned roast beef, plus your choice of peppers and au jus sauce (or gravy, as some places call it).
There's a fierce debate among locals as to who has the city's best Italian beef. Al's Beef in Little Italy claims to be the inventor of the sandwich, and has won countless awards since it opened in 1938. They're also advocates for the "Italian Stance," the only way to eat an Italian beef sandwich — elbows on counter, feet 18 inches from counter, and mouth wide open (the most important part). Besides their original location, they have four outposts throughout the city.
Another popular spot is Mr. Beef on Orleans in River North. It's a small eatery with a dive vibe, but it's definitely big on flavor. Whether you eat standing at the counter or sitting at the communal table, you're in good company: Even Jay Leno has sung the praises of this place. Just remember to bring cash (there's an ATM if you forget), be quick with your order (service is speedy), and bring a very big appetite.
Garrett Popcorn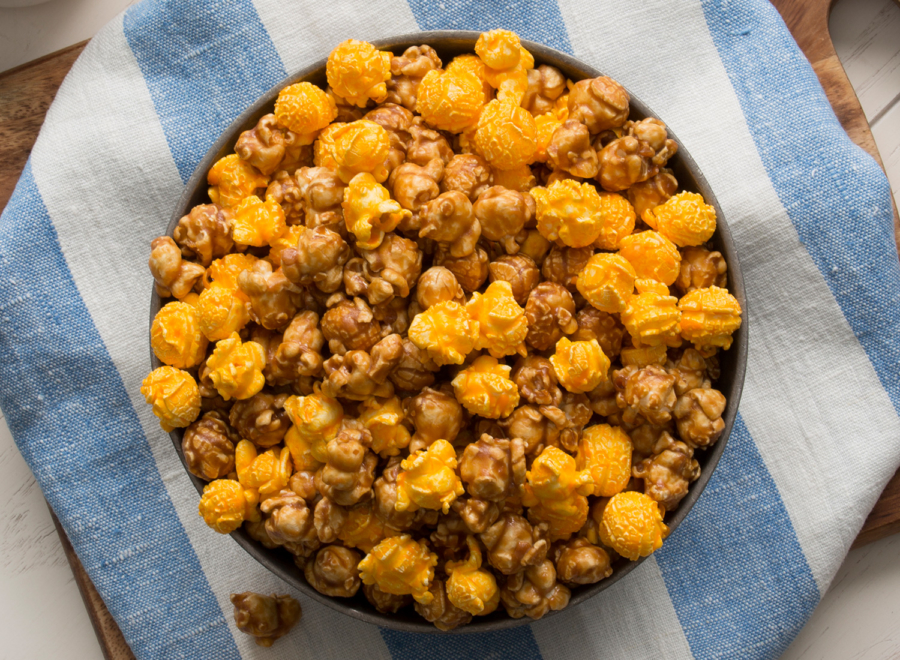 The Garrett Mix at the famous Garrett Popcorn Shop is a salty-sweet taste of local history. The secret family recipe includes a blend of Garrett's classic CaramelCrisp and CheeseCorn popcorn flavors, so you get a bit of sweet and savory all in one bite. The mix has been a local favorite since the shop first opened in 1949. You'll find multiple Garrett locations throughout Chicago, each offering tons of different popcorn flavors in their signature blue-striped tins.
Eli's Cheesecake
You may have had cheesecake, but have you had Chicago-style cheesecake? Eli M. Schulman created this local variation of a classic cheesecake in the late 1970s while perfecting the dessert at his Chicago restaurant Eli's The Place for Steak. The steakhouse is gone, but the cheesecake endures. This Chicago classic, which can be found at Eli's Cheesecake, is known for its golden brown exterior, rich and creamy inside, and signature all-butter shortbread cookie crust.
Original Rainbow Cone
The Original Rainbow Cone tastes just as good as it looks. The classic Chicago treat is a cake cone piled high with chocolate, strawberry, Palmer House (vanilla with cherries and walnuts), pistachio, and orange sherbet (in that order). It's a local summertime staple and Instagram-worthy dessert that's remained virtually unchanged since it was first scooped in 1926. Visit the original location in Chicago's Beverly neighborhood or the Original Rainbow Cone's second location at Navy Pier.