---
Why we love it
If you're looking for an authentic slice of Mexican life in Chicago, Little Village is the place to be. Known as the "Mexico of the Midwest", this colorful enclave is overflowing with vibrant culture and cuisine.
Spend an afternoon exploring the neighborhood's many traditional bakeries, family-owned restaurants packed with locals, burgeoning arts scene, unique local shops, and a welcoming community of friendly locals who have called the area home for generations.
Explore like a local
Insider tips
Wander 26th Street: When you get to Little Village (or La Villita as the locals affectionately call it), you'll be greeted by the terracotta arch over 26th Street that reads "Bienvenidos a Little Village". This is the neighborhood's main drag and one of the busiest shopping districts in all of Chicago.
Take your time exploring this two-mile stretch that's home to almost 500 businesses. There are global grocery stores, mouth-watering bakeries, eye-catching murals, and storefronts brimming with dazzling quinceañera dresses and leather Western wear.
Try authentic Mexican fare: Stop into one of the many authentic restaurants and taquerias showcasing a delicious array of regional Mexican cuisine. El Milagro Tortilleria is a local favorite, where tortillas are made fresh in house. Nuevo Leon is a family-owned spot serving casual Mexican classics, and Mi Tierra offers over-the-top margaritas in a festive atmosphere.
Make sure to pick up a treat from a passing paletero (push cart vendors selling frozen treats). Or grab a tamale from one of the food stalls that line the street as you move from one attraction to the next.
Discover local art: The Open Center for the Arts is another great stop. This hybrid art center/gallery encourages and showcases work by emerging and aspiring local artists. Check out their upcoming events, exhibits, and workshops. 
Experience the nightlife: End your visit with a cocktail at one of the popular local watering holes. Osito's Tap is a speakeasy-style bar featuring a range of craft spirits with modern Mexican-inspired touches. Or stop into La Cueva, an LGBTQ+ nightclub known as the oldest Latino drag bar in the country.
Chicago Greeter: free guided tours
Taste, shop and explore the neighborhoods with a friendly local as your guide. Explore rich histories, diverse cultural traditions and hidden treasures. See sides of the city you may not have adventured out to on your own, and take away a truly authentic Chicago experience. Greeter visits are customized based on your choice of neighborhoods, language and interests.
Request a tour with a Chicago Greeter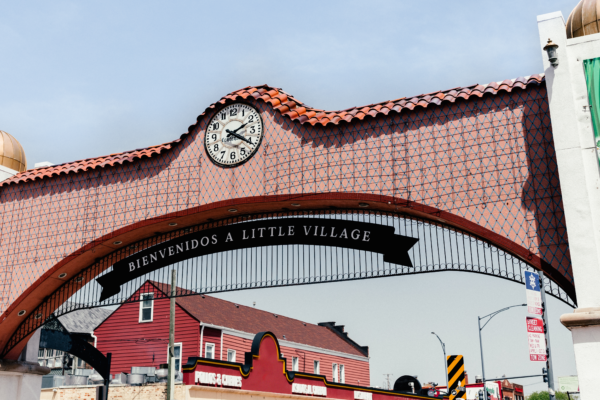 Chicago's Little Village (or "La Villita" as the locals call it) is a wonderful neighborhood to spend the day enjoying incredible culture, art, and authentic…