---
Why we love it
One of the best parts of the South Shore neighborhood is, well, the shore. The area is home to a pristine stretch of lakefront that includes one of the city's largest beaches. Wander away from the water and into the neighborhood to discover a wealth of rich cultural offerings and eye-catching architecture.
Explore like a local
Insider tips
Hit the beach: Head to Rainbow Beach Park to get a sense of what South Shore has to offer. The gorgeous outdoor space features two playgrounds, a public beach, a community garden, and jaw-dropping views of the Chicago lakefront and skyline. The beach itself is one of the city's largest, and has been a popular spot for swimming and sunbathing since the early 1900s.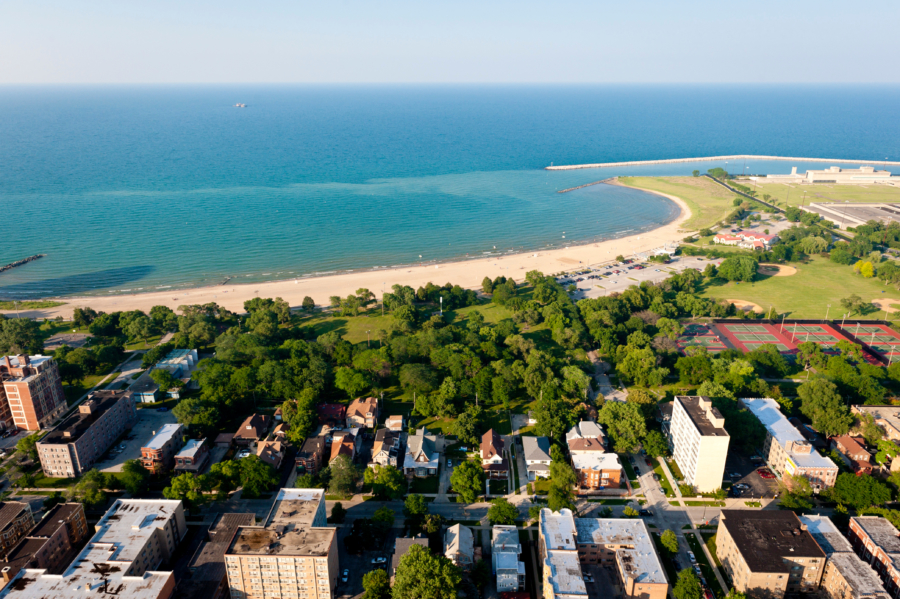 Get some culture: Just north of Rainbow Beach Park, the South Shore Cultural Center is one of the neighborhood's crown jewels. Housed in a former country club, the center is nestled on manicured, picnic-worthy grounds that include a nature sanctuary, a butterfly garden, and a nine-hole golf course.
Inside, you'll find a rich array of cultural programming, a restaurant run by the in-house culinary institute, and a theatre that hosts a variety of community groups like the South Shore Opera. The center was also the site of Barack and Michelle Obama's wedding reception.
Admire the architecture: Get a glimpse of the area's unique residential architecture in Jackson Park Highlands. This charming pocket features a hodgepodge of architectural styles and towering mansions. Don't miss the striking Prairie-style home by Frank Lloyd Wright's protege John S. Van Bergen (his only design in Chicago) at 7121 S. Paxton Ave.
Chicago Greeter: free guided tours
Taste, shop and explore the neighborhoods with a friendly local as your guide. Explore rich histories, diverse cultural traditions and hidden treasures. See sides of the city you may not have adventured out to on your own, and take away a truly authentic Chicago experience. Greeter visits are customized based on your choice of neighborhoods, language and interests.
Request a tour with a Chicago Greeter
The South Shore Cultural Center with castle-like interior and grandiose ballrooms, ornate chandeliers and ample meeting space includes a 65-acre park and surrounding grounds, a…