Patio season officially begins this week in Chicago. Restaurants all around the city are opening up their rooftops, gardens, and patios for diners to enjoy. And all Chicago establishments are introducing new health and safety measures, like enhanced cleaning and physical distancing guidelines to keep guests and employees safe.
The city has also introduced a new program that allows local restaurants to expand their outdoor seating into the streets. You can find these open-air dining corridors in neighborhoods across the city — see the full list below. And check out our guide to indoor dining options to explore open dining rooms.
Here's an ongoing list of Chicago restaurants with open patios, rooftops, and more.
Chicago restaurants with outdoor dining
The Rooftop at Nobu: The highly anticipated rooftop atop the new Nobu Hotel is now serving Asian-inspired small plates, a variety of sakes, and skyline views. Reservations are required.
Politan Row: This buzzed-about food hall will be highlighting one of their unique food vendors each week on their patio.
Funkenhausen: This West Town spot is back in action, serving up their German-Southern fare on their sidewalk patio.
Homeslice: The popular patio at this Lincoln Park pizza place is open for reservations. Dig into creative pies and fun cocktails.
Piccolo Sogno: One of the city's best date night secrets, the dreamy courtyard at Piccolo Sogno near the West Loop is the perfect spot to enjoy Italian classics.
Upstairs at The Gwen: This rooftop terrace in River North serves up small plates, craft cocktails, and Art Deco vibes.
Dusek's Board & Beer: In Pilsen, Dusek's is offering a limited food and drink menu on their patio. Seating is first come, first served.
Aba: Aba's rooftop patio is open with limited seating for groups of six or less. Reservations are required and can be made via Tock with a $50 deposit per reservation required at booking, which will be applied toward your bill. Each reservation is limited to 1.5 hours.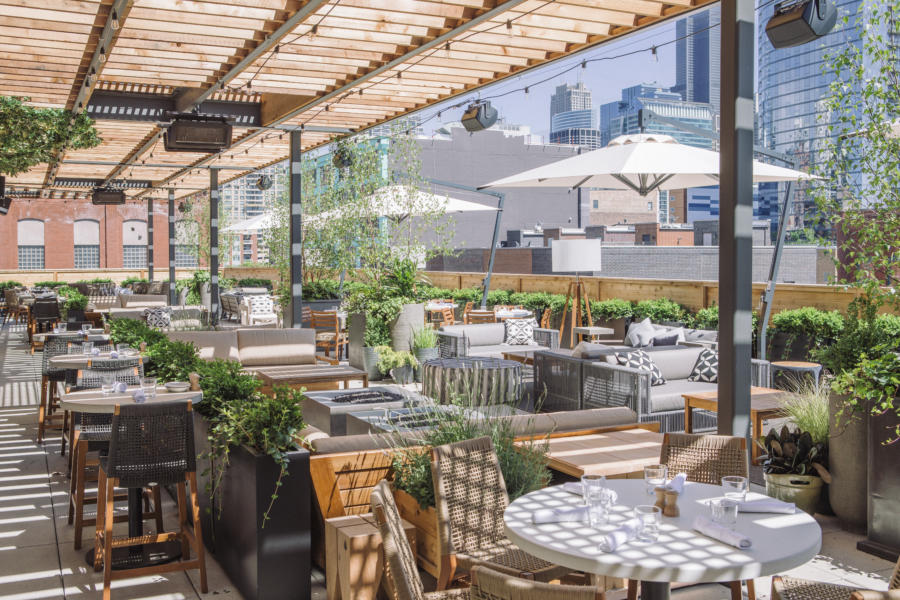 Beatnik: In West Town, Beatnik opens its courtyard Garden Oasis complete with a massive retractable roof. Plants and antique decor are used to create an intimate space with aesthetically pleasing barriers between tables.
Beatnik on the River: The riverfront outpost of boho-paradise Beatnik is now open. Enjoy their Mediterranean dishes with water views.
Ina Mae Tavern: Get a taste of New Orleans at Ina Mae Tavern in Wicker Park. The patio is open to enjoy food, sno-balls, frozen drinks, and more. Seating is first come, first served.
Virtue: This neighborhood gem in Hyde Park, led by acclaimed chef Erick Williams, is redefining Southern cuisine. Book your seat on their patio, which opens June 11.
Uncommon Ground: Enjoy housemade beer and organic fare at Uncommon Ground's expanded beer garden in Edgewater. The Lakeview location is also open with outdoor seating.
Roots Handmade Pizza: This Quad Cities-style pizza spot is now open with expanded outdoor patio service at all three locations — West Town, Lincoln Square, and Old Town.
Homestead On The Roof: Located directly above Roots in West Town, Homestead On The Roof has opened their rooftop patio. They'll serve West Town Bakery & Diner far in the morning until the early afternoon, then the Roots menu and The Berkshire Room craft cocktails in the late afternoon and evening.
Chant: Located in the heart of Hyde Park, the patio at Chant is now open. Enjoy globally inspired cuisine and expertly crafted cocktails.
Paradise Park: This trendy Wicker Park spot is back in action. Their large patio is now open to enjoy specialty pizzas and summer-y cocktails, like Prosecco and popsicles.
Norman's Bistro: In the Kenwood neighborhood, Norman's Bistro is serving Cajun/Creole cuisine on their spacious sidewalk patio.
Cafe Ba-Ba-Reeba: The all-seasons patio at Cafe Ba-Ba-Reeba is now open at 50% capacity, featuring a limited tapas menu including sangria, craft cocktails, and more. Reservations for patio dining are required due to limited seating.
Summer House Santa Monica & Stella Barra: The back patio at Stella Barra Pizzeria, the front patio at Summer House and the Vitamin D room at Summer House are now open at 50% capacity. The restaurants will offer an all day menu that combines Summer House's casual California fare and Stella Barra's pastas, pizzas, and antipasti.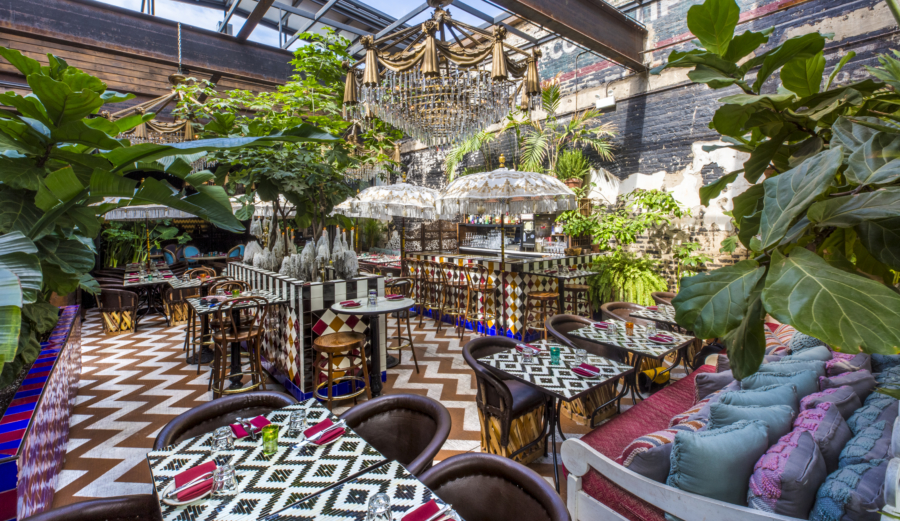 The Woodlawn: This casual spot in the Chatham neighborhood hosts pop-up restaurants to foster creativity and economic impact. Enjoy the patio or their new rooftop space.
Nellie's Restaurant: This family-owned restaurant in Humboldt Park has opened their patio for guests to enjoy Puerto Rican and American breakfast favorites.
Il Culaccino: The new outdoor space at Il Culaccino, the friendly Italian spot in the South Loop, is now open. Enjoy modern and traditional dishes on the spacious, covered patio.
Offshore: Navy Pier has reopened their outdoor dining areas, including the country's largest rooftop bar. Head to Offshore for seasonal cocktails and sweeping water views.
Pizzeria Portofino: Enjoy pizza, pasta, and an Aperol spritz or two at the breezy riverfront Pizzeria Portofino. Reservations are now open for patio seating and indoor window seating.
Yoshi's Cafe: A Lakeview classic serving Asian-French fusion, Yoshi's Cafe is now open for patio dining. Book your table online or via phone.
Barra Ñ: In Avondale, you can enjoy Argentinian cuisine and South American cocktails, like mojitos and Pisco sours, on the newly reopened patio at Barra Ñ.
Franconello: This elegant Italian spot in Beverly has opened their patio for the summer. Reservations are available.
etta: The rooftop at etta in Wicker Park is now open for lunch and dinner, weather permitting. Reservations are strongly encouraged.
90 Miles Cuban Cafe: This ultra-popular patio is now open in Logan Square. Order a Cubano, ropa vieja, and other Cuban classics — and don't forget to BYOB.
Tzuco: The acclaimed French/Mexican spot in River North has opened their outdoor dining for dinner, following all safety guidelines established by the city. Reservations are encouraged.
Recess: New to the West Loop last year, the Recess patio is now open. The massive space has plenty of room for physical distancing. Make a reservation to enjoy elevated pub fare and refreshing drinks.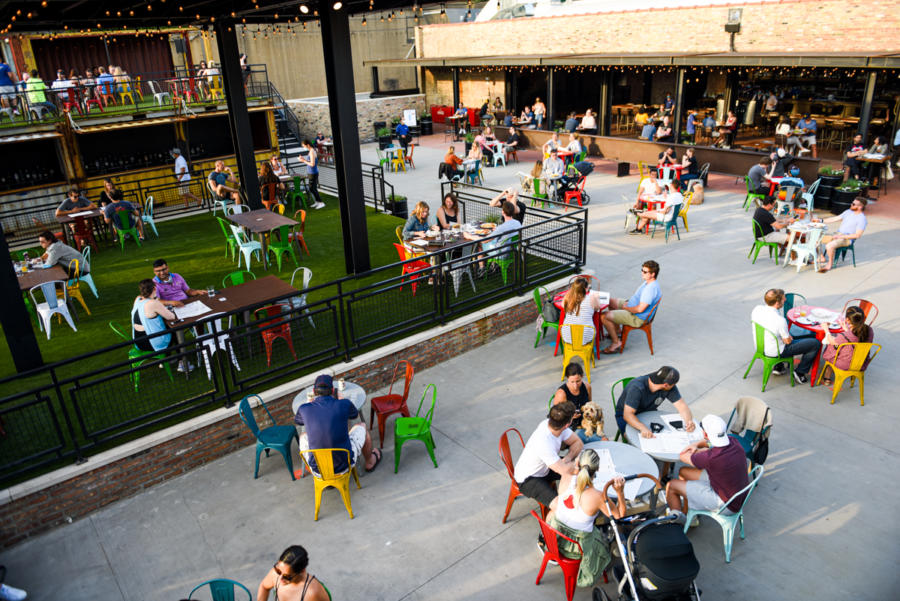 Big Star: Order a round of tacos and margs on Big Star patio. Both the Wrigleyville and Wicker Park locations are now open from 11:30 a.m. till late. Reservations are required, book your table via Tock.
Lou Malnati's: Enjoy a slice of deep dish pizza at one of Lou Malnati's locations with outdoor seating. The local chain will start reopening outdoor cafes in the city this week, including the Gold Coast, West Loop, and Lincoln Square locations.
LH Rooftop at LondonHouse: This riverfront rooftop, offering sweeping city and water views, reopens June 9. The rooftop will be open from 11 a.m. to midnight, serving an all-day American menu and signature cocktails.
Frontier: Head to Frontier in Wicker Park for a patio party all weekend long. Enjoy burgers, char-grilled oysters and ribs on the grill, plus a full bar. Seating is first come, first served.
avec: In the West Loop, avec has opened their patio for small groups to enjoy their Mediterranean-inspired classics. Food and beverage minimums apply.
Franco's Ristorante: The charming sidewalk patio at Franco's Ristorante is now open. The Bridgeport spot is beloved for their authentic pastas and modern classics.
City Winery: The West Loop location of City Winery will be opening their large patio space. Reservations are available in the afternoon and evening on Thursdays and Fridays and all day on weekends.
The Fifty/50: This sports bar in Wicker Park is open with expanded outdoor patio service and a revamped food and beverage program.
Utopian Tailgate: Guests can enjoy elevated tailgate fare, an extensive bar program, chill vibes, and mini tabletop games on the now-open rooftop. Reservations are required, maximum time limit for table seating is two hours.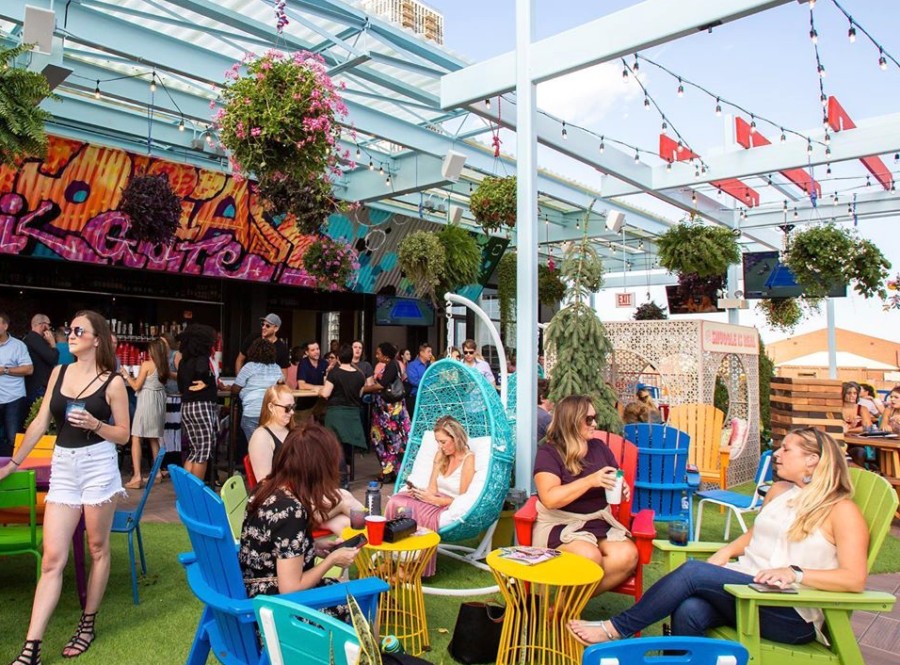 J Parker at Hotel Lincoln: The lakefront might still be closed, but you can catch a glimpse of it from the J Parker rooftop — plus sweeping views of Lincoln Park.
Frasca Pizzeria: The patio at Frasca Pizzeria is now open and taking reservations via phone. Patio dining will be open weekday evenings and all day during the weekends for brunch.
Wood: In Boystown, Wood has opened their intimate, covered patio to enjoy their award-winning, seasonal cuisine. Seating is first come first served.
West Town Bakery & Diner: This casual spot is now open bright and early everyday for outdoor patio dining with a revamped food menu. You can also stop inside for counter service coffee, pastries, and grab-and-go sandwiches.
Beatrix: The Fulton Market, Streeterville, and River North locations has opened limited patio seating as well as select indoor window seating. Patio seating will be first come, first served. Reservations will be required for the indoor window seating at the Fulton Market location and can be made via Tock.
I|O Godfrey and Brunch Room at The Godfrey Hotel: The I|O Godfrey rooftop bar and lounge is now open, along with the Brunch Room patio on the hotel's first level. Both spots will offer similar menus to reduce kitchen and dining room staff.
VU Rooftop Lounge: Kick back and relax at this rooftop lounge in the South Loop. The refined spot is opening both their outdoor spaces with a revamped food and drink program. Menus can be viewed through QR codes posted on each table.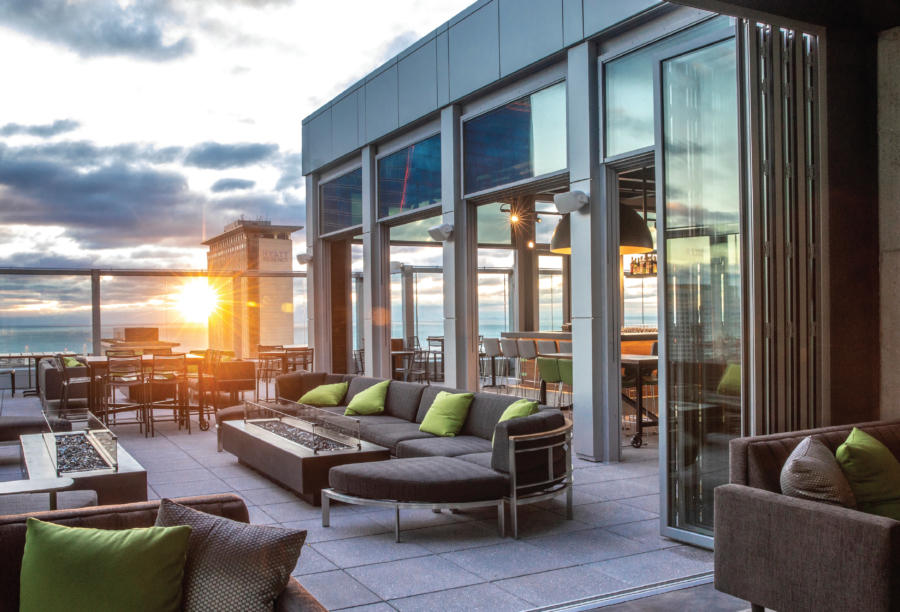 La Vaca Margarita Bar: This spacious patio is now open in Pilsen. Enjoy Mexican classics and flavored margaritas in the sunshine or late into the night.
Duck Duck Goat: Get your fix of Stephanie Izard's "reasonably authentic" Chinese cuisine. Reserve a spot on the patio, where they're serving a family-style prix fixe menu.
The Loyalist: Near Restaurant Row, The Loyalist is debuting their new patio space and a recently revamped menu of casual French offerings. Don't worry, you can still order the Dirty Burg.
Gibsons Bar & Steakhouse: In the Gold Coast, Gibsons has opened their sidewalk patio for reservations. All visits will be limited to two hours. Credit card, debit card or gift card payments only. 
Drew's on Halsted: The patio is now open at Drew's on Halsted for all-day dining, including brunch, dinner, and happy hour. Reservations required.
Tuco & Blondie: Patio reservations are now open at Tuco and Blondie, the casual taco spot on Southport. Call the restaurant to reserve your spot.
Cabana Club and Up Room at The Robey: Both rooftop locations are open to hotel guests and the general public. Guests can scan QR codes on each table to view the menus, and all tables are situated 6 feet apart. Both spots will have temporary limited capacity.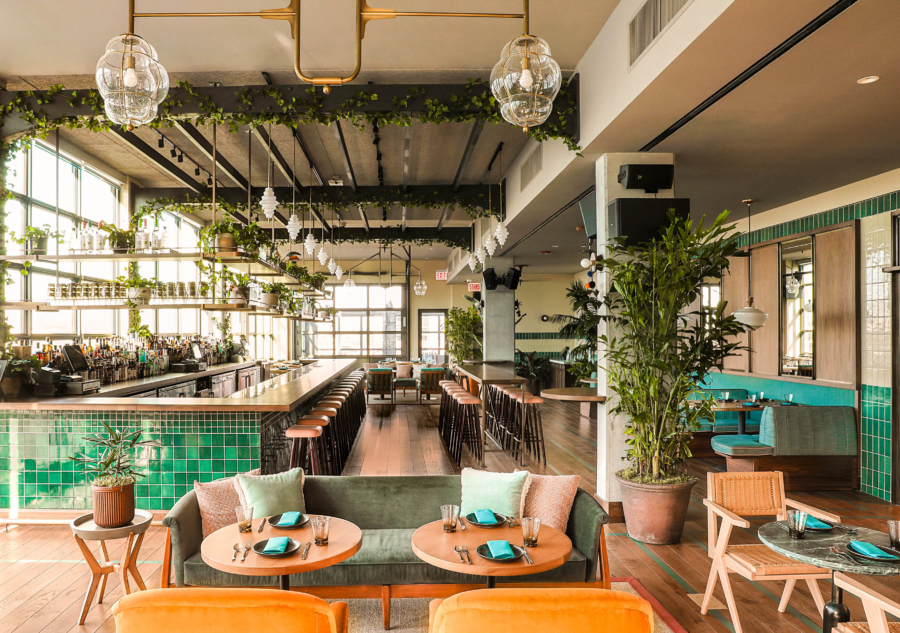 Cabra: This Peruvian spot atop The Hoxton, helmed by Stephanie Izard, has been a hit since the minute it opened last year. See what all the buzz is about — rooftop reservations are now live.
Nico Osteria: Enjoy Italian-inspired seafood on the patio in a casual-yet-refined setting at Nico Osteria in Gold Coast. Reservations are now open.
Cruz Blanca: In the West Loop, the Cruz Blanca patio will be open all day. Tables are available on a first come, first serve basis. They'll continue serving tacos and housemade beer for pickup and delivery.
Xoco and Frontera Grill: These neighboring Mexican restaurants from Rick Bayless have reopened their River North patios.
Crosby's Kitchen: The patio at Crosby's Kitchen in Southport is now open. Weekend brunch is also being offered this Saturday and Sunday. Call the restaurant for reservations.
Find more open patios and rooftops all around Chicago.
Shared streets with outdoor dining
The city has introduced a new, temporary program that closes certain blocks to car traffic and allows local restaurants to expand their outdoor seating into the streets. Note that some street closures are only in effect from Friday through Sunday and specific dining hours may vary.
Andersonville: West Balmoral Street, both sides of North Clark Street
Chatham: East 75th Avenue from South Calumet Avenue to South Indiana Avenue
Chinatown: South Archer Avenue from South Wentworth Avenue to South Princeton Avenue
East Lakeview: Broadway from Diversey to Belmont
Edison Park: North Oliphant Avenue from Northwest Highway to the first alley
Gold Coast: North Rush Street from East Oak Street to East Cedar Street, Bellevue from State to the first alley east of Rush Street, Division Street from Dearborn to State
Lincoln Park: North Lincoln Avenue from West Fullerton Avenue to West Wrightwood Avenue
Lincoln Square: Lincoln Avenue between Wrightwood and Fullerton
Little Italy: West Taylor Street from South Loomis Street to South Ashland Avenue; Laflin Street from the alley north of Taylor to the alley south of Taylor
Lower West Side: South Oakley from West 24th Street to West 24 Place
West Lakeview: West Cornelia, from Southport east to the alley and Wellington from Southport west to the alley.
West Loop: West Randolph Street service lanes from Expressway to North Elizabeth Street