Chicago's West Loop neighborhood is known for many things — being the location of the iconic United Center (home of the Chicago Blackhawks and Chicago Bulls), a former center of the city's meatpacking industry, and, most of all, a thriving culinary destination that attracts chefs and foodies from around the world.
The neighborhood is home to some of the city's most acclaimed restaurants, from sleek steakhouses to moody speakeasies to authentic international cuisine. With award-winning bars and eateries around every corner, it can be hard to narrow down your options. Here are just a few of the acclaimed restaurants you'll find in Chicago's bustling West Loop neighborhood.
Greektown restaurants in Chicago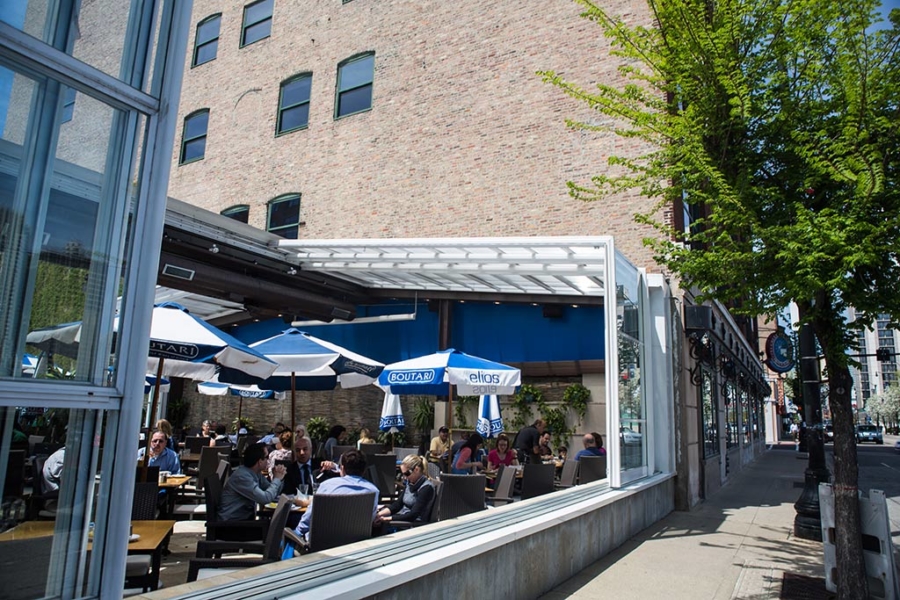 Chicago's Greektown neighborhood, the birthplace of saganaki, is home to the annual Greek Independence Day parade, the Taste of Greektown food festival, the National Hellenic Museum — and, of course, some of the city's best Greek restaurants.
Greek Islands: A West Loop staple since 1971, this classic restaurant bills itself as "the most popular Greek restaurant in America."
Zeus Restaurant: A casual spot to grab gyros, pita sandwiches, and other American and Greek comfort food.
Athena Greek Restaurant: With an airy feel and a sunny patio, Athena is always a lovely spot to enjoy traditional Greek dishes.
9 Muses Bar & Grill: This lively bar and grill has been serving typical Greek fare for more than 30 years.
Mr. Greek Gyros: Grab an authentic gyro and fries whenever the craving strikes at this 24-hour counter-service joint.
Artopolis Bakery, Cafe, and Agora: Browse the extensive selection of traditional baked goods, like the signature artopitas, at this Mediterranean bakery and cafe.
Fulton Market restaurants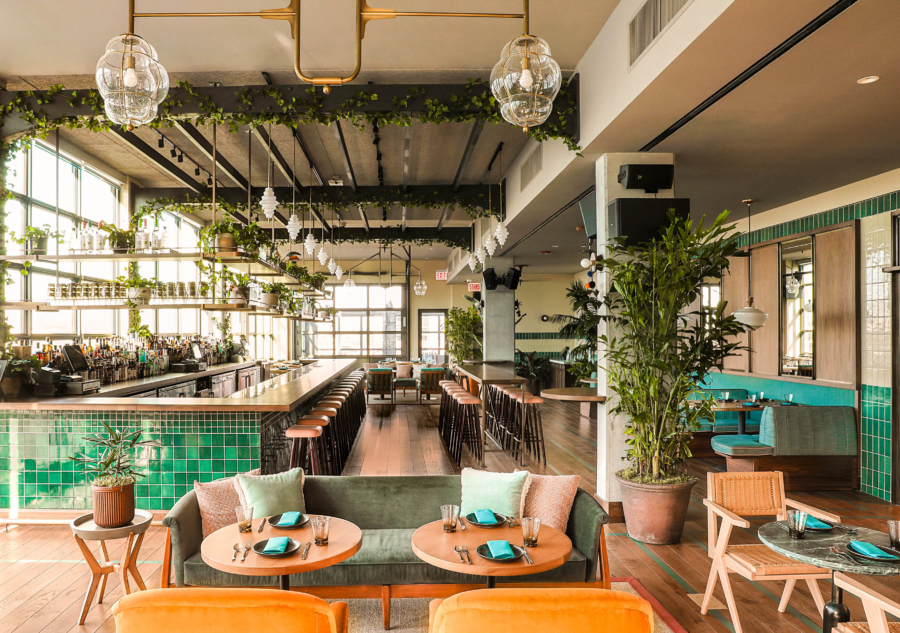 Once home to warehouses and wholesalers, the Fulton Market area was a core part of Chicago's meatpacking industry. Today, the neighborhood has exploded with trendy restaurants that have converted the historic warehouses into one of the city's hippest dining destinations.
Komo: Expect playful dishes inspired by modern and traditional Japanese cooking, with a focus on seasonal ingredients.
Tabu: This ultra-Instagrammable spot features vibrant colors, a Pan-Latin-inspired menu, and a large collection of tequilas and mezcals.
Lyra: A sprawling space serving Greek favorites made with local ingredients and cooked over a wood and charcoal burning hearth.
RAMEN-SAN Whisky Bar: This late-night noodle joint is the perfect spot for big bowls of ramen, sake bombs, and '90s hip-hop.
Time Out Market: Sample some of the best bites in town at this massive food hall, featuring favorite chefs and restaurants from all over the city.
Rose Mary: A Top Chef winner brings Italian-Croatian cuisine to Fulton Market, with carefully crafted dishes and a light and airy atmosphere.
Gaijin: The first okonomiyaki restaurant in Chicago, this authentic spot has perfected the art of the savory Japanese pancake.
Boqueria: A lively Barcelona-inspired tapas bar that serves Spanish classics from small bites to shareable paellas.
Cira: This all-day restaurant and café in the lobby of The Hoxton has a casual Mediterranean menu and a lively cocktail bar.
Cabra: On the rooftop of The Hoxton, this popular spot from a Top Chef alum features elevated takes on Peruvian cuisine and stunning city views.
Aba: This trendy hot spot is known for its lush, plant-filled space and refined menu of Mediterranean favorites.
Momotaro: Renowned chef Gene Kato helms this acclaimed Japanese restaurant, with an izakaya-inspired speakeasy in the basement.
Bar Takito: A colorful spot for Mexican/Latin American favorites, including freshly squeezed margaritas and creative tacos.
BLVD Steakhouse: Have a night on the town at this classic American steakhouse, with a touch of Old Hollywood glam and a sophisticated vibe.
Beatrix: With an emphasis on fresh and healthful fare, Beatrix is a go-to for casual brunch, lunch, and dinner.
Duck Duck Goat: Enjoy "reasonably authentic" Chinese fare, including weekend dim sum, in this elaborately decorated space.
The Publican: The eclectic farmhouse menu is centered around oysters, pork, and local ingredients in this beer hall-inspired space.
Saigon Sisters: A long-time favorite, Saigon Sisters has been serving classic Vietnamese dishes in the neighborhood since 2009.
Carnivale: A one-of-a-kind experience, this vibrant Latin American restaurant offers a menu of flavorful fusion alongside live music, dance, and more.
Randolph Street restaurants (Restaurant Row)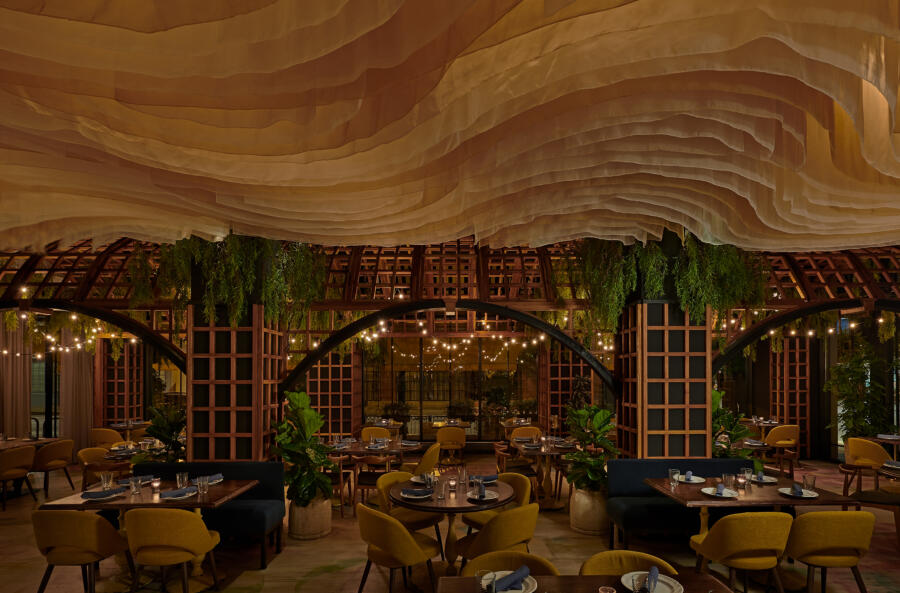 An iconic Chicago culinary destination, this stretch of Randolph Street in the West Loop has become known as "Restaurant Row". The area around this dynamic street is lined with an endless array of award-winning restaurants, cool bars, hidden speakeasies, and more.
Trivoli Tavern: A favorite for both dinner and happy hour, this semi-hidden tavern is known for its classic, moody vibes.
Lena Brava: A hip and modern spot for Baja-style cuisine, with dishes coming out hot from the live wood-burning fire.
Alla Vita: A stunning space, a curated wine list, and refined Italian dishes are the main draws to hot spot Alla Vita.
TenGoku Aburiya: This authentic izakaya is led by a Michelin-starred chef serving up sushi and Japanese gastropub fare.
HIDE+SEEK: Enjoy creative and shareable plates of American dishes, with influence from France, Spain, and Italy, in rustic elegant surroundings.
Riccardo Osteria: A classic Italian osteria serving up a friendly atmosphere and a menu of regionally inspired dishes.
La Josie: An upscale-casual Mexican restaurant with award-winning cuisine, an agave-focused bar program, and a seasonal rooftop.
ROOH: Feast on beautifully composed dishes that feature the traditional flavors of India, blending different regional specialties with modern techniques.
Haymarket Pub & Brewery: A long-time staple on Restaurant Row, this brewpub serves made-from-scratch food and house-made beers.
Proxi: Take an international journey at this globally inspired restaurant, with a menu of small plates pulling inspiration from the world's most culinary-rich corners.
Avec: A culinary icon in Chicago, avec is a wine bar and Mediterranean restaurant known for its intimate space and communal seating.
Sushi Dokku: This modern sushi restaurant serves creative rolls upstairs and craft cocktails downstairs in their hidden basement bar.
Bar Siena: A bustling bar and restaurant with an Italian-inspired menu, plus a walk-up window serving gelato and bomboloni.
Girl & The Goat: The culinary home of celebrity chef Stephanie Izard, this innovative restaurant is still one of the hottest tables in town.
Formento's: Enjoy hearty Italian dishes in a rustic-chic setting, or grab a sandwich to-go from Nonna's market next door.
City Winery: A live music venue, restaurant, and winery all in one, this unique venue hosts concerts, wine tastings, winery tours, and more.
Restaurants near United Center/Union Park
Whether you're cheering on the Chicago Blackhawks or the Chicago Bulls at the United Center or checking out a music festival like Pitchfork in Union Park, you're going to need some sustenance. Here are a few of the West Loop restaurants within walking distance.
Sinha Elegant Cuisine: Enjoy traditional Brazilian cuisine, including the popular lunch buffet, inside a gorgeous converted home.
SoJu BBQ: Along with a variety of soju drinks, SoJu BBQ serves modern Korean dishes including creative street food, barbecue, bibimbap, and more.
Ranalli's: A crowd-pleasing spot for pizza and good times, Ranalli's is a neighborhood favorite with a dog-friendly summertime patio.
Billy Goat Inn: Try a classic "cheezborger" at the West Loop outpost of this famous Chicago burger spot.
The Ogden: Catering to the pre- and post-game crowds, this sports bar focuses on gourmet pub fare and craft brews.
Gyu Kaku Japanese BBQ: Grill your own premium meat and seafood, while sipping sakes and cold beers, at this popular Japanese barbecue spot.