The Chicago Riverwalk is one of the city's most beautiful outdoor spaces, where you can find public art, boat tours, kayak rentals, and open green spaces. It's also home to some of Chicago's most scenic restaurants. You'll find everything from scoops of gelato to artisanal cheeseboard to locally brewed cider and beyond.
If you're looking for waterfront dining with a view, look no further than these Chicago Riverwalk restaurants, bars, and cafes.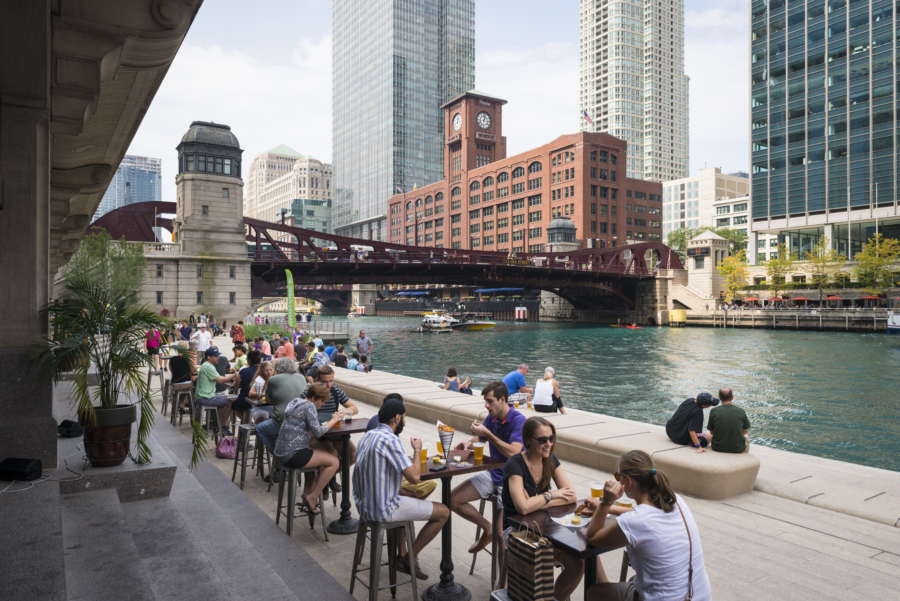 City Winery
This seasonal wine garden has it all — wine on tap, artisanal cheese plates, beer, cocktails, a full menu, and sweeping views of the Chicago River. Sip on a glass of Riverwalk white or dig into indulgent entrees like lobster mac and cheese. This is also where you'll find the mega-popular City Winery dome — climate-controlled igloos that let you dine riverside no matter the weather.
City Winery at the Chicago Riverwalk is open from mid-March through late-November.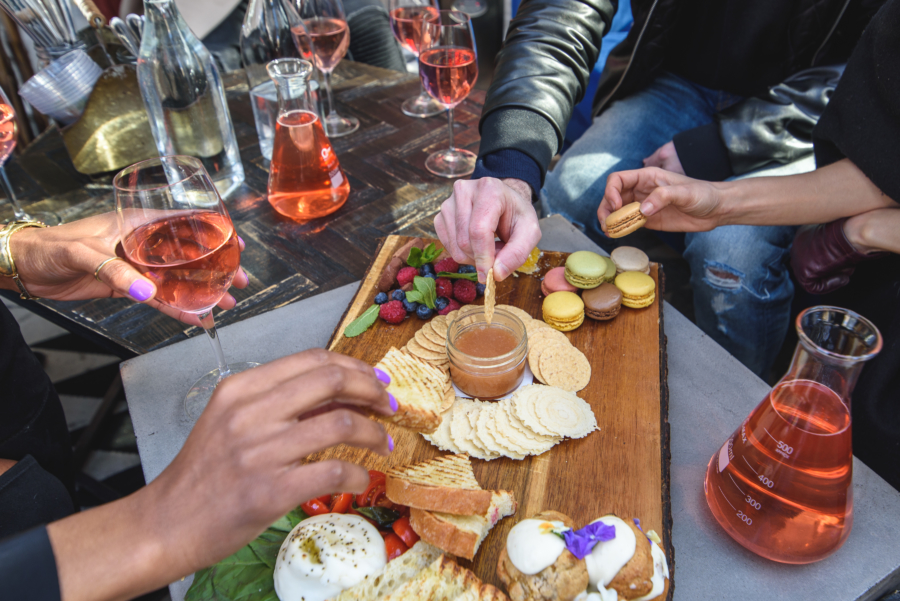 Sweet Home Gelato
Got a sweet tooth? This small stand serves up hand-crafted gelato along the Chicago Riverwalk  in the warmer months. Choose from a rotating array flavors of freshly made gelatos and sorbets, like amaretto, chai tea, Nutella, panna cotta, and more. They also serve baked treats, shakes and floats, and coffee.
Sweet Home Gelato opens in early May.
Chicago Brewhouse
Chicago Brewhouse is a waterfront restaurant and bar that celebrate Chicago's thriving craft beer industry. They exclusively serve locally made beers, including options from Dovetail, Forbidden Root, Goose Island, Revolution, Half Acre, Begyle, and more. The food menu includes dishes inspired by the city's global neighborhoods, like the Devon Ave chicken tikka masala and the Pilsen street tacos.
Chicago Brewhouse is open from May through October.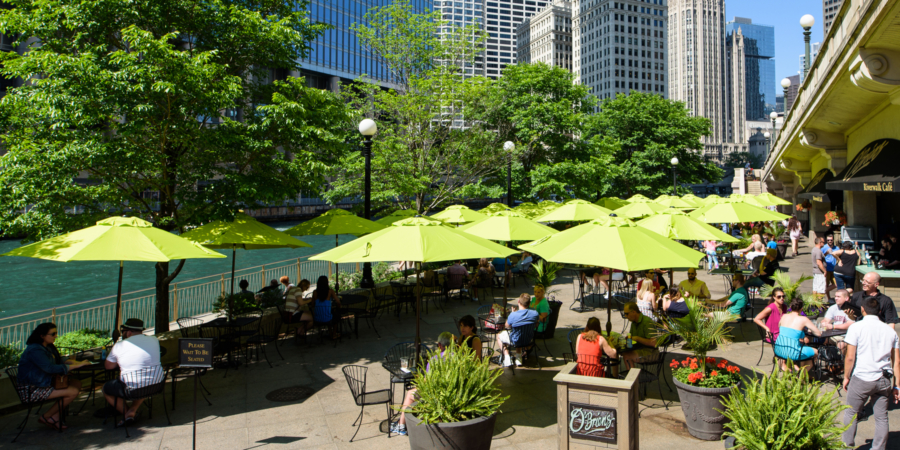 O'Briens Riverwalk Café
The historic O'Briens tavern in Old Town is no longer, but the name lives on at this sun-soaked Riverwalk patio. The menu is filled with classic American fare with a hint of Ireland — choose from corned beef sandwiches, hot dogs, cobb salads, burgers, and more. The drink menu includes wine by the glass and bottle, domestic and imported beer, and a selection of cocktails.
O'Briens Riverwalk Café is open April through October.
Beat Kitchen on the Riverwalk
This new addition to the Chicago Riverwalk is an outpost of a popular music venue and restaurant in Roscoe Village. Located under the Michigan Avenue Bridge, Beat Kitchen on the Riverwalk serves carefully crafted food with fresh ingredients, including inventive tacos, thin-crust pizza, mac and cheese, as well as vegan and gluten-free options. The space also features the only full-service bar along the Riverwalk.
Beat Kitchen on the Riverwalk opens in mid-March.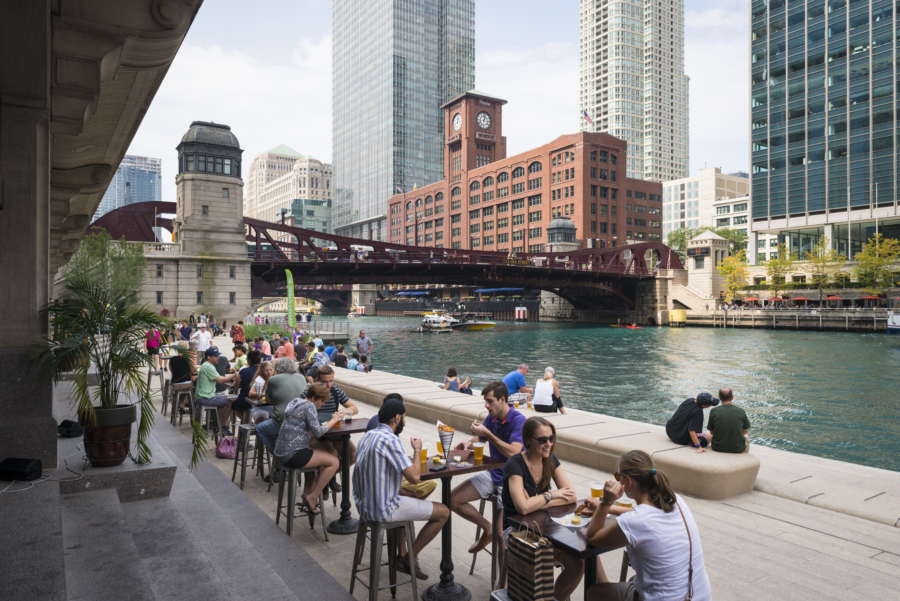 Tiny Tapp & Café
This waterfront spot is a relaxed cafe and eatery, with a large selection of beers "on tapp". The menu at Tiny Tapp includes appetizers, burgers, and sandwiches, with tempting selections like street corn nachos, BBQ pulled chicken, and a Chicago style hot dog. The drink offerings include classic and frozen cocktails, wines, and plenty of local beer and cider. The café area serves locally roasted coffee and baked goods.
Tiny Tapp & Café opens mid-March.
The Northman Beer & Cider Garden
The Northman Beer & Cider Garden brings the feel of a traditional European beer garden to stunning riverfront. Grab a spot at one of the communal picnic tables and order some Euro-inspired favorites, like döner sausage, hummus, baked camembert, warm pretzels, and more. The real focus is on the cider, with a selection of fruit-forward options from all over the country — including the Northman's own brew, a perfectly balanced cider from a blend of Michigan heirloom apples.
The Northman Beer & Cider Garden opens each spring.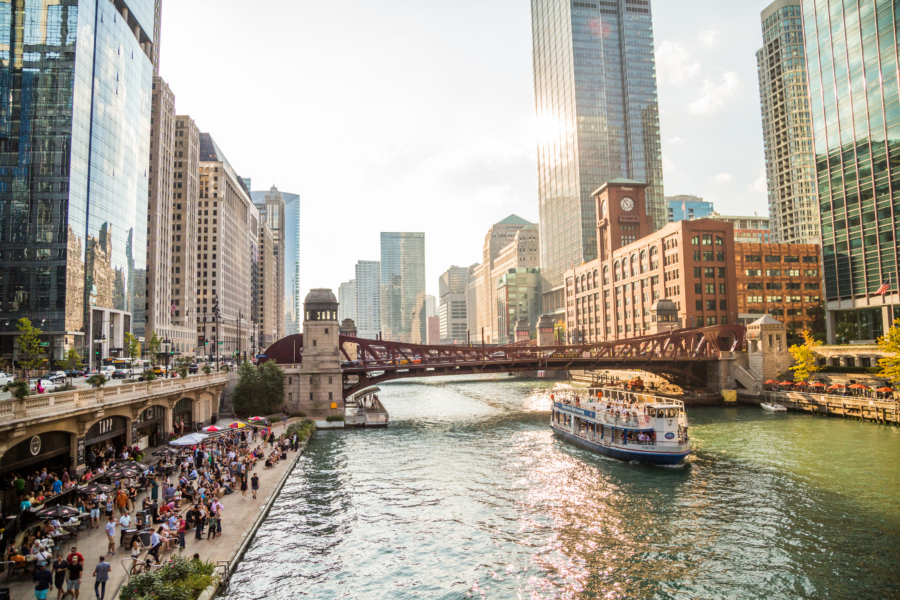 Island Party Hut Tiki Bar & Grill
Come party at this tiki-style getaway, tucked away on the east side of the Riverwalk. The tropical-themed bar and grill has multiple bars serving up frozen cocktails and island-inspired drinks that will transport you to the tropics. The menu includes plenty of favorites right off the grill, like slow smoked pulled pork, a Big Kahuna Burger, and brats. They're also fully stocked with group games, like ping pong, corn hole, jumbo Jenga, giant connect four, and more.
Island Party Hut Tiki Bar and Grill opens in May.
Community Marketplace
The Community Marketplace on the Chicago Riverwalk is a space to promote small local businesses and give Riverwalk visitors a taste of Chicago's diverse neighborhoods. The rotating array of vendors includes restaurants, boutiques, specialty shops, and more. Past vendors include Neighborly, an ethically sourced home, art, and gift boutique; Batter & Berries, a mega-popular brunch spot in Lincoln Park; Justice of the Pies, a bakery that specializes in sweet and savory pies; ad Chiya Chai, a unique chai-focused café.
Community Marketplace opens in May.