Chicago is home to a melting pot of Asian cultures, from one of the oldest Chinese communities in the country to a vibrant mix of Indian and Pakistani culture in West Ridge. These diverse neighborhoods showcase Asian culture through their unique museums, stunning public art, and family-owned restaurants passed down through generations.
Here's your guide to experiencing Asian art, cuisine, and history throughout Chicago.
Chicago's Chinatown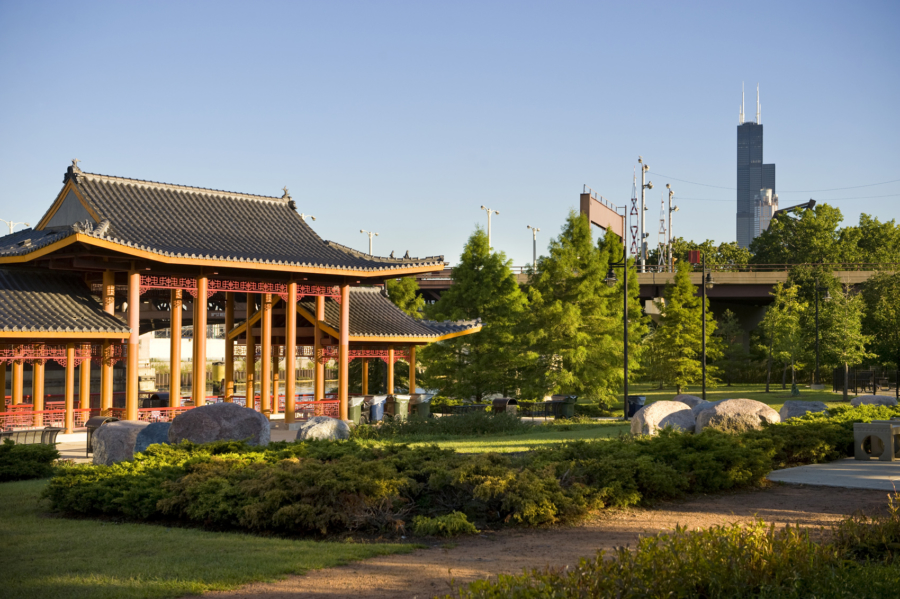 This historic neighborhood is a thriving hub for Chinese culture and community in Chicago. The area, centered around Cermak and Wentworth Avenues, was developed more than a century ago and has grown into one of the largest Chinatowns in the country. The streets are packed with ornate decoration and art, bakeries, restaurant, independent shops, and so much more.
Get your noodle fix at Strings Ramen Shop or chow down on authentic Cantonese cooking (including great dim sum) at MingHin Cuisine. Grab a bagful of old-school Chinese pastries at Chiu Quon, the oldest bakery in the neighborhood, for a picnic in scenic Ping Tom Memorial Park.
Get a dose of some culture at the area's museums and galleries. The Heritage Museum of Asian Art houses both ancient and modern pieces from across China, including jade, pottery, porcelain, textiles, bronze, and more. And The ART Gallery showcases Asian contemporary art through modern paintings infused with traditional styles.
Devon Avenue and beyond
In the West Ridge neighborhood, you'll find a stretch of Devon Avenue that's made a name for itself as "the most diverse street in America." While locally known as "Little India", the area is a vibrant blend of multiple Asian cultures, with Pakistani, Chinese, and Middle Eastern influences. You'll find bakeries making traditional treats, international grocers stocked with hard-to-find ingredients, and authentic restaurants serving up their own take on local delicacies.
For Indian fare, stop by Hema's Kitchen for classic dishes and a casual atmosphere. Or sample Indian-Pakistani fusion at Sabri Nihari, a Michelin Bib Gourmand recipient. Satisfy your sweet tooth at local favorite Pak Sweets, where you'll find classic sweet and savory baked goods.
A bit further north, the Uptown neighborhood is home to a bustling Little Vietnam district, centered around West Argyle Street and North Broadway Avenue. Chicagoans love Pho Viet, where you can dig into steaming bowls of pho, hot pot, congee, and more. Or explore the Argyle Night Market, where you can sample food from local restaurants and catch live performances each week throughout the summer.
Lunar New Year in Chicago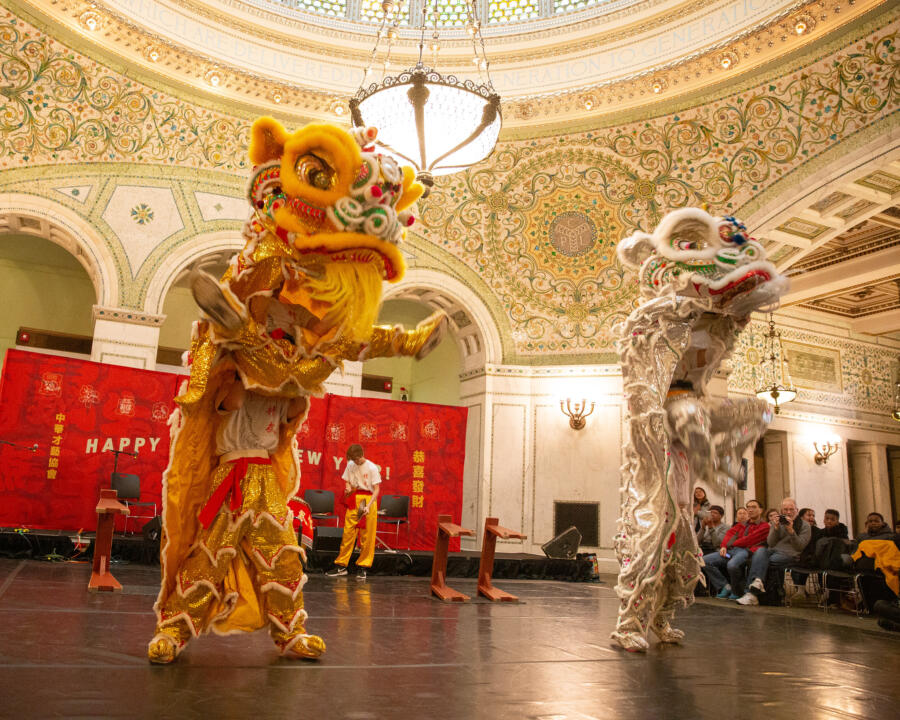 Chicago goes all out for Lunar New Year. There are lively celebrations throughout the city each February, but much of the fanfare is concentrated around Chinatown and Uptown. That's where you'll find the city's two Lunar New Year parades, that fill the streets with traditional lion and dragon dances, live music, colorful floats, and more. You'll also find events all across Chicago, including cultural celebrations, lantern processions, culinary events, free celebrations, concerts, and more.
Asian-inspired public art and parks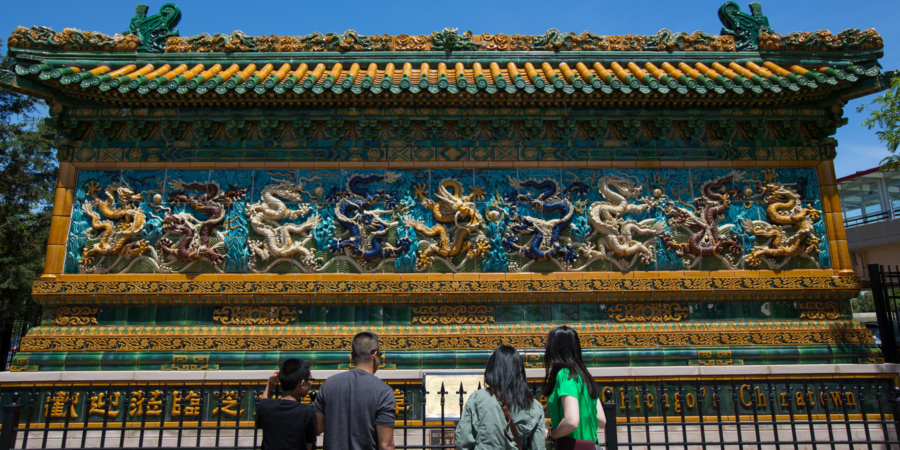 Modeled after Beijing's famous wall in Beihai Park, The Nine Dragon Wall depicts nine large dragons and hundreds of smaller ones painted in traditional red, blue, and gold. It's one of only three replicas outside of China and a well-known landmark in Chicago's Chinatown neighborhood.
Chinatown Square is where you'll find an incredible collection of Chinese Zodiac animals sculptures and a tile mosaic that contains 100,000 individually cut pieces of hand-painted glass from China.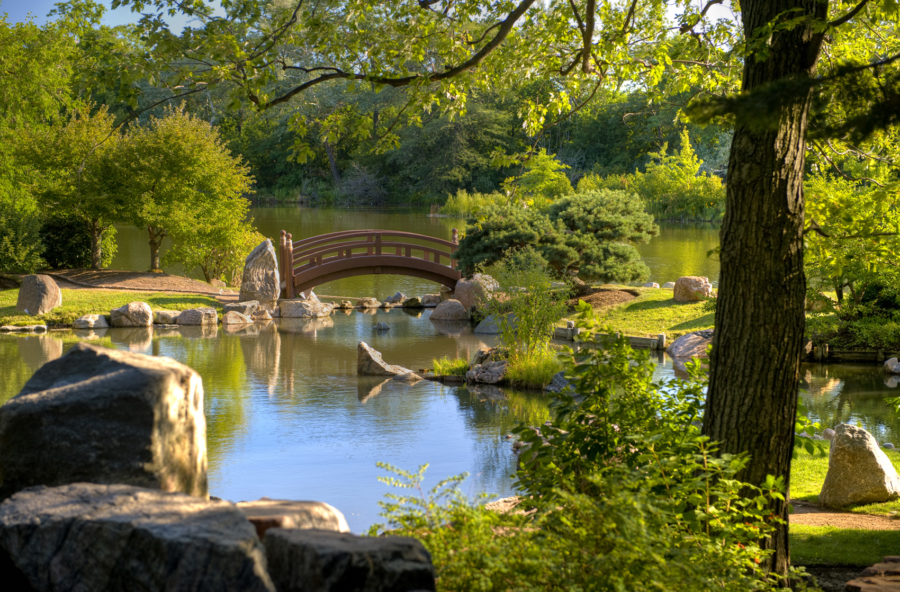 Garden of the Phoenix, one of the most picturesque spots in Chicago, is nestled within Jackson Park in the Hyde Park neighborhood. It's a calming retreat from the bustling city and features remarkable Japanese-inspired landscaping. The garden marks the spot where Japan's Phoenix Pavilion once stood during the Chicago World's Fair in 1893.
In Chinatown, Ping Tom Memorial Park has developed a reputation as one of Chicago's most peaceful green spaces. It features river and skyline views, kayak rentals, and a trademark pagoda-style pavilion. You can also catch the Water Taxi here, for a fun ride to or from the Loop.
Discover Asian culture in Chicago
The Chinese American Museum of Chicago has a long-held mission of promoting the culture and history of Chinese Americans in Chicago and beyond. Their permanent exhibit Great Wall to Great Lakes tells the story of Chinese immigration to the Midwest through first-hand stories. They also host events, like community workshops, screenings, and talks.
The Cambodian American Heritage Museum is dedicated to preserving Cambodian culture, as well as acting as a resource for Cambodian refugees and immigrants in the Chicago area. The exhibits are vivid and immersive, showcasing traditions and history that have been kept alive through centuries of hardship. It also covers ancient and modern history, the refugee experience, and more.