---
Why we love it
Edgewater literally hugs the water's edge, with miles of beaches, green spaces, and stunning views over Lake Michigan. This historic neighborhood is a haven for artists, foodies, and theatre lovers. The combination of a rich history combined with cultural assets and convenient public transit makes it a unique hidden gem in the city.
Explore like a local
Insider tips
Find a new treasure: Some of Chicago's best antique, vintage, and resale shopping can be found throughout Edgewater. Browse for hours at Broadway Antique Market, the city's largest and oldest antique store. Then head over to Andy's Art, Antique & Oddities on Devon Avenue, Brownstone Antiques on Clark Street, and Green Element Resale on Broadway for a fun-filled day of antiquing.
Go on a culinary adventure: From classic diners to cuisines from across the globe, Edgewater is known for its wealth of creative and culturally diverse restaurants that give foodies a world of options.
Edgewater Tacos serves up some of the best Mexican food inspired by family recipes. For more than 20 years, Ethiopian Diamond has been cooking authentic Ethiopian food simmered low and slow for hours. Make a quick trip to Sicily via Sfera Sicilian Street Food or travel to Jamaica by way of Aunty Joy's Jerk & Pizza. And Brasserie by C&C offers seasonal French fare with locally sourced ingredients.
Take center stage: Edgewater is lauded for its storefront theatre district, home to more than twenty theatre companies where you'll find innovative productions in intimate, immersive venues. Babes with Blades Theatre Company is elevating the voices of women with its combat themes, while Invictus Theatre Company and Raven Theatre are producing multiple sold-out, Jeff-nominated shows every season.
Chicago Greeter: free guided tours
Taste, shop and explore the neighborhoods with a friendly local as your guide. Explore rich histories, diverse cultural traditions and hidden treasures. See sides of the city you may not have adventured out to on your own, and take away a truly authentic Chicago experience. Greeter visits are customized based on your choice of neighborhoods, language and interests.
Request a tour with a Chicago Greeter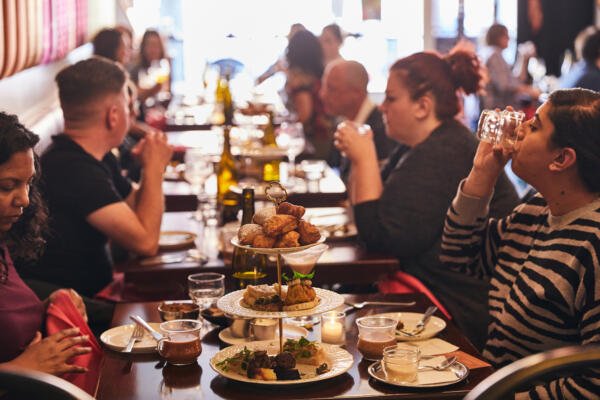 When it comes to laid-back neighborhoods in Chicago, Edgewater takes the crown. But don't let its chill vibe fool you — this charming district is…