Chinatown is one of the most unique neighborhoods in Chicago. Easy to get to from downtown, the tight-knit community has been at this current location since 1912. Today, Chicago's Chinatown comprises 30 blocks, 27,000 residents, and more than 400 businesses.
Walking down the colorful streets filled with bilingual signs, you'll understand why it's called a "town" because it will transport you to a small city in China without having to travel thousands of miles. Now, let's spend a day living like the locals in Chicago's Chinatown. Make sure to bring your appetite
Authentic baked goods for breakfast
Equivalent to the coffee shops of other neighborhoods, Chinatown residents wake up to Hong Kong milk tea and breakfast pastries. Try a BBQ bun or ham and egg bun at Chiu Quon Bakery on Wentworth. The long-standing local favorite opens at 7 a.m. If you stop by Chinatown Square on Archer, the busy Saint Anna Bakery has you covered with savory buns and egg tarts.
Local landmarks and history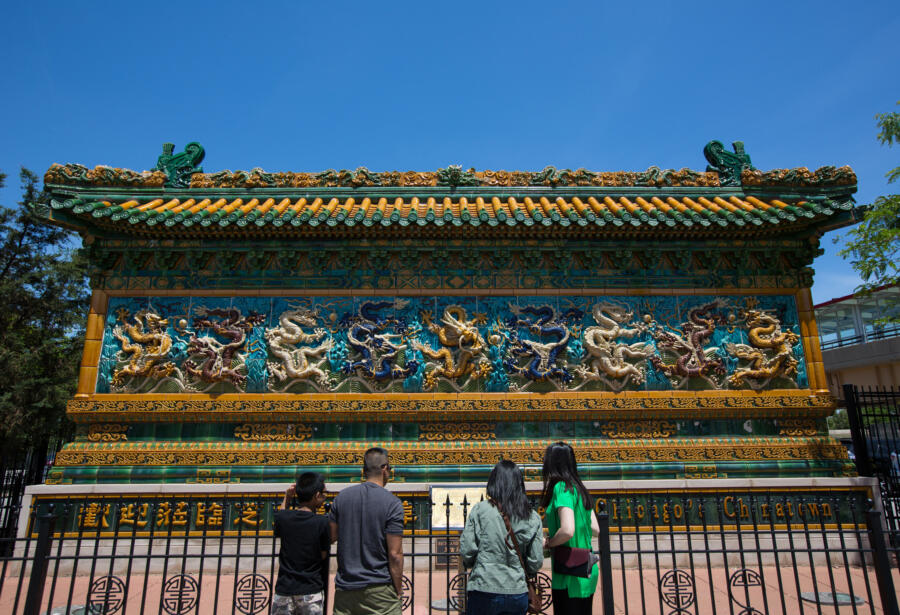 The historical landmark Pui Tak Center (formerly On-Leong Merchants Association building) is a great photo op for everybody who visits. The magnificent building is known for its distinctly Chinese architecture, like the pagoda-style entrance and ornate roof, and used to be called "Chinatown City Hall". Today, the building is a community center and social services hub.
You shouldn't miss the Nine Dragon Wall on Cermak Road, near the Red Line and the entrance to Chinatown. Dragons are a central figure in ancient Chinese folklore, and the number nine is important in Chinese astrology. The jewel-toned artwork showcase nine awe-inspiring dragons and more than 500 smaller ones. Also, don't miss finding your zodiac sign amongst the statues in Chinatown Square.
A traditional dim sum lunch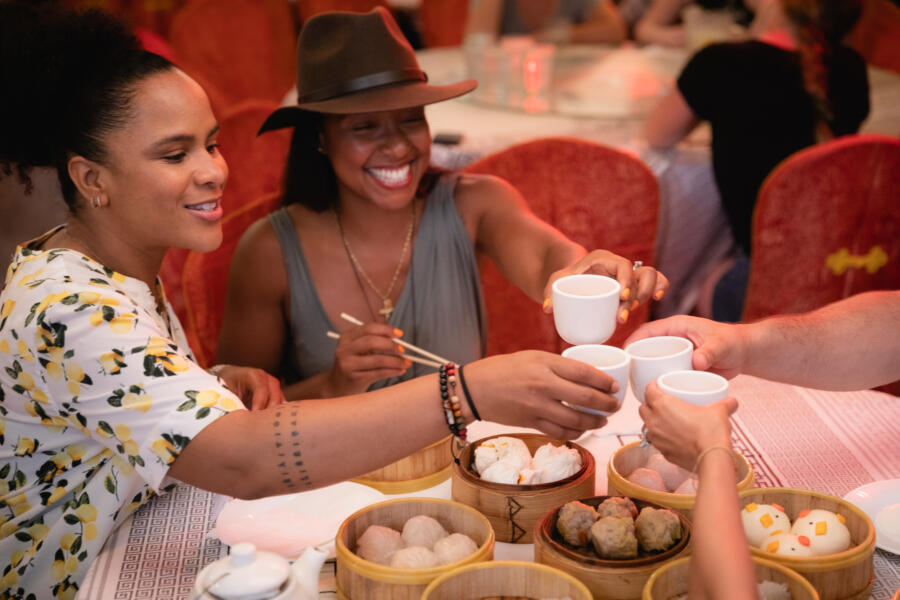 The most popular brunch option in Chinatown is definitely dim sum. The Cantonese cuisine features a wide selection small plate of dumplings, savory bites, and congee. Some call dim sum the "Chinese tapas", whereas I would call tapas the "Spanish dim sum". Ming Hin, Phoenix, Cai, and Triple Crown are some of the best bets in Chinatown for a delicious dim sum meal.
A trending foodie destination that's a couple of minutes away from Chinatown is the new food court at 88 Market Place, the largest Asian grocery store in Chicago. From sushi to Korean noodles, from BBQ to dim sum, you'll find something to your taste.
Skyline views at Ping Tom Park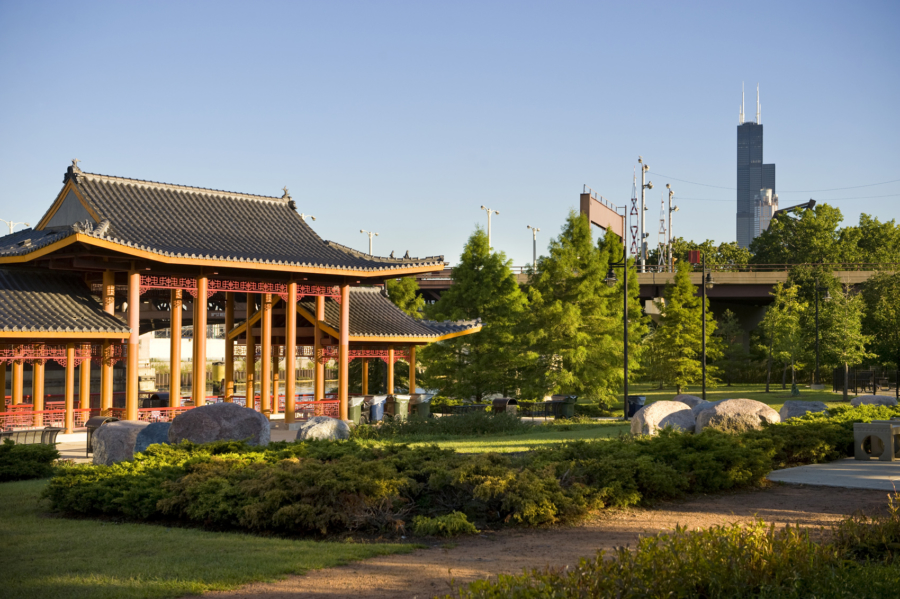 Spend the afternoon exploring Ping Tom Memorial Park, a beautiful public green space by the Chicago River. The Chinese Dragon Poles, the Pavilion, the murals that depicts ancient Chinese paintings, and the red zigzag bridge all are great reminders of the rich heritage of this community. It's also a great location for a panoramic view of the downtown skyline. In the summer months, you can catch the Water Taxi here for an easy and scenic ride to and from downtown.
Hotpot, bubble tea, and beyond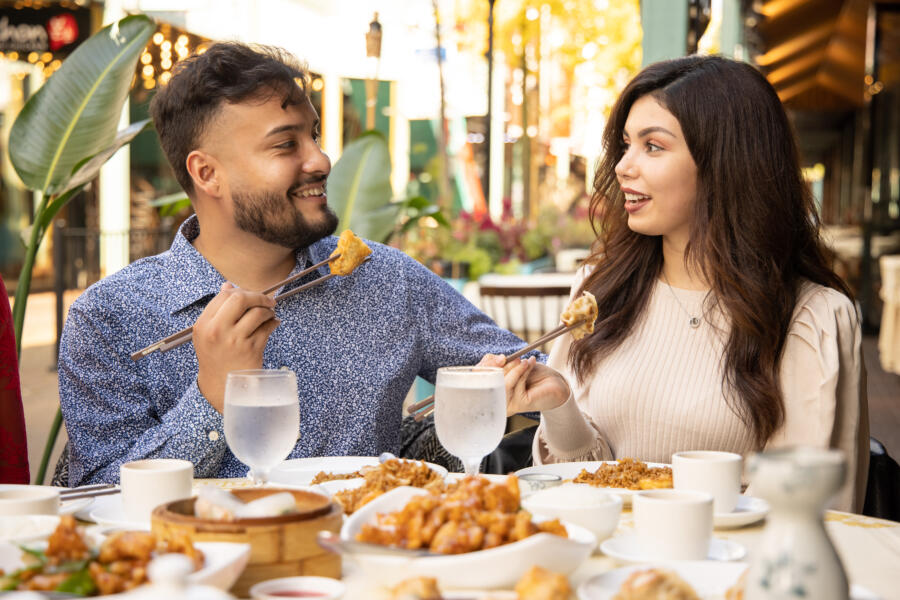 Time for dinner in Chinatown. Where should we start? There are so many great food choices and you won't be disappointed at any of them.
If you're a fan of spicy food, definitely check out Lao Sze Chuan in Chinatown Square. If you are looking for authentic Chinese soup dumplings, try out family-owned Hing Kee Restaurant. And if you love pan-Asian fusion, you have to try the very popular Joy Yee Restaurant. They're also the restaurant that made bubble tea a staple in Chicago. Finally, if you're vegetarian, the new Veggie House in Chinatown Square serves some great vegetarian options.
Another popular dish in Chinatown is Szechuan hotpot. Try Qiao Lin Hotpot or Lao Jiu Men. The fondue-like dish is a hot soup base that's used to cook a variety of thinly sliced meats, along with an array of dipping sauce that you can customize yourself. The family-style meal will warm the heart of everybody at the table.
For dessert, try sesame balls from Chinese bakeries or if you're adventurous, check Meet Freshfor some Chinese sweet soup, grass jelly, and taro balls for desserts. You won't regret it.
So much to eat, so little time. But wait, we're not done yet. If you're looking for a late night snack, you could stop by Ken Kee or Chi Café. Both are Hong Kong style cafeterias that are open late. Nothing is more comforting than a bowl of warm soup noodles after a long day spent exploring.