One of the best times to experience summer in Chicago is the Fourth of July. The whole city takes on a festive vibe and it's the perfect excuse to spend the whole weekend enjoying everything Chicago has to offer. Explore river and lake cruises, fireworks, festivals, waterfront adventures, and more things to do in Chicago during the Fourth of July.
See the spectacular fireworks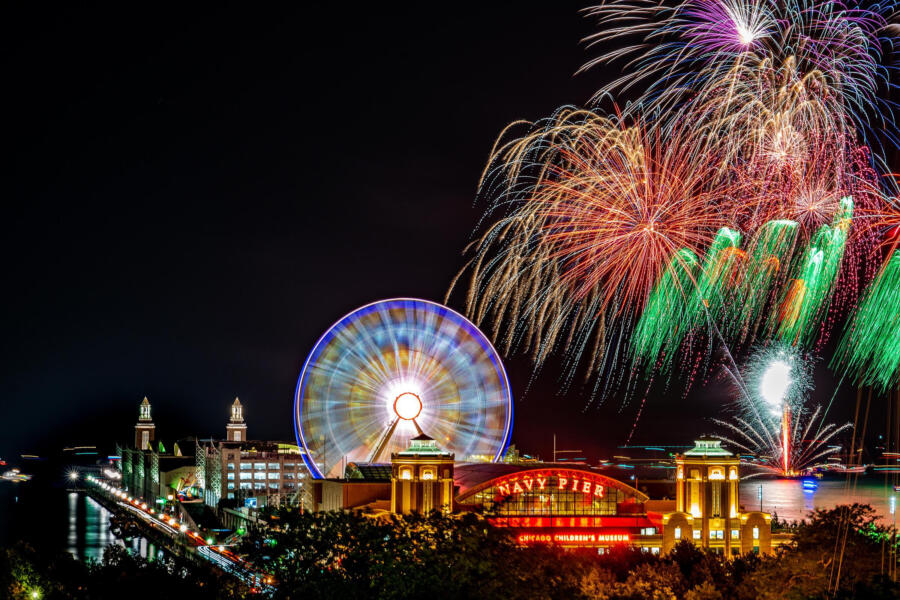 Head to the lake to catch the waterfront fireworks display during the Fourth of July weekend in Chicago. Navy Pier, an iconic Chicago destination, will be putting on the show on Saturday, July 1 as part of their free summer fireworks series.
You can catch the display from Navy Pier or along the nearby lakefront, including beaches, rooftop bars, and parks. You can also hop on one of the many boat cruises offering a front-row seat to the action.
Attend the NASCAR Street Race Weekend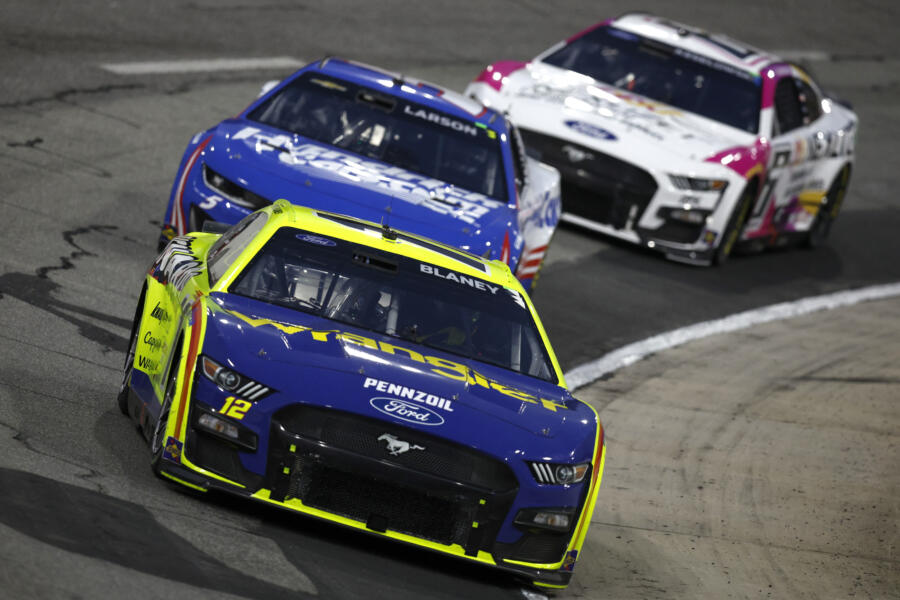 This Fourth of July weekend, don't miss a historic racing event coming to Chicago's scenic lakefront. For the first time ever, the sights, sounds, and speed of NASCAR are heading to the streets during NASCAR Chicago Street Race Weekend on July 1 and 2. The event will also include live music from top artists like The Chainsmokers, Miranda Lambert, and more. 
Take a Fourth of July boat cruise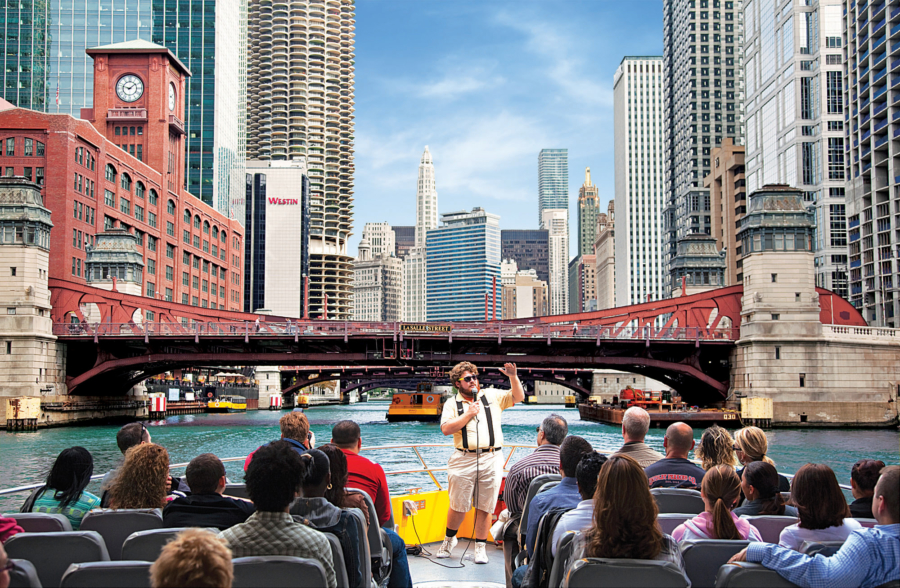 Nothing says "holiday weekend" like a leisurely boat cruise. In Chicago, you can gaze up at skyscrapers on the river or admire the skyline from the blue waters of Lake Michigan. Whether you're looking to learn a little history or drink and dance the night away, there's a Chicago cruise for you this Fourth of July.
Explore more Chicago boat cruises on the lake and river.
Explore the Chicago Riverwalk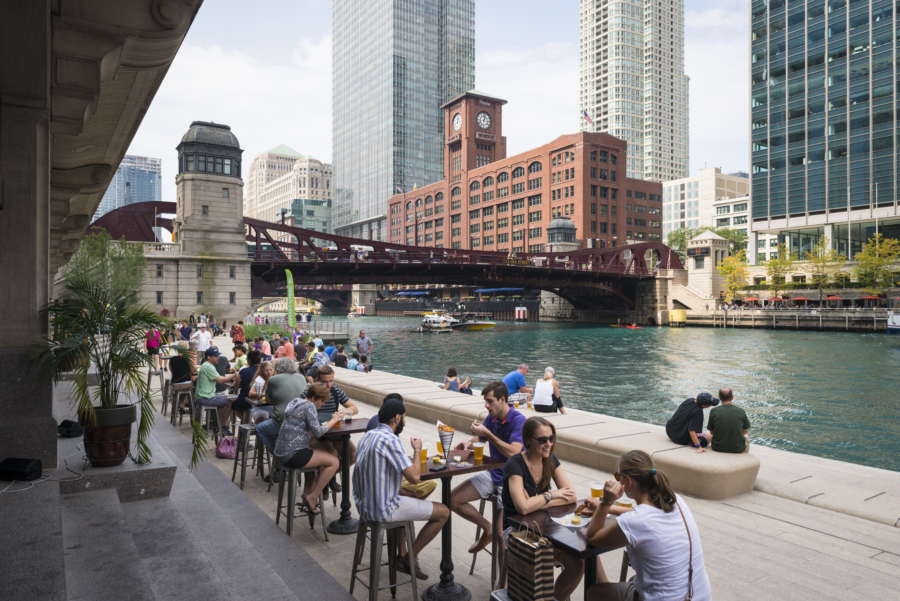 Where else can you find an urban canyon filled with delicious food, cocktails, public art, architecture, and stunning views? The Chicago Riverwalk is one of the city's top destinations, whether you're looking for an unforgettable meal or a scenic stroll. Check out the waterfront restaurants and bars, and come back after dark for Art on theMART, the world's largest video art projection.
Go to the beach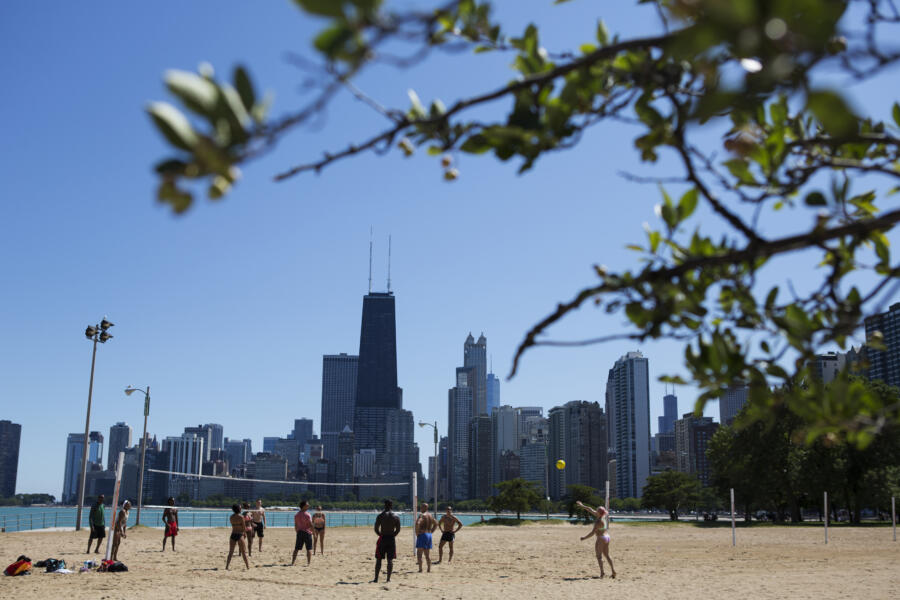 It's a long weekend, so make sure to save some time to kick back and relax on one of Chicago's scenic beaches. There are more than two dozen free public beaches along the city's sandy shoreline. Grab some friends and play a round of beach volleyball, get a tropical drink at a waterfront bar, or just hang out in the sand and enjoy the city views.
And there's no shortage of ways to enjoy the vast waters of Lake Michigan. You can rent a variety of equipment right on the beach at 31st Street Harbor, including jet skis, kayaks, and paddleboards. There are also banana boat rides, paddleboard yoga, water jetpacks, and more. Plus, the skyline view from the lake is spectacular.
Catch a baseball game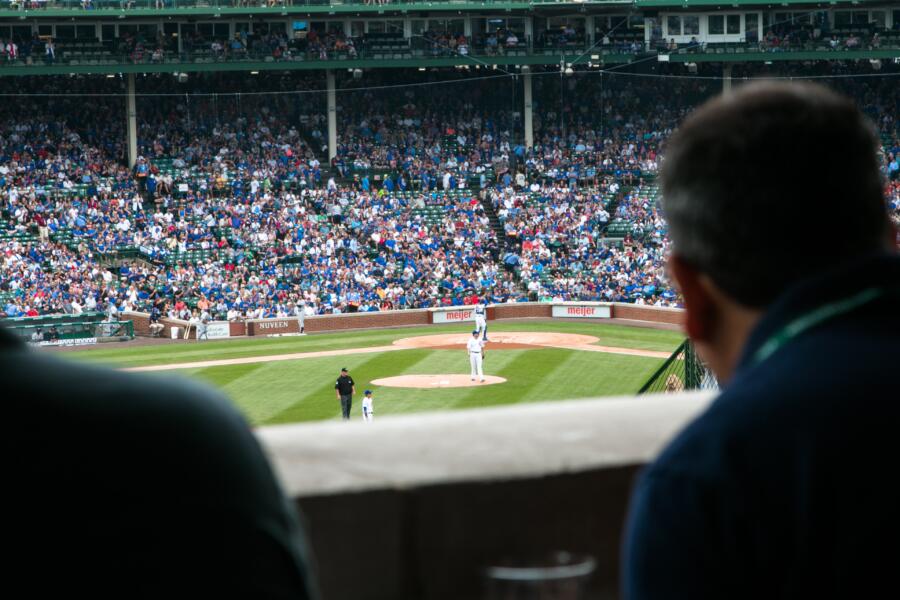 There's no better place to spend a summer afternoon than the ballpark. Chicago's iconic Chicago Cubs will play two home games over the holiday weekend at Wrigley Field on July 1 – 2. Their ballpark is one of the oldest and most iconic stadiums in the country — definitely a bucket list experience for any baseball fan. Afterward, spend some time exploring lively Wrigleyville.
Kayak the river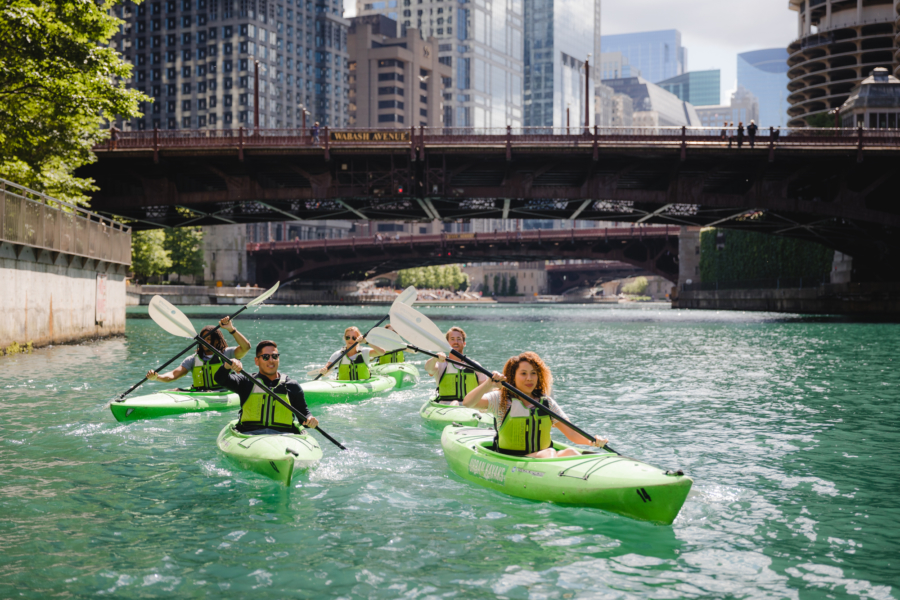 The Chicago River is buzzing with activity during the summer. Rent a kayak with Urban Kayaks and paddle through the heart of the city, past the bustling Riverwalk and some of the city's most iconic buildings. You can also join a guided tour that explores the Chicago River and Lake Michigan shoreline.
Explore Navy Pier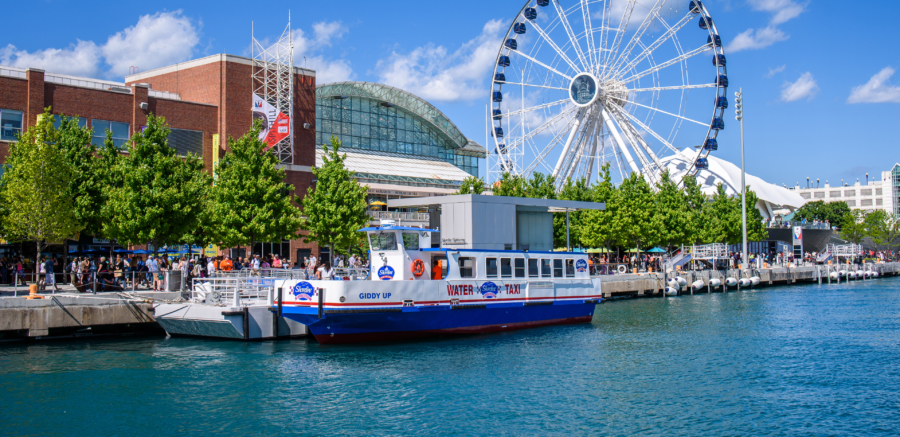 One of the city's most popular attractions is Navy Pier, a lakefront oasis with something for everyone. Check out things to do at Navy Pier:
Visit a patio or rooftop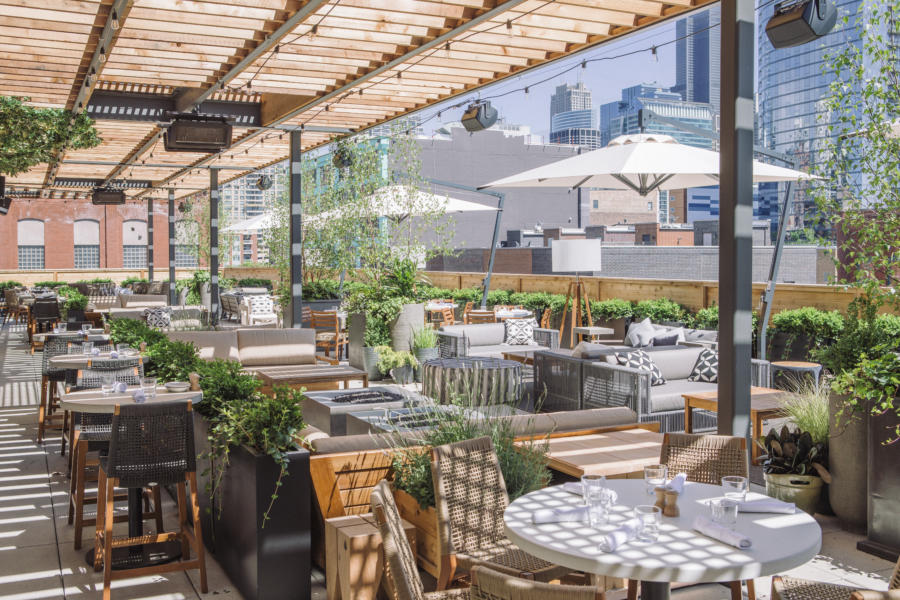 Chicago's many patios and rooftops offer acclaimed food and drink with a side of killer views. Enjoy cocktails with sweeping river views at LH Rooftop, fun vibes and table games at Utopian Tailgate, street tacos and pitchers of margaritas at Big Star, and cozy vibes and top-notch cuisine at The Duck Inn. Explore Chicago restaurants with some of the best outdoor seating.
Walk or bike the lakefront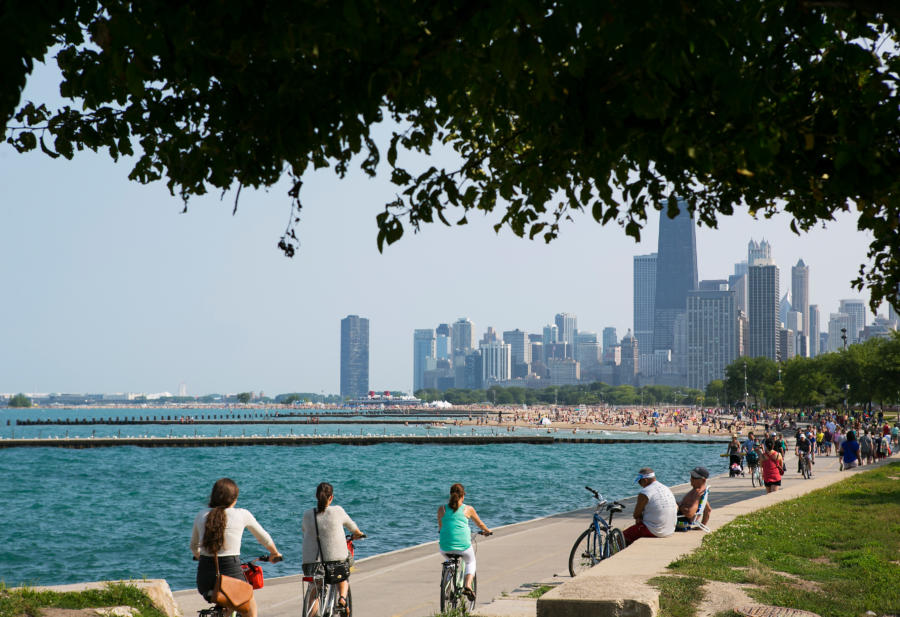 Chicago's gorgeous Lakefront Trail stretches almost 20 miles along Lake Michigan, offering stunning skyline views and connecting you to an array of sandy beaches and unique neighborhoods. Go for a scenic stroll, or rent a bike and pedal your way around.
Rent a boat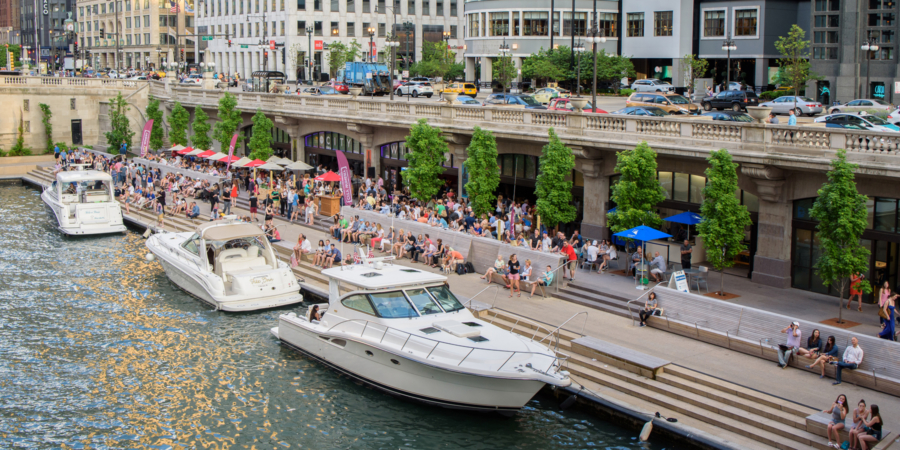 Be captain for a day with your very own boat rental. Charter a private yacht with Free Spirit Yacht Cruises for a luxurious Fourth of July experience. Island Party Boats offers boat rentals that include a captain, booze, and even a waterslide. Or cruise along the river in an affordable and eco-friendly electric boat from Chicago Electric Boat Company.