Beer lovers, mark your calendar for the biggest week of the year. Illinois Craft Beer Week features hundreds of events showcasing Chicago's vibrant craft brew scene, including beer festivals, tap takeovers, beer tastings, brewery events, and meet-the-brewer events.
Illinois Craft Beer Week is held every year in May. The week kicks off with Beer Under Glass at Garfield Park Conservatory.
See the full schedule of events at Illinois Craft Beer Week.
2019 featured events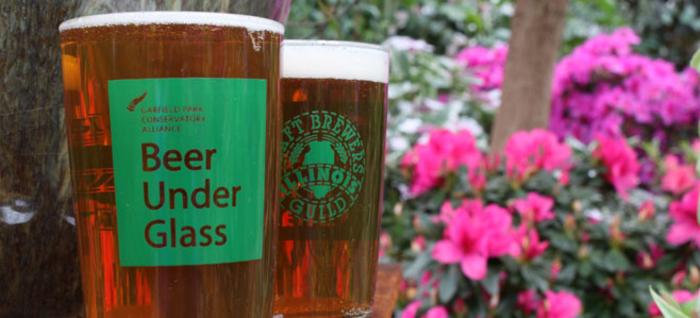 Beer Under Glass
The official kick off event for Illinois Craft Beer Week, Beer Under Glass is the perfect opportunity to welcome the beautiful spring weather and sip some exciting new brews. The tasting festival featuring more than 100 local breweries amid the lush greenery at the Garfield Park Conservatory.
Craft Beer Week events in Chicago
Brew Cruise with Shoreline Sightseeing 
Celebrate Illinois Craft Beer Week with Shoreline Sightseeing as they kick off their Brew Cruise season on May 17. This special Brew Cruise will feature craft beers from Revolution Brewing, Right Bee Cider, and Hopewell Brewing. The evening will include beer samplings of carefully created craft beers and ciders, light appetizer pairings, lively DJ entertainment, and a 90-minute Chicago River cruise complete with spectacular views.
Battle of the Breweries
Come watch Illinois breweries battle it out for charity. This annual dodgeball competition on May 11 features 36 Illinois breweries going head to head at the Goose Island Barrel House (603 N. Sacramento Blvd.), with 100% of proceeds going toward the Illinois Craft Brewers Guild. Tickets are $25 and includes six beer tokens, including specialty beers from Goose Island's Bourbon Country series. Food will be available to purchase from Bub City, Coastline, Fat Shallot, and Tamale Spaceship.
Tasting and beer pairings at Band of Bohemia
Come check out the world's first Michelin-starred brewpub, right here in Chicago! Order a tasting menu and get the beers that pair with each course complimentary. Offer runs throughout beer week, May 10th through the 17th. Reservations recommended, walk-ins are welcome.
Three Legged Tacos residency at Begyle Brewing
Three Legged Tacos is back at Begyle for another residency, for an entire week, with a brand new menu. Score discounted pints of Begyle flagship beers: $5 Begyle Blonde $5 Free Bird $6 Hophazardly $4 Flannel Pajamas and a Strawberry Shortcake 2018 Barrel-Aged Imperial Pajamas variant. Variants are limited and only available while they last.
Rainbow Connection
Two local breweries are coming together to celebrate Original Rainbow Cone's 93rd birthday. The Rainbow Connection, a collaboration craft beer flight featuring two beers from Horse Thief Hollow Brewing Co. and two from Open Outcry. This exclusive beer flight will be available for a limited time only, with a special release party at both breweries on Wednesday, May 15.
Women in Beer: Knock Down the House 
Come check out a free screening of 'Knock Down the House' which follows the incredible stories of four women who decide to run for office against all odds. The screening kicks off Goose Island's Women in Beer series, featuring monthly workshops celebrating women in and around beer, arts, politics, music and culture.
3rd Annual Neipa Tap takeover
Every year, Forbidden Roots gathers some of the best hazy IPA producers at their brewpub during Illinois Craft Beer Week for a tap takeover of epic proportions. This year, they're starting the party an hour earlier for max hop overload. In addition to big haze, they'll debut a brand new recipe and two collaborations made just for the occasion.
New beer release – HomeGrown Series
Celebrate Craft Beer Week at Lagunitas Brewing Co., where they'll be tapping a new Chicago born beer. These HomeGrown ales are brewed for the local community, with local ingredients.