Carnivores, rejoice! Known as a meat-packing town at the turn of the century, Chicago still knows our way around a hunk of beef. Here's the heads up on where to chow down on some of the city's top gourmet burgers.
Au Cheval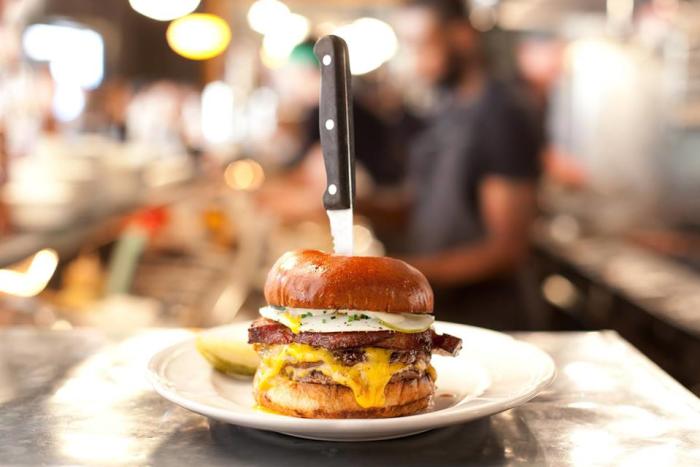 Considered by many to be the gold standard in Chicago burgers, Au Cheval draws locals and visitors willing to brave the crowds for their famed burger. And it's worth the wait. The single cheeseburger (which is actually a double) can be topped with thick-cut bacon and a fried egg. Trust us, you'll want to get both.
If you're in a hurry, you can get your fix (without the wait) at Small Cheval. You'll find a slightly scaled down version of the beloved burger, plus fries and boozy milkshakes, at three fast-casual locations throughout the city. 800 W. Randolph St., West Loop
The Loyalist

The burger at this downstairs hot spot was named one of the country's best burgers by Bon Appetit magazine. And it lives up to the hype. The Loyalist burger is made with short rib, chuck, and ground bacon patty is topped with housemade pickles, American cheese, onions, and onion-infused mayo. It comes with fries, to help mop up anything that might have fallen out of your burger. 177 N. Ada St., West Loop
The Bad Apple

Great beef and great beers give this hangout a top ranking. You get only the best from The Bad Apple, which uses strictly all-natural ingredients. Go simple (The Bad Apple Burger with lettuce, tomato, onion, pickle, provolone), go spicy (The Slow Burn with sautéed spicy chilies) or go crazy (Elvis' Last Supper with bacon and peanut butter) — but just be sure to go! 4300 N. Lincoln Ave., North Center
Butcher & the Burger
On a charming stretch of Lincoln Park, this 30-seat counter service eatery is a modern spin on the old-fashioned butcher shop. Their patties are made with naturally raised heritage breed pork, goats, and steer from nearby Barrington Hills, Illinois. The mix-and-match toppings (i.e. Sonora Desert Chili spices, whole wheat buns, Benton's Tennessee Mountain Smoked Bacon) will please everyone. (Bonus: the Butcher & the Burger is BYOB) 1021 W. Armitage Ave., Lincoln Park
The Burger Point
Just south of the Loop near McCormick Place, The Burger Point is committed to using only the best meat in their burgers. That means all natural, hormone, antibiotic, and preservative free. They're known for their insane stuffed burgers, like The Capone — a grass-fed burger stuffed with fresh mozzarella, basil, and grape tomatoes, then topped with fried basil, over-roasted tomatoes, and a balsamic reduction. 1900 S. State St., South Loop
DMK Burger Bar
With seven patty options (grass-fed beef or bison, naturally-raised turkey or Colorado lamb, crispy Portobello, housemade veggie, or even fresh salmon) at DMK Burger Bar, there's something to try every day of the week. Build those out with a bevy of toppings and buns (like waffles or portobello mushrooms) and you've got a year's worth of eating options. 2954 N. Sheffield Ave., Lakeview
Kuma's Corner

Thee burgers are not for the faint of heart. Served up with a side of heavy metal culture, the famed burgers have piles of creative toppings and names like Black Sabbath, Led Zeppelin, and Metallica. Despite their hard-core persona, the do-gooders at Kuma's Corner source from local farms, give back to community charities each month and support up-and-coming Chicago musicians. 2900 W. Belmont Ave. Avondale and 852 W. Fulton Market, West Loop
Harry Caray's 7th Inning Stretch
Named for the beloved Chicago Cubs announcer, this laidback, family-friendly spot is home to one of the city's favorite burgers. The Holy Cow! burger (a favorite catchphrase of Harry Caray) features an all-beef burger topped with candied applewood smoked bacon, smoked gouda, lettuce, tomato, and Harry's steak sauce on a soft brioche bun. Water Tower Place, 835 N. Michigan Ave., The Magnificent Mile
Other burger options: Great gourmet burgers are not limited to burger joints. Restaurants known to offer a stellar standout on their menu include the world-famous "cheezborger" at Billy Goat Tavern near The Magnificent Mile; Chicago Cut Steakhouse near downtown; Mott Street in Wicker Park; and Burger Bar in the South Loop.