Plan your trip around the city's biggest foodie events like Taste of Chicago in July and Chicago Gourmet in September. And don't miss the culinary delights in the city's unique neighborhoods, which host food-centric street festivals nearly every weekend in the warm weather months.
Headline events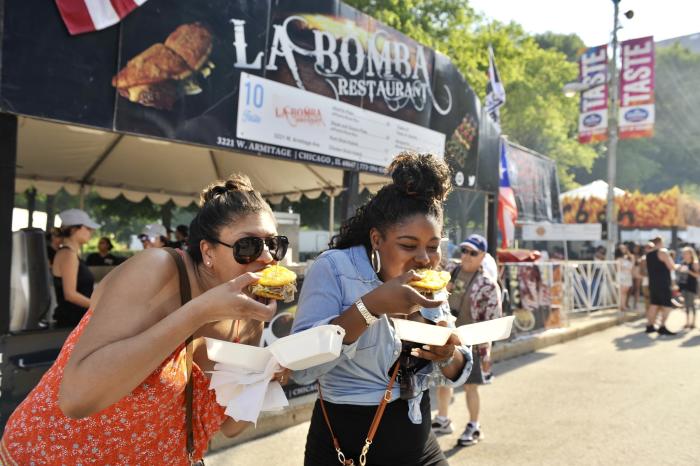 Chicago Gourmet
This five-star culinary event is the quintessential fine-dining festival. Chicago Gourmet celebrates great food and wine, showcasing more than 150 of the finest restaurants in the city. The fest is set in Millennium Park, surrounded by the stunning downtown skyline, where visitors mix and mingle with top chefs, TV food personalities, master sommeliers, and winemakers. Millennium Park, Loop
Taste of Chicago
Chicago's biggest food festival and one of the largest outdoor food events in the country, Taste of Chicago is an epic five-day eating extravaganza in the city's downtown. Dozens of local restaurants set up shop in lakefront Grant Park, along with rotating pop-up restaurants, local food trucks, and live chef demos. And don't miss the free concerts featuring big-name acts at the Petrillo Music Shell. Grant Park, Loop
Windy City Smokeout
Expect the hottest country stars and a whole lotta smoked meat at Chicago's annual Windy City Smokeout. This rockin' summer event does three things extremely well: barbecue, country music, and craft beer. In fact, Rolling Stone commented that this event shines "a light on the next generation of Nashville heavyweights," while Forbes called it, "one of the best BBQ events anywhere." United Center parking lot, 1901 W. Madison St., West Loop
International food festivals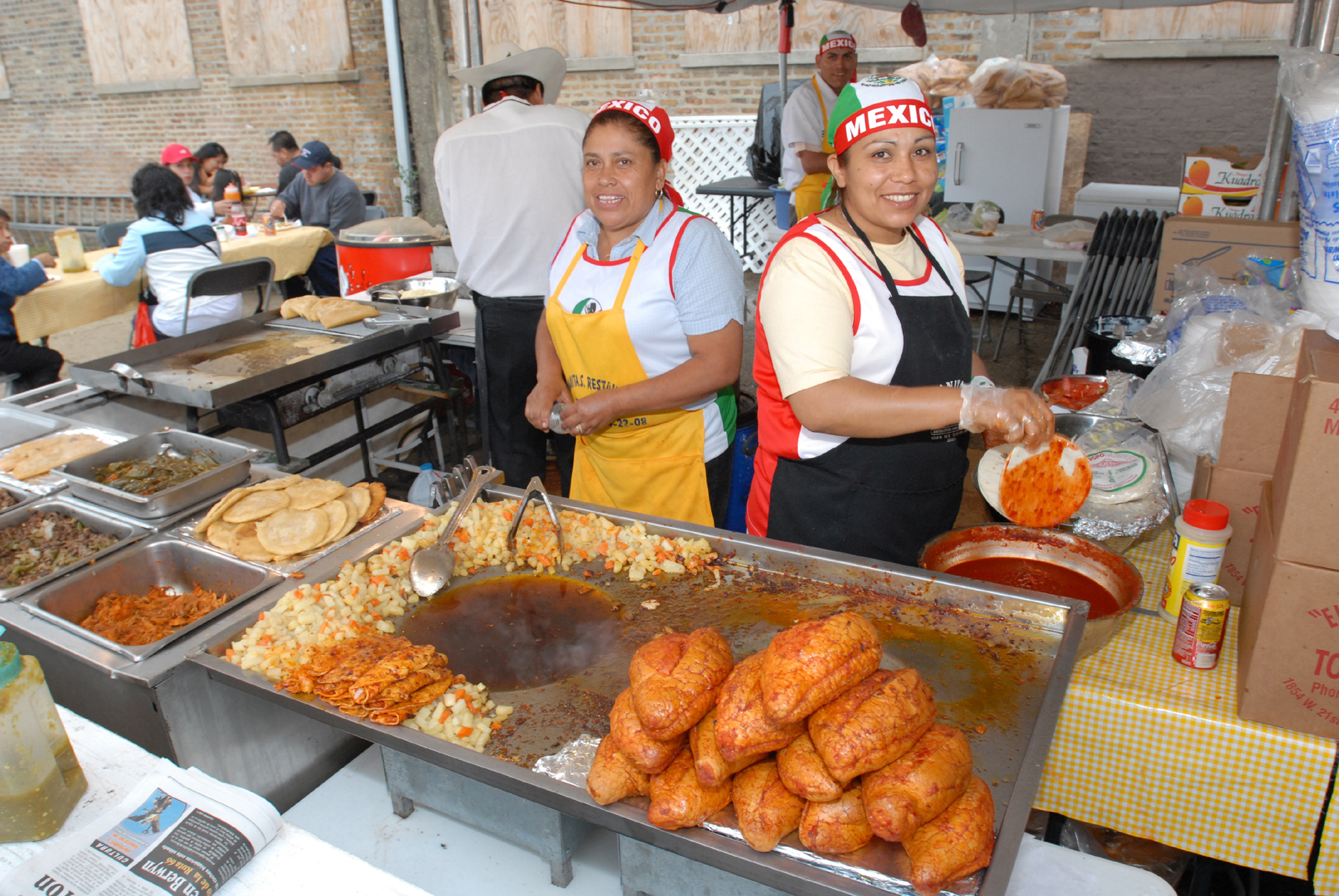 Mole de Mayo
The annual Mole de Mayo in Chicago's historic Pilsen neighborhood put a spotlight on this traditional Mexican staple. This outdoor fest also features a number of the city's finest food vendors, and an open-air market brimming with the wares of local businesses and artisans. Take a break from eating and watch a 'professional' wrestling exhibition at the lucha libre wrestling ring while you're there. 18th Street & Ashland Avenue, Pilsen
Lincoln Park Greek Fest
You don't have to travel all the way to the Mediterranean to find authentic Hellenic cuisine. Experience live music, dance performances, and authentic dishes — like zippy hummus, tasty gyros, and baklava galore — at the annual Lincoln Park Greek Fest. Opa! Sheffield between Diversey & Schubert, Lincoln Park
Taste of Little Village: Flavors of Mexico
This annual fest brings the best of Chicago's Mexican cuisine into the streets of Little Village. At Taste of Little Village: Flavors of Mexico, walk through rows of local vendors selling tacos, flautas, tamales, tortas, and so much more. Stick around for the live bands, carnival rides, and arts and crafts vendors. 26th & Sacramento, Little Village
Lincoln Square Greek Fest
Expect plenty of "philoxenia" (Greek hospitality and generosity of spirit) at the family-friendly Lincoln Square Greek Fest. Highlights include classic Greek dishes prepared by parishioners, dancing, and an entertainment stage featuring a mix of both pop/rock tribute bands and Greek music and dance troupes. There's also beer, wine, and other beverages, activities for kids, and arts and crafts. St. Demetrios Greek Orthodox Church, 2727 W Winona St., Lincoln Square
Ginza Holiday Festival
The annual Ginza Holiday Festival celebrates all things Japanese with delicious food and spectacular cultural arts performances, including Japanese folk dance and Taiko drumming. Foodies should head to the huge teriyaki cookout, where they can dig into traditional teriyaki dishes that have been made with the same family recipes for decades. Midwest Buddhist Temple, 435 W. Menomonee St., Old Town
Tacos y Tamales Festival
Chow down at the Tacos y Tamales Festival — a street fest based on a traditional Mexican market known as the Tianguis. Festival-goers are immersed in the sights and aromas of Mexico, with local vendors selling their unique take on traditional dishes. The two performance stages feature live music throughout the weekend, with traditional acts during the day, interactive dance performances, and high-energy Latin rock into the night. 18th Street & Peoria Street, Pilsen
Little Italy Festa
The Little Italy Festa is all about la dolce vita. Longtime family-owned restaurants and neighborhood newcomers serve up some of the best Italian food in the city. Not only that, but fest-goers can play Italian card games, compete in meatball and cannoli eating competitions (of course, not at the same time), and buy Italian-themed art, Christmas ornaments, and other merchandise. Taylor Street & Ashland Avenue, Little Italy
Taste of Greektown
Taste of Greektown blends old world traditions with modern food trends. Delicious Hellenic cuisine from neighborhood eateries takes center stage at this acclaimed festival. Expect an array of spirits, dancing, live music, and family-friendly games throughout the heart of Chicago's Greek community in the West Loop. 400 S. Halsted St., West Loop
Taste of Polonia
Get your fix of all things Polish — polska kielbasa, pierogies, potato pancakes, cabbage rolls, blintzes, and more. Taste of Polonia is the oldest Polish festival in Chicago, and the largest Polish festival in the United States. Each year, it takes over the grounds of the massive civic center in Jefferson Park, with not only authentic eats, but also a great selection of specialty beers, over 30 live bands on four stages, and traditional folk dancing and cultural performances. Copernicus Center, 5216 W. Lawrence Ave., Jefferson Park
Little Village Fest
The annual Festival de La Villita (aka Little Village Fest) is one of the largest annual celebrations of Mexican culture in the Midwest. This fest marks Mexico's independence and offers something for everyone: top local and regional musical entertainment, food from local eateries, carnival rides, and more. The fest culminates with the annual 26th Street Mexican Independence Day Parade. 26th Street & Kostner Avenue, Little Village
Sam Adams Lakeview Taco Fest
Whether you prefer yours with a hard or soft shell, Sam Adams Lakeview Taco Fest in the bustling Southport Corridor is a popular addition to Chicago's food fest scene. Sample your way through an array of local taco vendors, then cast your vote for Chicago's best taco. On Southport Avenue between Addison & Roscoe Streets, Lakeview
Food fests for meat lovers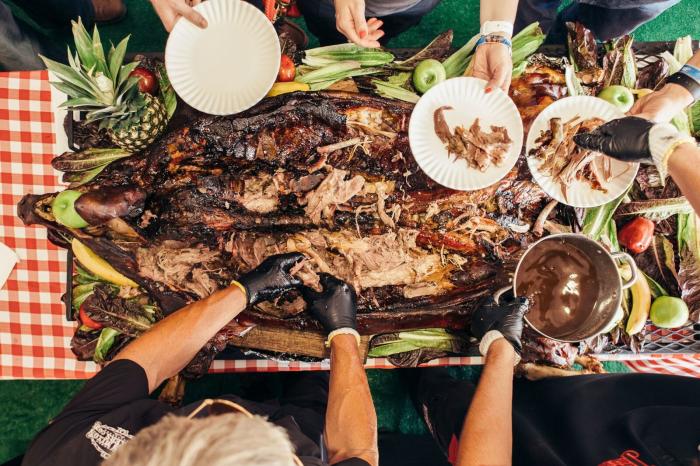 Wingout Chicago
Celebrate (and feast on) the top chicken wings in town! Wingout Chicago in Old Town gives you the opportunity to taste what the best restaurants are serving up in the wing department. Discover your favorite flavor from sweet barbecue to spicy habanero, while enjoying adult beverages and live reggae music. St. Michael's Parking Lot, 1633 N. Cleveland Ave., Old Town
Ribfest Chicago
Ribfest Chicago attracts thousands of attendees every year, and features pound upon pound of fall-off-the-bone, mouthwatering ribs. Throw in some awesome indie music and you're in store for three days of nonstop summer fun. Lincoln Avenue at Irving Park Road and Damen Avenue, North Center
Windy City Ribfest
Dig into some of the best barbecue from top local and national rib pitmasters at the annual Windy City Ribfest in Chicago's Uptown. Chow down and compare rib nuances — sweet or smoky, tender or charred, dry rubbed or dripping in sauce — while live bands provide the soundtrack for your Fourth of July weekend. 4700 N. Broadway Ave., Uptown
Roscoe Village Burger Fest
Savory patties and a rockin' musical lineup are in the spotlight for the annual Roscoe Village Burger Fest. In addition to flippin' good food and playing great music, arts & crafts, and a "Kids' Zone" are on the weekend menu in Roscoe Village. 2000 W. Belmont St., Roscoe Village
Chicago Hot Dog Fest
The humble frankfurter is celebrated at this annual event, put on by the Chicago History Museum. Held outdoors on the museum grounds overlooking the beautiful gardens of Lincoln Park, the Chicago Hot Dog Fest also features a music stage, kids' activity area, and multiple vendors selling their specialty encased meats. Chicago History Museum, Lincoln Park
Great American Lobster Fest
Live lobsters, live music, and plenty of libations define the Great American Lobster Fest, the Midwest's largest seafood festival. And you get all that, surrounded by the sweeping lakefront views at Navy Pier. Navy Pier, 600 E. Grand Ave., Loop
Chicago Bourbon & Barbecue Fest
Southern hospitality, meet Midwest festival fun. The Chicago Bourbon & Barbecue Fest features smoked meats and barrel-aged Southern bourbon whiskeys in the Roscoe Village neighborhood. Taste your way through varieties of bourbon and load up your plate with barbecue dishes from around the world, including Australia, Austin, and of course, Chicago. 2000 W. Belmont Ave., Roscoe Village
Oktoberfest Chicago
Celebrate Chicago heritage, German style. One of Chicago's most popular celebrations of fall and all things Bavarian, Oktoberfest Chicago is held in and around the stunning St. Alphonsus Church in Lakeview. Get your fill of traditional German specialties, like brats, pretzels and, of course, beer. St. Alphonsus Church on Lincoln Avenue, Lakeview
Food truck festivals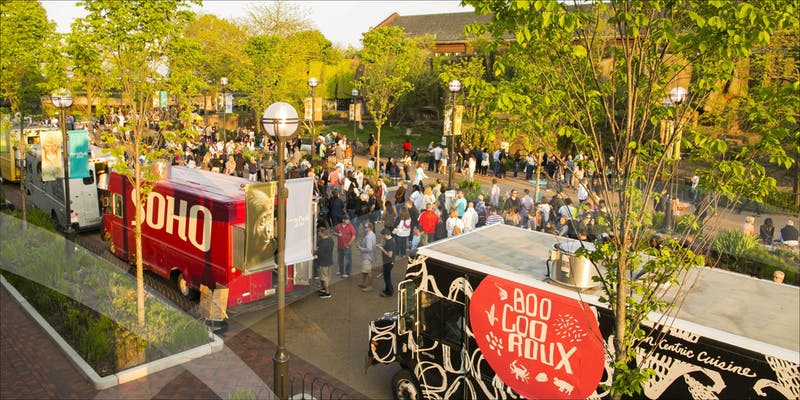 Food Truck Social at Lincoln Park Zoo
Lions, tigers, bears — and food trucks. Dig into the city's finest meals on wheels while exploring the zoo after hours at Food Truck Social at Lincoln Park Zoo. Order bites from almost 30 different food trucks, including donuts, gourmet grilled cheese, fried chicken, deep dish pizza, pierogis, ribs, and more. 2001 N. Clark St., Lincoln Park
Pilsen Food Truck Social
The Pilsen Food Truck Social features dozens of Chicago-based mobile eateries, serving up everything from tamales to Kobe beef and mac n' cheese to cupcakes. Grab the Sampler Ticket to try bite-sized portions from any food truck or local restaurant onsite. You can also sample from Revolution Brewing brews, wines, and spirits. 18th Street & Allport Street, Pilsen
Chicago Food Truck Fest
This family-friendly food festival highlights Chicagoans' growing obsession with food trucks. Expect to see in more than 50 trucks catering to every type of craving at the Chicago Food Truck Fest. South Loop Green Space, 2400 S. Dearborn St., South Loop
Neighborhood food fests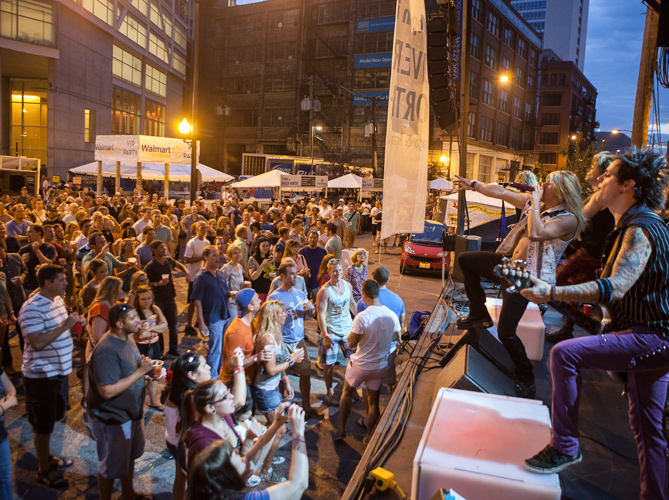 Taste of Randolph Street
Located in the culinary hotspot dubbed "Restaurant Row" in the West Loop, Taste of Randolph Street features some of the city's best-known chefs and top-rated restaurants, including Girl and the Goat, Publican Quality Meats, City Winery, and many more. This is a bucket-list fest for any foodie. 900 W. Randolph St., West Loop
Taste of River North
Head to the banks of the Chicago River to enjoy this alfresco event in a neighborhood known for outstanding dining options. Along with an extensive list of renowned restaurant vendors offering sizable tasting portions, Taste of River North features non-stop live music highlighted by an electrifying party and tribute bands, kitchen demos, local artisans, and plenty of cold Goose Island beer. Ward Park, 630 N. Kingbury St., River North
Taste of Lincoln Avenue
One of the city's largest and most popular summer celebrations, this trailblazing fest celebrates has been a Chicago staple for decades. Taste of Lincoln Avenue features the neighborhood's top restaurants, as well as more than 30 music acts on three stages, and activities for the kids. Lincoln Avenue & Fullerton Parkway, Lincoln Park
Wicker Park Bucktown Fall Dinner Crawl
Sample 18 acclaimed restaurants on two routes (Fork and Knife) on the Wicker Park Bucktown Fall Dinner Crawl through two hip neighborhoods. Local favorites among the lineup: Kizuki Ramen, Urbanbelly, Tricycle, Café Robey, No Bones Beach Club (100% vegan), Antique Taco, Smoke Daddy, Tous Les Jours, Caffe Gelato, and more.
Taste of Clark Street
This year, Taste of Clark Street offers wide range of Mexican restaurants, booze tasting and desserts from the diverse Rogers Park neighborhood, a perfect weekend pick for the Hispanic Heritage Month. To add more fun, there will be music performances and family activities featuring paper lotus flower making and a balloon artist.